#Horoscope #Aries #Taurus #Gemini #Cancer #Leo #Virgo #Libra #Scorpio #Sagittarius #Capricorn #Aquarius #Pisces #Horoscope – overview of this week
The Center for the New Age is pleased to present your Free Weekly Horoscope for May 17 – May 23, 2020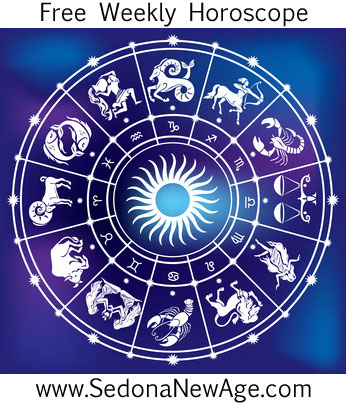 Receive our Free Weekly Horoscope in your Inbox

Aries Taurus Gemini Cancer Leo Virgo Libra Scorpio Sagittarius Capricorn Aquarius Pisces
Venus square Neptune (May 20 – May 29) is a time when your desires are at odds with your spiritual beliefs, and it may be a difficult time to make a personal connection with spiritual teachings. It is best to avoid arguments concerning spiritual beliefs at this time.
New Moon in Taurus on May 22 emphasizes the acquisition of new possessions, or it could mean there is a need to restore, replenish and maintain the old ones. Either way, establishing a sense of personal contentment counts. We must find the value of what we need and want.
Mercury and Venus are conjunct in Gemini (May 22 – June 30) and the energy suggests an emphasis on the need and ability to communicate love. This is an excellent time to discuss and communicate love matters and perhaps there's no stopping it, as there is likely to be an endless flow of details being expressed. Love related messages become more playful and articulate with these two planets in Gemini.
Mercury square Neptune (May 22 – June 9) commonly brings about difficulty with communications concerning the challenges and obstacles of the spirit world and human spirituality. Anticipate religion related arguments and disputes and resistance to spiritual teachings.
Aries Taurus Gemini Cancer Leo Virgo Libra Scorpio Sagittarius Capricorn Aquarius Pisces

Free Weekly Horoscope for your Sign
Aries: You know your thoughts create your reality, but how often do you forget that? How often do you allow negative thoughts to take over, resulting in anger, anxiety, worry, fear, jealousy or despondency? The New Moon on May 22 offers a reality check on how well you're doing in terms of your mental vibration. If life could be better and there's room for improvement in your happiness and contentment levels, then use this New Moon to banish thoughts that aren't in alignment with love, peace, hope and generosity. By doing so, you'll erect a shield of positivity around you and be an inspiration to others.

---
---
Taurus: The focus turns to money, work and your material life as the New Moon brings opportunities for positive changes and developments in this area, but a little reality check might be in order because Neptune's square to Mercury and Venus could highlight a dreamy or fantastical aspect to things, and it would be easy to believe the hype – whether your own or someone else's. Honesty really is the best policy. If you can keep yourself grounded, you have a precious opportunity to begin something new, whether it's related to a job, an improvement in your finances, or an important purchase.

---
---
Gemini: The Sun moves into Gemini on May 20, and the New Moon occurs in your sign on May 22. Both these events are good omens for you, bringing the potential for positive changes and new beginnings. This is the time to wipe the slate clean and start fresh. You are also blessed with the presence of Venus and Mercury, so you will have plenty of support over the coming days to manifest your ideas, plant new seeds, make changes and – perhaps most importantly – enjoy yourself. If enjoyment has been low on your list of priorities lately, try to shift your focus toward joy and spend more time doing what you love. Life is too short to spend it any other way.

---
---
Cancer: It is time to release something that has run its course. The New Moon in your zone of endings suggests this is a time to put it to bed. If you've been carrying emotional baggage, perhaps now is the time to toss it in the trash. Maybe you can release yourself from a difficult situation. Either way, the New Moon invites you to experience a simpler, more spacious life and to question whether you need as much as you think you do. The more space you create around you, the more space you create within you. This week, consider what you can let go of and whether you would enjoy the sense of space and peace that brings.

---
---
Leo: Your social scene looks set to sparkle as the New Moon alongside Mercury and Venus aligns in your people zone. This is good news for your friendships, groups and organizations. It's a good time to make new connections in your social life in general. Endings and beginnings might be evident, and it would certainly be advisable to leave the past behind and go in search of new people and new situations. This planetary alignment also influences your hopes and dreams for the future, making it a perfect time to set your intention for how you want your future to be and to ponder this quote by Gloria Steinem: "Without leaps of imagination, or dreaming, we lose the excitement of possibilities. Dreaming, after all, is a form of planning."

---
---
Virgo: The New Moon at the top of your chart on May 22 is good news for your direction in life. This is the perfect time to head off on a new path or begin a new project. Turning over a new leaf – if this feels appropriate – in matters having to do with career and vocation might also be relevant. Perhaps now is the time to think about what you can do rather than what you can't, and get your ideas out into the world. There should be a certain amount of harmony infusing proceedings, and you will be blessed with greater ability to charm those in positions of authority who could potentially open doors for you. Whatever your situation, this is a week to throw back the curtains of life and greet the day with new anticipation.

---
---
Libra: The Sun's move into Gemini on May 20 followed by the New Moon on May 22, is positive for you instilling a more optimistic and lighter frame of mind. There might be opportunities for you to break out of your comfort zone and try something new, and it might seem that the possibilities in your life are starting to grow. This is good, but it would still be advisable to refrain from important decisions, as Neptune is still squaring your ruling planet. Perhaps the real challenge is to seek refinement in yourself, your environment, or what you are doing. If work is confusing or your health isn't straightforward, the key, again, might be refinement. Can you refine your health by eating purer foods or by engaging in spiritual practice? Can you refine your work by working in a higher vibrational environment or lifting the essence of what you do? "Inspiration" is your keyword, and everything should become clear when you follow what inspires you.

---
---
Scorpio: "Rebirth" is your keyword this week as a New Moon occurs in your zone of transformation on May 22. As a Scorpio, you are quite comfortable with metaphorically dying and rising from the ashes. Whether it's a big transformation or a small one, this week calls you to let go of something that's not working. It could be an attitude or an approach. It could be an old broken clock that's symbolically keeping you stuck. It could be some emotional baggage that's time to release. Whatever it is, it's time for a cleanse. Purging yourself of what is toxic or no longer of service will let you feel a new level of vitality surge through you.

---
---
Sagittarius: Relationships take center stage from May 20 as the Sun enters your zone of others, quickly followed by a New Moon in the same sector. Venus and Mercury are also there, but Venus's retrograde motion suggests the need to attend to one or more of your relationships with a view to considering how much you value this person. If you do value them, this is a good time to show it and to move the relationship forward. If value is lacking, is it because you need to clear the air of grievances and frustrations that have built up? Either way, this is a significant time in your personal life when you can start fresh and welcome important changes and developments within your relationships.

---
---
Capricorn: The New Moon on May 22 throws the emphasis on your work and health. This is a good week to direct more attention to your well-being and make any changes that support your health. At work, this is a time to be productive (though not at the expense of your health) and to embrace new beginnings. In fact, it could be time to take a fresh approach to your work, but make sure your plans are motivated by inspiration and grounded in reality. It could be easy to fall prey to illusions and fantasy, but the antidote lies in not overlooking details or running before you can walk. As Swami Sivananda said, "Put your heart, mind, intellect and soul even into your smallest acts. This is the secret of success."

---
---
Aquarius: A lighter mood washes in this week, especially from May 22 when a New Moon in your zone of fun invites you to embrace more joy and color in your life. It's also time to question whether you're being true to yourself or compromising in some way. This New Moon asks you not to be afraid to be your true self, to express yourself in whatever way feels appropriate, and to explore your creativity. Aquarians have a natural tendency to not care too much about what other people think, and this is certainly a time to embrace your bohemian insouciance and go your own way.

---
---
Pisces: Now is the time to come home to yourself as the New Moon falls in your zone of home and family. The past few weeks likely were rather busy, hectic even, so it is time to balance the scales by creating a simpler existence, at least for a while. Mars is still by your side, so you won't have too much time to rest, but as long as you balance the activities with inner nourishment, you will be fine. This is also a good time to tackle jobs around the house and to get rid of clutter and any negative energy in your home. With venus here, the aim is to create a space of harmony and beauty where you can relax and feel at peace.
---
---