#Horoscope #Aries #Taurus #Gemini #Cancer #Leo #Virgo #Libra #Scorpio #Sagittarius #Capricorn #Aquarius #Pisces #Horoscope – overview of this week
The Center for the New Age is pleased to present your Free Weekly Horoscope for June 14 – June 20, 2020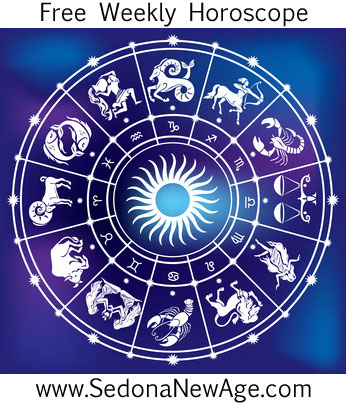 Receive our Free Weekly Horoscope in your Inbox
Aries Taurus Gemini Cancer Leo Virgo Libra Scorpio Sagittarius Capricorn Aquarius Pisces
Mars, the planet of action is sextile Pluto, the planet of the generations (June 18 – July 3) . This is a superb time to take up activities with people who are older or younger. This is also potentially a very good time to reconcile differences. Mars sextile Pluto is busy stirring up action around heavy issues that create fateful transformation. Mars represents the masculine push of our personal lives and those areas of our lives where we activate our will and our vitality and energy. This aspect brings opportunity, optimism and the strength to face otherwise tense situations and predicaments.
Mars sextile Jupiter ( June 20 – June 28) provides for passionate and instinctual actions, when taken, to have the opportunity to go profoundly far and be very successful in the long run. This is a time to make true efforts to promote career skills or to enhance a career move. Remember – action is required; mere good intentions will get you nothing while this aspect is in full force. This is a good time to go adventuring and exploring while Mars sextile Jupiter promotes opportunities.
Aries Taurus Gemini Cancer Leo Virgo Libra Scorpio Sagittarius Capricorn Aquarius Pisces
Free Weekly Horoscope for your Sign
Aries: With Mercury retrograding through your domestic sphere, your attention is likely to be caught up with matters connected to your home, family, past or childhood. This is not a lighthearted transit, but it does offer you the opportunity to clear out anything that has outlived its purpose. That makes this a great time to declutter and work on the feng shui of your home or to reconnect with family members, particularly if there has been distance recently.

---
---
Taurus: Although Mercury is still retrograding through your communication zone and potentially causing niggling problems, perhaps the more important influence is Venus turning direct. This will have positive repercussions for you in the sense that you will feel more like your old self. You begin to enjoy life a little more, reconnect with pleasure and get back in touch with your values.

---
---
Gemini: As Venus glides through your sign, you will get a clearer idea of what has value for you, and your material life will gather strength as you put these values into place, so if you have any practical issues, such as work, money or the possessions you own, the clue to resolving them can lie in letting go of anything that doesn't fit with your values or that inhibits you from being your true self.

---
---
Cancer: As the dust begins to settle on the eclipse earlier in the month, you should find that you have a clearer sense of what is unfolding and where you are going. Having said that, Mercury is still heading backward through your sign, highlighting the need to go slow and perhaps retrace your steps rather than trying to push forward with new ventures. This is more a time for reviewing what you have already done, fixing things and attending to what needs your attention.

---
---
Leo: Resistance, as they say, is futile. With Mercury retrograding on the back of the recent eclipse earlier in the month, you might need to admit that some things in life just can't be controlled. Whether it's a matter of life or death or something much smaller but still significant, life could become quite beautiful, as well as mystical and soulful if you let go and surrender to a higher process.

---
---
Virgo: If the weather forecasts heavy rain and strong winds, you can still go out in a T-shirt and shorts, but you will make life more difficult than it needs to be. Likewise, if you try to push on regardless of your ruling planet moving backward, life can feel frustrating so take heed of the signs around you and slow down, if necessary, to have the space and time to contemplate your next move.

---
---
Libra: Now you can begin to move forward, feel more like your old self, and do more of the things you used to enjoy, but the picture of where you are going in your professional life or your life in general could be less certain as Mercury is still retrograding over the top of your chart. Don't let this worry you. When the time is right, you will naturally move in the right direction.

---
---
Scorpio: According to Barbara Sher, "You must go after your wish. As soon as you start to pursue a dream, your life wakes up and everything has meaning." What is your wish? Is it a vague notion, or is it crystal clear? Perhaps it would be a little unreasonable to expect total clarity, since Mercury is still retrograding through this area of your life, but it will help give you a stronger sense of what does and does not have meaning for you. Perhaps what once felt meaningful no longer does or maybe something that was waiting in the wings is now coming forth and feeling more important as the day and weeks roll by. As Mars applies to Saturn, you now have a very real opportunity to start bringing your wish – even if it's not fully formed – into reality.

---
---
Sagittarius: Even though you might think everything's much the same when you wake up each morning, in truth your body has undergone a healing process, and your psyche – through the process of dreaming – has cleared out the mental problems of the previous day. It is only your beliefs that you stubbornly cling to, along with our fears and issues, that prevent you from being completely reborn each day. The good news is that you are now in a place where it will be easier to let go of anything that has been toxic to your mind, body or soul. Perhaps it begins with acknowledging that trusting in a power greater than you can meet all your needs.

---
---
Capricorn: Mercury is still retrograde in your relationship zone, meaning there is still work to be done in your personal life. Moderation is really important right now, as it would be so easy to go over the top in some way, such as consuming more of something than you need or not knowing when to stop your behavior. You might feel invincible, and in some ways that might be true, but the planets are asking that you not forget about other people and their needs and sensitivities. If you get the balance right, you can easily create a win-win situation for yourself and everybody around you.

---
---
Aquarius: Mercury is still retrograding through your zone of health and work, making this a good week to resolve any lingering issues connected to either of these areas. It's a great time to figure out a diet or exercise regimen, implement a new routine, rid yourself of unhealthy habits, or visit a health practitioner to bring your body back into balance. A similar philosophy applies to your work in that it's a good time to sort out any problems and clear your desk of stuff that has built up over the past few months. What links the two is a need to get your life more streamlined so that everything, from your body to your life in general, functions and flows more efficiently.

---
---
Pisces: With all the dramatic planetary activity this month, it would be easy to overlook the fact that Mars is and will continue to be moving through your sign. This will have helped you do whatever you need to do and supplied you with the energy you've needed to get things done. This is quite a self-centered transit and asks you to consider your needs and be quite determined to carry them out. If you need more time alone to contemplate, meditate or spiritually journey, then you must set boundaries to enable that to happen.
---
---