#Horoscope #Aries #Taurus #Gemini #Cancer #Leo #Virgo #Libra #Scorpio #Sagittarius #Capricorn #Aquarius #Pisces #Horoscope – overview of this week
The Center for the New Age is pleased to present your Free Weekly Horoscope for August 9 – August 15, 2020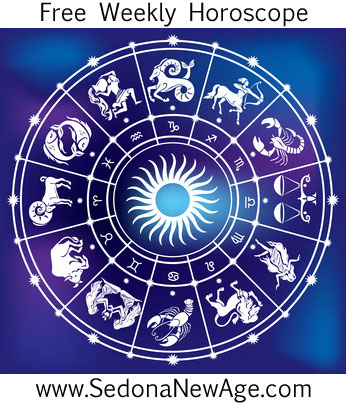 Receive our Free Weekly Horoscope in your Inbox
Aries Taurus Gemini Cancer Leo Virgo Libra Scorpio Sagittarius Capricorn Aquarius Pisces
Last Quarter Moon in Taurus on August 11 focuses the general course of our moods on creating some sense of order in our financial situations. It also encourages the need for creature comforts and esthetically pleasing or luxurious surroundings. There is often a focus on cleaning up and/or selling various useful artifacts that have collected in our lives and the Last Quarter Taurus Moon is a splendid time to partake in yard sales, auctions and flea markets.
Mars square Pluto (August 13 – September 18) spells out the potential for trouble with regard to our actions. Mars emphasizes all forms of action, while Pluto represents the transformational powers of destiny. Strong disruption between generations is likely to occur at this time. This aspect does imply that this is a more likely time for an "attack" to occur from power-driven sources. Actions or conflicts concerned with higher powers are likely to backfire. It is best not to bluff those of a higher or unanticipated authority at this time.
Aries Taurus Gemini Cancer Leo Virgo Libra Scorpio Sagittarius Capricorn Aquarius Pisces
Free Weekly Horoscope for your Sign
Aries: If you can stay within your limits, do not bite off more than you can chew, and remember to rein in when it feels more tempting to overextend yourself, this could be a fun and productive week, especially if you focus on being creative. Allow your instincts to guide you accordingly. The more you push against something, though, or the more you try to force things, the more problems you'll have. Consider that the amount of struggle needed might not be worth the result. The trick to getting through this week unscathed is know when to backoff and when to let go.

---
Taurus: It is time for you to return home – literally or metaphorically – no matter what you've been searching for. Symbolically, you can return home by taking greater care of your needs or connecting with your inner self to determine what matters most to you, and by tending to your garden or finding ways to put more love into your home. Now is the time to turn your focus closer to home and let the world get on with its business.

---
Gemini: Perhaps you are a writer, a teacher, a painter, a healer, a photographer, or an office worker. It doesn't matter what you do; you have the ability to make a difference. It also doesn't matter whether you prefer to communicate through the spoken word, via a blog, or through music. The energy this week asks you to notice something, and then feel it and share it, because whatever you decide to deliver is liable to have more of an impact than you might realize. Sometimes a well-delivered thought or insight can be a source of inspiration to someone else.
---
Cancer: Few people feel comfortable asking for what they want; good examples of this include asking the boss for a pay raise or haggling for a better price on goods. We also feel awkward asking for our emotional needs to be met, but as the Sun and Mercury align in your money zone, you might be surprised by what you get if you just ask for it. It will be easier to ask for what you want if you feel you genuinely deserve it, so it would be productive to examine your self-worth to see whether you have been selling yourself short. And if so, ask yourself why.

---
Leo: Now is the time to engage in activities that jumpstart your soul and recharge your batteries. This is particularly true if, in recent months, you've been flagging or feeling less than inspired. As the Sun journeys through your sign, you feel more inclined to focus on your own needs and what is next for you in terms of your personal desires. It is a good week to contemplate what you want and then express that to others or simply declare it to yourself. Perhaps write down your desires and wishes or incorporate them into a collage or vision map. The emphasis now is on what you need to progress.

---
Virgo: We live in an increasingly rational and technological world that makes the intuitive faculty harder to reach. You now have a direct line to your unconscious, that rich fertile place where ideas, solutions and inspiration are found. By tuning in to your inner self and following its promptings, whether it's noticing when you come alive or how you felt in a dream, you will develop a stronger sense of who you are and what you need to do next.

---
Libra: The world is full of people who would like to help you given half the chance, and sometimes those people are messengers from Spirit. An overheard fragment of conversation, a smile from a stranger, or a friend appearing when you need a boost can all be methods of divine intervention. This week, your world will light up if you can engage more with others, welcome others' assistance, and join forces with like-minded people.

---
Scorpio: With the Sun moving to the top of your chart, this would be a good week to capitalize on that dynamic solar energy and make a move, start a new project, change your direction, or set a goal. Success and achievement beckon, and the key to victory could lie in the communication of your ideas or knowledge. However, do not overstretch yourself or become frustrated if things don't happen as quickly as you'd like or in the way you planned. A little flexibility will help you achieve your goals in a sane and healthy way.

---
Sagittarius: There is still a need for some degree of caution this week, but after August 12, the danger period fades, leaving you unfettered in your optimism and desire to move onward and upward. There is an adventurous feel in the air, making this the week to take a trip, have a new experience, or believe more fervently in a dream. The more able you are to remember that you shape your reality with your thoughts, the more miraculous your life will be.

---
Capricorn: "The snake which cannot cast its skin has to die" (Friedrich Nietzsche). You've probably shed a few skins in recent years, as you have been in a time of profound change and transformation, and it's this willingness to let go of what you were attached to that has led you to a place of strength. You could undergo a rebirth of sorts this week, or at least prepare to do so, in which you can further release ideas, beliefs, possessions and situations that no longer serve you. The result will be a renewed body, mind and spirit.

---
Aquarius: Relationships and your personal life take center stage this week, and the challenge might be not just to forgive others but also to allow them to forgive you. We all make mistakes; we all treat other people less than graciously from time to time, but now is the opportunity to put all that behind you and direct your love and attention to your relationships so that they become a source of strength and nourishment. From that place, intimacy will grow.

---
Pisces: There is a certain beauty in the perfect order of the cosmos, and it's worth asking where we would be if the Sun didn't rise at a set time each day, the seasons didn't come at their allotted times, the leaves didn't fall from the trees, or the Moon forgot to show up at night. As any parent knows, life works better when there is order and routine. With the focus on harmonious order, this week brings the opportunity to create better results by living with a regular rhythm as Mike Murdock said: "The secret of your future is hidden in your daily routine."
---