#Horoscope #Aries #Taurus #Gemini #Cancer #Leo #Virgo #Libra #Scorpio #Sagittarius #Capricorn #Aquarius #Pisces #Horoscope – overview of this week
The Center for the New Age is pleased to present your Free Weekly Horoscope for September 6-12, 2020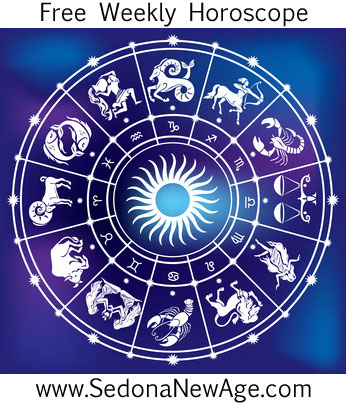 Receive our Free Weekly Horoscope in your Inbox
Aries Taurus Gemini Cancer Leo Virgo Libra Scorpio Sagittarius Capricorn Aquarius Pisces
Venus enters Leo (September 6 – October 2) bringing out the more playful side of love. Venus represents the expression of love and affection; it is the influence of magnetism, beauty, and of feminine refinement. In the sign of Leo, Venus brings out desires and needs for personal attention. Magnetism is one of Leo's most endearing traits, and it is this magnetism that brings what Leos want most: loving attention. Love affairs may be torrid and dramatic while affections, when first initiated, can seem very ardent and sincere. One might be hesitant to believe that a too-good-to-be-true relationship is actually occurring. On the other hand, if it doesn't feel harmonious, it may be because the love affair is more focused on the demands and needs of just one person. Leo demands a lot of affection and, when Venus comes into play, the need for attention sometimes outweighs the need to reciprocate that attention. It is always wise not to have expectations in love matters and to be sure that the joys of exchanging love are balanced.
Last Quarter Moon in Gemini on September 10 brings talkative moods and informative interaction. People will have a lot on their minds and intellectual pursuits are emphasized. This is the time to enjoy games, puzzles and social conversations.
Aries Taurus Gemini Cancer Leo Virgo Libra Scorpio Sagittarius Capricorn Aquarius Pisces
Free Weekly Horoscope for your Sign
Aries: You might still feel stuck between a rock and a hard place. You want to move forward, but for whatever reason, you feel unable to do so. There is most likely a reason for such an impasse. Maybe it's about learning patience. Maybe it's about persistence in the face of difficulty. Or maybe it's about acknowledging that you can't always have what you want. Perhaps you have a need for caution, as rushing ahead would be counter-productive. Perhaps life is simply mirroring your inhibitions, fears and inadequacies, and what you need now is courage and confidence. Take any irritation, frustration, and anger as something you need to look a little deeper at and figure out why one part of you might be trying to hold on to something while the other part wants to be free. Then proceed slowly and carefully, knowing that your actions need to be congruent with who you really are.

---
Taurus: Living in a world that emphasizes work and material success makes it imperative to carve out time for things that bring joy and lift your spirits. In fact, you might find yourself craving a little color and excitement, which could result in impatience or frustration if life feels too mundane. Be wary of provoking fights; instead look for stimulation in other ways, perhaps through expressing yourself creatively or seeking new experiences with a partner. The pursuit of creative and refreshing new activities should be this week's goal.

---
Gemini: If you are feeling the need to come home to yourself, to retreat somewhat from the busyness of life, then this week is as good a time as any to slow your pace and enjoy more time at home or in quiet contemplation. The focus is very much on your home, family and inner self, so whether there are jobs to do around the house or your loved ones need more of your care and attention, this is a time when you can gain from a simpler, slower pace of life. As George Moore said, "A man travels the world over in search of what he needs and returns home to find it."

---
Cancer: Communication is the theme, so if you have something to say, now is the time to say it. If you have a message you wish to impart, knowledge you think might benefit others, or a feeling you wish to share with another, the energies support you in all of this. This week is also ideal for writing, speaking, teaching and learning, for communication is a two way process, and you can benefit from taking in knowledge or information from others. Either way, this is a good week to listen as well as speak and to assess whether your thoughts and words are positive and encouraging.

---
Leo: Are you doing what you really want to do? Is there room for improvement? Do you need a minor change or a radical shift in your approach to your work? With so many planets in the material zones of your chart, you likely feel the pressure of work in some way, such as too much of it or too much of what you don't really want to be doing – dealing with issues connected with colleagues, or wrestling with how to earn enough money doing what you really want to do. Whatever the problem, you are being challenged to find a way to work and earn in a manner that expresses your true values and authenticity, no matter how rocky the road to get there.

---
Virgo: Much of what was said last week applies this week, only now the need to give or make some sort of sacrifice becomes imperative. It's never easy to give something up, but Neptune in opposition to your Sun suggests that you might not be able to have what you want or that trying to push or force something to be how you want it won't work. The way out of any difficult situation this week is to allow things and people to be as they are without wishing to change or manipulate them.

---
Libra: From time to time, we all act in ways that leave us perplexed. You might ask yourself, "Why did I do that?" Sometimes these actions are nothing much to worry about, but other times, they can cause serious problems. Now is a good time to examine your unconscious motivations. What are you really trying to achieve? Is what you want different from the image you have been portraying? This could be an opportunity to grow your consciousness and to understand yourself and your hidden motivations better. It's also a good time to take stock of the last twelve months to see if you are happy with what you've achieved and where your life is going – rest, reflect and acknowledge that anything you've refused to face will work against you in unexpected ways. Perhaps your true goal now is cultivating inner peace.

---
Scorpio: "We can do no great things, only small things with great love." These words attributed to Mother Teresa summarize the week ahead, and you can apply this philosophy to any aspect of your life, whether it's your desire to make the world a better place or there are domestic jobs that need tending. Friendships can also be enhanced by demonstrating little acts of kindness, and it could be quite inspiring how much the social side of your life could benefit from a little extra love, compassion and tolerance. Instead of seeing differences, aim for unity and oneness. You have a wonderful opportunity this week to transcend any gaps between you and others – especially friends and acquaintances – and find common ground.

---
Sagittarius: The Sun's journey over the highest point of your chart is generally good news for your career ambitions and direction in life, and this is a good week to make progress in these areas. Assessing whether you are on the right trajectory is crucial now, because this is the one time of year when a window of opportunity opens, allowing you to effectively see where you are going and to make necessary changes. Pushing yourself forward and contemplating what success means to you are also good uses of this week's energies, especially when you consider that many people do not spend their lives doing what they love.

---
Capricorn: Reality is far more fluid and pliable than scientists used to believe. We now know for example, that the mere act of someone being present changes the outcome of what they observe. We also know that when you hold a thought for long enough with an emotional current running through it, it is only a matter of time before the thought begins to manifest, so whatever you hope to achieve, make sure it's in alignment with what you really want, then remind yourself that reality is fluid, and you can mold and shape it into whatever form you wish.

---
Aquarius: Much of what was said last week applies to this week, perhaps even more so, as Neptune in your house of money opposes the Sun in your zone of wealth and power. If you find yourself in a tricky situation, the answer is probably to let go or go with the flow; don't try to push or force things the way you want them. This could apply to personal and intimate situations as well as material things, so any relationship problems – especially those that bring up psychological issues – can be alleviated by a generous dose of compassion, forgiveness and a willingness to accept things as they are rather than trying to force change.

---
Pisces: Relationships are the central theme, involving issues of whether your or the other person's needs are being met. If you find yourself feeling taken advantage of, you might need to question why you are giving to the extent that you are and what the payoff is. It is fine to make sacrifices for other people now and then, and this could be one of those times when this feels appropriate. Just make sure it's a noble sacrifice and not one based on a lack of self-worth and a belief that says other people's needs are more important than yours. If this is the case, you could end up feeling resentful further down the line when little or nothing comes back. Buddhists say that it is important to cherish others, but this is a week when you might also need to cherish yourself.
---