#Horoscope #Aries #Taurus #Gemini #Cancer #Leo #Virgo #Libra #Scorpio #Sagittarius #Capricorn #Aquarius #Pisces #Horoscope – overview of this week
The Center for the New Age is pleased to present your Free Weekly Horoscope for October 4-10, 2020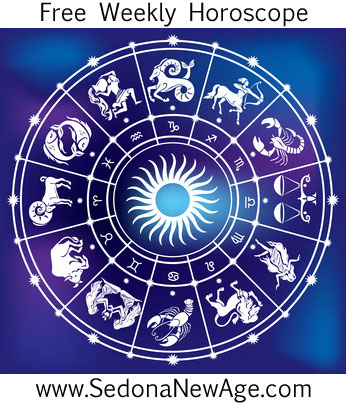 Receive our Free Weekly Horoscope in your Inbox
Aries Taurus Gemini Cancer Leo Virgo Libra Scorpio Sagittarius Capricorn Aquarius Pisces
Mars square Pluto (October 9 – October 21) spells out the potential for trouble with regard to our actions. Strong disputes and war related action between generations, and among those of different cultures, are likely to occur at this time. This aspect does imply a more likely time for an attack from groups seeking to take power. It is best not to bluff those of a higher or unanticipated authority at this time. This may be a particularly difficult time to fight addition and disease, but it is also the most cruel time not to give up the fight
Last Quarter Moon in Cancer on October 10 indicates a time when some types of emotional healing take time. The emotional concerns that are surfacing at this time require that extra bit of nurturing and understanding.
Aries Taurus Gemini Cancer Leo Virgo Libra Scorpio Sagittarius Capricorn Aquarius Pisces
Free Weekly Horoscope for your Sign
Aries: You could describe this week as "interesting," and it would be all too easy to let the dramas of the week take you over. Saturn's square to your ruler, Mars, suggests a block or impediment of some kind, and Venus forming another hard angle suggests relationship issues. Deep feelings could emerge at this time, and while keeping things secret might seem appealing, the best approach is to be open and honest, as this could prove to be cathartic.

---
Taurus: After last week's Full Moon, this week, could you be more on top of things? Or could you implement new routines that support your physical and mental well-being? It's been said that the secret of your future is hidden in your daily routine so think about what you would like your future to be, and start with small steps.

---
Gemini: Ask yourself, What do I really want to do, be, or have? What steps can I take to manifest these things? Your 6th house of health and work becomes strong just as Pluto, the ruler of that house, starts moving forward at the beginning of the week. Your job situation is better clarified and changes in your health regime will go more smoothly as well. Job seekers will have good opportunities this week and especially until the middle of next week.

---
Cancer: Your 4th house of home and family is one of the strongest in your Horoscope this month – although your 7th house of love is equally powerful. Mars, your career planet is still retrograde all month, so it pays to be more focused on the home and family and you won't be missing out on any career opportunities. As a matter of fact, by concentrating on your needs at home, you may very well become involved in what winds up being a new and successful financial opportunity for yourself personally.

---
Leo: From mixed messages and misunderstandings to lack of proper heart-centered listening, what you have in your mind can be perceived entirely differently by others. This week brings the opportunity to get something off your chest, share a message, or communicate in a way that creates better connections with others. Many psychological problems have their origin in excessive self-centeredness, so there is a therapeutic dimension to this. As you take care of others, your own needs get met as well, with little effort or attention. The Last Quarter Moon this week addresses this issue for all of us.

---
Virgo: Is something getting in the way of your contentment such as fear of change, lack of deservingness, or low self-worth? This is a good time to determine what you really value and then make those things the cornerstone of your life. Self-empowerment is the key. This also impacts on how you feel. Your health in general is good and your personal appearance as well – better than usual. Venus in your sign continues to bring a sense of style and beauty that can impact positively on your life.

---
Libra: Finances have been good all year but they can get even better. On the 4th, your financial planet, Pluto, starts moving forward after many months of retrograde motion. And though he is not exactly conjunct to Jupiter, he is within range. This tends to expand earnings. You have more financial clarity, more of a sense of direction and are more inclined to appreciate the value of Venus in your sign, to improve your personal appearance without a major hesitation regarding monies spent in this regard.

---
Scorpio: While this might be a good week to pay extra attention to your nighttime dreams and decipher recurring themes, it's also a good time to shift and shape your reality through your daydreams and visualizations. Look at what you might normally picture in your mind's eye, and ask whether these are the things you wish to materialize. Your mind has extra power right now, and while your physical energy might be a little low, much can be achieved with the right application of thought power.

---
Sagittarius: According to Richard Bach, "You are never given a wish without also being given the power to make it come true. You might have to work for it, however." What are you currently wishing for? What hopes and dreams do you currently hold? It's good to be clear on this because a window of opportunity is now opening to manifest your wishes. It is also a time when you will need to apply a lot of effort, so this is less about sitting around daydreaming and more about taking concrete action and making things happen.

---
Capricorn: Life has a strong dynamic at present, and success of some kind likely beckons. The only problem could be that life at home has a certain element of drama, but this can be eased with a little love and patience. With a cluster of big planets in your sign, this is the time to focus on empowerment and becoming stronger and more of a force to be reckoned with. There is little you can't accomplish now if you put your mind to it so the universe can conspire to make it happen.

---
Aquarius: Many of the problems in life stem from faulty beliefs and wrong thinking: you see life a certain way and life responds accordingly. Events this week offer you a chance to shift your perceptions, change a belief system, or alter your attitude to make your life richer and more colorful and supportive. Although it might not be comfortable initially, you could be pushed to break out of your physical or mental comfort zone to experience life in a new way.

---
Pisces: This week highlights the need to go with what is happening rather than trying to make things different. The universe has a plan, and if you surrender to it, things will work out quite miraculously. You can't always see the bigger picture; you only have one small piece of the puzzle, and you often don't have a clue where it fits. Just trust that it fits somewhere and that in time the picture will form and everything will become clear.
---