#Horoscope #Aries #Taurus #Gemini #Cancer #Leo #Virgo #Libra #Scorpio #Sagittarius #Capricorn #Aquarius #Pisces #Horoscope – overview of this week
The Center for the New Age is pleased to present your Free Weekly Horoscope for December 13 – December 19, 2020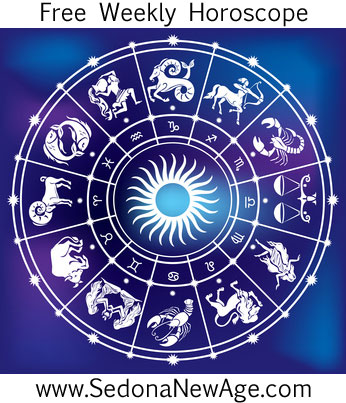 Receive our Free Weekly Horoscope in your Inbox
Aries Taurus Gemini Cancer Leo Virgo Libra Scorpio Sagittarius Capricorn Aquarius Pisces
Mercury square Neptune (December 13 – January 1) commonly brings about difficulty with communications concerning the challenges and obstacles of the spirit world and human spirituality. This may seem like a time when it is difficult for spirit travelers and channelers to make a connection with the spirit world; for certain, there will be obstacles along the way. Mercury applies to the act of communicating, while Neptune encompasses the Great Mystery and the evasive, hypersensitive realms of divinity. While Mercury is squaring to Neptune, our minds are a lot more challenged regarding issues of divine experience, and relaying all this information may seem all the more difficult with this aspect. Anticipate relion related arguments and disputes, and resistance to spiritual teachings.
New Moon in Sagittarius on December 14 is a time to open up to new opportunities in an inspired and upbeat manner. This may be just the time to make a breakthrough and start new exercise programs, look into new philosophies of life, and apply a bolder sense of exploration.
Venus sextile Jupiter (December 14 – December 21) leads matters concerning love and attraction to a favorable opportunity allowing for advancement to more prosperous realms. This serves as an excellent time to shower loved ones with gifts and compliments. A greater opportunity for advancement at work, or towards increasing your skills or enhancing your likelihood is available, especially if you focus on doing what you love.
Mercury trine Mars (December 15 – December 21) brings news , thoughts and communications into a most favorable position when it comes to taking action. The trine aspect acts like a gift, and this is a superb time to communicate and receive positive and uplifting information which will inspire others to take affirmative action where needed.
Venus sextile Saturn (December 15 -December 22) often provides an opportunity to attain desired objects. Saturn's influence emphasizes the awareness of time, limitations and restrictions. It also harnesses our dedication to responsibility and discipline. The sextile aspect allows for greater opportunity to stand on guard favorably and be protective in a way that will be easily understood. This is the time to take the opportunity to protect what we love with guidance and nurturing.
Venus enters Sagittarius (December 15 -January 8). Expect an extroverted spirit of camaraderie among people in general, spreading affection beyond the usual bounds. There are so many variations possible on the themes that love reveals; don't sweat the small stuff.
Saturn enters Aquarius (December 17- March 7, 2023). During the next two years, people in positions of authority will be held accountable like never before. Progressive changes that benefit the people can be expected. Social inequalities will come to light for the world to see. Cooperation, team effort and working toward common humanitarian goals are encouraged. No longer will we operate in our own corners, oblivious to what is happening to others on a grander scale.
Jupiter enters Aquarius (December 19 – December 28, 2021). In the coming year, tolerance, generosity, open-mindedness, and integrity will be greatly rewarded. The more zealous, enthusiastic and well-meaning we are in our actions, the more success we will enjoy. Increasing awareness, both culturally and spiritually and broadening experiences in the world enable us to grow joyfully. Abundance comes from collaborating with others on projects that benefit humanity.
Aries Taurus Gemini Cancer Leo Virgo Libra Scorpio Sagittarius Capricorn Aquarius Pisces
Free Weekly Horoscope for your Sign
Aries:
A rare alignment of Jupiter and Saturn starting December 19 falls in a very auspicious position for you, indicating that you now have the power to shape your life and future as you like. This kind of opportunity doesn't come around very often, so get ready to make some inspiring moves. Once you've identified what you would like to manifest, you will only need to make a commitment to it and apply a little patience and persistence.
---
Taurus:
Life begins to change for the better in December, as a rare conjunction of Jupiter and Saturn align in the professional area of your chart on December 19. But this isn't just about making moves in your career, aims and ambitions. It's also about looking at what sort of future you want to create. This could be a change of direction or letting go of the past so that you can move forward and begin a new chapter of your life.

---
Gemini:
December has a strong focus on relationships, making this a lovely time to link up with others, spend time with someone special, and communicate your feelings, which can sometimes be a challenge for you. But as Jupiter and Saturn align in Aquarius starting on December 19, the time will be ripe for you to push out of your comfort zone and adopt a more expansive and experimental frame of mind. This will continue into the new year so you might be feeling much more optimistic and excited about a new possibility.

---
Cancer:
The good news this week is that Saturn moves out of opposition on December 19, signaling an end to many of the trials and tribulations you've had to deal with in the past year or two. Hopefully you're stronger for having been tested, and now you can take that strength and apply it to other aspects of your life in need of shaping up. This could relate to money/joint finances, an intimate relationship, or an inner psychological state.

---
Leo:
Prepare to say goodbye to much of the trials and tribulations of the past year, as Jupiter and Saturn move into a more favorable area of your chart and invite you to create new beginnings in your personal life. This might be the month – particularly starting December 19 – that you're able to give important relationships the time and energy they deserve, something you might have found difficult during 2020 because of the demands on your time and well-being.

---
Virgo:
Starting December 19, when Jupiter and Saturn align, you should be clearer about what you need to make your life flow more effectively. This could involve examining and making adjustments to your daily routine, looking at how you serve others, or seeing whether putting your heart into everything you do might make a bigger difference in the lives of others. As Swami Sivananda said, "Put your heart, mind, intellect and soul even into your smallest acts. This is the secret of success."

---
Libra:
If you've been wondering when life is going to get easier – when the heaviness and seriousness give way to lighter times – then your prayers are about to be answered as Jupiter and Saturn move out of your home and domestic area (perhaps a theme that has required much responsibility in previous years) and into your zone of fun. Starting December 19, life begins to open up, and you should soon find more opportunities for fun and paths of joy.

---
Scorpio:
You can expect a festive season of plenty in December, but you need to focus on your area of home and family. The Jupiter-Scorpio conjunction falls in your domestic sphere, suggesting you have some work to do here, but the rewards will be worth it. For example, you might need to make a commitment to remodeling your house or relocating if you're not happy where you are. Or you might need to put your energy into improving your family dynamics or welcoming a new addition.

---
Sagittarius:
The Jupiter-Saturn alignment is likely to encourage you to broaden your horizons and make more of yourself. You might find yourself entertaining ideas of travel, study, adventure, or ways to communicate what you know to others, perhaps through writing, teaching, speaking or some other way of sharing your ideas, knowledge or wisdom. The key is your attitude. As Zig Ziglar said, "Your attitude, not your aptitude, will determine your altitude."

---
Capricorn:
The good news is that as you move through December, Saturn leaves your sign after two and a half years. while you might now be in a physically or mentally stronger place than you were three years ago, you probably wouldn't want to repeat the events of the last three years so get ready to celebrate on December 19 when both Jupiter and Saturn begin to move into your zone of money and material life, bringing opportunities for growth and achievement in this area.

---
Aquarius:
It seems that the cosmos has singled you out for special treatment, as the rare alignment of Jupiter and Saturn occurs in your sign. Basically, this indicates that a new chapter of life is about to begin, so it will make sense to contemplate your life thus far. If you believe you have room for improvement, at least be mentally prepared to go in the direction that's calling you. Much of this will revolve around your personal life, but it could also involve your professional situation and general direction.

---
Pisces:
Starting December 19 when the alignment of Jupiter and Saturn takes place in your zone of quiet contemplation, you might feel a strong urge to withdraw from the busyness of life and enjoy more quiet time to gather yourself. This Jupiter-Saturn conjunction sets the scene for a long period of spiritual growth, and it strongly indicates a time of getting your inner world in shape. That could mean committing to a meditation program, doing yoga, jouraling, starting a creative project, studying your dreams, paying attention to the signs and symbols around you, or listening to the quiet voice within.
---