#Horoscope #Aries #Taurus #Gemini #Cancer #Leo #Virgo #Libra #Scorpio #Sagittarius #Capricorn #Aquarius #Pisces #Horoscope – overview of this week
The Center for the New Age is pleased to present your Free Weekly Horoscope for December 27, 2020 – January 2, 2021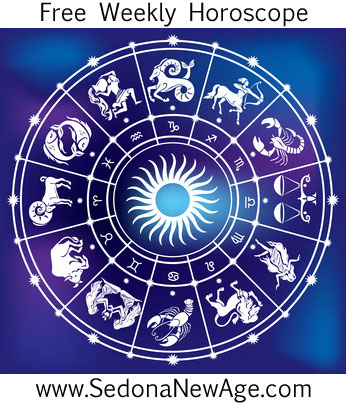 Receive our Free Weekly Horoscope in your Inbox
Aries Taurus Gemini Cancer Leo Virgo Libra Scorpio Sagittarius Capricorn Aquarius Pisces
Venus square Neptune (December 30 – January 8) is a time when you may find your desires at odds with your spiritual beliefs, and it may be a hard time for some people to make a personal connection with spiritual teachings. Faith and belief in love matters may be tested. This is a time to persist with loving expression despite those conflicts. Certainly it is best to avoid arguments concerning spiritual beliefs with loved ones while Venus is square to Neptune.
Mercury sextile Neptune (January 1 – January 5) serves as a good time to communicate with those who are an aid in spiritual matters. It's an opportunistic time to apply the work of prayers and spells. Take this opportunity to internalize thoughts and beliefs and mould them into a workable understanding.
Aries Taurus Gemini Cancer Leo Virgo Libra Scorpio Sagittarius Capricorn Aquarius Pisces
Free Weekly Horoscope for your Sign
Aries:
Rather than looking back and thinking how challenging life has been – particularly in terms of the amount of responsibilities you've had to shoulder – it might be better to focus on the future and what sort of life you want to create. You're moving into a prime position where it will be much easier to make your dreams come true. However, your health needs watching so make sure you get enough rest and enjoy a healthy and a happy new year!
---
Taurus:
With the radical, freedom-loving Uranus in your sign and Jupiter and Saturn pulling you forward to bigger and better things, you really can't expect everything to stay the same, so as the year draws to a close, be willing to embrace the kind of changes you know need to happen to help you live your life in a more authentic fashion. It might help to remember these words of Ralph Wldo Emerson: 'Once you make a decision, the universe conspires to make it happen" and in your case, Taurus, January is healthy and successful.

---
Gemini:
Believe in the impossible, and don't let fear and doubt stop you from going in the direction that feels meaningful to you. This is not the time to play if safe; instead, commit to a more adventurous way of living. As David Lloyd George said, "Don't be afraid to take a big step if one is indicated. You can't cross a chasm in two small jumps." But you can enjoy a healthy and happy New Year!

---
Cancer:
You might need to commit to shoring up your defenses, such as facing your fears and embracing your shadow so that it no longer has as much power over you. It could also mean becoming more empowered with money and finances. Perhaps what this year-end is really asking of you is for the willingness to let go of what has outlived its usefulness, because when you welcome death, you simultaneously open the door to birth. And that is where you will find yourself as you enter the new year – standing at the verge of a new era with the chance to transform yourself and your life.

---
Leo:
It could be that you decide to make a commitment to someone to spend more time together, open your heart more, form a business or romantic partnership, or take a leap of faith and acknowledge that you want a serious relationship. In any event, this marks the beginning of a new era in your personal ties. This will continue through the new year, so it would pay now to spend a little time this week to consider what you want from your relationships.

---
Virgo:
December began with a domestic flavor which should set the scene for a lovely New Year, but you might feel the need for something outside your home and family. This is likely to become more pronounced as time passes. It's likely that you already have one or two ideas about the kinds of changes you'd like to make, particularly to your everyday life or with your work or health. This week will provide you with the opportunity to contemplate to a greater extent what changes you will be making in the New Year to further complete your expectations.

---
Libra:
Your only requirement is to get serious about enjoying yourself more. Maybe you need to make a concerted effort to leave your cares behind, commit to expressing your creativity, allow your romantic soul to flourish, or simply spend more time doing what you love and less time consumed with work, chores and responsibilities. These are all things to think about as the year draws to a close, because in 2021 you will be in the most enviable position of being able to live from your heart.

---
Scorpio:
Before the year draws to a close, commit to dealing with peace and quiet in your family and in the personal side of your life. That way, as you enter the new year, you will already be sure about what you need to do to strengthen the foundations of your life, then everything else will gradually fall into place. This is a good time to consider the following words of Confucius: "The strength of a nation derives from the integrity of the home."

---
Sagittarius:
This is the time to make an impression on others and determine what you need for your personal progress. Despite the demands of the season, you might feel wrapped up in personal concerns. This is fine because you need to assess what you need for your happiness. This could mean recharging your batteries by spending time engaged in activities that make you feel good or simply embracing opportunities for fun and enjoyment like in celebrating the New Year.

---
Capricorn:
As you move toward the end of the year, it won't hurt to consider your material status and see where you would benefit from getting serious or making a commitment. It might be time to commit to a business idea or straighten out your finances. Maybe you would like to earn money doing what you love, or perhaps your situation would improve if you honored your values. Ultimately, the Jupiter-Saturn conjunction which will persist through much of the new year, is about utilizing your talents to create greater abundance.

---
Aquarius:
You are going to be initiating a new cycle of growth that will set the scene for many years to come, so don't rush ahead. Give careful consideration to where you want to be, which should become clearer as you move into the new year. As your future depends on your decisions, you need to think everything through properly. Then all you need is the commitment to follow through on your dreams.

---
Pisces:
Love is high on the agenda right now with your love planet Mercury in your 10th career house at the top of your chart. This shows focus and power. You find love and social opportunities as you pursue your career goals and with people involved in your career. With holiday parties, you mix with people of importance and prestige and status is also a romantic turn-on. You might be too quick to fall in love – you leap before you look, but this will change and you'll become much more cautious as the New Year dawns.
---