#Horoscope #Aries #Taurus #Gemini #Cancer #Leo #Virgo #Libra #Scorpio #Sagittarius #Capricorn #Aquarius #Pisces #Horoscope – overview of this week
The Center for the New Age is pleased to present your Free Weekly Horoscope for January 17 – January 23, 2021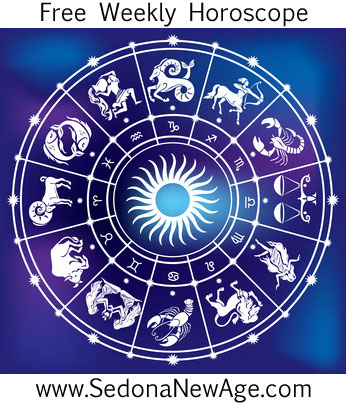 Receive our Free Weekly Horoscope in your Inbox
Aries Taurus Gemini Cancer Leo Virgo Libra Scorpio Sagittarius Capricorn Aquarius Pisces
First Quarter Moon in Aries on January 20 inspires our moods in an active, upbeat manner. This is the time to get in tune with personal levels of energy, strength and vitality. Aries Moon brings on an expression of courageous vigor, as well as a sense of bold adventure. This serves as a good time to apply diligence to your inspired abilities.
Mars square Jupiter (January 23 – February 5) promotes various activities to be met with the obstacles of economic oppression and shortfall. This is a difficult time to excel in business endeavors, especially in actively trading markets. This aspect warns us that there will be complications and stiff competition when approaching the job market aggressively. Trying to make progress using headstrong attitudes and unwarranted self-confidence might impede progress. The square aspect of these two planets creates a challenging dynamic in the struggle to grow economically. Expect to work a lot harder and perhaps a lot longer in order to smooth rough edges of the financial empire while Mars squares Jupiter.
Venus sextile Neptune (January 23 -January 31) is a good time to focus love on spiritual beliefs. This aspect can have a strong healing effect on the soul, and reaches into the feminine parts of our being with a calm fortitude. This serves as an excellent aspect to reach out spiritually to those we love as well as to our spirit guides. This aspect also holds the potential for one to realize the profound beauty and the depths of which true love is capable.
Aries Taurus Gemini Cancer Leo Virgo Libra Scorpio Sagittarius Capricorn Aquarius Pisces
Free Weekly Horoscope for your Sign
Aries:
Mars is still in a headlock with Saturn, Uranus and Jupiter and this week the Sun and Moon join in adding to the feeling of restriction and emotional intensity. Tension could become too much and result in frustration, irritability or dramatic outbursts. You might feel tension around ownership, friendships, groups or organizations. For example, your values might be at odds with others, and it might be difficult to keep a lid on your frustrations. That said, you do need to be true to what is most important to you, so you might need to rattle a few cages. Whether you are successful or not is another matter, for the planetary energies currently bearing down on you are very strong. If you don't take on more than you can handle and you know when to back off or rein yourself in, it is possible you can make some progress. Try to balance what you want and need within current restrictions, and you might find a way through.
---
Taurus:
This is another potentially volatile week as the Moon joins Mars and Uranus in your sign, squaring the Jupiter-Saturn conjunction at the top of your chart. This suggests frustration with where you are in life and where you would like to be. Perhaps you're not sure how to get there, you can't get there quickly enough, or restrictions seem to be stopping you from getting where you want to be. Try not to let this frustration get the better of you, for it will pass. Self-sabotage is a high possibility at the moment, so think before you act. Some golden opportunities are waiting for you, but try to receive them with a calm, relaxed and patient approach. These qualities are all normally consistent with the Taurus nature, but these are not normal times, so you might not be as calm and controlled as usual. Going out in nature, meditating or pursuing an artistic pastime could help you stay on an even keel.

---
Gemini:
While honesty is usually the best policy, some things are better left unsaid or undone, but it might not be easy to keep a lid on something you have repressed. You could argue that troubling elements of the psyche are best dealt with in the open, but be prepared for a little fallout should any skeletons emerge from your closet. If you feel disturbed by whatever rises from your unconscious (and this could be strange or dark dreams or imaginings as much as actual things in your daily life), try to find constructive ways to express this dark matter, perhaps through journaling, talking to a therapist, or simply allowing whatever comes up to be there without judgment. Ultimately, this is a time to keep your focus on what feels meaningful. Maybe whatever else is going on is simply showing you how to clear a path to a bigger adventure.

---
Cancer:
If you want to take a step toward the future to fulfill a dream or enable a wish to come true, you first have to let go of whatever has been holding you back. This week, as the Sun joins Jupiter and Saturn in your zone of rebirth, you are invited to allow some part of you to die so that you can rise like the phoenix from the ashes. As you do so, you might find that any frustration at not moving forward begins to dissolve, leaving you free to pursue your agenda and be a more dynamic force in your community or society. This week, ask yourself, "If I could change the world for the better in some small way, what would I do?"

---
Leo:
Life is likely to feel quite intense right now. Your work and life direction demand much of your attention, but relationships – especially beginning January 21 – become a key theme. It's time to direct more of your focus to the people in your life. You feel frustrated with your life direction this week, whether that relates to your career or in broader terms, but hasty actions are likely to be counterproductive, so don't rush to make dramatic changes. You likely have enough to deal with this week, so don't add any difficulties by acting impulsively in a bid to free yourself of whatever is causing frustration. Try to work constructively with people, and aim to be an agent of positive change in your professional life. A little rebellion is healthy, especially if it enables you to be your authentic self, which might be what you're being called to do now. Joining forces with others, rather than slipping into discord and separation, will reap the best results.

---
Virgo:
As the Sun joins the Jupiter-Saturn conjunction in your zone of work, it won't be enough to live a frivolous, self-centered life; however, your problems can probably be alleviated by being of use to others. Here are some good questions to ask now: "How can I provide better service to others? How can I be of greater use? What can I do to help?" Remember that the Jupiter-Saturn conjunction is bringing opportunities for new beginnings to your work, health and general well-being. This needs to be your focus now as you strive to create a working life that feels deeply satisfying to mind, body and soul.

---
Libra:
Much of what was said last week applies to this week, only more so; the Moon joins Mars and Uranus, adding to the deep emotional flavor of things. This is a volatile combination, and in your zone of death, sex, rebirth, and psychology, things could be rather "interesting." Any unusual outbursts or strange behaviors on your part could represent some hidden need for change. Perhaps a part of you that has been neglected – such as a persona with an old wound or a suppressed desire – makes its way to the surface to be acknowledged. So go easy on yourself if you make a mistake or allow instinct or impulse to get the better of you. Underneath all this is the need to honor whatever your heart is feeling no matter how inconvenient that might be.

---
Scorpio:
According to Confucius, "The strength of a nation derives from the integrity of the home." The issue of home is likely to remain a theme this week. Your challenge is to work at making the foundations of your life stronger and more nourishing so that you and those sharing your space can feel nurtured and more empowered. It might not always be easy, but the Jupiter-Saturn conjunction offers a golden opportunity to begin a new cycle of growth in your domestic life. Be prepared to put in the effort, and you will certainly reap the rewards. The Sun's arrival in this area of your chart makes this the perfect week to direct more of your time, energy and attention on your home and family dynamics. Look at your foundations and see how they can be strengthened. Consider in what ways your home or family might lack integrity, and work to fix it.

---
Sagittarius:
While your material life continues to be a main theme, the Sun's arrival in Aquarius suggests that communication is also an important feature this week. That could affect how you talk to your neighbors or how you develop an idea, which if launched into the world could become something special. Therefore, don't hold back on selling yourself or getting your thoughts and ideas out there. This is a good time to launch a business idea or move forward with a project or a job application. Remember that your thoughts generally determine the reality you create.

---
Capricorn:
The Sun's move into Aquarius adds to the growing material theme now, suggesting you need to be grounded and work toward firming up certain aspects of your life. But the square from Mars and Uranus suggest that something is at odds with your financial or material situation or that you might be trying to run before you can walk. Don't be in a hurry to make dramatic changes or break out of a confining situation. Instead, work toward steady growth while factoring in your need to do your own thing or be your own person. This can be a productive time so long as you can aim for constructive, creative change rather than dramatic, destructive behavior or the opposite: overly cautious resistance.

---
Aquarius:
This is likely to be an interesting week. The Sun joins Saturn and Jupiter in your sign, emphasizing the need for new beginnings, initiating a new project, or beginning a new cycle. You also need to be clear about who you are and what you want from life. The Sun's conjunction to Saturn and Jupiter implies both a need to get serious and deal with your responsibilities while also thinking big enough and optimistically enough to envision success. Believe in where your life appears to be heading, or if you're not happy with your direction, start changing course. Meanwhile, the Moon, Mars and Uranus create a feisty emotional alignment in your zone of home and family, so don't expect things to run smoothly here. Instead, be open to whatever changes are happening and try not to get swept away emotionally. Perhaps the best advice is to go with the flow while being true to your identity. The big issues are who you are and what you really want.

---
Pisces:
The planetary activity continues to build in both your soul and beliefs areas, so much of what was said last week also holds true this week – perhaps more so. You will need to be vigilant about what you say, because it will be easy to let angry or impatient words hurt others. If you feel irritable, impatient, or resentful, try to find the reason before you fire off a round of angry words. Pisces is a gentle sign, so you might be justified in releasing some anger; perhaps someone has pushed their boundaries too far or taken advantage of your good nature. If this is the case, focus on being assertive rather than passive or aggressive, as the message this week is to stand up for yourself and express yourself clearly. The best use of the current volatile energies would be to express your truth, even if that means being a little controversial. Remember that you can't please all the people all the time, and your first duty is to yourself.
---