#Horoscope #Aries #Taurus #Gemini #Cancer #Leo #Virgo #Libra #Scorpio #Sagittarius #Capricorn #Aquarius #Pisces #Horoscope – overview of this week
The Center for the New Age is pleased to present your Free Weekly Horoscope for January 31 – February 6, 2021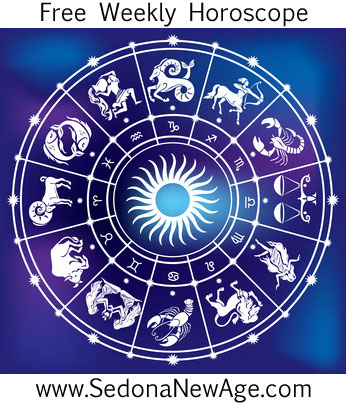 Receive our Free Weekly Horoscope in your Inbox
Aries Taurus Gemini Cancer Leo Virgo Libra Scorpio Sagittarius Capricorn Aquarius Pisces
Venus enters Aquarius (February 1 – February 25) creating a fondness for invention, eccentric pleasures and social life. It puts the focus of attraction and adoration on illuminating types of knowledge and on brilliant humanitarian causes and exploits. Venus in Aquarius is a prime time to perfect and enhance our love of humanity and to break down the barriers of useless and destructive prejudice and stereotyping.
Venus conjunct Saturn (February 6 – February 14) brings a favorable time to apply discipline in the arts and in loved related matters. This conjunction represents our commitment and responsibility to the people we love and care about. It may also indicate there is a strong timely quality about love matters taking place, or that love matters are undergoing a restriction, or possibly even closure of some kind. The conjunction can go either way on the positive-negative scale, since the loving attraction of Venus can be either encouraged or thwarted by the responsible, serious and limiting discipline of Saturn's energy.
Last Quarter Moon in Scorpio on February 4 is often an intense time for the emotions. Issues that matter deep down are likely to come up. Scorpio rules passion and compassion and it is likely that the dark secrets of our life will be touched in some way. The Last Quarter Moon in Scorpio urges us to release stored up tension. This is a good time to find release for our emotions without imposing them on others.
Aries Taurus Gemini Cancer Leo Virgo Libra Scorpio Sagittarius Capricorn Aquarius Pisces
Free Weekly Horoscope for your Sign
Aries:
Your chart has a strong social theme right now. No matter what is going on in the world, you need to reach out and connect with others, for this is where your opportunities lie. An issue with a friend might need resolving, or you might need to review situations involving groups, organizations, contacts, or acquaintances. The simple truth might be that you can't get where you want to be without the help, input or companionship of others. Any drive toward financial or material matters needs to be carefully balanced against the significant moments you could miss if you forget what's really important.
---
Taurus:
With Mars and Uranus in your sign and a cluster of planets in your success zone, you likely feel either dynamic or overly stretched and unable to relax. Maybe you can find a way to enjoy the busyness. If you're feeling frustrated, angry, or wired – all possible consequences of having Mars and Uranus in your sign – you might need to address the underlying cause. What is really frustrating you? What is the anger saying? Do you need a creative and refreshing change? Do you need to take more action or loosen some structures without destroying what has value? You are probably being called to channel dynamic energy into your vocation or professional life. As you do, you should notice a more peaceful state begin to emerge.

---
Gemini:
As Mercury retrogrades through your zone of venture and optimism, you might be tempted to give up on something you thought was possible even if a little far-fetched. You might simply need to review the situation and remind yourself that anything is possible. Any impediments to progress could be reflecting your inner uncertainty. To determine if you are heading in the right direction, ask whether it feels meaningful. If so, this is a clear indication to proceed. If not, you might want to figure out how to get back on track, which could be as simple as noticing when you feel a sense of expansion.

---
Cancer:
Rebirth and transformation are your key themes as a cluster of planets gathers in your zone of deep change. What do you need to release so that you can move to a better place? Shedding your old skin can be difficult because you have no guarantee you'll grow a new one, but of course you will, and your courage to release all that is outworn will be rewarded. If you're unsure where you're going or what you want, a good purge might be in order. This will coincide with the theory that when everything else is stripped away, the essential is revealed.

---
Leo:
As Mercury retrogrades through your relationship zone, you might need to direct your attention to a relationship that is suffering from neglect or complacency. This is an opportune time to heal a relationship, make or renew commitments, and spend quality time with people you care about. See how happy you feel when you bring happiness to the lives of others.

---
Virgo:
You are in a prime position to make positive changes to your work or health, but you need to underpin both these areas for greater satisfaction with your daily life. If you don't leap out of bed in the morning gripped with passion for the day ahead, your health and productivity go down. Ask yourself what gives you the greatest satisfaction, then consider Mahatma Gandhi's words of wisdom: "The best way to find yourself is to lose yourself in the service of others."

---
Libra:
As the planets gather in your zone of fun, creativity and enjoyment, it's time to pay more attention to what your heart says than what your head thinks. Embrace opportunities for pleasure and enjoyment: be more creative, invite love into your life, or simply carve out more time to relax and be carefree. A passionate and colorful life might be calling, and while some degree of caution is merited, you have little to gain now by playing it safe.

---
Scorpio:
February begins with a strong focus on your inner world. That could translate as your home and family life or your inner thoughts and feelings. Much is likely going on here, from family dynamics and domestic changes to memories and emotional states rising up from the past. Be aware that whatever triggers your emotions now likely has its roots in something that happened long ago. Taking constructive action toward home and family is the way forward. This is the ideal time to make changes to the space in which you live and to develop, heal or create new dynamics with your family. It might also be appropriate to close a door on the past if a chapter of your life is ending.

---
Sagittarius:
According to Seth Godin, "Sharing an idea you care about is a generous way to change your world for the better." In a world with so much to complain and worry about, try to focus on what you can do. A cluster of planets in your communication zone shows this is the time to speak up and allow yourself to shine. Now is a good opportunity to both share what you know to inspire or educate others and to study and learn from others. Either way, this is a time to act on an idea and reach out to others.

---
Capricorn:
As the planets gather in your money zone, you might think that many of your issues and problems revolve around financial and material matters. Whether it's money, work, business, possessions or other structures in your life that give you stability, much is open to change. This is actually a good thing, because you are being asked to start again in some way with your financial and material growth or to rethink the way you have previously approached such matters. Placing too much importance on money, success, and possessions can cause as much suffering in the long run as denying the importance of the material world. Balance is necessary and this is the perfect week to review your material situation and start addressing what needs fixing.

---
Aquarius:
If you feel caught between a rock and a hard place, you might need to shift your focus from what you can't do or what isn't going your way to what you can do. A certain amount of acceptance and tolerance for a difficult situation might be needed now as resisting or trying to force things will be counterproductive. Something new is trying to make itself known in your world, but you might first need to go through a few trials before you emerge with the treasure. As in all good fairy tales, the hero has a bit of work to do before he wins the princess or gets the golden fleece.

---
Pisces:
"We have forgotten the age-old fact that God speaks chiefly through dreams and visions." Carl Jung was very much in tune with the workings of the universe and aware that the soul communicates not through the intellect but through the imagination. All the great works of art and spiritual revelations have originated in the imagination. As the planets align in your zone of the unconscious, you are in a prime position to access much wisdom, insight and inspiration. You only need to ask, and then pay attention as answers present themselves. Meditation, dreamwork, signs, symbols, art, music and dance can all be keys to your progress and abundance.
---