#Horoscope #Aries #Taurus #Gemini #Cancer #Leo #Virgo #Libra #Scorpio #Sagittarius #Capricorn #Aquarius #Pisces #Horoscope – overview of this week
The Center for the New Age is pleased to present your Free Weekly Horoscope for February 7 – February 13, 2021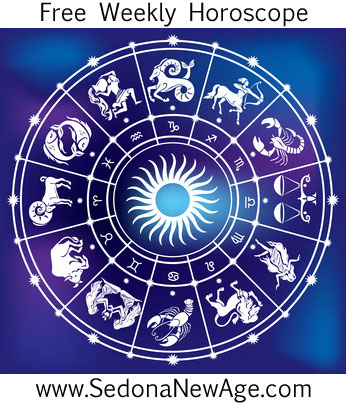 Receive our Free Weekly Horoscope in your Inbox
Aries Taurus Gemini Cancer Leo Virgo Libra Scorpio Sagittarius Capricorn Aquarius Pisces
Mercury square Mars (February 10 – March 10) is a time when efforts to barter or communicate, and attempts to be practical may seem complicated by stubbornness, particularly when it comes to taking action with family or friends. This is not a good time to lose one's temper. Be especially careful to watch what you say, preferably thinking before you speak; words can be easily taken the wrong way. This aspect stimulates arguments and mental blocks concerning people's actions, and it may lead to verbal abuse and distancing among family and friends. Refrain from making risky comments and be careful not to misinterpret information as being hostile or personal.
Venus is conjunct Jupiter (February 11 – February 20). The influence of beauty, love and attraction (Venus) blends and melds with the powers of production, expansion and prosperity (Jupiter). This is a time to enhance love relationships and realize the precious value of love in its most limitless sense, since the influence of Jupiter reminds us that the resources of love in the universe are inexhaustible, and love's great bounty is designed to be shared. A love for expansion and the growth of skill (or personal economy) comes out with the conjunction of Venus and Jupiter.
New Moon in Aquarius on February 11 is a good time to begin new social and philanthropic endeavors, and to gain fresh knowledge by learning something new about ourselves or our ever changing world. Moods created by this New Moon may be bold or daring, with a flair for experimenting with life. This is the time to open up to new feelings and greater comprehension of science and technology and of these changing times, adding to our power.
Mercury conjunct Venus (February 13 – February 17) brings a strong, sometimes challenging tone to the communication of love. This aspect brings a demanding tone to discussions among loved ones, and it may create an urgent quality in negotiations over prized items and valuables. Communications are received best when they are delivered with considerable care. Be sure to let those whom you love know it; sometimes it's what isn't said that disquiets the heart. Know that there is a need to communicate love occuring now, and that the most simple and direct way to express love might be the best.
Mars sextile Neptune (February 13 – February 21) is a splendid time to act on our beliefs. This aspect brings the vitality of Mars' energy into a favorable position with the spirit-awakening influence of Neptune. This is a place where we can safely dump our anger and can potentially make a connection with a spiritual healing process. Mars is active and masculine, while Neptune has a very nebulous and passive guise that affects our deeper inner sense of beliefs and spirit. When these two planets are placed in a favorable position to each other, personal spiritual breakthroughs can be made.
Aries Taurus Gemini Cancer Leo Virgo Libra Scorpio Sagittarius Capricorn Aquarius Pisces
Free Weekly Horoscope for your Sign
Aries:
With your ruler Mars being squared by five planets, this might not be the smoothest week you've ever had. Prepare for some challenges and obstacles, but remember that patience, perseverance, and tolerance work better than impatience, frustration, and anger. You can't always have what you want when you want it, and the New Moon on February 11 suggests that progress will come, but only after you've reviewed or fixed one or two things. The New Moon also brings an opportunity to turn over a new leaf in your social life, whether with a friend, group, organization, or any situation involving other people. Ultimately, this week's planetary activity is very much about your future and your connections to the world. If you see no openings for involving yourself with others, find a way to create opportunities.
---
Taurus:
All that was said for last week applies to this week, only more so. A New Moon lands at the top of your chart, making this a powerful time to move forward with your aims and ambitions. That said, Mars squaring several planets in your success zone suggests that what you're trying to achieve won't necessarily be easy. You might experience delays and have to work hard to achieve your goals, or a block or impediment could seem to thwart you. However, the New Moon suggests that if you can let go of what no longer fits – perhaps a break from the past – the path ahead will be much easier, and things should start to go your way with much less force and effort.

---
Gemini:
Your ruler, Mercury, is still retrograding, suggesting the need for caution with your plans, but the New Moon makes this a good time to expand your sense of what is possible and to challenge your limiting beliefs. When you confine yourself or others to labels or neat little boxes or tell yourself or others that something isn't possible, this is only one version of reality. You are being challenged to entertain a different view of reality where seemingly impossible things are not so impossible after all. If you don't try, you won't know. As quantum physics demonstrates, everything exists in potentiality, so step into the reality that best matches your highest potential.

---
Cancer:
Transformation and rebirth are never easy processes, but it should be a little easier to let go of what you no longer need under this week's New Moon. This time could feel rather intense and feature big themes in life: birth, death, sex, power, money/debt, mental health. Any of these could teach you a great deal. The trick is to not resist or force matters, because the more you struggle, the harder and more exhausting the process becomes. Let life carry you wherever it leads.

---
Leo:
It's all about relationships and dealing with other people as a big cluster of planets aligns with the New Moon in this area of your chart. It might be time for a change, new beginnings, or some kind of development in at least one relationship. You might be time for a change, new beginnings, or some kind of development in at least one relationship. You might meet someone new, make or break a commitment, address a problem, or simply look at how you can get along better with people. Whatever the situation, it is time to start fresh in your personal life. As Lailah Akita said, "Share your life with others. You will have a joyful life."

---
Virgo:
If you feel the need for positive change with your health and well-being, the New Moon on February 11 is the ideal time for a fresh start. Begin a new routine that supports your health, or let go of a detrimental habit or any other destructive activity that undermines your well-being. Your work can also benefit from a fresh approach, but the New Moon and big cluster of planets in this region of your chart really asks you to reassess and constructively change how you spend your days, from the moment you wake up to the moment you fall asleep.

---
Libra:
One could argue that you are the most blessed of signs by the current alignment of planets residing in your area of fun, creativity, pleasure and romance. If you aren't full of joy, you are being encouraged to find out why. Ask yourself what makes you feel joyous, and then build on that. Perhaps you need to live more creatively or romantically. Maybe you need a more playful spirit while realizing you are your own god and capable of creating whatever you desire. Nothing really matters at the end of the day, for life is a game. What game do you want to play? Allow the New Moon to coax feelings and inspirations from your heart.

---
Scorpio:
Family and home life loom large as the New Moon on February 11 and a group of planets gathers in your domestic zone. Here is your opportunity to start fresh in your home and family life. Mend a relationship, close a door on the past, move house, renovate the house you're in, or simply enjoy your abode and realize nothing is more important than the contentment of a cozy and happy home life. Using the principles of feng shui could be highly beneficial now. Clearing out old energies and bringing in a new vibration could positively affect you and anyone who shares your home.

---
Sagittarius:
This is likely a busy and active week with lots going on, and it's a mirror of the frenetic activity in your head. If you don't want to be afflicted by bouts of nervous exhaustion or anxiety, try to slow down and create rest periods or pockets of stillness within the day. Bear in mind that Mercury is retrograde in your mental/mind zone, suggesting glitches and breakdowns in communication, travel, technology and a general feeling that life is stressful, awkward, and keeping you from getting where you need to be. The worst-case scenario is there could be accidents and other mishaps that stop you in your tracks. Preempt calamity by realizing you have no need to rush and that everything is unfolding as it should.

---
Capricorn:
As the New Moon and a large and auspicious alignment of planets gather in your financial zone on February 11, this is a propitious time to create a new mindset in your material world. Look especially at the way you earn or manifest money. If you have been experiencing lack, then the current planetary picture should help you address the imbalance and generate greater abundance, especially if you express the gifts you were born with. Identify what you are really good at, and get to work.

---
Aquarius:
If you feel you are not moving forward or making much progress, maybe it's because you're not meant to, as this is more a time for reflection and reviewing situations in your life. That said, the New Moon in your sign on February 11will clear the way to a certain extent and provide an opportunity to create a new beginning, which could mean getting rid of something that has been holding you back. This is likely to be another eventful week focusing on your personal life and domestic situation, but adopting an attitude of acceptance will help you ride the choppy waves.

---
Pisces:
With a New Moon on February 11 in your zone of endings, this is a good week to close a door on something or bring a matter to completion. The past or deep feelings are likely quite apparent now, and looking back is fine if it helps you make sense of something or move on. But with a large and heavy grouping of planets also in this area, it would be all too easy to get lost in a labyrinth of sadness, sorrow, or wishful thinking. Try to balance an introspective mood with activity. Take the positive elements of this alignment of planets in such a sensitive area by tuning in to inner peace and inspiration through meditation, art and all the things we mentioned last week. You can get lost in negative inner states or use inspiration to connect with the divine.
---