#Horoscope #Aries #Taurus #Gemini #Cancer #Leo #Virgo #Libra #Scorpio #Sagittarius #Capricorn #Aquarius #Pisces #Horoscope – overview of this week
The Center for the New Age is pleased to present your Free Weekly Horoscope for April 18 – April 24, 2021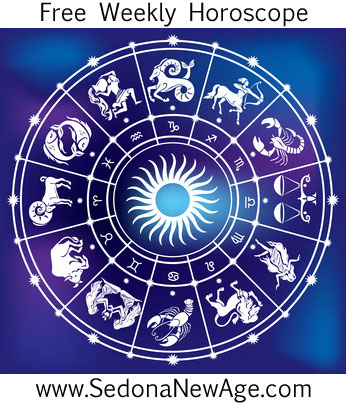 Receive our Free Weekly Horoscope in your Inbox
Aries Taurus Gemini Cancer Leo Virgo Libra Scorpio Sagittarius Capricorn Aquarius Pisces
First Quarter Moon in Leo on April 20 places our moods in states of playfulness, indulgence and the need for self-expression and adoration. Attractions tend to be towards those areas of life that we identity with the most. Moods reflect on the competition of who has the best, the biggest, the shiniest and most expensive toys, cars, clothes, house and accoutrements.
Mercury enters Taurus (April 19 – May 4) where communications will focus on manifesting sales and generating economic growth. While Mercury moves forward through Taurus, it is a good time to clean up concerns around valuables,and to deal with issues concerning documents, contacts, speeches and business procedures. Mercury is the messenger, the speaker and the director of the topic and the subject matter at hand. In the fixed earth sign of Taurus, Mercury inspires the inclination to buy, sell, trade, barter and negotiate terms of sale.
Mars enters Cancer (April 23 – June 11) emphasizing a focus on the home, household improvement or remodeling – possibly even a move to a new home or making the adjustments following a big move. Cancer represents large bodies of water such as the oceans and great lakes, and while Mars is in Cancer, marine activities are emphasized. Mars in Cancer represents the defenses of the emotions and the tender aspects of our being that we strive so hard to protect. Use the energy of this aspect in your life to keep the flow moving, and to create to your heart's content!
Aries Taurus Gemini Cancer Leo Virgo Libra Scorpio Sagittarius Capricorn Aquarius Pisces
Free Weekly Horoscope for your Sign
Aries:
As the planets gradually make their way into the material zone of your life, you might feel a growing need to focus on the more tangible aspects of life, such as work, money and the physical things you own. This could range from changing how you do business, or any aspect of your financial situation, to enjoying the more sensual and physical aspects of life. Either way, it's time to get real and become more grounded while at the same time not being too fixed or rigid since Uranus in this area of your chart might change things faster than you can keep up with. Embracing uncertainty or change in the material side of life could enable you to see opportunities or experience things you'd previously missed.
---
Taurus:
The action begins this week as the Sun enters your sign on April 20, signaling some kind of new beginning. You could begin a grand new chapter or turn over a new leaf in some smaller aspect of life. Trying to keep things as they are would be counterproductive and possibly damaging in the long run. If you are trying to make changes but find yourself blocked, you are likely moving in the wrong direction and making the wrong choices. Alternatively, the blocks are mirroring our internal resistance and fear. If you feel you are moving in a direction that seems authentic – a keyword for you now – then persevere, and you will eventually experience a breakthrough.
---
Gemini:
As the planets shuffle into your house of rest and repose and Mars reaches the end of your sign, you might be feeling the need to rest. If life has been busy or demanding the past few weeks or months, now you can step back and embrace a quieter, softer way of living and replenish your spent energy. Much pleasure and enjoyment can be found in quiet places and simple pleasures – a walk in nature, a few minutes of meditation, a long soak in a candlelit bath, or curling up on the sofa with a good book. Whatever quiet pleasures you enjoy, now is the time to embrace them. In doing so, you will begin to restore your soul.
---
Cancer:
If you're waiting for a green light or you're feeling you could use some energy and motivation, Mars in your sign at the end of the week promises a more dynamic time ahead. In the meantime, take every opportunity to connect with others in whatever way possible, and make changes to your social life and friendships. For example, this is a good time to make new connections, make a new friend, join a group, or consider what you can do to make a difference in society. Trust any innovative ideas you have, and try to implement them as quickly as you can, because any dallying could result in lost opportunities. Embrace chances to spend time with like-minded people.
---
Leo:
As the planets gradually make their arrival at the top of your chart, success and achievement become more likely. If you have managed to push out of your comfort zone in recent weeks, you will perhaps soon find yourself basking in a feeling of victory. Alternatively, you might feel more able to take a step in the right direction, whether that's putting more energy into your career/vocation or making progress with an ambition. Either way, this is a time to move forward in the world, focus on the future, and make any changes that help you get yourself on the right track.
---
Virgo:
As the planets align in your zone of adventure, now is not the time to play it safe. In fact, the more you try to stick with the status quo, the more problems you'll likely have. Something is calling you, perhaps a dream or a need to explore or expand. Honor that calling, because it could bring you a sense of meaning. Only when living a meaningful life can you be truly happy.
---
Libra:
As a group of planets gathers in the most intense region of your chart, this is a time for boldness and courage rather than venturing meekly into situations. It is not easy to be vulnerable, but if you want to deepen your bonds with someone, you'll need to show your real self. For example., you can ask for help, reveal your true feelings, or admit that you have a particular weakness. There are no guarantees, but if you allow people to see the real you, they will likely respond favorably.
---
Scorpio:
As the planets shift into your relationship zone, other people are likely to be bigger concerns. Do you need to communicate your feelings? Do you need to clear the air or heal a wound? Do you need to show more love to someone? Consider what would have the biggest healing effect on your relationships, and seek to inject that feeling or virtue. The alignment of Uranus and Venus might suggest that the ways you've previously related or the types or relationships you've had in the past might now be ripe for change. At the very least, try to be open to new ways of relating, and take nothing at face value.
---
Sagittarius:
As the planets begin their move from Aries to Taurus, you might find yourself in a more productive mood as the week progresses. Certainly from April 20, it will be easier to knuckle down and do whatever needs to be done. Consider how you can make your life run more smoothly and efficiently. What small changes can you make so that your life begins to work better? This could be something as simple as clearing some clutter, sorting out a backlog of paperwork, or tidying a messy drawer so that you can find things more easily. Or it might be something like rising an hour earlier to start your day with some exercise or meditation. Be mindful that whatever changes you make should feel good and refreshing.
---
Capricorn:
"Always be a first-rate version of yourself and not a second-rate version of somebody else." Following Judy Garland's advice, ask who is the first-rate version of yourself. Have you forgotten? Do you have glimmers of memories from the past, or do you think you are doing a good job of being your authentic self? We all start out being our true selves, but the older and more conditioned, battered, and bruised by life's events we get, the more we play it safe. This week it might help to take a good look at where you have allowed yourself to play it too safe at the expense of freedom and creativity. Allow any rebellious urges to direct you toward greater authenticity.
---
Aquarius:
As the planets begin their descent to the base of your chart, you are, in effect, being called home. There comes a point in life when we need to come home to ourselves. Quite often this is because we've "been gone too long" in some respect, perhaps working too much, being too busy, or neglecting ourselves in some other way. The soul hungers for something more nourishing. Take some time, particularly toward the end of the week, to consider what your soul is hungry for, and then be generous in supplying it to yourself.
---
Pisces:
Once you replace negative thoughts with positive ones, you start having positive results. You already know this, but how often do you lapse into negative thinking? Fear, anxiety, despondency or lack of confidence can take over. You might make judgments about people and situations that leave you feeling alienated, or you get caught up in sadness and sorrow. This week, as Saturn squares a cluster of planets in your mental/thinking zone, try to be aware of any unconscious negativity that might be sabotaging an otherwise positive mindset. Be alert and treat negative thoughts as you would any unwelcome intruder. Send them packing!
---