#Horoscope #Aries #Taurus #Gemini #Cancer #Leo #Virgo #Libra #Scorpio #Sagittarius #Capricorn #Aquarius #Pisces #Horoscope – overview of this week
The Center for the New Age is pleased to present your Free Weekly Horoscope for April 25 – May 1, 2021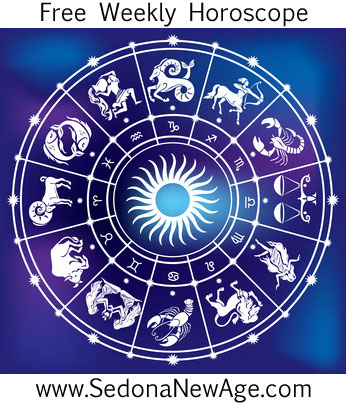 Receive our Free Weekly Horoscope in your Inbox
Aries Taurus Gemini Cancer Leo Virgo Libra Scorpio Sagittarius Capricorn Aquarius Pisces
Venus square Saturn (April 25 – May 3) creates obstacles and restrictions concerning the timely expression of love. This aspect sometimes creates blocks in the flow of care and love due to external responsibilities and restrictions that cause and create separation. It may be difficult to engage in some romance, as there may seem to be something always getting in the way. No matter how much one prioritizes their ocuses of love, it is still likely to be misinterpreted on some level during Venus square Saturn. While this aspect is occurring, it is wisest to work a little harder at love related matters.
Mercury square Saturn (April 25 – May 1) affects communications and information in a way that is timely, and often difficult to take or to get around. Mercury governs communications, and the square aspect presents an obstacle, making it difficult for information to penetrate very easily. Instead, information is likely to be stifled by obstacles getting in the way of deadlines, particularly given that Mercury is squaring to Saturn, which represents time and the discipline that it takes to reach a goal or to summon a response necessary to accomplish a desired effect. Whatever the desired effect may be, it is wise to use caution when attempting communications during Mercury square Saturn, especially concerning matters of time and timing.
Mercury conjunct Venus (April 25 – July 4) suggests an emphasis on the need and ability to communicate love. Both communication and love are expressed in a variety of ways. Be sure to let those you truly love know it; sometimes it's what isn't said that disquiets the heart. Hold no expectations in the expression love, and take no offense if your attempts to be loving are in fact poorly interpreted. Know that there is a need to communicate the love that is happening now and the most simple and practical (not overly complex)way to express that love might be best.
Full Moon in Scorpio on April 26 notoriously accentuates sexual urges and activities. A number of energies are all coming to the brink of fruition. Work off the built up energy in a safe, positive and productive way. Scorpio emphasizes passion and doesn't waste an ounce of strength taking any part of life for granted. Now is the time to use your passion for the good of the earth and to revitalize the energy of the people around you who mean so much.
Mercury sextile Neptune (April 29 – May 4) provides a good time to communicate with those who are of assistance in spiritual matters. This aspect serves as an opportunistic time to apply the work of dreams, hopes, prayers and spells. This would be a good time to internalize thoughts and beliefs and meld them into a workable understanding.
Aries Taurus Gemini Cancer Leo Virgo Libra Scorpio Sagittarius Capricorn Aquarius Pisces
Free Weekly Horoscope for your Sign
Aries:
As the planets align in Taurus and the Full Moon occurs in Scorpio on April 26, you might need to embrace some kind of transformation in your material or physical world. This could mean a change or development regarding money, a purchase of something you own or value, or an idea or belief you have about money and material things. Watch out for attachment, because when you are overly attached to something or give it too much importance, you can suffer. The current energies appear to be calling you to let go of a situation or be open to new ways of doing things so that you are less bound by the need for safety and security. Taking a risk – calculated or not – might be the way toward a more fulfilling and richer life.
---
Taurus:
The trick to life is knowing when you need to cut your losses and when to persevere. Knowing which is called for lies in how you feel about the situation. If it feels flat or dead, without any enjoyment, then it's probably time to let it go, but if you feel energized and positive, that is an indication you are making the right choice. Your feelings will always indicate whether something is right for you, and that is what you need to pay attention to this week. The Full Moon in your opposite sign on April 26 is likely to be very revealing, especially in your personal life, and it looks as though a change or development in this area is likely.
---
Gemini:
Sometimes we say or do things that later leave us wondering why on earth we did that. The answer is often that we have repressed something that needs to come out, or we are unconsciously tripping ourselves because we're afraid of things working out well for us. For example, you might believe you don't deserve a wonderful life, so you find ways to push people and opportunities away; or you find reasons to keep yourself trapped in limiting, albeit familiar and comfortable, situations. It is important to watch for little mishaps that could spoil things or behaviors that could work against you. The antidote, as revealed by the Full Moon in your house of health and work on April 26, is strengthening yourself through constructive habits, routines, and practices. You know what works for you, so focus on those things, and stay away from what weakens you.
---
Cancer:
In Greek mythology, Uranus was the rebellious deity who stole fire from the Gods and gave it to humanity. Fire symbolizes inspiration and creativity, and it could be that you feel a certain sympathy with Uranus as he moves through the area of your chart representing humanity. Perhaps you also feel the need to empower others or inspire or help in some way. You don't need to save the world; just do what you can to make a small difference without worrying too much about the wrath of those who don't care as much as you do. The Full Moon on April 26 will inject some passion into events and help you realize where your heart lies.
---
Leo:
The Full Moon on April 26 activates the home/family and career/direction areas of your life. This could manifest as issues of the past versus aspects of the future. It is not healthy to overly ruminate on the past or fantasize about the future, so try to strike a balance this week by staying in the present while learning from the past and allowing inspiration to push you toward the future. Matters are likely to come to a head, especially around the Full Moon and you might need to create more space to reconnect with yourself at a deeper level. Following your intuition, or sense of what is right for you, could make a big difference in your well-being.
---
Virgo:
If you're faced this week with an issue you just can't make headway with or if there's something you just can't seem to change or understand, then perhaps you need to look at it in a different way. Try stepping back to see the bigger picture, or view the situation from a different angle. Ask a friend what she would do, because we all see things differently. The more you can think outside the box and entertain newer, bigger and vaster concepts, the more likely you can break out of your old paradigm. You'll then find that your external world and all the challenges that go with it miraculously start to change. Maybe it's time to start believing in the impossible.
---
Libra:
Whether you should play it safe or take a risk might be the burning question this week. Some kind of change is likely required, but fear or responsibilities might be holding you back. If you allow your circumstances to become all work and no play with too much routine and not enough variety, you might become irritable or depressed. Take these two states as signs that you probably need to inject a bit of color into your days while remembering that being true to yourself is the best antidote to frustration or feeling low. Expect the unexpected and don't be afraid to try something new.
---
Scorpio:
The relationship theme continues, and you might be faced with a dilemma. Should you take the conventional route or try something different? Make sure the conventional route isn't driven by fear or insecurity or that it isn't holding you back. You might need to examine blockages with roots in the past. As you liberate yourself from these blockages, it will be easier to act more authentically in your relationships. No matter what, if the opportunity for happiness arises this week, you'd be well advised to take it.
---
Sagittarius:
Whether we like to admit it or not, we all have the tendency to self-sabotage. A good example is the well-meaning intention to cut down on chocolate or alcohol before lapsing and having a moment of excess. Perhaps you find that your daily yoga regime is working well for you, but you allow other things to get in the way. There are an infinite number of ways you can sabotage yourself, and as the Full Moon illuminates your zone of self-undoing on April 26, you will probably get a good glimpse of ways you are not a good friend to yourself. On a more positive note, the strong grouping of planets in your house of productivity, health and work will give you a good chance to implement positive habits that can bring strength to your body, mind and soul.
---
Capricorn:
If you want to be your true, vibrant, creative self, you might have to rattle a few cages. This could mean letting family members know you don't want to be disrubed while you carve out precious time to do your creative or spiritual work or engage in hobbies that are essential for your well-being. It might mean setting boundaries of a different sort where you decide not to be taken advantage of or let fear direct your actions. Wherever or whenever you feel held back, less than, or you're compromising your integrity or inhibiting your light, this is where you need to take a stand and start doing things differently.
---
Aquarius:
If things don't run smoothly this week or too many changes seem to happen too fast, perhaps you should just go with it. It looks as though the universe is trying to liven things up for you. You might protest that you've had quite enough excitement, and you want to keep things as they are, but with Saturn and Jupiter in your sign squared by revolutionary Uranus, there really is no way you can keep resisting whatever changes your soul quietly cries out for. This isn't about throwing caution to the wind or taking foolish risks. It's about looking at those areas of your life or the aspects of you that have become stagnant or stuck. Then seek to make constructive and inspiring changes. If you're already doing that, then all well and good. If not, this could prove to be an interesting week.
---
Pisces:
We have opinions on how things should be, such as the world situation, how a family member should behave, or the driver who acts inconsiderately. Quite often, though, life does not adapt to how we think it should be. The family member goes on being difficult, suffering continues in the world, and the driver still cuts us off. When you accept that life always presents you with challenges and you stop resisting whatever is happening and simply allow it, you open up space within for happiness, peace and contentment. Rather than resisting this week, see whether you can allow whatever is happening and try to go with it. Your nonresistance could lead to something miraculous.
---