#Horoscope #Aries #Taurus #Gemini #Cancer #Leo #Virgo #Libra #Scorpio #Sagittarius #Capricorn #Aquarius #Pisces #Horoscope – overview of this week
The Center for the New Age is pleased to present your Free Weekly Horoscope for June 13 – June 19, 2021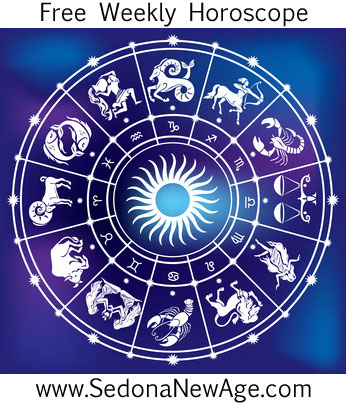 Receive our Free Weekly Horoscope in your Inbox
Aries Taurus Gemini Cancer Leo Virgo Libra Scorpio Sagittarius Capricorn Aquarius Pisces
The First Quarter Moon in Virgo on June 18 encourages us to put important matters into order. Curious and investigative moods abound. Record keeping and reference guides are all around us, waiting for us to find and use them. Analytical tendencies are brought out with this First Quarter Virgo Moon.
Aries Taurus Gemini Cancer Leo Virgo Libra Scorpio Sagittarius Capricorn Aquarius Pisces
Free Weekly Horoscope for your Sign
Aries:
Much of the success we achieve in life depends on how well we can communicate with others – whether we can listen and say the right thing at the right moment to make others feel that we're on the same wavelength or that they get us. This week, it could help to think about the impression you're making on someone, and if there's a conversation that you need to have, now is the time to speak from your heart and then listen with compassion.

---
Taurus:
Mercury retrograde teaches us that nothing should be rushed, because there are no true quick fixes or easy options, and as the planet of communication continues his backward journey through your financial zone, it's as if this whole area of life is under a microscope. How can your money work better for you? How can you earn more if you are in short supply? How can you earn a living doing what you enjoy? How can you be more responsible or organized? How can you be less attached if material things have a hold on you? Conversely, how can you have more reverence for the things you have in your life? Any of these questions can be relevant now, and the more time you spend working on developing some answer, the sooner the rewards will come. At its heart, this Mercury transit could be asking you to get your priorities right.

---
Gemini:
This is not the time to feel guilty about putting your needs first on the agenda; in fact, the more you deny yourself what you want, the more difficult your experiences will be, so if you are subject to bad moods, frustration and irritability, the universe might be trying to get your attention. On the other hand, the more you step toward the life you want, the more satisfying and exciting this time will be. Whatever is going on around you now will give you clear clues as to what adjustments you need to make. If all is well, congratulate yourself on already being ontrack; if not, take this as a warning sign that you need to make changes. Perhaps the answer lies in identifying your dream and following it.

---
Cancer:
Whenever we're confused, overwhelmed, stuck or unsure, a good antidote is to attend to the space around us and begin a clearing or sorting out process. As you sort through things and clear out what you no longer need, you will create order and space around you, and in turn, this will create space and clarity in your mind. We don't need much of what we surround ourselves with. Possessions only serve to hold us down or keep us stuck in the past. No matter how you choose to use the energies of the Mercury retrograde transit through your zone of endings, the message is quite clear. Let go of what you no longer need, resolve issues that belong in the past, and take time out to retreat if you need to.

---
Leo:
There is double good news this week. Any recent confusion and uncertainty will give way to clarity and stability for your life in general, specifically with future goals and your social situation. Mars in your sign brings a welcome dose of motivation, renewed purpose, and higher energy levels. In short, you are beginning a six-week phase of increasing drive and dynamism, during which you will find that, with a little bit of courage and faith, you can move mountains. Therefore, choose a goal and take the steps to make it happen, because now is the time to show the world what you can do.

---
Virgo:
This is not the time to hide your light under a bushel; indeed, this is your time to shine, to put yourself in the limelight – even if it's only to showcase your talents or to assert yourself more than you might normally do. This is a period in which you can attain some sort of success, so making the most of any opportunity that comes your way is advisable now. And when Mercury turns direct next week, you will once again be able to move forward with greater confidence and renewed inspiration, knowing that the path you take is the right one.

---
Libra:
"In a state of mind in which something doesn't exist, then it simply doesn't exist." This quote relates to our beliefs, and it implies that what we deeply believe will manifest as true in our lives, and what we cannot entertain as a slightest possibility will remain dormant or hidden from view. It might be worth contemplating this because the universe is trying to impress on you that something is more likely to come true if you really believe in it than if you are full of doubt. Faith is the key to your current situation – faith and a good dose of courage. If you need any further advice, then consider this: take the path that leads into the unknown rather than the familiar, well-trodden path.

---
Scorpio:
We can take a certain pride in maintaining our habits, beliefs and lifestyles, but in extreme cases, we rigidly adhere to situations when we would be better off taking a softer, more fluid approach. You are probably dealing with a situation that you don't much like, and you would prefer for it to go back to the way it was. However, the planets strongly suggest there is little to be gained by sticking rigidly to your old ways, which would make life more difficult for you. Try adopting a different approach this week, and see how your adaptability works wonders.

---
Sagittarius:
It is difficult to be happy or feel at peace when there is discord or conflict in our personal lives, and as Mercury continues his backward journey through your relationship zone, you are encouraged to resolve whatever irritates you. This might require the need for forgiveness. In other cases, it could involve the need to clear the air – to sit and talk things through. Remember that this transit favors time out from the usual way of relating, which could mean carving out some precious time to be alone together or to do something different. Either way, there are opportunities now to create greater happiness at home with your family and your important one-to-ones.

---
Capricorn:
We can all be prone to settling for less, usually because it's easier or because we're afraid to make the necessary changes. However, this can result in us falling short of our potential or restricting and limiting our growth. This week, as Uranus squares your ruler Saturn, it is important to see where you are allowing yourself to fall short – being less than you could be – and then ask some bold questions about how you can change things. The answer probably doesn't lie in abrupt actions that could be construed as rebellion. It's more about finding the middle way between your desire to break free and your desire for order. If your health is less than perfect, you probably need to listen to what your body is telling you – understand your mission in life in order to conform with it and consequently be free from disease.

---
Aquarius:
If this doesn't feel like the most settled or easiest phase of your life, remind yourself that out of chaos comes opportunity. Things might be changing around you, and it might seem as though there's little you can do to halt the path of destiny so maybe the best thing to do is to go with it and simply see what happens. There is often a method to the universe's madness, and maybe something within you is calling for change even if a bigger part of you wants to keep things as they are. Sometimes we resist growth because it takes us into the unknown, but it might be that this is precisely what you're meant to be experiencing.

---
Pisces:
Jupiter's recent arrival in your sign bodes very well for you, and it suggests that a new chapter is in progress. Perhaps at this stage all you need to do is consider moving toward any opportunity that will enable you to grow while allowing the past to recede so that you can embrace the future, which looks set to be brighter than it's been for quite some time. It might be appropriate to do less of what is expected of you and more of what you really want to do. Jupiter has arrived in your sign to remind you that life is short and you need to spend your days engaged in what makes you feel alive.
---