#Horoscope #Aries #Taurus #Gemini #Cancer #Leo #Virgo #Libra #Scorpio #Sagittarius #Capricorn #Aquarius #Pisces #Horoscope – overview of this week
The Center for the New Age is pleased to present your Free Weekly Horoscope for June 27 – July 3, 2021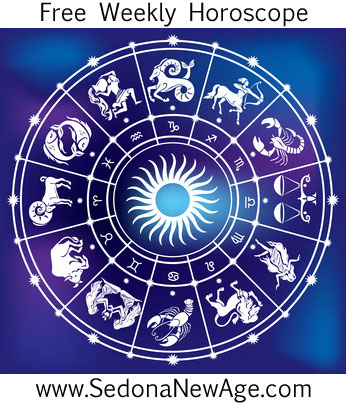 Receive our Free Weekly Horoscope in your Inbox
Aries Taurus Gemini Cancer Leo Virgo Libra Scorpio Sagittarius Capricorn Aquarius Pisces
Venus enters Leo (June 27 – July 22) bringing out the more playful side of love. Venus represents the expression of love and affection, of magnetism and feminine refinement. It represents what we want to attract to ourselves. In the sign of Leo, Venus brings out desires and needs for personal attention. Charitable and kind-hearted sympathy are brought out in the expression of affections with Venus in Leo.
Mars opposite Saturn (July 1 – July 19) always makes us acutely aware of the timeliness of your actions and the importance of acting in a timely manner, or doing something about a problem before it is too late. The popular old adage of "look before you leap" is a good meditation to apply during this crucial time of Mars opposite Saturn.
Last Quarter Moon in Aries on July 1 requires the letting go of intensified emotional energy – unless of course, the energy creates a desired and positive response. Dropping problems with the ego becomes the key to this Moon, and this is a decision that can only be determined for one's self. One cannot change the stubbornness and selfishness of others, but one can make a difference by setting the right example individually. Be true to yourself.
Aries Taurus Gemini Cancer Leo Virgo Libra Scorpio Sagittarius Capricorn Aquarius Pisces
Free Weekly Horoscope for your Sign
Aries:
This week you can turn your attention to your home and personal life and enjoy creating a more nourishing base within which you can thrive. The stars suggest you refrain from making too many demands. Complaining to your loved ones might have negative consequences, and might ruin things. If something is really bothering you, remember the very useful phrase, "Yes dear," and hold your tongue. Things will work out better this way.

---
Taurus:
It may be a good idea to see the glass as half full rather than half empty. This week there are solutions to your problems and opportunities to explore if you open your eyes to see them. Prepare to enlarge your paradigm and to see life in a bolder, more adventurous way. You are very likely to face conflict and other unpleasant encounters at work. You will share some of the blame for this – insisting on doing everything your way is not likely to make you many friends. Remember this and act accordingly.

---
Gemini:
If something is fixable, then fix it, but if something has run its course, then it is probably time to let it go. Problems that were making your life difficult in the past will continue this week. You may have to deal with inconsistencies from colleagues from other cities or abroad, which, in many cases, will once again drive negotiations close to the point of breaking down. Can things turn around? Yes, and you will be the one to do it. Your efforts this week will drive necessary changes, and contribute to getting relationships back on the right track.

---
Cancer:
When you discover something that nourishes your soul and brings you joy, care enough about yourself to make room for it in your life. Now that the dust of June's eclipses has more or less settled, you can enjoy your life more. You are in the middle of one of your personal pleasure peaks so the pleasures of the body are open to you. This is a very good time to focus on getting the body and image the way you want it, and because the Eastern sector of self is still dominant, it is good to make the changes that need to be made for your happiness.

---
Leo:
Things are slowing down in your life this week and more patience is necessary. The stars are urging you to pay attention to your relationship with business partners. Conflict is brewing in this area of your life, and most likely it will come to light at the beginning of July. In spite of the three long-term planets in stressful alignment with you, your health is good and the short-term planets are supporting you and boosting your energy to deal with things in general.

---
Virgo:
Where would you be if you left all your cares behind? There are times when you need to fight with all you've got, even if victory seems unlikely. This week you can expect a series of challenges at work. Disagreements with colleagues are highly likely, and as a result, you can expect things to stall, but during this difficult time, your friends or a superior might extend a helping hand and with that support, you will be able to overcome your challenges and maybe even resolve them entirely.

---
Libra:
This week, focus on success, achievement and stepping forward into the limelight. Some of the decisions you make will have far-reaching and major consequences. You will be able to take a step back and look at the whole picture before making the right decision. You are feeling well and this will continue for the coming weeks as there is no chance of falling ill. However, your energy level is not where it should be. It's nothing serious, just stress caused by the transits of the short-term planets so don't be overly concerned.

---
Scorpio:
Career may be the focus of attention right now, but there are a few dramas at home that also need your attention. Mars makes dynamic aspects with Uranus this week and a parent or parent figure needs to be more mindful on the physical plane. Repairs could also be needed at home. Deal with these things, but then get right back to your career. Succeeding in the world is the best way to serve your family right now.

---
Sagittarius:
It's a good idea to shift some of your energy to your career this week. You're in one of those situations – needing to balance family responsibilities with career goals. You bounce from one to the other: a juggling act that is not so easy to deal with. It's difficult to focus on just one thing as your attention is needed at home, for routine tasks at work and for long standing problems. Concentrate and you'll manage. You just have to get through it and Mars opposite Saturn will be of assistance to you.

---
Capricorn:
The tension generated by Mars and Saturn will pass you by and you can express the energies of this aspect through doing something constructive rather than holding in large amounts of anxiety. Your challenge right now and for the next few months is to balance a successful career with a successful home and domestic life. You can't go too far in either direction and most of you will shuttle back and forth between the two. Trying to relax could be the simple answer to addressing any problems that may turn up this week.

---
Aquarius:
As June draws to a close, this is the week to focus on relaxation and on supporting yourself with healthy rituals and a lifestyle that nourishes your body, mind and spirit because July will bring serious challenges in fundamental areas of your life. Don't give in, even an inch, and try to hold onto what you believe is yours. Work is on a relatively tumultuous streak and you may be seeing new opportunities, new business and additional responsibilities, but you might also be grappling with problems that began in June and which might now take an unexpected turn. Keep your cool, do what you can and seek a compromise.

---
Pisces:
While it is sometimes good to take a risk, throwing caution completely to the wind is not advisable. Things will be less than ideal for you toward the end of this week. Problems from the past will rear their heads again. In some cases, you may once again find yourself mired in legal problems or possibly, you will face unexpected disagreements with colleagues from afar. Try to resolve painful issues without panicking and keep a cool head. Very soon, your troubles will be resolved in some way or another.
---