#Horoscope #Aries #Taurus #Gemini #Cancer #Leo #Virgo #Libra #Scorpio #Sagittarius #Capricorn #Aquarius #Pisces #Horoscope – overview of this week
The Center for the New Age is pleased to present your Free Weekly Horoscope for July 25 – July 31, 2021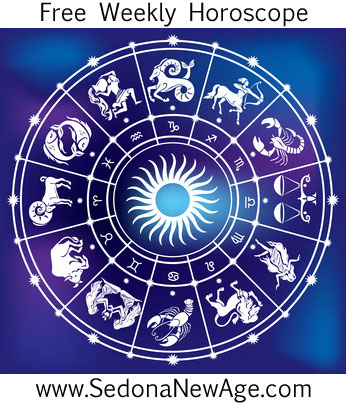 Receive our Free Weekly Horoscope in your Inbox
Aries Taurus Gemini Cancer Leo Virgo Libra Scorpio Sagittarius Capricorn Aquarius Pisces
Mercury opposite Pluto (July 25 – July 31) is a time when mind boggling awareness abounds as the need to comprehend the powerful issues being awakened comes through in our thoughts and discussions. Communications are likely to focus acute awareness on powerful transformations taking place.
Jupiter enters Aquarius (July 28 – December 28) bringing about innovative solutions to economic problems. It also allows us to realize our economic strength as whole communities, bringing people together to work towards building financial strength and salvation.
Mars opposite Jupiter (July 29 – August 23) creates activities around humanitarian and moral issues. Mars opposite Jupiter may be causing unexpected expenses which could lead some folks to anger and protest. This is a very busy and sometimes difficult time to excel in business endeavors, especially in active trade markets. This aspect suggests that it would not be advisable to approach the job market with an aggressive level of output. Trying to get ahead is not easily attainable with headstrong attitudes and unwarranted self-confidence when Mars is opposite Jupiter.
Mars is in Virgo (July 29 – September 14). In Virgo, Mars is somewhat of a workhorse. There is a passion for details, as well as a need to do the right thing at just the right time under this influence. The satisfaction of a job well done is one of the greatest incentives now. We are more precise and concerned about performance.
Last Quarter Moon in Taurus on July 31 focuses the general course of our moods on creating some sense of order in our financial situations. It also encourages the need for creature comforts and esthetically pleasing or luxurious surroundings. There is often an initiative on cleaning up and/or selling various useful artifacts that have collected in our lives, and the Last Quarter Taurus Moon is a splendid time to partake in yard sales, auctions and flea markets.
Aries Taurus Gemini Cancer Leo Virgo Libra Scorpio Sagittarius Capricorn Aquarius Pisces
Free Weekly Horoscope for your Sign
Aries:
The Sun's arrival in your house of fun is good news, indicating a more frivolous and light-hearted time in which you should seek out more of what you enjoy and less of what you don't, but perhaps someone needs your help, or perhaps a friendship would benefit from greater commitment. Maybe you could benefit from the solidarity of a friend. Whether you could use a supportive ear or you have a friend in need, the Universe reminds you that loneliness can be banished by reaching out.

---
Taurus:
You may be required to take on more responsibility or to put off today's pleasure to enjoy tomorrow's rewards. There might be a sense of completion or of things coming to a head now; however, there is still more to be done. This could mean taking on a long-term project, looking at where you are heading career-wise, or working on self-promotion and putting yourself out there. It could be tempting to squirrel yourself away at home, but now is the time to toot your own horn. No one else will do it for you!

---
Gemini:
If you want to change a situation in your life, you first need to change your belief or your story. Now is the moment when you can start to think bigger and bolder, to break free from your old limiting paradigm. Your love planet is still at the top of your chart so love is high on your priorities, a major focus, but it is complicated. Love opportunities happen as you pursue your career goals or with people who are involved in your career. While it is a bit premature to start popping the champagne corks, it won't hurt to stretch your imagination, as this week has the potential to be an eye opener.

---
Cancer:
This week the emphasis is on your financial situation or on something that needs transformation. The key to both is empowerment, so if you are in a place of dependency – financially or personally – this is an opportune moment to sever any unhealthy ties and strive to get yourself in a stronger position. It is also possible that something will come to a head of its own accord; however, it will certainly help to negotiate a better position for you or to transform any element of your life that is outworn or has outlived its use. Consider what you value most, and then let that guide you to the right choices and actions.

---
Leo:
You can feel a sense of satisfaction this week in accomplishing what needs to be done and helping others. Karmic factors could be at work now causing you to feel that you need to fulfill some sort of obligation, which in itself could be quite spiritually liberating. However, if you are feeling hemmed in or oppressed, you might need to look at what is really going on to see whether there are ways in which you can find some peace within the restriction. Mars is in your sign until the 30th which can make you impatient and overly combative. You have courage and don't back down from confrontation which can lead to unnecessary conflicts and perhaps accidents so be more mindful on the physical plane.

---
Virgo:
We all let things slide from time to time, but if your health has lapsed or if aspects of your work life would benefit from a greater commitment, then this is a good week to make some changes. It is also a time when your efforts will pay off. It doesn't all have to be about effort though, as Venus in your sign suggests that a good way to boost your health would be to enjoy a massage or other therapy, and focusing more on the quality of service you can give to others could lead to feelings of greater satisfaction. You're not one to back down from confrontations, but do your best to avoid them this week and you'll feel better all ways around.

---
Libra:
Life's gifts aren't always served up on a platter to us; we often have to work for our rewards. The writer has to put words on the paper; the painter has to apply paint to the canvas. The musician has to compose the melody to create the song. The love-struck teenager has to declare his/her feelings. The adventurer has to book the trip and pack the suitcase. Whatever you want won't come to you if you just sit and wait. Some effort is now required. Jupiter moves back into your 5th house of pleasure at the end of the week. This is another message that the month ahead is happy so start working on your happiness now!

---
Scorpio:
If the whole area of home and family seems to be difficult now, then maybe you need to go back to the basics and focus on what you have as opposed to what you don't. We all have something within our homes or families to be thankful for, so whatever is niggling you can be alleviated by switching your focus and counting your blessings. It could also help to put a little effort in to make things better. The good news is that Jupiter's return to the domestic sphere of your chart this week will alleviate any difficulties and bring the joy back to your home life.

---
Sagittarius:
If you have some thoughts that are not doing you any good – at times we all are prone to fear, anxiety, doubt, negative self-talk, or mentally conjuring negative scenarios – then be like a sentry at the gateway of your mind and refuse these imposters' entry. During this last week of July, the challenges you faced earlier will look somewhat differently – you will have a better grasp of things, and they will seem easier to solve. By disciplining your mental processes, whether that's knuckling down to follow through with responsibilities or preventing negativity to take root, you will create for yourself a more empowered position from which very little can disrupt your inner peace.

---
Capricorn:
Now is the time when you can make progress with any material situation, and the more effort you can put in the better, as Saturn's influence suggests the need to take responsibility for whatever is going on. This responsibility will lead to a sense of empowerment further down the line. Jupiter's arrival in the same area is further good news, signifying an improvement in all money and work matters. This might be a good time to ponder the following words by David S. Viscott: "The meaning of life is to find your gift. The work of life is to develop it. The purpose of life is to give it away."

---
Aquarius:
Look at how you might have allowed things to become as they are, and then decide how you can do things differently. Whatever is going on in your life, there should be a sense of things coming to a head – particularly in your personal life. As Jupiter returns to your sign toward the end of the week, it will be easier to see the light at the end of the tunnel and to embrace new opportunities and possibilities. In the meantime, take control. Avoid major purchases or investments right now. If you must (and sometimes life forces us), make sure to do your homework and due diligence thoroughly.

---
Pisces:
When we search through what is going on in our lives, we never know what we might find. It can also work the other way too: we might discover something delightful buried in the recesses of a forgotten place. Whichever way it goes, it's important to take responsibility for whatever is brought to light. If you reap something good this week, take some credit for it. If what is brought to light is not so good, have the courage to take responsibility also. Admitting to mistakes is important now, because taking responsibility puts you in a position to change this. This is the point at which you can say, "From now on, I will do things differently."
---