#Horoscope #Aries #Taurus #Gemini #Cancer #Leo #Virgo #Libra #Scorpio #Sagittarius #Capricorn #Aquarius #Pisces #Horoscope – overview of this week
The Center for the New Age is pleased to present your Free Weekly Horoscope for August 8 – 14, 2021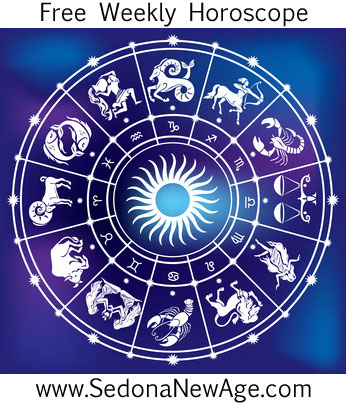 Receive our Free Weekly Horoscope in your Inbox
Aries Taurus Gemini Cancer Leo Virgo Libra Scorpio Sagittarius Capricorn Aquarius Pisces
New Moon in Leo on August 8 encourages our moods to attain a new outlook on our personal image. Some may be strongly touched by the need to get a new lease on life. The desire for new attire and a focus on hair is commonplace for this sort of mood setting. The enhancement of our outward appearance can help reinforce the power of how self-image is personified.
Venus opposite Neptune (August 9 – August 18) brings on an acute awareness of the opposing struggle between classic feminine archetypes in today's changing modern culture, and the universal and natural or spiritual expression of femininity, which is often at odds with a new model of beauty. A truer understanding of the struggle of the feminine archetype is particularly revealing in other regions of the world where western culture has less of a dominance.
Mercury opposite Jupiter (August 10 – August 17) puts the focus of news on the opulent lifestyles of the rich and famous. Those who are experiencing an economic crunch are unable to stop talking about their financial situation, and may produce non-stop talk concerning the need for advancement, a raise or an income. Generally, those who are doing well financially will do better still, and those who are feeling the economic crunch are likely to be complaining; nearly everyone will be talking about their financial condition. One way or another it is a time of acute awareness concerning talk about and exchange of money.
Venus trine Pluto (August 11-August 19) allows a breakthrough to occur for those who fear accepting the work of fate. Adoration and loving energy flows more easily between generations. Venus trine Pluto can often help us to overcome the pain of separation concerning love. It is the place where love triumphs over death. Replace what is lost with the act of love itself. In this there is great power.
Mercury enters Virgo (August 11 -August 30). This is a most advantageous place for Mercury, a place of its ruler ship. It will focus our minds more clearly on the pending events of the future. It puts the focus of talk, communications and news on issues such as computers, budgets, systems analysis, harvesting, planning, preparing for autumn, accounting, filing and organizing. Mercury in Virgo also brings out the skeptical and analytical side of every argument and topic of discussion and keeps us on our toes.
Aries Taurus Gemini Cancer Leo Virgo Libra Scorpio Sagittarius Capricorn Aquarius Pisces
Free Weekly Horoscope for your Sign
Aries:
We all need time for play and relaxation, and as a New Moon lands in your fun zone, it could be time to do more of what you love and less of what you don't. Self-expression is key now, so vent what you're feeling creatively or otherwise. As you strive to better honor your heart's desires, you will find that your health and happiness begin to improve.

---
Taurus:
Home is where the heart is, and as the New Moon falls in your domestic zone, it's time for positive new beginnings in your domestic life. Perhaps you'll feel the need to change something about your home, relate to your abode in a new way, or consider what home means to you. Alternatively, it might be that a familial relationship could be improved. When we have strong foundations at home, we are better able to effect positive changes elsewhere in our lives.

---
Gemini:
Following last week's theme of the power of your thoughts, you are now entering a portal of opportunity to use the power of your mind to bring about the kind of results you wish to see. This isn't to be underestimated, so don't waste the opportunity of this week's New Moon which will amplify whatever is currently going on in your head. If you allow too many negative thoughts to take root, they will – under the current astrological climate – quickly grow and take over. Positive thoughts, on the other hand, will begin to bloom before you know it, and they will draw positive developments to you according to the law of resonance. Set your intention for what you want, and hold this vision in your mind's eye.

---
Cancer:
The New Moon in your money zone indicates a perfect time to move forward in your financial and material life and take a new approach to money. Uranus forms an awkward angle to this New Moon and calls for innovative change. Think outside the box, try something different, or ride with an unpredictable occurrence that leads to something better. Try not to stick in your grooves and patterns. Work toward creative change, especially in your physical, financial and material world.

---
Leo:
With a New Moon in your sign this week, this is the time to turn over a new leaf in any area of your life, especially regarding your personal desires. Following from last week, it's very important to voice your feelings and ask for what you want. Sometimes the key to being successful is to be assertive, take charge, and make things happen, and this is definitely one of those times. As Chester Karrass said, "In life, you don't get what you deserve; you get what you negotiate." It is now time to start negotiating.

---
Virgo:
The New Moon will enable you to draw a line under something and put the past to bed. It could be that a fairly recent situation that has been bothering you, or something that has been going on for much longer, can finally be left behind. Either way, past patterns that have outlived their usefulness should be released. This is an important week to reflect on where you're at in life, so if you need some quiet time, try not to override it with your list of things to do. Contemplation around this New Moon could be instrumental in helping you gain clarity for your next steps.

---
Libra:
Every so often, something or someone comes along and makes life a little bit easier. Whether it's pennies from heaven, a helpful friend, or a lucky event, expect your fortunes to change for the better, particularly around the New Moon on August 8. This is when you can begin to move forward in a way that connects you to the bigger picture. Much of the happiness you experience in life depends on how connected you feel to others and to life itself, so move toward philosophies and opportunities that focus on joining in the warmth of friendship.

---
Scorpio:
There could be a lot going on right now, and you might feel rather stretched. However, the New Moon at the top of your chart encourages you to focus on the future and take steps toward manifesting something positive, especially if it leads in a new direction. You might still have responsibilities to fulfill, so the key is to attend to your duties while taking a step forward. It might also help to remember: "Once you make a decision, the universe conspires to make it happen." (Ralph Waldo Emerson)

---
Sagittarius:
It is difficult to feel adventurous when worries and fears get in the way, but as a New Moon occurs in your zone of possibility on August 8, it is important to put any doubts to one side and seize opportunities. If you are faced with an obstacle, don't be deterred. Find a way around it. Life calls you to try something new now. Have faith that all will be well, and then push out of your comfort zone.

---
Capricorn:
Every so often, we all benefit from a good purge. Maybe it's a physical detox, a spring-cleaning, a release of the past, or another removal of something we no longer need or that is doing us harm. Whatever the case, we gain a big surge in energy and improvement in health and well-being when we release all that is superfluous. This week as the Moon is new in your zone of transformation, allow yourself to embrace any cleansing process that appears in your life. Then you can look forward to a rejuvenation of body, mind and spirit.

---
Aquarius:
Your personal life is the focal point, so whether it's your home, family or relationships that call for change, now is the time to turn over a new leaf. The New Moon on August 8 will help you to determine the best course of action. It's important to consider the needs of others right now, but you also need to make sure that you're not being taken advantage of. Communication is key, and you might be surprised how much can be improved when you are willing to sit down and have a good talk; that is, give people your full attention.

---
Pisces:
It could be time to adopt a new regime in your day-to-day life for your health, work, or daily routines. Whatever you do daily sows seeds for the future, so if you want different results, now is the time to change your habits. The New Moon will support you in planting new seeds for what you wish to achieve, so set your intention and be rigorous in sticking to your plan. That said, Uranus's square to the New Moon might throw a spanner in the works. Expect the unexpected, but use any turbulence as a way to invite creative or refreshing changes. Think outside the box and be innovative when challenged; this will be the key to your success this week.
---