#Horoscope #Aries #Taurus #Gemini #Cancer #Leo #Virgo #Libra #Scorpio #Sagittarius #Capricorn #Aquarius #Pisces #Horoscope – overview of this week
The Center for the New Age is pleased to present your Free Weekly Horoscope for September 5 – September 11, 2021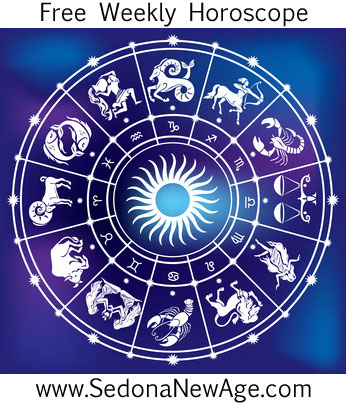 Receive our Free Weekly Horoscope in your Inbox
Aries Taurus Gemini Cancer Leo Virgo Libra Scorpio Sagittarius Capricorn Aquarius Pisces
Venus square Pluto (September 5 – September 14) is a difficult aspect for many people. This aspect usually involves difficulties such as loss or death of a loved one, and the obstacles of rejection and general oppression concerning those aspects of life to which we are undeniably attached and we hold dear. If something of this nature is occurring for you at this time, it is best to recognize that love will triumph in every dimension despite the pain of separation, or the disease and strife of the beloved. To make matters worse by denying this process of life is to prolong the pain and make worse the necessary transformation that must occur.
Mercury trine Saturn (September 5 – September 12) brings favorable dialog concerning where to draw the lines. This is a good time to make an impression, to teach and to communicate to others those important matters that must be clarified. Timely information and news represents a gift or blessing. News concerning the end of a long and arduous task brings relief.
Mars trine Pluto (September 6 – September 29) reflects discerning, cautious and practical action that leads to positive, monumental and powerful transformations. Actions taken now are more likely to have favorable results or to be influential with higher powers. This is a good time to resolve personal aggression directed towards the views and differences of another generation or of established powers.
Venus trine Jupiter (September 6 – September 16) is a favored and prized aspect that allows for greater potential to receive and expand gifts of love. Love (Venus) is harmoniously placed with prosperity and opportunity (Jupiter). This is a great time to use love to expand your outlook on life. Commonly, this translates to the act of adorning beauty with riches, so it's not a bad time to adorn your loved ones with jewelry or trinkets.
New Moon in Virgo on September 7 is a splendid time to organize one's life in a new manner. This New Moon calls to our feelings a new form of skepticism, a new way of analyzing, and to apply caution. It prepares us for the changes occurring around us in the physical world.
Venus enters Scorpio (September 10 – October 7) bringing out deep and passionate levels of love's expression. Magnetism runs strong with Venus in Scorpio, and love affairs are often torrid and well hidden. Sometimes the dark side of our love and our hidden fears surface while Venus is in Scorpio; this forces us to come clean about these feelings, and to take strong measures to ensure the power of our love. This may be a time to work out anxiety, fear, mourning and emotional stress relating to love.
Aries Taurus Gemini Cancer Leo Virgo Libra Scorpio Sagittarius Capricorn Aquarius Pisces
Free Weekly Horoscope for your Sign
Aries:
As the New Moon aligns with Mars on September 7 in your zone of health, work and service, this is an ideal time to consider making changes in any of these areas. Perhaps the bigger question is not what you do but why and how you do it. With the underlying motive of wanting to make a difference in the lives of others, your happiness becomes less of a goal, but ironically, the more you help others, the happier you are. Having said that, you might need to pace yourself, as it would not be easy to know when to stop. Being productive is one thing, but exhausting yourself is quite another.

---
Taurus:
Being able to do your own thing feels paramount now. This is important, in a way, because in order to be healthy, whole, and happy you must be authentic. That has been the big lesson over the past year or so, and as the New Moon aligns with Mars in your creativity zone, you will probably feel this need for authenticity more than ever. If you are being restricted in any way, particularly related to expressing who you are, this New Moon will help you to stop compromising and be more of your true self. Creativity, fun, romance and general enjoyment are also favored, so take any opportunity to enjoy yourself. Ultimately, this week is about following your heart.

---
Gemini:
Our homes reflect who we are, and they often mirror back where we might be going wrong. If there is room for improvement in some aspect of your life, look to your home and see whether you can spot a correlation. Sometimes moving an item to a different place in the room or putting a new color on the walls can make a big difference. The New Moon on September 7 is ideal for making domestic changes and turning over a new leaf with a family member. The past is gone, so let bygones be bygones, and make it your mission to start fresh.

---
Cancer:
Albert Einstein wrote, "A man should look for what is and not for what he thinks should be." Are you currently resisting what is? Are you thinking or wishing that things should be other than what they are? With Mars in your zone of mental energy, you have tremendous capacity to shape certain outcomes with your thoughts, but using that energy to resist, fight, or complain will be counterproductive. Adjusting your mindset toward positive intent and working with whatever you're currently given will move you into a different sphere where problems become challenges to be overcome. Those problems that can't be overcome are lessons or opportunities to change.

---
Leo:
There are times in life when things just fall into our laps and times when we must work for what we want. Then there are times when no matter what we do, things don't go the way we want them to. You fall between these two states right now in the sense that whatever you want will be yours with a little effort. This bodes particularly well if you need more money, because it should be relatively easy to find ways to generate it. Likewise, if you want a better job or to acquire something, now is the time to act and make it yours. If you desire more time to enjoy the pleasures of life, you just need to work toward creating a simpler, slower existence. The New Moon speaks of positive new inception in your material world, so decide what you want, and then take steps to make it happen.

---
Virgo:
What do you want to do? Do you have a clear idea or just a vague notion? If we want to make something happen, it helps to at least have an outline or a general idea. Sometimes it's appropriate to simply go with the flow and see where we end up, but with a New Moon alongside Mars in your sign, this is more a time of taking charge of your destiny and making things happen. Set you intent around September 7. Even if it's just the smallest of actions, such as gathering a few images that speak to your soul, making a tentative phone call, or changing a negative habit, make sure you begin in some small way to move your life in the direction you'd like it to go.

---
Libra:
"When one door of happiness closes, another opens; but often we look so long at the closed door that we do not see the one which has been opened for us" (Helen Keller). It would be a mistake to keep focusing on what has gone. This is not so much because the point of power is in the present, but because new opportunities and new beginnings are waiting for you even if you are not quite aware of them yet. You're especially likely to be unaware of new potential if you keep staring at the closed door. This is a good week to say goodbye and let go of what has gone and prepare to move to new pastures. In the meantime, trust your intuition and pay attention to your dreams, for your inner self is working hard to communicate and point you in the direction you need to go next.

---
Scorpio:
The New Moon falls in your friendship and social area, suggesting that new connections can be made that will help you in some way. You could benefit this week from helpful people or a lucky experience, but it would be a mistake to rest on your laurels and hope that life will wave a magic wand over your situation. That might happen, but the proximity of Mars to this Moon suggests that the more effort you put into manifesting your dream, the better. When you take a step toward it, that could be when help arrives, right on cue to support you in your endeavor.

---
Sagittarius:
It doesn't matter whether the decision you need to make is life changing or very small, as even small decisions can be life changing. Decide what you want, and then take action. The New Moon with Mars at the top of your chart speaks of success and achievement and, at the very least, progress in the direction you want to go in. Forget about what has been in the past and keep your eyes firmly fixed on the future and what you can manifest. New beginnings await if you're ready to move forward.

---
Capricorn:
The New Moon in your zone of adventure speaks of the need to broaden your horizons and experience something new. Perhaps life has been somewhat restrictive, or maybe you're stuck in a rut. If so, this week brings good news, for strong and refreshing energies are ready to blow the cobwebs away and give you a new lease on life. All you must do is meet it halfway by saying yes to any opportunities that come your way. If you get the chance to do something different or expansive, take it. As Andre Gide said, "In order to discover new oceans, man must have the courage to lose sight of the shore."

---
Aquarius:
There is intensity to the state of play at present that could, if you're not careful, pull you into darkness. Regardless if that darkness is fear, anxiety, depression, jealousy, insecurity, anger, or another negative state, what matters is being aware of the feelings coming up and not being controlled or consumed by them. Whatever is going on has transformative potential if you can be strong enough to gaze into the abyss and choose to turn away.

---
Pisces:
If only other people did what we wanted, life would be so much easier but, of course, they don't and we are given a lot of problems that we never asked for. Perhaps the solution is to work with someone rather than against them. Your combined energies could be a force for good. Under this week's New Moon, which is bound to bring some sort of development, see whether you can turn a conflict into something proactive by joining forces with someone rather than being opposed to them.
---