#Horoscope #Aries #Taurus #Gemini #Cancer #Leo #Virgo #Libra #Scorpio #Sagittarius #Capricorn #Aquarius #Pisces #Horoscope – overview of this week
The Center for the New Age is pleased to present your Free Weekly Horoscope for September 26 – October 2, 2021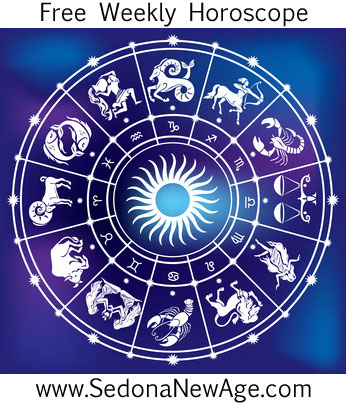 Receive our Free Weekly Horoscope in your Inbox
Aries Taurus Gemini Cancer Leo Virgo Libra Scorpio Sagittarius Capricorn Aquarius Pisces
Happy fall equinox. This month's full moon on September 20 highlighted the mystical sign of Pisces. The full moon is a time of cumulation and the promise of fulfillment of that which was started at the new moon. It is an emotional time, a time of romance, relationships, fantasy and illusions. It's important to not let fantasies take over. Instead we can use our dreams to motivate us.
The need for balance and fairness will increase when the Sun enters Libra on September 22. This is the Day of the autumn equinox. The sun is halfway around the zodiac and the days and nights are equal. The sign of Libra is all about weighing and balancing everything to ensure equality and fairness. During this week our efforts are focused on creating harmony in our surroundings and in our relationships. Avoid confrontations.
September 26 Mercury goes retrograde and Libra. Don't bother expecting anything to get decided until this is over. If you have to make a decision it will probably be reversed when mercury turns direct again. Mercury will go direct on October 18th.Try creating Harmony until then.
Aries Taurus Gemini Cancer Leo Virgo Libra Scorpio Sagittarius Capricorn Aquarius Pisces
Free Weekly Horoscope for your Sign
Aries:
Even though we all think that relationships should be fair and equal, this is not always the case. Sometimes one person wants more power over the other. This week the Sun aligns with Mars and you could feel you were less powerful than you would like to be. Maybe you could join forces with that other person instead of trying to control the situation. Remember you have the power to choose how you react.

---
Taurus:
Even though you want to put in a lot of effort to create successful results because of the need to maintain your high standards, don't leave out doing it with love. There's no need to rush or try too hard. Because Mars aligns with the Sun this week, it could be easy to overdo things when you really don't need to. Pay attention to detail with a loving awareness that you can get as much done with just as much success. Let yourself delight in the success of your efforts done with love.

---
Gemini:
Pay attention to your feelings and your hunches this week. If you think you know what's gonna happen next, don't blow it off. You may have to lie low and gather more information before taking the next step. This week the Sun aligns with Mars. It's a good time to separate yourself from what's going on in the world. Instead of watching the news, take some time to sing, dance, garden, paint or just sit and meditate. Try connecting to your heart and going within before taking action.

---
Cancer:
You've heard the saying behind every successful man is a strong woman. It might be truer to say that beneath every strong person is a strong foundation. This is why it's really important to heal childhood wounds or family dysfunctions. Cancers need to feel happy at home. They need to feel nurtured. This week the sun joins Mars and your domestic zone. It's time to take a look at your past, your home, your family and strengthen any areas of weakness.

---
Leo:
If you're planning to be successful you have to believe that you can do it even if the odds are against you. Right now the Sun aligns with powerful Mars in your mental zone. You have the power to shape your life using your mental intent. Attitude is the key here. The more you have positive expectations the more you are likely to create what you want. Notice how negative people attract negative results. Now notice how positive people attract positive results. You get to decide how you're going to play this out. A positive attitude is all you need to succeed.

---
Virgo:
Good news. The sun joins Mars in Libra, which gives you a tremendous opportunity to make big improvements in your material life. Whether it's about the work you do or how you spend your money, you now have an opportunity to negotiate a better job situation for yourself. Try focusing on enjoying life more. What would you like to do if money wasn't an issue? You need to dream about what you want the end result to look like, not how you're going to get there. Sometimes we have to fake it till we make it. So do a little more dreaming. This is a really good time for you. Visualize how you want things to look in the end. Forget about how it's going to happen.

---
Libra:
You might be tempted this week to lose yourself in TV dramas. Although fantasies and illusions might be preferable to reality right now, it's time to think about being a little more productive. You have the ability to achieve benefits that will make you feel better about yourself. So try to exist escaping from reality this week. It's a time to be productive and create something meaningful.

---
Scorpio:
As the sun moves into Scorpio the stars are aligning up in your favor. When Mars moves into your sign in early November, you are going to really notice positive changes. This week try to rest and focus on what you personally need to feel better about yourself. What can you do to have a little more fun this week? The Sun is returning to where it was when you were born. Try to reconnect with yourself so that you can feel energized and inspired. It's time to fall in love with yourself this week. Buy a new outfit, make a new friend, do something new that reflects who you really are.

---
Sagittarius:
It's time to start trusting your intuition more. Not listening to your intuition will make you feel weak, scared, and unhappy. That's because your higher self is trying to send you an important message that you may be ignoring. You have strong gut instincts that can't be ignored. You have to go with your heart. While it's true that there are a lot of demands on your life right now that are getting in the way, all you need is a little quiet time to go within. Once you get in touch with what your heart really wants to do your energy and motivation will take over.

---
Capricorn:
It's time to take a look at who is really your friend and who isn't your friend. We all want friends who are loyal and will be there for us when we need them the most. This week you might find yourself questioning the importance of the people around you. Take a look at who has your best interest at heart. Now that works both ways. You have to be a good and loyal friend in order to attract that into your life. Someone is going to reach out to you this week. It's a good idea to pay attention to their kindness.

---
Aquarius:
It's time to ask yourself this week, are you really doing what you love. Is your life meaningful? The Sun is moving into Scorpio and that's good news for you. It's time to step up into fulfilling your life's purpose. Spend some time by yourself this week. Try to remember the moments that you were most happy. What can you do that is more meaningful? How are you really going to make a difference in this world, because that's what you came here to do.

---
Pisces:
The intensity you felt during the past few weeks is about to subside. The Sun is moving into your zone of adventure and new possibilities. It's time to fantasize on what could be. Stop thinking about what can't happen. It's time to make the most of the opportunities that life is bringing you. You can make it happen if you believe that it is possible. Any doubt will set you back. So live this week in expectancy and enthusiasm. Go forth knowing that the universe has your back.
---