#Horoscope #Aries #Taurus #Gemini #Cancer #Leo #Virgo #Libra #Scorpio #Sagittarius #Capricorn #Aquarius #Pisces #Horoscope – overview of weekly astrology
Your Weekly Free Horoscope & Astrology Report
April 10 – April 16, 2022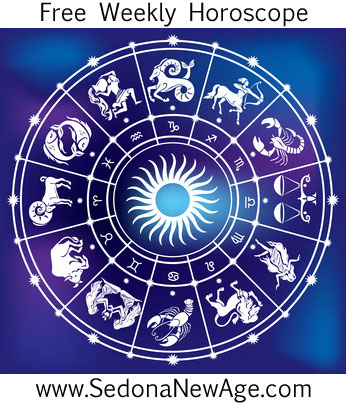 Receive our Free Weekly Horoscope in your Inbox
Aries Taurus Gemini Cancer Leo Virgo Libra Scorpio Sagittarius Capricorn Aquarius Pisces
Thanks to three Lunations this month, April is a very high strung emotional month filled with surprises and change.
On April 10, Mercury moves into realistic Taurus bringing with it a more grounded and sensorial vibe. Taurus will be flexing our mental muscles through a sign whose energy focuses on the physical world, so our thinking process will get slow and we need to think things through carefully.
A magical alignment will occur on April 12, when Jupiter conjuncts Neptune in Pisces. Jupiter, the gift giver, and Neptune, the dreamer, go conjunct in Pisces, the sign both these planets rule. This is a dare to dream big and seek spiritual transcendence. This rare transit is a good time for spiritual self-development. Travel, adventure or spiritual groups may interest you but listening to your intuition will teach you plenty. Having unrealistic expectations is a possibility as we are feeling optimistic and lucky.
Our relationships will be highlighted on April 16 when the Full Moon activates the sign of Libra. The Aries – Libra polarity is a relationship where Aries represents self and Libra represents others. With the Libra moon we are especially aware of our need for a relationship and maintaining them with compromise, negotiating, graciousness and balancing. The Aries Sun on the other hand, is self-assertive and personally courageous. This Full Moon urges us to strike a balance between meeting our personal needs and attending to the needs of a significant other. Unfortunately this Full Moon can illuminate conflict thanks to its Square to powerful Pluto.
Aries Taurus Gemini Cancer Leo Virgo Libra Scorpio Sagittarius Capricorn Aquarius Pisces
Free Weekly Horoscope for your Sign
Aries
: Personal life and career are likely to come into focus under this week's Full Moon on April 16 and the way forward is to acknowledge that something needs to be transformed. Whatever isn't working can be reworked and improved on or released. Try not to hold onto something that clearly had its day. Focus your energies into making constructive changes. Relationships may be a key area and clarity should be forthcoming by the end of the week.
---
Taurus
: Your work, health, and daily life are likely to take center stage under this week's Full Moon on April 16, so whether work is busy or your health is an issue, the way forward is to try to transform what is currently difficult. Undergoing a detox or eliminating something negative from your diet could bring considerable improvement. Mercury's conjunction with Uranus in your sign asks you to also to think outside the box and express your thoughts, ideas and feelings even if they seem a bit unusual to others. Take care to nourish your nervous system, otherwise you could feel a bit weird and scattered. Avoid over stimulating.
---
Gemini
: The quickest route to depression is to not express your feelings. Under this week's Full Moon, try to find a way that allows you to express yourself by sharing how you feel, writing a poem, taking a photo, or journaling. On a deeper level, if you've been keeping up the pretense, this could be a week where it becomes apparent. On the positive side, this week should be fun and much pleasure can be found through relating harmoniously with others. Remember that life is for enjoyment.
---
Cancer
: The Full Moon on April 16, activates the home and career sectors of your solar chart. It might become apparent that you need to let go of something or transform that which you have been struggling with. Perhaps it's time to let go of some elements of your past that have been acting like heavy anchors. Maybe you need to transform whatever is keeping you from being successful. Either way this could feel like a very transformative week during which family, home and career issues can be healed.
---
Leo
: It's difficult to be truly objective when we all have our biases. Be aware of that this week, as a Full Moon might bring a situation in which your reactions and emotions are colored by your beliefs and perceptions. Ask yourself whether what you think is going on is really the case. If you can manage to step back and view things more objectively, then you might find the truth is somewhat better than what you think.
---
Virgo
: The more attached we are to someone or something, the more power it has over us. This week under the Full Moon, it could become apparent that the only solution is to adopt an attitude of non-attachment. Most times when we give something away, we don't really miss it once it's gone, and it may help to remind yourself of that. Giving away some of your possessions could be a very healthy move right now. Deeper attachments may require a little more work or compassion.
---
Libra
: The Full Moon in your sign on April 16 could be emotive, and the challenge is to purge any negative emotional states. Toxic feelings such as anger, resentment, jealousy and obsession can easily take over and disturb your inner peace. If you find yourself being emotionally needy or demanding, it is because you're feeling inadequate in some way. This is a good opportunity to get in touch with yourself to determine what your feelings and emotions are trying to tell you. Letting go is perhaps the best solution.
---
Scorpio
: What we hide from others, we hide from ourselves, and what we hide from ourselves can control us because we aren't fully conscious of it. As you approach the Full Moon at the end of the week, it may be prudent to question whether any need for withdrawal or secrecy is actually a good move. You may need a bit of quiet contemplation around April 16, but that is different from hiding your feelings. What's needed now is to focus on your work, health, and daily life to the best of your ability, while striving to become conscious of what you may have unknowingly locked away within you.
---
Sagittarius
: The most beautiful things are not associated with money; they are memories and moments. If you don't celebrate those, they can pass you by. It's easy with all the demands of modern life to regulate fun, creativity and adventure to the back burner behind work, domestic duties and so on. It's always important for Sagittarius to have a certain amount of adventure in life, so as the Full Moon activates your social life this week, make it your mission to create opportunities to take a break and remind yourself what life is really about.
---
Capricorn
: If you feel stuck in matters to do with home, family or your career, then perhaps something needs to change. Maybe you need to let go of a way of being, such as the way you react to certain situations. Perhaps you need to surrender or allow yourself to transform. This week's Full Moon speaks of a need to let go and then regenerate. Either way, keeping something as is or keeping yourself as you are right now can be counterproductive.
---
Aquarius
: You need to be more vigilant with the thoughts your mind entertains. This week's Full Moon brings an opportunity to find clarity concerning how you might be prone to certain ways of thinking, such as anxiety, worry, anger or anything else that doesn't serve you. Then you'll be able to do something about it. The answer could simply lie in recognizing the little demons in your head and realizing that you don't want them there anymore.
---
Pisces
: Share everything. Don't take things that aren't yours. Put things back where you found them. This can range from taking a pen from work or stealing someone else's partner. It could also relate to pinching an idea or even taking someone's peace of mind. Under the rather possessive Full Moon on April 16, be careful that you don't let your needs and attachments get the better of you. Instead, cultivate generosity of spirit by taking pleasure in the success of others. Perhaps try to let go of something that you feel needy of or give something away. Whatever has a hold over you is probably something that you're better off without.
---