#Horoscope #Aries #Taurus #Gemini #Cancer #Leo #Virgo #Libra #Scorpio #Sagittarius #Capricorn #Aquarius #Pisces #Horoscope – overview of weekly astrology
Your Weekly Free Horoscope & Astrology Report
April 24 – April 30, 2022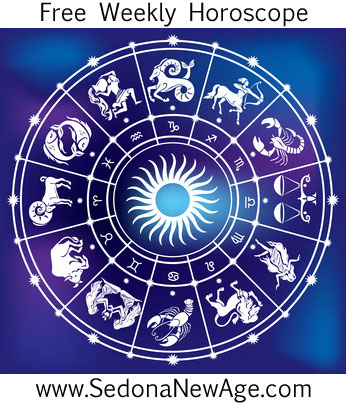 Receive our Free Weekly Horoscope in your Inbox
Aries Taurus Gemini Cancer Leo Virgo Libra Scorpio Sagittarius Capricorn Aquarius Pisces
This is going to be a powerful week to end April. Sunday, April 24 Mercury Squares Saturn and Mercury Sextiles Neptune. Meetings could drag on and communications could be delayed. Our workload could feel heavier than usual. It's best to avoid signing binding legal documents or making important decisions as our heads are not as clear as they should be.
Then on Tuesday, April 26 Mercury Sextiles Jupiter. Our enthusiasm is at an all-time high. We are adventurous, excited about traveling as well as exploring different philosophies and cultures. Legal issues lead to positive outcomes. Then on Wednesday, April 27 Venus Conjuncts Neptune. Today, we could feel we met our ideal partners. But be careful, all may not be as enchanted as it seems. Better to immerse yourself in a romantic movie or magical novel.
Thursday, April 28 Mercury Trines Pluto. Intuitions will be very sharp and our insights profound. On Friday, April 29 Pluto turns retrograde. Mercury enters Gemini. During the next three weeks we are curious, talkative, sociable, and fast thinking. We could be prone to some instability while we explore new venues.
The main event of the month occurs on April 30 when the second New Moon of the month is also a Solar Eclipse in Taurus. This eclipse is the second in a Taurus/Scorpio set that began November 2021 with a lunar eclipse in Taurus. This Solar Eclipse features Venus in a tight Conjunction with Jupiter in Pisces. Since Venus is the ruler of this eclipse it's particularly significant. This eclipse aligns with Uranus in harmony with Mars and we can get off to a great start mentally as we embark on new beginnings. Its effects can be felt for up to six months after the actual date of the eclipse. In the sign of Taurus, matters related to personal finances, physical and material resources, feelings of worthiness, comfort and sensuality will be a strong focus on a personal level. This eclipse is about new beginnings regarding all of these matters. Long-term changes are in the works.
Aries Taurus Gemini Cancer Leo Virgo Libra Scorpio Sagittarius Capricorn Aquarius Pisces
Free Weekly Horoscope for your Sign
Aries
: As a Solar Eclipse occurs in your money and material zone, you can expect one or two changes to be set in motion. With Uranus on hand, the best approach is to avoid being rigid and don't play it too safe. An Uranian Eclipse speaks of the need for change, innovation and clearing of old ways. It's time to break free. Fate might do it for you, in which case go with it, knowing that the Universe knows what you need.
---
Taurus
: It's time for a change as an Uranian eclipse lands in your sign on April 30, signaling the need for a radical shift in some aspect of your life. The focus is on liberating yourself from the old ways, so this could mean a need to change the way you think, especially if you've been limiting yourself in what you believe is possible. If life throws you a curveball, know that this is destiny stepping in to move you into alignment which is vibrationally correct for you.
---
Gemini
: A Solar Eclipse on April 30 is likely to signal the end of something. It might be time to draw a line under a chapter of your life, or it might be time to let go of a situation. This could happen naturally or quickly. You are going to be liberated from something that has felt heavy or burdensome for a good while, so this could be a cause to celebrate the eclipse and may also bring a stronger connection to the divine or to your higher self. It should be quite an enlightening week.
---
Cancer
: Prepare for changes, developments, and new beginnings in your social life. The new person coming along does so due to divine timing. Changes within a group or organization could also incur. You could be liberated from a stagnant situation that has been holding you back. This eclipse could also stimulate a desire to make a difference, and as far as your hopes and dreams are concerned, this eclipse is very auspicious.
---
Leo
: You can expect some kind of change or development in your career or life's purpose, as a Solar Eclipse occurs in the success region of your Solar Chart. This could be a week in which a door opens or a chapter of life comes to an end. You might witness a new beginning in your career and your future may take a sudden turn. Whatever happens, go with it. You are being given a helping hand to move in the right direction even if it doesn't feel that way. Whatever the change, it is likely to catapult you into the right path.
---
Virgo
: It's really time to change your thinking. If you want to solve a problem or break a pattern, it all begins with your thinking and the Solar Eclipse on April 30th will give you all the ammunition you need to blow your old limiting thought patterns out of the water. Now is the time to change your belief by acknowledging that it is neither right nor wrong, only whether it's right or wrong for you. If it's not serving you then it's time to let go.
---
Libra
: This week under a Solar Eclipse, the message to let go becomes more imperative. If you haven't managed to move on then this eclipse could do the work for you and naturally bring about an ending. Side effects of eclipses can last for six months, you may have been aware that an old order is passing and a new one has been waiting in the wings. This week could end in the process. Try to go with whatever happens because fate is working hard now to bring about sweeping changes that will in the long run be better for you.
---
Scorpio
: If you've been seeking developments in your relationships, then the Solar Eclipse on April 30 will bring the opportunity for sweeping changes and a break from the past. You could possibly break away from an unhealthy relationship, or you might break an old pattern of relating, which then frees you to do things differently. New beginnings are definitely in the cards, so roll with it to see where the willingness to do things differently takes you.
---
Sagittarius
: If work or health has been an issue, then the Solar Eclipse on April 30 is likely to bring a sense of liberation. You can help the process by being determined to break a pattern that has been self-defeating, such as health choices that have led to a less vibrant condition or perhaps you should set yourself free from an unhappy situation in your work. This eclipse is likely to bring changes to your daily life. Use these tips to make creative changes and move towards new challenges and possibilities that feel more exciting. Listen to your body, as any symptoms now will be reflective of the need for change.
---
Capricorn
: Get ready, the Solar Eclipse at the end of the week will likely bring an opportunity to break an old pattern that has been keeping you from being your true self. This could be a time when you know what is right for you, or at least what is not right for you, and you can take a step in the appropriate direction. While this may feel a little daunting at first, it could well lead you to a more creative and joyful place. At the very least, try to consider keeping a healthy work life balance.
---
Aquarius
: This week could see events moving at quite a speed, especially where your home and domestic life is concerned. The time for change is here and if it seems like fate has stepped in and orchestrated the events, the best advice is to go with it, because whatever happens now is meant to happen. This eclipse could signal a turning point in your life. It's gonna give you the freedom to be who you really are.
---
Pisces
: The planets are aligned in the most favorable position for you and all that's required in order to generate success is an adjustment of your state of mind. Almost every piece of the puzzle is in place but the last piece requires you to change the way you think. The Solar Eclipse on April 30 suggests that you might need to break a pattern in the way you communicate or in how you perceive things, such as moving from seeing the glass as half empty to having it full. Ultimately, this eclipse seeks to remind you that words are things that what you think you become.
---