#Horoscope #Aries #Taurus #Gemini #Cancer #Leo #Virgo #Libra #Scorpio #Sagittarius #Capricorn #Aquarius #Pisces #Horoscope – overview of weekly astrology
Your Weekly Free Horoscope & Astrology Report
June 12 – June 18, 2022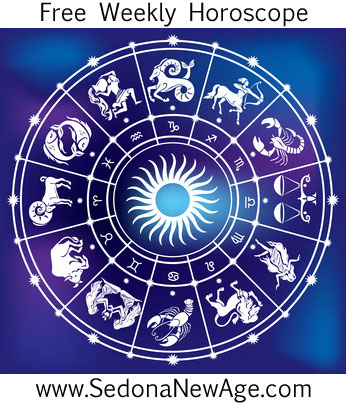 Receive our Free Weekly Horoscope in your Inbox
Aries Taurus Gemini Cancer Leo Virgo Libra Scorpio Sagittarius Capricorn Aquarius Pisces
On Monday, June 13, Mercury enters Gemini until July 4. During the next three weeks our minds are particularly active. We are able to multitask, be more sociable and curious than usual, be interested in learning and communicating, and may be a little restless. Short trips are favored and so are our phone calls, emails and any form of intellectual connection.
Oh and let's not forget this month's Full Moon on June 14 which will highlight the philosophical sign of Sagittarius. The Gemini-Sagittarius polarity is a mental axis, where Gemini represents the lower mind and Sagittarius represents the higher mind. The Gemini Sun encourages us to think logically while the Sagittarius Moon persuades us to think in a broader manner. Sagittarius symbolizes the quest for meaning and ideas that expand upon the "here and now". Gemini is quite comfortable in its immediate environment while Sagittarius stimulates us to venture beyond it.
Then on Thursday, June 16, the Sun Trines to Saturn, the Sun Square Neptune. Today favors structure, hard work, discipline and focus. However, the call of duty feels tedious and boring. We would rather follow our hearts and daydreams, get lost in our imaginations, watch an inspiring movie, or read a nice novel. We should stay away from scammers, liars and people who are not what they seem to be.
Saturday, June 18, Venus Square Saturn, Venus Sextile Neptune. A relationship may feel like an enchanted soul connection, yet could come enveloped in a fog of deceit. We could end up feeling discouraged, disillusioned and lonelier than ever. This is not a good day to follow dreams but to look very realistically at our relationship needs and expectations. We may have to work harder for the money we earn and be careful not to dilapidate our finances in foolish ways.
Aries Taurus Gemini Cancer Leo Virgo Libra Scorpio Sagittarius Capricorn Aquarius Pisces
Free Weekly Horoscope for your Sign
Aries
: Heightened emotions are likely this week as the Moon aligns with Jupiter in your sign, so whether you feel ebullient or your sensitivities are heightened to the point it all feels a bit much, such feelings are likely highlighting what matters to you, and you could prioritize these things. Be cautious to avoid making a mountain out of a mole hill. Sometimes things are not quite as they seem and this could be one of them. Once again, aim to strike a balance between confidence and realism.
---
Taurus
: Your confidence might hit a low spot this week as Saturn forms a difficult aspect to your ruler Venus. The circumstances may not seem so great, but take a moment to see whether you're looking at the situation through a gray filter. It may not be others who caused the issue; your reaction might be the problem. Not to worry, the Sun will soon enter Cancer and you'll be wondering why you ever felt so gloomy.
---
Gemini
: Because most of us have so much more than we need in many cases, it's easy to get complacent and take what we have for granted. If we are in a state of lack, the best thing we can do is appreciate what we do have. This week you're likely to benefit in some way, possibly from a helpful person, a lucky event or some other aspect of good fortune. It may not be a major occurrence, but if you feel a sense of appreciation that in turn will attract more good things.
---
Cancer
: A new chapter is about to begin and renew the spring in your step. This is the time of year when you can put the previous year to bed and reflect on what you've achieved and where there's room for improvement. See it as your personal New Year, and use your new sense of optimism and confidence to focus on your personal desires. Do that which brings you joy.
---
Leo
: A lot of people think inspiration means magic. But really inspiration means to put life into something. Sometimes we lack inspiration simply because we are tired or maybe we're on the wrong path: what we're doing or the life we are living no longer resonates. We need to have the courage to face the truth. Now is the time to check your levels of information and use this as a barometer of a deeper state.
---
Virgo
: Success means different things to people. For some it's about recognition and being seen as successful. For others it's a passionate involvement in their work. For others it's trying to find their life's purpose. This is a good week to think about what success means to you, and then set sail in that direction. When you are clear on what you want, you will find it easier to make a difference in the world.
---
Libra
: Are you not seeing something or refusing to believe something? Are you open to what could be? As Saturn Squares your ruler Venus, be careful that you don't narrow your options or close doors on possibilities. Do your best to be open to the potential currently on offer and be willing to cut yourself free of any deadwood, whether it's a situation or attitude.
---
Scorpio
: Is there something you need to purge yourself of? Perhaps your body, home, car or emotional state could do with a cleanse. This is a good week to transform something in need of repair, such as an object in your home or a relationship that hasn't been functioning too well. If something can't be repaired, now is the time to let go.
---
Sagittarius
: There are times in life when it becomes obvious that things around us need regeneration. Perhaps the walls and furnishings look tired, drab or scruffed. Maybe there's a relationship struggling beneath the weight of suppressed resentment. Or maybe the body is clogging up with accumulated toxins or the mind's heavy with unprocessed emotions. Toward the end of the week especially, it may be timely to look at your life with a critical eye to see what needs to be stripped away or transformed.
---
Capricorn
: Turn your focus this week to relationships. There may be particular issues that may be undermining your relationships. Now is the time to focus on others personally or professionally, by teaming up with someone who can perhaps help you in some way. But make sure that you give as much as you receive. In fact the more you give now, the more your relationships will blossom and become a greater source of support in the long run.
---
Aquarius
: Relating to others might not be so easy this week, and if you feel that a relationship is more trouble than it's worth, you may want to see whether these feelings have been triggered by low self-esteem. It's possible that you might simply be feeling down on yourself. It may help to redirect your energy into being productive at home or at work. Taking action and getting organized is the key to success this week.
---
Pisces
: You simply need to allow yourself to reach out to others this week, especially those who seek to bless you with their love, warmth, generosity and affection. By giving and sharing, and blessing others with love and kindness, life will take on far more meaning than you could ever hope to achieve from success or worldly achievements, and it may give you a sense of meaning that was missing before.
---