#Horoscope #Aries #Taurus #Gemini #Cancer #Leo #Virgo #Libra #Scorpio #Sagittarius #Capricorn #Aquarius #Pisces #Horoscope – overview of weekly astrology
Your Weekly Free Horoscope & Astrology Report
December 4 – December 10, 2022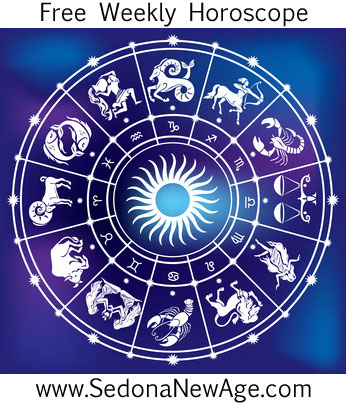 Receive our Free Weekly Horoscope in your Inbox
Aries Taurus Gemini Cancer Leo Virgo Libra Scorpio Sagittarius Capricorn Aquarius Pisces
With the Moon in Taurus between Sunday, December 4 and Tuesday, December 6, this is an excellent time for financial matters such as paying bills, paying off debt, asking for money that is owed, and investing in real estate. Itís also excellent for taking a stroll in the park and going to the countryside and connecting with Mother Earth. The Moon in Gemini between Tuesday, December 6 and Thursday, December 8 is an ideal time for multitasking and calling friends and acquaintances. It's also great for social activities. The Moon in Cancer between Thursday, December 8 and Sunday, December 11 is the perfect time for family activities, especially those involving children. It is good for spending more time at home cooking and nurturing yourself.
December is a month to be present to the moment and follow our bliss and appreciate our blessings. The more we know our place in the universe and are grateful for everything we are given, the more aligned we become with our true life purpose. In the end, it is not so much about how much money we make, or how successful we are in the eyes of society, but how happy we are.
Aries Taurus Gemini Cancer Leo Virgo Libra Scorpio Sagittarius Capricorn Aquarius Pisces
Free Weekly Horoscope for your Sign
Aries Weekly Horoscope:
People tend to feel frustrated when life doesnít go the way they want it to. Every day is full of potential frustration, and if you want to make it through December and the Full Moon in particular around December 8, without losing your equilibrium, you will need to adopt an attitude of acceptance. Remind yourself that things are the way they are for a reason and if events is not currently going your way, the tide will turn in your favor very soon.

---
Taurus Weekly Horoscope:
December carries the need for empowerment, whether financial or personal, and a Full Moon on December 8 is likely to bring this theme to the forefront. Perhaps you need to take more decisive action where money is concerned, or perhaps you need to assert yourself within your job. Maybe itís time to be bold and ask for a raise. Mars is currently moving backward through your money zone, making it more difficult to take action in these areas.

---
Gemini Weekly Horoscope:
With Mars in your sign, you might be feeling the need to get things done and achieve a goal or personal desire. But as Mars is currently moving backward, progress might not always be smooth sailing and you might have to pause and take stock every so often or simply deal with frustrations and impediments. The Full Moon on December 8 could be especially tricky, so try not to push forward too much around this time. The best use of this retrograde would be to become more conscious about your energy and how you use it. Whatever hot emotions come to the surface now, especially around December 8, can be clues to what needs addressing and where you need to channel your energy.

---
Cancer Weekly Horoscope:
The focus during December is on health, well-being, and work, and since Mars is retrograding through one of your weaker areas, many signs of fatigue need to be addressed. This might not be easy in the run-up to the holiday season but if you don't make time for rest, your health could suffer. You might notice an energy drop around the Full Moon on December 8, or you could experience an emotional outburst that shows something deep that needs to be acknowledged.

---
Leo Weekly Horoscope:
The energies through December support fun and enjoyment for you. There might be a blip around the Full Moon on December 8, but this can be addressed by adopting a more adaptable approach and not insisting that things go a certain way. Trying not to force things is important and being open to spontaneity could unleash some surprising joyful opportunities.

---
Virgo Weekly Horoscope:
While December is usually a month to snuggle up at home and enjoy the warmth of family, it might also be appropriate to reassess your current direction in the outside world. Are you happy about where you are going with work in general, or have you had a drop in motivation? The Full Moon on December 8, could shine some light on where you need to go next.

---
Libra Weekly Horoscope:
If you see a new possibility this week, express it. If you see trouble ahead, gently impart your warning. If you see beauty, capture it through artistic means. If you have an idea or intuition share it with others. The point is not to keep things to yourself but enjoy the process of communication and increase your interaction with friends, neighbors, and associates.

---
Scorpio Weekly Horoscope:
A strong financial theme runs through much of this week in December for you. There could be a turning point around December 8 under the Full Moon. Perhaps you havenít been feeling as abundant or financially empowered as you would like. If so, now is the time to make changes. The key is to realize that you are enough as you are. Give thanks for all you have and focusing more on the good things in your life and you will steadily attract more of the same.

---
Sagittarius Weekly Horoscope:
With the Sun and Venus in your sign, December should get off to a pleasant start with the focus on personal matters and opportunities to recharge your batteries. Pleasurable events should be high on your list of priorities now, so make the most of the good times, as this will replenish any depleted spirits from the events of the year. You will need to be mindful of what is going on around the Full Moon on December 8, as this could be a time when arguments and confusion emerge and either you or someone else has an emotional outburst. While this conflict should be short-lived, it could indicate a problem needing closer inspection.

---
Capricorn Weekly Horoscope:
The more you trust your intuition this week, the more empowered you become. Is your intuition telling you to rest? Is it sending you a feeling that something isnít right? The Full Moon on December 8 could be a particular time when it is important to listen to what the Universe is telling you. If the message is to slow down, do so. If the signs point to taking a particular course of action, do that. Donít bow to the pressures of the holiday season. Doing what you feel is right for you seems more important.

---
Aquarius Weekly Horoscope:
The good news for you is that the Sun and Venus are residents in your social zone for much of the month. If the pressures and stresses of the season start to take hold, you might need to remind yourself what it is really about. The challenge for you this week is to create memories and not stress about stuff that doesnít really matter.

---
Pisces Weekly Horoscope:
December looks to be rather auspicious for you, as the Sun and Venus align at the top of your chart. This could translate as a feeling of success and accomplishment. Whatever the circumstance, this is the time to focus on the future and enjoy pursuing your goals and ambitions. You could also experience a lucky or fortunate event, and anything you set in motion should be blessed with auspicious vibration. The only blip might be around the Full Moon on December 8, which is a tricky one anyway, but for you, it could signal a conflict or difficulty within your home or family matters. It could also simply be in a strange mood that comes over you or a bout of irritability that most likely stems from an unresolved issue.
---