Aries, Taurus, Gemini, Cancer, Leo, Virgo, Libra,
Scorpio, Sagittarius, Capricorn, Aquarius, Pisces

Overview of this week
The Center for the New Age is pleased to present your Free Weekly Horoscope for March 9 — March 15, 2014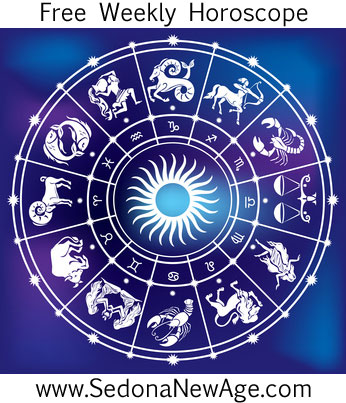 Aries, Taurus, Gemini, Cancer, Leo, Virgo, Libra,
Scorpio, Sagittarius, Capricorn, Aquarius, Pisces
Sunday, March 9, Daylight Saving Time goes into effect. Mark your calendar as the day to "spring ahead" (except in Arizona outside of the Navajo Nation, and in Hawaii) by setting your clocks ahead one hour before you go to bed on Saturday.
Mercury in Aquarius square Saturn (occurring March 11 -17) affects communications and information in a way that is timely, and often difficult to take or to get around. Mercury governs communications and the square aspect presents an obstacle, making it difficult for information to penetrate very easily. Instead, information is likely to be stifled by obstacles getting in the way of deadlines, particularly given that Mercury is squaring to Saturn which represents time and the discipline that it takes to reach a goal or to summon a response necessary to accomplish a desired effect. It may be challenging right now to sell someone on a product or to request a raise or promotion. Whatever the desired effect may be, it is wise to use caution when attempting communications during Mercury square Saturn, especially concerning matters of time and timing. This aspect makes it difficult to put a message out there and be taken seriously. People may become very tongue tied and feel quite off track. Although most of us do it all the time, it is best not to offer one's opinion or advice so freely, unless it is requested. Even then one might consider giving the matter some more time….like until this aspect passes!
Mercury in Aquarius trine Mars in Libra ( March 14 -20) brings news, thoughts and communications into a most favorable position when it comes to taking action. Mercury trine Mars activates the world of communications with an energetic punch that often persuades people to take immediate action regarding whatever the subject matter requires. Thoughts, words and intuitive speech inspire activity, and the messages coming across often give us the incentive to get into the action. The trine aspect acts like a gift, and this is a superb time to communicate and receive positive and uplifting information which will inspire others to take affirmative action where needed.
Aries, Taurus, Gemini, Cancer, Leo, Virgo, Libra,
Scorpio, Sagittarius, Capricorn, Aquarius, Pisces
For more information about your Horoscope and what the stars have in store for you, order one of our detailed


Astrology Reports!
Free Weekly Horoscope for your Sign
Aries: The more we give thanks and praise for what we have, the more abundant and full we feel on the inside and the more likely we are to attract further good things. There is a positive feeling to your outlook for the week ahead as Mars forms a helpful trine to Mercury, suggesting that the more positive your mental approach, the better the outcome is likely to be. Don't allow conflict with others to distract your positive intent; instead, work toward creating love and harmony with all you come into contact with.
Order your personalized Astrology Reports
---
Taurus: Whenever we compromise ourselves by not speaking up when we know we should, or through not defending ourselves or letting our true desires be known, or by continuing to endure a situation that devalues us, then the result is shame and frustration. Perhaps it's time to muster up the courage to assert yourself and demand to live your life in the way that is best for you. This may mean ruffling one or two feathers, but in truth, no one is truly happy with an unbalanced situation. Venus at the top of your chart is your opportunity to allow yourself some well deserved glory, so don't hang back from allowing your true self to shine.
Order your personalized Astrology Reports
---
Gemini: Wouldn't it be great if life were always easy? If we always got what we wanted with a minimum of fuss and everything flowed effortlessly? Wouldn't it be wonderful if we never had to experience challenge, frustration, difficulty or hardship? Life would certainly be a breeze, but what would we ever learn? How would we grow? And wouldn't we become like spoiled children if we always got what we wanted when we wanted it? Saturn's square to your ruler, Mercury, suggests that this won't be the easiest week, and you may have to deal with a frustrating situation or come up against some sort of block or adversity, but if you can shift your thinking away from what you haven't got or what isn't right to focus on the positives, life will become much easier.
Order your personalized Astrology Reports
---
Cancer: With Mars retrograde at the bottom of your chart, you may feel compelled to direct your energies toward home and family matters. You may decide it's time for spring cleaning or redecorating, or you may find yourself dealing with a family member. Another option is that you might feel the need to confront your past, and while this could be cathartic, it might be a mistake to get too embroiled in heavy stuff, especially when the Sun is urging you to broaden your horizons and focus on optimistic outcomes. Try this week to find a balance between the inner and the outer, between home and family, and between dwelling on the past and looking to the future that lies ahead of you. Ideally, you should use the Mars energies to facilitate changes in your external world. A good example of this would be to use the principles of Feng Shui to effect positive changes in your life. Another example would be to work on healing your family dynamics and relationships so that you feel lighter and more able to move forward.
Order your personalized Astrology Reports
---
Leo: Not knowing where we belong can be very disconcerting. When we don't feel at home within ourselves, we don't feel at home anywhere, which can result in a sense of restless dissatisfaction. Within this state, we're always unconsciously looking for the next thing, so we distract ourselves through constant business, or we're forever looking for the place that feels like home. If you've been through a period of uncertainty, whether it was with your work, your health, your relationships, your home, or life in general, this week offers you the chance to cultivate inner peace through realizing that everything is just as it should be.
Order your personalized Astrology Reports
---
Virgo: Have you ever driven a car with the brake on? It's a peculiar experience that feels like driving a heavy truck uphill even though your foot is flat to the floor. Life could feel a little like that at the moment, especially around the first couple of days of this week, so instead of straining against the resistance, take a more philosophical "go with the flow" approach, and you may find that life becomes less frustrating. Although you may want to make progress in work and money matters, your best bet is to focus on relationships, working to ease any problems and enjoying time spent with people who mean something to you.
Order your personalized Astrology Reports
---
Libra: There is no rush, whatever you may think. Try to relax a little, knowing that all will get done in good time. While it's true that this is one of the most exciting and dynamic times in your life, when it seems that you could do with several of you to tend to all the different jobs, projects and people in your life, you'll only burn yourself out or not do justice to what you're trying to achieve if you strain and hurry. If you're trying to improve your home, family, relationships, work, health, ambitions or finances, know that by bringing your full attention to whatever you're doing and putting your love into it, magical results will occur in a fraction of the time it would take if you had rushed and tried to do everything. So relax, be in the moment and love whatever you're doing right now.
Order your personalized Astrology Reports
---
Scorpio: As the Sun journeys through your house of fun, you have permission from the universe to let your hair down a little and do whatever you feel like doing. We spend so much of our time under a cloud of obligation, feeling that we should do this and we need to do that, so every now and again, it's healthy and even essential to move out from underneath that cloud toward the Sun. This is a week to follow the beat of your heart and spend your time in pleasurable pursuits –hobbies, excursions,, creative expression, dancing, singing or simply just being a little lazy. "Relaxation" and "fun" are your keywords for this week, so make it your mission to enjoy yourself!
Order your personalized Astrology Reports
---
Sagittarius: As the Sun journeys to the lowest part of your chart, you may find your attention dwelling on personal and emotional matters. This is an introspective transit that asks you to journey within for a short while. Any discontent, restlessness, or sadness may have its roots in something from the past that would be easier to avoid. However, allowing yourself to feel sad or nostalgic is perfectly okay right now, and it may help you to see any current problems as having their roots in the past. It may be that you're at the mercy of a karmic pattern, but the good news is that you are now at the point where you can change or break this pattern. All that's needed is to allow healing to take place, and forgiveness will liberate you from the person or situation that binds you.
Order your personalized Astrology Reports
---
Capricorn: As Venus sails into your zone of money, resources and possessions, it could be timely to look at everything you have with fresh, grateful eyes. The more we value what we have, the deeper our level of contentment, and it's this contentment that makes for a great attitude. Suddenly there is no rush to get anywhere or do anything, because all we have is here. You don't need to strive so hard or feel that you haven't got enough. This week, make "gratitude" and "appreciation" your keywords, and see how this softens your attitude and helps you to be more at peace with yourself and the world.
Order your personalized Astrology Reports
---
Aquarius: Although there is a successful theme to this week during which things are likely to turn out well for you, the arrival of Venus in your sign suggests it's time to focus less on work and material matters and more on what you enjoy. Venus gives you permission to focus on pleasure and your own needs for a while so it would be good to strike a balance between work and pleasure. This week is a good time to write a list of all the things you enjoy, all the little pleasures you often overlook in favor of doing what needs to be done. From something as simple as a leisurely walk to lunch with a friend, this is a week to slow down and savor the joys of life.
Order your personalized Astrology Reports
---
Pisces: Some kind of rebirth is trying to take place within you, and with Mars retrograde in your psychological zone, this rebirth is likely to become more evident. Perhaps you are being affected by a person or a change in your life that is in turn causing you to change. Perhaps you are involved in a process of healing that is facilitating a wonderful –though probably sometimes painful –transformation. This is all as it should be, so don't resist any of it. Whatever has been going on in your life was happening for a reason, and now –possibly for the first time –you're beginning to see what that reason is. There is much more to unfold, and all you need to do is go with it and trust that all is happening for your highest good.
Order your personalized Astrology Reports
---
For more information about your Horoscope and what the stars have in store for you, order one of our detailed