Aries, Taurus, Gemini, Cancer, Leo, Virgo, Libra, Scorpio, Sagittarius, Capricorn, Aquarius, Pisces
Overview of this week
The Center for the New Age is pleased to present
your Free Weekly Horoscope for April 26 — May 2, 2015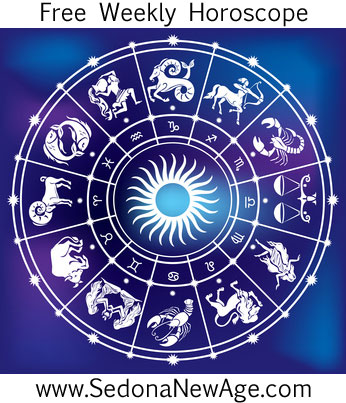 Aries, Taurus, Gemini, Cancer, Leo, Virgo, Libra, Scorpio, Sagittarius, Capricorn, Aquarius, Pisces
What a quiet week this is in the heavens – the only significant event is Mercury entering Gemini on Friday and remaining there until July 8th.
Mercury is the ruling planet of two astrological signs: Gemini and Virgo. When in Gemini, Mercury is known to increase our attention to detail, and to cover a wide range of topics and subjects of interest. Mercury in Gemini directs and orchestrates information in an interesting and captivating fashion. The thing to remember is that information is not always well researched or even a correct and accurate representation of the truth. Mercury in Gemini, the mutable air sign, is the best time to inspire a storyteller, who is often looking for ways to make the story more interesting. Take all information with a grain of salt. Pay heed to the message if the storyteller happens to be telling your story while Mercury is in Gemini.
Aries, Taurus, Gemini, Cancer, Leo, Virgo, Libra,
Scorpio, Sagittarius, Capricorn, Aquarius, Pisces
For more information about your Horoscope and what the stars
have in store for you, order one of our detailed
Astrology Reports!
Compatibility Report compares your temperaments and personalities. This information is powerful if you are married or living together.

Love Cards Report will reveal as much information about you and your partner as possible, using an ancient and highly accurate system called "The Book of Destiny".
Free Weekly Horoscope for your Sign
Aries: You may have to put in more hours this week or maybe you may have to pursue a money making idea. You might be tempted under the trio of celestial bodies to spend and desire what you do not have or can't afford. Be mindful of the value of things and ask yourself whether you really need something or whether you're trying to satiate a hunger for something deeper. Ultimately you will be urged to consider how much you're worth, whether you're giving or receiving value for money, and whether there is more you can do to change your material situation for the better.
Numerology Report is a personal profile and one year forecast based on advanced calculations of your name and birth date.
---
Taurus: You could be forgiven for feeling a little self-centered right now. With the Sun, Mars and Mercury all gathered in your sign, it's only right that the spotlight should be on you and your needs so don't feel guilty. Instead, make the most of the opportunities that come your way, whether they are opportunities to enjoy yourself or the chance to spend some time in your own company discovering a little more about yourself and what makes you tick. The more you are able to tune into the whispers of your soul, the more you will be able to make empowering changes to your life.
New Age Natal Report is designed as a guide for your growth and personal evolution in the New Age.
---
Gemini: You still have the positive aspects of Venus in your sign, but now you also have the Sun, Mercury and Mars in your zone of spiritual awareness making this the time to cease your doing and focus more on being. Much can be attained on an inner level now by focusing on yourself and your connection to the divine. Let go of the past, release all that you don't need and make time for yourself and those you love. Nourish your mind, body and soul with nurturing creative pursuits and plenty of rest. The busy demands of life will return, but for now, it's time to take a break.
Merlin Report could be beneficial in self-help and self-transformation.
---
Cancer: Now would be a good time to focus your positive intent on the future by doing something such as creating a vision board on which you stick images that resonate with you about what you hope to achieve. Or you could write down your hopes for the future. It's also important to get out as much as possible to connect with others if for no other reason than that it's healthy and invigorating to do so, but the other positive side effect of being seen in public is that it reminds people that you exist, which is important if you're hoping to achieve something. From finding a house or buying a car to landing a job or discovering the answer to an important question, the Universe speaks to us through other people, so make sure you mingle and enjoy the process.
---
Leo: With the Sun, Mars and Mercury at the top of your chart, this is your chance to "make hay while the Sun shines." This is the time to be seen and to impress those who can help you get ahead. You may be full of good ideas, energy and motivation which are bound to be noticed by someone. It does mean, however, that you're more likely to be assertive, which may not please everyone. Take care not to step on people's toes by being too pushy in your ambition. Simply shine in your brilliance and let that be enough to bring about your reward.
Child Astrology Report is been designed as a guide for parents, to help with the child's growth and alerting the parents to problems that the child could face in their life.
---
Virgo: As the Sun joins Mars and Mercury in your adventurous zone, you should notice your mood lightening, your spirits lifting, and your attention turning to bigger and more enjoyable matters. Now is the time to broaden your horizons perhaps by thinking about and planning your next holidays. Or you may be drawn to studying a subject that opens up your mind and gives you a different perspective on life. You don't always have to jump on a plane or lose yourself in a highbrow subject to broaden your mind. Sometimes it's enough to try out a new restaurant in town or to change your daily routine. So long as you're open to opportunity and new experiences, you will make the most of this positive planetary combination.
Astrological Solar Return Report offers you a practical guide that helps you analyze this year's prospects and to learn from them.
---
Libra: As the Sun journeys down into the deepest part of your psyche, don't be afraid to follow suit if you feel you'd benefit from spending some time in inner contemplation. If you find yourself feeling guilty, have the courage to face that guilt and then move on. What you need to bear in mind this week is that you are ideally positioned to experience some sort of personal change, which usually only happens through placing your awareness on your inner self or by experiencing something transformative. Whatever happens to you this week should be viewed as an opportunity to change either yourself or your life.
Astro Forecast Report gives you actual dates when the energies influence your life in a given time period.
---
Scorpio: As the planets converge in your relationship zone, it's time to turn your attention to your personal life with a view to tending to whatever needs your care. It might be that one relationship in particular could benefit from your time and energy or that you have to handle an angry response. While it's certainly time for you to be assertive and draw a line as to what is acceptable, you do need to watch out for the famous scorpion sting of your words or actions that can debilitate others. It's worth remembering that, as Joseph Joubert wrote, "A part of kindness consists in loving people more than they deserve."
Cards of Destiny Report is a one year forecast based on Robert Camps book and age-old "cards of destiny" our ancestors gave us.
---
Sagittarius: Maybe it's time for a celebration or two. People don't celebrate enough. Even on birthdays, many people spend their special day as they normally would –working! What message does that implant in the subconscious –that the day you arrived on Earth isn't really that significant? Therefore, by association, you think that maybe you aren't that important. If we can't fully celebrate our birthdays, how can we celebrate life? And if we're not celebrating life, are we really enjoying it? Throughout April, the planets have been encouraging you to celebrate your life, but if you didn't feel like doing that, look at what needs to change so that you can feel jubilantly happy about the way you spend your days. The big questions for you now are do you love what you do, and is there a better way you can be spending your precious time?
Relocation Information Report (3 locations) can be of great assistance if you are contemplating a move.
---
Capricorn: Sometimes we have to look beyond our usual pastimes to give ourselves the means to move out of a rut. This week you might try something new – explore new forms of music, buy some paints and a canvass, or take a dance lesson or two –whatever works for you. The universe never puts us through the mill without offering us a chance to renew ourselves afterward. It's down to us, though, whether we accept the opportunity or not, so rather than bury yourself in work or responsibilities that aren't very satisfying, be alert for opportunities to have fun. In fact, that should be your mission for this week.
Cayce Past Life Report describes your character traits, relationship potentials and challenges as well as career potentials and even more based on Edgar Casey Readings.
---
Aquarius: As the Sun journeys to the deepest area of your chart, it is time to nurture yourself and reconnect with your inner self. This may mean slowing down a little. It may mean observing your own rhythms and noticing when your body feels more inclined to curl up and rest. It may mean taking time to be with your thoughts and feelings without judgment. On a more everyday level, now is a good time to turn your attention toward your home and your family, perhaps seeking to communicate honestly and assertively with people close to you. You may feel inclined to channel your energy into your home, perhaps by mending, fixing or decorating. Sharing yourself with others –particularly your family –is important now, and by drawing your nearest and dearest together, you can conjure an atmosphere of warmth and celebration.
Karmic Past Life Report examines possible past life connections using astrological methods.
---
Pisces: With Saturn's ongoing square to Neptune, you will find yourself regularly faced with the choice between suffering and joy. No one consciously chooses suffering, of course, but when something is familiar –when it's all we've ever known –it's hard to conceive of anything else. This is a good opportunity for you to imagine more joyful situations, from work and money to relationships and health. If you're not thriving in these areas, it's time to examine your choices.
Karmic Insight Report comes from an esoteric point of view your birth chart is a portrait of your soul's intention for this lifetime, the lessons to be learned, qualities to develop, problems to be resolved, services to be rendered.
---
For more information about your Horoscope and what the stars
have in store for you, order one of our detailed
Astrology Reports for Couples!
Compatibility Report compares your temperaments and personalities. This information is powerful if you are married or living together.

Love Cards Report will reveal as much information about you and your partner as possible, using an ancient and highly accurate system called "The Book of Destiny".