Aries, Taurus, Gemini, Cancer, Leo, Virgo, Libra, Scorpio, Sagittarius, Capricorn, Aquarius, Pisces
Overview of this week
The Center for the New Age is pleased to present
your Free Weekly Horoscope for May 10 — May 16, 2015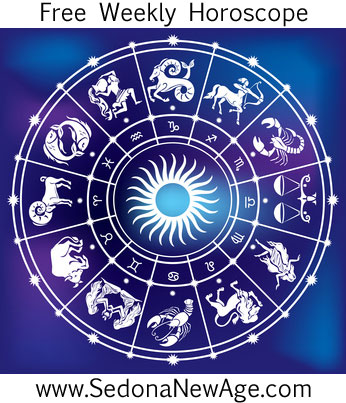 Aries, Taurus, Gemini, Cancer, Leo, Virgo, Libra, Scorpio, Sagittarius, Capricorn, Aquarius, Pisces
Last Quarter Moon in Aquarius on May 11 encourages our conscience to have compassion for our kin. Common courtesy calls to us. The drive to sort out what this means –to assist and guide others –is often a questionable sport, given that most folks don't always know what's good for them. A kind word or a sympathetic ear has great healing power and often this promotes greater peace.
Tuesday Mars, the planet of war, energy, action, force and pressure focuses its attention through Gemini, the sign of thinking, communicating and duality (May 12 –June 23). As a general rule, Mars in Gemini helps to activate and stimulate dual perspectives, making it easy to see and understand both sides of a heated discussion while making it more difficult to take sides. Forces may seem scattered and restless for some people at this time. Other people will find that Mars in Gemini sharpens the insight and perception, and these people will stand out through their clear outspokenness. This is a good time to avoid being talked into fighting other peoples' battles so be careful and watch out for smooth talking recruiters.
Mars in Gemini opposite Saturn in Sagittarius (May 15 –May 26) always makes us acutely aware of the importance of acting in a timely manner or doing something about a problem before it's too late. Medical emergencies often crop up with this type of aspect when it affects people personally. It is always important to pay attention to those aspects of one's life that are active and hold the potential for accidents. The popular old adage of "look before you leap" is a good meditation to apply during this crucial time of Mars opposite Saturn.
Venus in Cancer trine Neptune in Pisces (May 16 –May 25) brings feminine love in harmony with spiritual expression. When one comes from a place of love, it is easier to draw down a spiritual enhancement of that love. To love unconditionally is a way to acquire gifts of the spirit world. This has something to do with the old adage 'what goes around comes around.' Feminine expression is emphasized and there is a greater potential to create a spiritually enhance atmosphere. In a time of spiritual turmoil for many, Venus trine Neptune helps to ease our woes with a support network of feminine kindness.
Aries, Taurus, Gemini, Cancer, Leo, Virgo, Libra,
Scorpio, Sagittarius, Capricorn, Aquarius, Pisces
For more information about your Horoscope and what the stars
have in store for you, order one of our detailed
Astrology Reports!
Compatibility Report compares your temperaments and personalities. This information is powerful if you are married or living together.

Love Cards Report will reveal as much information about you and your partner as possible, using an ancient and highly accurate system called "The Book of Destiny".
Free Weekly Horoscope for your Sign
Aries: Although it's true that we don't have to go far to find our treasure since it is in our own backyards, it's also true that sometimes we do need to travel in order to realize that fact. A change of scene can also help us discover more about ourselves. When we take ourselves out of our everyday reality, we begin to see things differently. In effect, we begin to wake up, so if you currently need an answer to a problem, consider taking off for a little while. It's not so important how far you go or even where you go so long as it's away from your normal, everyday world. And what you discover while journeying from A to B could give you cause for celebration.
Numerology Report is a personal profile and one year forecast based on advanced calculations of your name and birth date.
---
Taurus: It's time to channel energy into your material life. Perhaps you have an idea that could make some money, or maybe you feel motivated to improve your situation in some way. This is, of course, good, but with Saturn's opposition to Mars in your house of money, you may feel thwarted in your attempts. Worry not, for patience will see you through. Perhaps Saturn is simply testing your determination and commitment to the matter. Any obstacles are likely to be short lived, but they will show you whether your intentions are as serious as you think.
New Age Natal Report is designed as a guide for your growth and personal evolution in the New Age.
---
Gemini: Mars moving into your sign is good news as far as your motivation and energy levels are concerned, and you should soon feel more enthusiastic and dynamic. Venus moving into your money zone is good news for your finances and your self-worth. It is advisable, though, to keep an eye on your spending if finances could be better, since Venus is likely to encourage you to be more easily tempted to buy things you don't really need. Perhaps you could find other ways to treat yourself or to indulge in pleasure. This may also be an appropriate moment to consider the compromises you make in your life, from doing a job you don't like to agreeing to commitments that your heart's not in. Decide what is and what isn't acceptable to you, and stick to your principles.
Merlin Report could be beneficial in self-help and self-transformation.
---
Cancer: Venus enters your sign and wraps you in her romantic embrace, encouraging you to focus on pleasure and enjoyment for the next few weeks. Venus likes to remind us that we don't take enough time for pleasure; we're all so good at working and fulfilling our duties and responsibilities to other s but not so great at looking after ourselves and prioritizing what is important for our own well-being. Therefore, this is a good week to become less concerned with time and what you have to do. Instead, move in favor of what you would like to do. Take your time when it comes to enjoyment and savor the pleasurable moments of each day.
---
Leo: As the Sun journeys over the top of your chart, this is a good time to focus your attention on where you're going in life, from the setting of a goal to moving in a new direction. Whatever your intentions, now is the time to set your sights high and to forget about the past. In fact, this could be a week when you begin to feel more liberated from something that has held you back, whether it's something in your past or your own inner doubts and fears.
Child Astrology Report is been designed as a guide for parents, to help with the child's growth and alerting the parents to problems that the child could face in their life.
---
Virgo: Planetary activity invites you to embrace a more playful approach to life, and with Venus moving into your zones of social interactions, travel and adventure, this is a perfect week for enjoying happy events and spending time with people you like. Meanwhile, the Sun in your travel zone brings opportunities for adventure, and the key is to watch for invitations that push you out of your comfort zone. From going to somewhere you've never been before to trying a new food, learning something new, or trying an activity that challenges you, this week is all about broadening your horizons and enlivening your spirit. Remind yourself that life is for living and dust away those cobwebs.
Astrological Solar Return Report offers you a practical guide that helps you analyze this year's prospects and to learn from them.
---
Libra: This week you have a choice as to how you use your energy. You can either use it to beat yourself up and feel guilty or you can channel it into some sort of outlet or activity that you feel passionately about. If you really feel the need to wallow, then do so, but limit your time. Give yourself an hour to feel sorry for yourself, complain, or experience whatever type of negativity you need. Then, when your hour is up, figure out how to channel your energy into something more positive. Perhaps you can learn from the experience by telling yourself that mistakes and failures are stepping stones to success. Read or listen to something inspiring to change your mindset, reminding yourself all the while that reality follows thoughts.
Astro Forecast Report gives you actual dates when the energies influence your life in a given time period.
---
Scorpio: The Sun in your relationship zone puts the focus on your one-on-one interactions while Mars and Mercury add to the need for greater intimacy. This is an appropriate time to share your innermost secrets, to reveal your vulnerability and to forge deeper, closer connections with others, perhaps one person in particular. On the downside, the current planetary transits could foster a sense of jealousy, insecurity or suspiciousness. Try to keep on top of this as it could result in wasted energy. If, however, you need to find something out, the current alignments will work in your favor, making this a great time for research and digging up the truth.
Cards of Destiny Report is a one year forecast based on Robert Camps book and age-old "cards of destiny" our ancestors gave us.
---
Sagittarius: In order to create a vibrant, fulfilling life, you need to be firing on all cylinders. That isn't something you normally have a problem with since Sagittarians are blessed with an abundance of energy. You need to consider, though, that Saturn is in your sign, which can have a draining effect, so this is one time in your life when you need to be mindful of how much energy you're expending. Make sure you get enough rest and feed yourself with soul nourishing activities. You may also need to learn the importance of boundaries to ensure that your time is your time and that nothing is allowed to encroach on that.
Relocation Information Report (3 locations) can be of great assistance if you are contemplating a move.
---
Capricorn: Saturn's opposition to Mars is likely to result in one or two frustrations or a sense of too much to do and not enough time to do it. This could result in a stressful response to situations you have little control over. Meanwhile, the Sun continues its passage through your house of fun, reminding you that there is another way. This would be a suitable point to pick up Richard Carlson's Don't Sweat the Small Stuff, as reading one or two of his short essays will instantly unplug you from the conduits of anxiety. You have a choice as to whether you treat life as a celebration or an endurance test.
Cayce Past Life Report describes your character traits, relationship potentials and challenges as well as career potentials and even more based on Edgar Casey Readings.
---
Aquarius: The Saturn-Mars opposition is likely to bring challenges for many people. For you, it's likely to reveal where you have allowed yourself to become conditioned by the beliefs and expectations of other people. The main quest for you as an Aquarian is to be true to yourself and to not care too much what others think. How well are you currently doing on that one? Are you living your life in the way you want to and being the person you're meant to be? Or are you going along with the herd, sticking in the safe but uninspiring job or the humdrum relationship when your heart yearns for something more? Are you allowing someone to limit your expression perhaps by not accepting your beliefs or restricting your freedom? The planets are encouraging you to be true to yourself, and if that requires you to be a little bit selfish or assertive, then so be it.
Karmic Past Life Report examines possible past life connections using astrological methods.
---
Pisces: Many people aren't very good at expressing sadness and sorrow. We prefer to keep such things private or suppressed through drink, drugs, food, entertainment, shopping, work or general busyness, but all these escape routes lead to diminished energy; it takes a lot of effort to keep that river of sorrow blocked. If you find yourself feeling sad this week, allow yourself to express that. In fact, it's ideal to give free rein to any feeling or emotion you're experiencing now. Maybe since Venus is in your zone of creativity, you could give form to your feelings through art, music, dance or some other medium. The more you can do this, the healthier and happier you will eventually be.
Karmic Insight Report comes from an esoteric point of view your birth chart is a portrait of your soul's intention for this lifetime, the lessons to be learned, qualities to develop, problems to be resolved, services to be rendered.
---
For more information about your Horoscope and what the stars
have in store for you, order one of our detailed
Astrology Reports for Couples!
Compatibility Report compares your temperaments and personalities. This information is powerful if you are married or living together.

Love Cards Report will reveal as much information about you and your partner as possible, using an ancient and highly accurate system called "The Book of Destiny".