#Horoscope #Aries #Taurus #Gemini #Cancer #Leo #Virgo #Libra
#Scorpio #Sagittarius #Capricorn #Aquarius #Pisces
#Horoscope – overview of this week
The Center for the New Age is pleased to present
your Free Weekly Horoscope for September 13 — September 19, 2015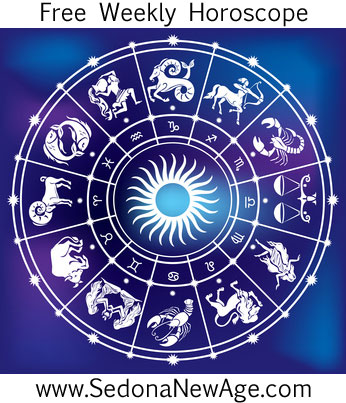 Aries Taurus Gemini Cancer Leo Virgo Libra Scorpio Sagittarius Capricorn Aquarius Pisces
A Solar Eclipse occurs on September 13, only visible in the extreme southern hemisphere. However, September 13 will be a potent day and you can best utilize the energies by focusing on what you want to move on from since solar eclipses are symbols of new beginnings. New ventures that begin just after this date have a higher degree of success than normal. The energies are imbued with power and intensity that can carry almost anything, but avoid beginning anything new in the days before, as the energies won't be supportive.
New Moon in Virgo on September 13 invites us to start all over again with the development process of our feelings. This Moon calls to us to apply enthused methods of discernment, a new way of analyzing, and to apply caution. How about a new way of accounting or applying health practices? Finding fresh resources is often a common practice during the New Virgo Moon. This is the time to organize and prepare for the autumn season, a time when making adjustments is essential. New Virgo Moon assists us to prepare for the changes that occur in the physical world. This is the time of the harvest and this Moon will assist us to make the most of this fruitful time with thrifty ingenuity.
Lasting all month, the relatively uncommon aspect of Jupiter opposite Neptune starts on September 17. Jupiter affects our sense of prosperity and expansion into new realms of fulfillment and discovery. Neptune represents our experience with divine mystery and the spirit of our beliefs. Jupiter opposite Neptune may be forcing us to review our beliefs and to take on a more expansive viewpoint of life's mysteries On the other hand, we are probably going to be tested as to the validity of our beliefs and how we project those beliefs on others, or how another's beliefs are projected on us.
Mercury turns retrograde on September 18 in the sign of Libra. A poor sense of timing in communications is always evident with Mercury retrograde, and important connections are likely to be missed by minutes. This all happens for the course of a three-week period (until October 9th) in which the overall purpose of communications will be disrupted, particularly for those people who don't pay careful attention to or double check their schedules. The key to getting though the Mercury retrograde period is to anticipate trouble in relaying information. This is the time to pay careful attention to messages, and to not get bent out of shape when misunderstandings and setbacks occur.
Saturn enters Sagittarius on Friday (September 18 – December 21, 2017). Saturn changes signs about every two and a half years, and as it transits through our personal charts, it generally shows us the areas we will see challenges in. However challenging, it can also represent some of our most concrete realized goals as well. Saturn gives us structures and boundaries in our lives on the positive side, and challenges on the negative end. Sagittarius is the sign ruling the ninth house of education, foreign affairs and world view. Many ideas will change and evolve with Saturn in Sagittarius both on an individual level and the collective level.
Aries Taurus Gemini Cancer Leo Virgo Libra
Scorpio Sagittarius Capricorn Aquarius Pisces

For more information about your Horoscope and what the stars
have in store for you, order one of our detailed
Astrology Reports!
Compatibility Report compares your temperaments and personalities. This information is powerful if you are married or living together.

Love Cards Report will reveal as much information about you and your partner as possible, using an ancient and highly accurate system called "The Book of Destiny".
Free Weekly Horoscope for your Sign
Aries: The solar eclipse on Sunday may close one door, but you can be sure that another will open very soon. This is the perfect time to make changes to your work, health and the way you spend your days. Do you want to do something different? Do you want to start something new? If so, the solar eclipse is cheering you on, along with Jupiter and Uranus. This is a time in your life to embrace change and reject the status quo. Expand your beliefs about what's possible, and allow a new vision to begin to take shape.
Numerology Report is a personal profile and one year forecast based on advanced calculations of your name and birth date.
---
Taurus: When we aren't being true to whom we are, the result is painful. If you have deviated from your soul's plan, this solar eclipse on Sunday could initially be discomforting. This sadness is a signpost, though, so don't try to run from it. Sit with your pain until you become clear about what you need to do to become more aligned with your heart. This may involve work, relationships, hobbies, children, creativity or how you express yourself to the world. Perhaps it's time to express yourself more. Basically, the questions for this week are: What do you love? What are your passions and are you making the most of your creativity? A good affirmation for you now is, "I am free to be me."
New Age Natal Report is designed as a guide for your growth and personal evolution in the New Age.
---
Gemini: The solar eclipse brings changes to your home, family and domestic situation. Don't be too surprised if a door closes around this time, as fate will be working to bring necessary change to your life. It can often feel better to make changes, and this may be the case for you, but just in case events seem out of your hands, try to trust that there is a grand plan to all that is happening. Beneath the developments will lay possibilities, so although you may not be able to see them yet, trust that they are there. In time, you will begin to see that whatever happens this week was designed to catapult you onto a new path.
Merlin Report could be beneficial in self-help and self-transformation.
---
Cancer: The solar eclipse this week invites you to speak your truth and drop any pretense – perhaps that you're okay about something when you're not. Maybe you've kidded yourself about something and now need to wake up to the illusion. This eclipse enables you to see the truth of a situation, to see things as they really are, so a great sense of clarity should appear in the days following this celestial event. It may be time to turn over a new leaf in areas of communication, study, learning, teaching, writing or expressing yourself. Aim for complete honesty and you won't go wrong.
---
Leo: The solar eclipse brings changes to your financial or material situation. Perhaps you need to bring something to a close before you can move on during this eclipse of financial new beginnings. To harness the power of the eclipse, focus on what you would like to manifest – acquiring possession, a raise, or the chance to profit from doing something you love. With Jupiter in there as well, you are in a most fortunate position, so think abundant thoughts. As long as you're not blocking it with guilt or small thinking, you will find yourself able to manifest quickly and easily.
Child Astrology Report is been designed as a guide for parents, to help with the child's growth and alerting the parents to problems that the child could face in their life.
---
Virgo: A solar eclipse in your sign invites you to rewrite the scrip of your life. This is a time for change, but for those born around September 13, the changes could be profound, so treat yourself gently. A good question to ask yourself is how you can participate more in life. Are you hanging on the sidelines or holding back in some way? With Jupiter in your sign, the world wants to see more of you and witness what you have to offer, so don't let fear hold you back. Use this eclipse to create new beginnings and throw open your windows to the world.
Astrological Solar Return Report offers you a practical guide that helps you analyze this year's prospects and to learn from them.
---
Libra: The solar eclipse on September 13 is a cue to bring closure to a situation that has been undermining you. Endings aren't always bad; sometimes they're very necessary, so whether it's the end of a situation or of an issue you've been carrying around for too long, it could be time to rejoice as you release your baggage. The more you can connect with a higher power or your higher self, the better because it won't be easy to make loads of progress in the outside world before first righting any disharmonies within yourself. Spend some time alone so that you can glean the necessary answers, and don't be afraid of allowing a chapter of your life to come to a natural end. Without endings, there'd be no new beginnings.
Astro Forecast Report gives you actual dates when the energies influence your life in a given time period.
---
Scorpio: The solar eclipse falls in your social zone, inviting you to make changes in the areas of friends, groups, organizations, or your future goals and aspirations. Is there something you want to do to help society? Can you be more of a presence in the world? Or do you need to join forces with like-minded people? The solar eclipse could result in a new contact or potential friendship, or it could bring something to propel you into the future with much excitement. The only potential downside this week is that you could let guilt sabotage things, perhaps because of what you don't do rather than faulty actions. Remember that the things we regret are often the things we don't do, so if in your heart you know you need to take action, then do so.
Cards of Destiny Report is a one year forecast based on Robert Camps book and age-old "cards of destiny" our ancestors gave us.
---
Sagittarius: Saturn arrives in your sign September 18 just as Mercury turns retrograde. Now is the time to get serious about where you want your life to go and what you want to accomplish. Mercury is retrograding through your zone of friends, groups, organizations and your future, making this an important time to think about your place in the world and how best you can contribute. For example, now is a good time to iron out any problems in your friendships or to reconsider your position in a group or organization. And what of your role in society? Saturn in your sign heralds the beginning of a new chapter in your life, so even if life feels confusing or uncertain right now, over time, Saturn will help you shape your existence into something that makes the most of you.
Relocation Information Report (3 locations) can be of great assistance if you are contemplating a move.
---
Capricorn: "The real voyage of discovery consists not in seeking new landscapes, but in having new eyes." Marcel Proust illuminates the mystery of the solar eclipse in your travel and adventure zone. Many Capricorns will answer the call to adventure and head off somewhere, but physical travel isn't essential to the process of waking up. It can certainly help to experience new sights, sounds, customs and languages, but many people use travel and holidays as an escape from the daily grind. This obviously isn't ideal. The ideal is for our daily lives to be so magical and fulfilling that we don't need to escape. The solar eclipse has a deeper question for you: Is your life so wonderful that you don't need to escape from it? If the answer is no, the eclipse will help you to see what needs to change in order to make your existence more meaningful.
Cayce Past Life Report describes your character traits, relationship potentials and challenges as well as career potentials and even more based on Edgar Casey Readings.
---
Aquarius: The solar eclipse falls in your zone of transformation, inviting you toward a rebirth. At the very least, a change of some sort will try to make itself known; it's very important you don't resist it. Whether it's an emotional/psychological change or a physical/material change, let go of the old stuff so that you can make space to create the necessary energy to welcome the new. Transformation can also feel like death – the loss of the old self or, if it takes place in your physical world, the death of a situation or relationship. Whatever is leaving your life now though, does so for good reason. It is time to move on.
Karmic Past Life Report examines possible past life connections using astrological methods.
---
Pisces: The solar eclipse on September 13 ushers in a relationship change. It is worth remembering that when a door closes around a solar eclipse, it does so for a good reason. Therefore, if a relationship should end around this time, let it go, knowing that it either served its purpose or wasn't meant to be. With Jupiter in the same region of your chart, it's unlikely anything too uncomfortable will happen because Jupiter eases all troubles and brings possibilities and opportunities. Try to see any endings or losses as the end of a burden that you've been carrying for too long. This eclipse will pave the way for a new way of relating and could well bring new people into your life.
Karmic Insight Report comes from an esoteric point of view your birth chart is a portrait of your soul's intention for this lifetime, the lessons to be learned, qualities to develop, problems to be resolved, services to be rendered.
---
For more information about your Horoscope and what the stars
have in store for you, order one of our detailed
Astrology Reports for Couples!
Compatibility Report compares your temperaments and personalities. This information is powerful if you are married or living together.

Love Cards Report will reveal as much information about you and your partner as possible, using an ancient and highly accurate system called "The Book of Destiny".