#Horoscope #Aries #Taurus #Gemini #Cancer #Leo #Virgo #Libra
#Scorpio #Sagittarius #Capricorn #Aquarius #Pisces
#Horoscope – overview of this week
The Center for the New Age is pleased to present
your Free Weekly Horoscope for September 20 — September 26, 2015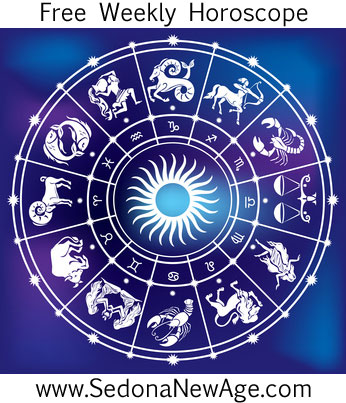 Aries Taurus Gemini Cancer Leo Virgo Libra Scorpio Sagittarius Capricorn Aquarius Pisces
First Quarter Moon in Sagittarius on September 21 allows our moods to be adaptable and responsive to the situations that arise. While the Virgo Sun reminds us to budget our resources for the changing season ahead, the Sagittarius Moon reminds us to reach out there while the brilliant beauty of summer is still occurring. Adventure and hope abounds. Sagittarius says: "I see" – make use of the vision and take the time to see beyond.
Mercury in Libra is square Pluto in Capricorn (September 24 – September 29). Attempts at communicating the need for balance may be difficult with regard to dominant powers that are fatefully at work creating permanent changes that will affect the generations to come. Procrastinating and vacillating thoughts make it especially difficult to communicate with those of another generation, or to discuss hardships and matters of fate in a constructive manner. This is a particularly hard time to deal with burdensome issues and discuss them in a manner that relieves tension. It is also an especially difficult time to discuss matters involving permanent change.
Mars enters Virgo on Friday (September 25 – November 11). Mars, "the god of war," enters the cautious and skeptical realm of Virgo. Mars in Virgo in general, causes the heat of our activities to be focused on such Virgo like tasks as communications, accounting, analyzing and nitpicking perfection. Resourcefulness and cleverness are emphasized. This aspect may also be a time when many folks are prone to argue, so pick your arguments carefully.
Mars in Virgo squares Saturn in Sagittarius (September 25 – October 4). This aspect is known for creating confrontations between offensive and defensive forces, and is usually not a good time to start a new enterprise. This may be an especially difficult time to muster the strength to finish up projects, or to end affairs amicably.
Aries Taurus Gemini Cancer Leo Virgo Libra
Scorpio Sagittarius Capricorn Aquarius Pisces

For more information about your Horoscope and what the stars
have in store for you, order one of our detailed
Astrology Reports!
Compatibility Report compares your temperaments and personalities. This information is powerful if you are married or living together.

Love Cards Report will reveal as much information about you and your partner as possible, using an ancient and highly accurate system called "The Book of Destiny".
Free Weekly Horoscope for your Sign
Aries: Mercury is retrograde in your relationship zone, putting the spotlight on your partnerships and personal life. There may initially be a little conflict here as your own freedom and autonomy is at odds with another's. However, as Mercury works his way backward, you will be given plenty of opportunities to straighten things out and improve any relationship that may have been struggling of late. Taking the time to listen and air our own thoughts and feelings will enable you to reconnect, and if the person in question is your partner, much can be gained from spending quality time together. Sometimes we just need to remember who the other person is and acknowledge them.
Numerology Report is a personal profile and one year forecast based on advanced calculations of your name and birth date.
---
Taurus: Mercury's change of direction occurred in your health and work zone, making this an important time to review and reflect in these areas. Tend to any jobs that have been building up, reorganize your filing systems, sort out paperwork and accounts, and generally tidy your affairs. Try to adopt a patient attitude with colleagues and technology if there are delays or hiccups at work during this time. Also, if you're unhappy in your work, give some serious thought to what you would love to do and how to make it a reality. Apply a similar approach to your health; pay attention to your body's communication, and aim to eliminate any unhealthy habits. Saturn's move into Sagittarius asks you to take back your projections. The challenge here is to see people and situations as they really are, not what you imagine or would like them to be. Take responsibility for your work, health, relationships and life in general; this will be the key to a turning point.
New Age Natal Report is designed as a guide for your growth and personal evolution in the New Age.
---
Gemini: With Mercury retrograde in your zone of authenticity and Saturn entering your house of relationships, the time has come to be truthful with yourself and others. Saturn requests a commitment of some sort, perhaps to what matters most to you – your work, personal life, or private world. Mercury also asks how much fun and joy you are experiencing. If the answer is "not much," then you need to set to work. Life is for enjoying, and now is the ideal time to sit down and figure out what you love doing, then make sure you go and do it.
Merlin Report could be beneficial in self-help and self-transformation.
---
Cancer: Mercury in your domestic zone suggests a need to tend to matters at home. This is a great time to clean and remove negative energies that may have accumulated in your space. It's also a good time to reflect on your childhood or the past to begin understanding some things that have happened to you. Forgive others and make your peace with them. Consider this a psychological or emotional cleaning to remove toxic energies from your soul. On the whole, this is a time for reflection on your inner life and your family dynamics and what makes a house feel like a home. Once you have your answers, you can set about making use of them.
---
Leo: Mercury retrograde in your mind zone makes this a good time to have a mental defrag. In other words, now is ideal for meditation or quiet contemplation so that you can be open to intuitive insights. Another productive use of this time would be to sort through or catch up on unread newspapers, magazines and mail. Journaling and creative writing are also positive pursuits under this transit so get scribbling to see what emerges. With Saturn moving into your creative zone, you're embarking on a two-year phase of increasing creativity, but you will need to get serious and put the effort in if you want to make the most of your talents.
Child Astrology Report is been designed as a guide for parents, to help with the child's growth and alerting the parents to problems that the child could face in their life.
---
Virgo: Mercury in your money zone and Saturn in your area of home and family provide a shift in energy this week. Mercury retrograde doesn't have to be problematic so long as you slow down and take time out to tend to any issues or situations that have been building in recent months. This is a good time to resolve financial matters, perhaps look at issues of how deserving you feel of a better situation, better treatment, or improved finances. Or maybe you need to reassess your value of money. Do you need to value it more? Should you be less frivolous with it or, conversely, less attached? Whatever your particular financial or material problem, Mercury will help resolve it if you make time. Saturn's reentry into your home and family zone will put the focus on domestic matters where there could be problems as Saturn squares Mars. Someone or something may try to hinder your progress or cause irritation. Try not to judge or be overly rigid about things. Inviting spiritual guidance and adopting a patient, flexible approach will help to quickly resolve things.
Astrological Solar Return Report offers you a practical guide that helps you analyze this year's prospects and to learn from them.
---
Libra: If you want to create a new vision of your life, you need to take some time to visualize it! Mercury retrograde in your sign is your cue to stop and contemplate your life. Are you happy? Is there room for improvement? What do you need to do to manifest the kind of life that will make you happier? Don't worry about being productive now because nobody can be productive all the time without burning out. Your long-term productivity will go up when you're happier, so slow the pace down. Take time out if you can, and be with your thoughts and feelings, as these will provide clues as to what you need to do next.
Astro Forecast Report gives you actual dates when the energies influence your life in a given time period.
---
Scorpio: Now is a good time to build on what you've learned or created in the past few years. How can you take that out into the world? How can you apply what you've learned? Can you see the possibilities contained in your rebirth? Are you ready to let go of something or someone and understand that new beginnings are just around the corner? Mercury retrograde indicates that instead of rushing ahead into something new, you should spend a little time in contemplation and in allowing things to draw to a natural close, which will put you in prime position to capitalize on the forthcoming possibilities.
Cards of Destiny Report is a one year forecast based on Robert Camps book and age-old "cards of destiny" our ancestors gave us.
---
Sagittarius: With Saturn in your sign, now is the time to get serious about where you want your life to go and what you want to accomplish. Mercury is retrograding through your zone of friends, groups, organizations and your future, making this an important time to think about your place in the world and how best you can contribute. For example, now is a good time to iron out any problems in your friendships or to reconsider your position in a group or organization. And what of your role in society? Saturn in your sign heralds the beginning of a new chapter in your life, so even if life feels confusing or uncertain right now, over time, Saturn will help you shape your existence into something that makes the most of you.
Relocation Information Report (3 locations) can be of great assistance if you are contemplating a move.
---
Capricorn: Expansion, possibility and adventure: these are all available to you now, and the trick is not to have it all planned out but to allow spontaneity to lead the way. When we are rigid in our planning, there is no room for divine intervention, no room for the magical to step in and illuminate the process. And if you're currently searching for deeper meaning or a greater sense of purpose, then you need to make room for the magical. Mercury's about-face in your career and vocation zone suggests that you need to pause for thought and be open to inspiration in terms of your direction in life. This is something that can't be forced, so be gentle, fluid, creative and receptive to higher guidance as you go about your days. The answers will come.
Cayce Past Life Report describes your character traits, relationship potentials and challenges as well as career potentials and even more based on Edgar Casey Readings.
---
Aquarius: As Mercury retraces his steps through your zone of philosophy, you may wonder what it's all about. What's the point of it all? And what's your purpose in the grand plan? Perhaps before you can acquaint yourself with the answers, you need to shed your old wounds of the past and pains of the present so that you can birth a new self. This, of course, takes time and energy so be patient. Be kind to yourself, and feed your soul nourishment. In other words, give your soul what it needs by connecting with nature; sharing ideas and communicating; being part of something bigger than yourself; contributing to a worthwhile cause; taking up painting, singing or acting; curling up with your cat; taking a candlelit bath; or getting a massage. Write your own list of what nourishes your soul, and make sure to live by it.
Karmic Past Life Report examines possible past life connections using astrological methods.
---
Pisces: As Mercury backtracks through your zone of transformation, it's worth digging around in your psyche for the answers to some important questions. In fact, it may be difficult not to do that as emotive issues rise to the surface and demand to be confronted. Consider enlisting the services of a counselor, medium, astrologer or therapist to explore your attitudes toward death, sex, finances and power or to analyze your dreams and become better acquainted with your inner self and deepest desires. Be bold and venture down into your depths; you may just emerge with a golden nugget of wisdom.
Karmic Insight Report comes from an esoteric point of view your birth chart is a portrait of your soul's intention for this lifetime, the lessons to be learned, qualities to develop, problems to be resolved, services to be rendered.
---
For more information about your Horoscope and what the stars
have in store for you, order one of our detailed
Astrology Reports for Couples!
Compatibility Report compares your temperaments and personalities. This information is powerful if you are married or living together.

Love Cards Report will reveal as much information about you and your partner as possible, using an ancient and highly accurate system called "The Book of Destiny".