#Horoscope #Aries #Taurus #Gemini #Cancer #Leo #Virgo #Libra
#Scorpio #Sagittarius #Capricorn #Aquarius #Pisces
#Horoscope – overview of this week
The Center for the New Age is pleased to present
your Free Weekly Horoscope for June 19 – June 25, 2016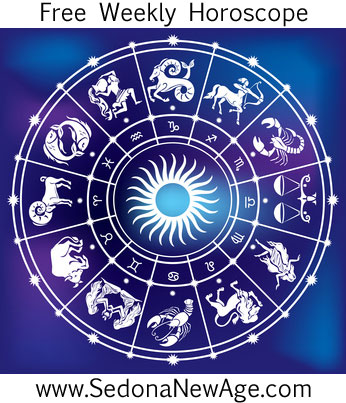 Receive our Free Weekly Horoscope in your Inbox

---

Aries Taurus Gemini Cancer Leo Virgo Libra Scorpio Sagittarius Capricorn Aquarius Pisces
Full Moon in Sagittarius on Monday brings fulfilling insights about life, and emotional energy runs very high. There may be a tendency to go way out beyond the usual bounds and discover new territory as a matter of circumstance. How we chose to perceive and develop our understanding of this new territory has a lot to do with what stage in our life we have come to, and what kind of philosophy best suits our own individual needs.
Mercury in Gemini opposite Saturn in Sagittarius (June 20 – June 25) brings a very strong awareness of the need to speak out on serious and important subjects. There may be an overwhelming tone of command or restriction in some of the more serious subjects being communicated. While Mercury opposes Saturn, be careful where you choose to draw the lines and what you agree to when negotiating.
Mercury in Gemini squares Neptune in Pisces (June 20 – July 3). During this aspect, it is best to anticipate confrontations concerning moral or spiritual issues. As this aspect passes, it will be easier to put spiritual beliefs and practices back on course without too much conflict or interference. Meanwhile, stay aware and ready to deal with whatever comes along.
Mercury in Gemini squares Jupiter in Virgo (June 22 – June 27) resulting in a block to energy between Mercury, represented as the salesman, informant and negotiator and Jupiter, represented as the source that allows wealth to flow: manufacturer, banker, fund raiser etc. This is a time to be particularly cautious when looking for a job or changing jobs, asking for a raise, or signing any binding contracts concerning long-term investment and payment schedules.
Aries Taurus Gemini Cancer Leo Virgo Libra
Scorpio Sagittarius Capricorn Aquarius Pisces

For more information about your Horoscope and what the stars
have in store for you, order one of our detailed
Astrology Reports!
Free Weekly Horoscope for your Sign
Aries: This week you will likely face the choice of either living like a bullet shot from a gun or going with the flow. With the tension from the Full Moon affecting your daily life zone, it might be wise to choose to go with the flow. Allowing yourself to be carried by the tide of life is still likely to take you to your destination, and you'll be a lot less tired and agitated. Take a gentle approach to life this week, and you might find that you get good results with half the effort.
---
Taurus: With a Full Moon in your zone of transformation on June 20, this is a week to welcome change or to enjoy a cleanse of some kind. The Full Moon asks you to let go of the old, which could mean letting go of a situation or a negative emotion, such as guilt, jealousy, fear or insecurity. Think about what you could release for the sake of your well-being, and then visualize it leaving you. Or simply pray for the negative state or old situation to be gently released. This Full Moon suggests that you're ready to move on in some way, and the best way to do that is to make sure you're ready to leave the past behind.
---
Gemini: The Full Moon at the end of your opposite sign is likely to bring to a head an issue connected with another person, resulting in a feeling of resolution. There could even be cause for celebration, and it's worth remembering that most of us don't celebrate enough, so if there's a happy occasion or a little bit of good news this week, raise you glass to it. If we celebrate the little things in our daily lives, we soon find that our whole life is cause for celebration, so rejoice with your children, your friends, your work and your home. At the very least, make it your mission to enjoy the week ahead. You should have plenty to feel good about.
---
Cancer: The Full Moon at the end of your health and work zone implies a resolution of a health or work issue. From this point on, your energy levels should increase. You should have greater motivation and a growing sense of positivity. This is your personal new year – when your batteries recharge and you get a clearer idea of where you're going and what you want. It's also the time when opportunities for fun and enjoyment are more likely to present themselves, and with Venus in your sign as well, you could be forgiven for wanting to indulge in whatever strikes your fancy.
---
Leo: The Full Moon at the end of your zone of authenticity, is likely to bring to a head a matter connected with children, creativity or your right to be yourself. The first two matters are straight-forward enough, but if being yourself has relevance, then this Full Moon will help you to resolve things. With Saturn also in this area, you are in a long process of realizing that it is okay to be you. You have to be true to yourself, and if something doesn't feel right, you must let it go for the sake of your own health and happiness. By the end of the week, you should have clarity of what you need to do to be your best self.
---
Virgo: The Full Moon at the end of your domestic zone cautions you to slow down. The planetary picture looks rather hectic at this time, and it's likely that your life will have been following suit. The good news is that there's likely to be a resolution or sense of completion regarding a domestic or family matter, or it could be that you're reaching the end of a long phase. Although taking it easy is likely to be a challenge since it seems that a lot is demanding your attention, try not to rush things. Strive to approach all that you have to do with a spirit of calm, centered presence. Remind yourself that it's all transient and easier times will come.
---
Libra: Saturn in your zone of the mind can indicate a blind spot or block in your perception, but with a Full Moon in the same region, it's likely that any clouds of negativity or confusion will be cleared, and clarity will be forthcoming. You will be able to see the truth of a matter, and once you have truth, the healing process can begin. This is a celebratory Full Moon, which is likely to leave you feeling inspired about what you need to do next, and if it's something beautiful or creative, you're probably on the right track.
---
Scorpio: The Full Moon at the end of your financial zone suggests that you are on the verge of a resolution with a material matter, whether that's money or work. By the time the week's out, you could have reason to rejoice. At the very least, you should have clarity over what was previously a confusing situation. The Full Moon gives you permission to move on in a material sense, and as matters become resolved, a new kind of optimism should begin to appear. It might be a little longer before you see your life moving in the right direction, but this week should at least be a start.
---
Sagittarius: The Full Moon in your own sign is your opportunity to take stock and perhaps bring something to a close. At this time, it's a good idea to reflect on how you're doing on your journey. Do you need to adjust your course slightly? Or do you need to be less directional and go with the flow a bit more? Sometimes when we're too identified with how things should be, we miss possibilities for something better. Don't be rigid in your approach this week; rather, be open to what could be.
---
Capricorn: It's time for a new vision as the Full Moon signifies the end of something that has been a long time coming. Once this resolution takes place, you can move forward to new possibilities. So even if there's a touch of regret of sadness, don't allow it to linger because this is one door that is meant to close, and the sooner it does, the sooner you can move on. Your work, health and day-to-day life are areas in which you can experience a sense of closure. As the sun joins Venus in your house of partnerships on June 21, you can begin to look forward to happier times and greater connections with people.
---
Aquarius: The Full Moon asks you to be courageous and to believe in yourself to the extent that you can go out into the world and offer your gift. It might be creative or healing or some other kind of gift. You'll know what it is, because when you engage with it, you will feel "right." It is time to dispense with fear – or at the very least, acknowledge that the fear is there – and press on anyway. The more you do what you feel is an authentic expression of who you are, the more the fear will fade away and allow you to blossom.
---
Pisces: The Full Moon on June 20 could see you caught between a rock and a hard place. Your task is to create balance between two opposites. For example, you might need to strike a better balance between your work and home life. Are you working too hard or taking on too much responsibility? There may be a situation in your life in which you could feel stretched to the breaking point. Before you get to that point, take some time out to consider what's for the best. It might be that your attention needs to be directed to what matters most: your inner needs and your home and family.
---
For more information about your Horoscope and what the stars
have in store for you, order one of our detailed
Astrology Reports for Couples!