#Horoscope #Aries #Taurus #Gemini #Cancer #Leo #Virgo #Libra
#Scorpio #Sagittarius #Capricorn #Aquarius #Pisces
#Horoscope – overview of this week
The Center for the New Age is pleased to present
your Free Weekly Horoscope for September 18 – September 24, 2016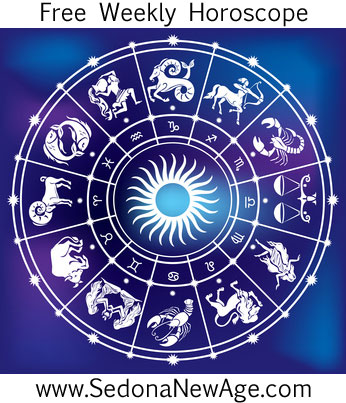 Receive our Free Weekly Horoscope in your Inbox

---

Aries Taurus Gemini Cancer Leo Virgo Libra Scorpio Sagittarius Capricorn Aquarius Pisces
Venus in Libra sexile Mars in Sagittarius (September 19 – October 2) is favorable and brings opportunities to situations involving love and beauty. Venus emphasizes the vibrations of love, magnetism, beauty and sensuality. The Mars influence emphasizes the awareness and application of action, movement, involvement , and also harnesses focuses of strength and energy. Venus reminds us to draw towards ourselves the pleasures we desire. Mars reminds us to apply action with love.
September 22 Mercury goes direct in the sign of Virgo. Expect communications to be a lot more smooth. Unsettled contracts can be corrected and negotiated more clearly and swiftly and there is likely to be much less difficulty interpreting and translating. From now on, there will be more clarification taking place with regard to misunderstandings, postponements and disputes which have cropped up in the past several weeks.
Venus enters Scorpio on Friday (September 23 – October 17) bringing out deep and passionate levels of love's expression. We may feel preoccupied with themes of birth, sex, death and rebirth, and transformation. Magnetism runs strong with Venus in Scorpio and love affairs are often torrid and well hidden. Sometimes the dark side of our love and our hidden fears surface which forces us to come clean about these feelings, and to take strong measures to ensure the power of our love.
The emotional concerns that are surfacing on the Last Quarter Moon in Cancer, September 23rd, require that extra bit of nurturing and understanding. This is an excellent Moon to boldly examine and courageously drop emotional baggage, resentments, grudges and any other types of emotional complications that are no longer serving a purpose. This is a good time to practice patience and to lend a listening ear. However, don't get caught up in allowing others to bend your ear if you feel like they are being manipulative or wasting your precious time.
Mercury in Virgo trine Pluto in Capricorn (September 20 & September 23 – September 26 due to Mercury's moving forward from its retrograde state) brings the message of hope. Mercury in Virgo gives a very methodical, discriminating and meticulous expression to our methods of communication. Mercury trine Pluto brings greater definition to the meaning of fate, and allows us to more easily communicate about the power struggles occurring collectively around the world.
Aries Taurus Gemini Cancer Leo Virgo Libra
Scorpio Sagittarius Capricorn Aquarius Pisces

For more information about your Horoscope and what the stars
have in store for you, order one of our detailed
Astrology Reports!
Want to know the theme of your relationship? This report compares your temperaments and personalities, whether you are married or living together.
Compatibility Report

Reveal as much information about you and your partner intention of opening doors of understanding and awareness.
Love Cards Report
Free Weekly Horoscope for your Sign
Aries: Thinking about clearing out stuff, this also applies on an emotional level. You could find yourself examining certain relationships and asking yourself whether it's time to move on. Basically, this is the week to end anything that has passed its sell-by date and leave behind anything that drains your energy. Also, be more patient with family members (and especially a parent or parent figures), as they are likely to be more temperamental than normal around the Last Quarter Moon. If there are flaws in your home, now is when you find out about them so that corrections can be made.
---
Discover a personal profile and 1-year forecast based on advanced calculations of your name and birth date.
Numerology Report
---
Taurus: This week is dominated by the family. You could be addressing issues of elders and children, or even your spouse or partner. Is it possible you may have inheritance issues to deal with or perhaps a windfall? You are on your toes, sifting through legal documents and running through the fine print with a magnifying glass. At the beginning of the week with Mercury retrograde squaring Pluto, your thoughts can become very intense, and you may over-think people or situations and become suspicious or paranoid about events. Look at things very critically and look for loopholes and catches. Be alert and pay attention to the nuances in people's behavior and realize that things will improve toward the end of the week.
---
Need a guide for your growth and personal evolution based on astrological influences upon your personality?
New Age Natal Report
---
Gemini: With the Sun and Jupiter in your house of fun, there should be no excuse for not enjoying yourself this week. This is also a period of contrasting emotions with the Last Quarter Moon in Cancer on Friday. Even amid challenges, there should be opportunities for pleasure and enjoyment, so make the most of the good things that the world offers you. Why not take time out from work and family and do something completely different from the norm. It will regenerate you. At the same time, make sure you get enough rest so that your health will continue to improve.
---
This interpretation of your birth chart is written in simple language could be beneficial in self undestanding.
Merlin Report
---
Cancer: Mars, your career planet, will more or less stay in one position from the 19th to the 28th. This shows a "pause" in your career. Career activity more or less stops for a while, but don't be alarmed by this temporary stop. These pauses bring heightened career activity later on leading to positive change. The moon's last quarter is in your sign and it all depends on how you plan to use this period. There is powerful energy coursing through your veins and this is really no time to stand and stare. If roadblocks exist, they can be overcome with consummate ease.
---
Indra reveals your life's contradictory urges & drives as well as your basic motivation, perceptions, inclinations and character.
Indra Report
---
Leo: With Mercury turning direct and the dust settling from the aftermath of the two eclipses, you should find that life will settle into a more pleasing state of affairs this week. There is a balance between your need to be an individual and your need to relate to the world at large. Financial and material problems should soon be a distant problem, allowing you to get on with more important matters, one of which should be the development of your mind or the expressions of your knowledge.
---
Want a detailed report for parents to help with the child's growth to strengthen the assets and avert possible problems that the child could face in their life?
Child Astrology Report
---
Virgo: Finally, life begins to resume some normality as Mercury turns direct and the dust from the two eclipses begins to settle. The emphasis is now on your material life as the Sun joins Jupiter in your money zone. This is an auspicious combination and to make the most of it, you should be thinking positively and expectantly about your financial situation. Around the end of the week, you have new energy and it is all directed at the home front. Children may either be leaving home or the prodigal child could return. You generally keep a check on your emotions and wear a veneer of rationale, reason and logic but situations change and you may display your pent-up feelings on your sleeve and break down in a big way. This is nothing to be concerned about; it is simply your reaction to the Last Quarter Moon's energies and actually, you bond with family and loved ones like never before.
---
Want a birthday to birthday practical guide to help you recognize opportunities and to learn from them.
Astrological Solar Return Report
---
Libra: Hold a vision of how you want your life to be, and have faith that the necessary requirements will materialize. With Jupiter in your sign, it's important to remember that anything is possible, so look at expanding your activities. You already have ambitious plans laid out and resent anything that stands in your way. You need to plan and work with greater enlightened self-interest this week. You can really achieve whatever you want as you have done the groundwork that is the key to success.
---
Want to know the actual dates when the energies will influence your life in money, career, relationships, and communicaton?
Astro Forecast Report (3 months)
---
Scorpio: Venus moves into your own sign this week. This brings love into your life. If you're single, just go about your daily business and love will find you. If you are in a relationship, your current love is not only very devoted to you, but makes the effort to demonstrate how much they care. The good times continue to roll in your favor. Your health is good and you are feeling happy on every level. There are fun times this week as you meet up with pals that you haven't seen in a long time and some might even be old school mates. You might also consider taking your family for a holiday to an exotic locale to share your bountiful energies with them.
---
Want a one year forecast to understand the scope of influence for your personal Cards of Destiny?
Cards of Destiny Report
---
Sagittarius: As Mercury turns direct in your professional zone and the Sun joins forces with Jupiter (the ruler of your Horoscope) in your hopes and wishes area, your personal life and goals begin to move in an easier and more pleasing direction. Career has been important and successful and continues to be so, but your interest is waning. Your major career goalsl have largely been achieved, and even if they have not been completely achieved, good progress towards them has been made. You can begin to enjoy the fruits of career success – the fellowship and friendships of those you meet at the top.
---
Contemplating a move? This report tells how you will react to the energies of the specific locations for relationships, finances, and security.
Relocation Information Report
---
Capricorn: The focus this week will be on your home front as many loose ends need to be tied up. There are dramatic events and you will be tested and pushed to the corner. Keep your cool, count to ten and take deep breaths and you won't explode. Mars is like the volcano of vitality inside you and influences your being persistent and disciplined. On a more positive note, Jupiter is in your 10th house (Social Status) bringing huge career success to you. The Sun will also enter your 10th house on Thursday putting you into a yearly – and for many a lifetime –vocational peak.
---
Discover your character traits, relationship and career potentials – based on Edgar Casey Readings.
Cayce Past Life Report
---
Aquarius: As Mercury turns direct, the dust from the eclipses begins to settle. Matters should begin to take on a lighter, more pleasing hue. However, Mars pauses in the heavens and then changes direction this week. This is also what is happening in your intellectual life – a pause and then a change of direction. Children may be leaving home for higher studies or employment or there could be a divorce or separation that tears you apart. There are a number of challenges facing you right now. It would be a good idea to search for a counselor to help you look for a way out and a release from the trials and tribulations of life.
---
Discover your past life connections that can carry over into your current life, accounting for interests, habits, even phobias.
Karmic Past Life Report
---
Pisces: There are several domestic issues that catch you by the throat this week. It is not that you have been shirking them. They simply crawl out of the woodwork and demand attention in a crescendo. There could be intense emotional experiences within a relationship and the custody of children and other raging battles consume you. There will definitely be a change in your life around the Last Quarter Moon on Thursday, and it will be unwise to resist it. You have ignored several signs in the past, maybe brushing them under the carpet, but this week they all come together. Hold on. The clouds will pass. This is part of the ebb and flow of life and no one is exempt from it.
---
Discover your soul's intention for this lifetime, the lessons to be learned, qualities to develop, problems to be resolved, services to be rendered.
Karmic Insight Report
---
For more information about your Horoscope and what the stars
have in store for you, order one of our detailed
Astrology Reports for Couples!
---
Want to know the theme of your relationship? This report compares your temperaments and personalities, whether you are married or living together.
Compatibility Report

Reveal as much information about you and your partner intention of opening doors of understanding and awareness.
Love Cards Report