#Horoscope #Aries #Taurus #Gemini #Cancer #Leo #Virgo #Libra #Scorpio #Sagittarius #Capricorn #Aquarius #Pisces #Horoscope – overview of this week
The Center for the New Age is pleased to present
your Free Weekly Horoscope for February 19 – February 25, 2017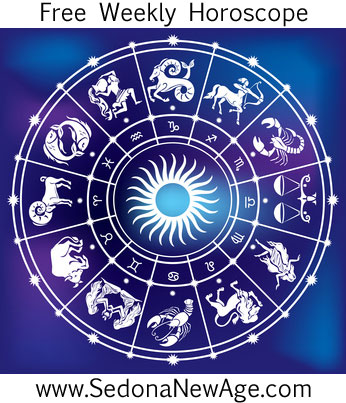 Receive our Free Weekly Horoscope in your Inbox
---
Aries Taurus Gemini Cancer Leo Virgo Libra Scorpio Sagittarius Capricorn Aquarius Pisces
Mercury in Aquarius trine Jupiter in Libra (February 21 – February 25) is a most favorable aspect that brings good news of expansion and prosperity to those who are open to broadening their awareness. Mercury brings news, while Jupiter brings wealth and prosperous change. Mercury trine Jupiter serves as an advantageous time to ask for a job or a loan or a good time to provide a service which may have a bearing on a potential promotion. This is an especially good time to look openly for opportunity when sharing information, and to promote oneself and one's capabilities.
Mars in Aries squares Pluto in Capricorn (February 22 –March 14). Mars emphasizes all forms of action, while Pluto represents the transformational powers of destiny. These two planets in the square position spell out the potential for trouble with regard to our actions. Strong disruption between generations is likely to occur at this time. It is best not to bluff those of a higher or unanticipated authority while Mars squares Pluto.
Mercury in Aquarius sextile Saturn in Sagittarius (February 23 – February 25) is a good time to teach people about handling responsibilities and disciplines. Mercury sextile Saturn emphasizes favorable news and communications concerning matters of restriction and timely completion and holds the potential to bring out very important news so long as we are paying attention and listening.
Mercury enters Pisces (February 25 – March 12) causing the general focus of news, media and communications to revolve around issues of our beliefs, spiritual growth, our cultural expression, arts and music and our tendencies towards escapism and drug use. Mercury in Pisces brings out the mystic in all of us and adds quite a bit of color and flare to the imagination as we are relaying messages. It is a good time to immerse one's self in creative writing and music and to open up the channels to the spirit world, allowing for messages from the other side to penetrate our psyches. This is also a good time to listen and learn from the priests, holy teachers, loved ones and spirit guides of our choosing.
Aries Taurus Gemini Cancer Leo Virgo Libra Scorpio Sagittarius Capricorn Aquarius Pisces
For more information about your Horoscope and what the stars have in store for you, order one of our detailed
Astrology Reports!
Want to know the theme of your relationship? This report compares your temperaments and personalities, whether you are married or living together.
Compatibility Report
Reveal as much information about you and your partner intention of opening doors of understanding and awareness.
Love Cards Report
Free Weekly Horoscope for your Sign
Aries: Mars is still in your 1st house of self and this is basically good, but with you, Aries, you might exhibit a tendency to overdo the independence thing. It is good to be independent for this is your nature, but try not to run rough-shod over others. This aspect gives energy and charisma and things get done quickly. Life is fast paced – just as you like it, but bad news in terms of a reckless expenditure of funds may come to you this week. This will be sudden and will impact your plans, expectations, intentions etc. However, you will deal with it and move on.
---
Discover a personal profile and 1-year forecast based on advanced calculations of your name and birth date.
Numerology Report
---
Taurus: You are feeling very practical and down-to-earth this week, but resist the urge to lecture anyone on how you think they should live their life. Advice can be nice, but not if it crosses the line over into "judgmentville." In your work, be cautious with colleagues and clients. There may occur a conflict of interest between you and someone you dislike for whatever reason, but do not unnecessarily create new enemies right now. There are frequent objections made by the people you encounter, but you have the right to overrule them. You know best when it comes to your own life.
---
Need a guide for your growth and personal evolution based on astrological influences upon your personality?
New Age Natal Report
---
Gemini: This will be a favorable week for your income, especially from work or business. There will be a happy event or an unexpected proposal, a new acquaintance or a new beginning with a person from another location. You may be invited to a gathering associated with such a person. You may receive an increase, bonus or even a better job offer.
---
This interpretation of your birth chart is written in simple language could be beneficial in self undestanding.
Merlin Report
---
Cancer: We are growing beings; we aren't the same now as we were in the past. Take some time, Cancer, to think about this redefinition. It will bring about a change in the way you present yourself to the world. With this in mind, think about a journey – either actual or figurative – that can bring not only new emotions in your life, but is the foundation of future life changes. While you are thinking about this, watch out for attempted fraud or manipulation by a boy or young man. Look for the person behind it, and the basis of his actions.
---
Indra reveals your life's contradictory urges & drives as well as your basic motivation, perceptions, inclinations and character.
Indra Report
---
Leo: There may be attention from people who are your neighbors or live near you. Gossip about you may not interest you, but they will form the basis of an unpleasant situation. If something comes your way this week that initially feels negative or scary, think twice before saying "no." Alternatively, look where you can deviate from the path and create a new trail. The key word for you this week is "adventurousness." Be bold, be brave and march to your own drumbeat.
---
Want a detailed report for parents to help with the child's growth to strengthen the assets and avert possible problems that the child could face in their life?
Child Astrology Report
---
Virgo: The solar eclipse on Sunday has a stronger effect on Virgo than any other sign. Those born early in the sign of Virgo – August 23 to September 3 – will feel this most strongly, but all of you will be affected. You need to reduce your schedule this week on the days before Sunday's eclipse. Your love life, your current relationships will be affected. Old repressed grievances can come up that need to be dealt with. Flawed relationships are in danger; good ones will survive. If you are single, you might decide to take a relationship a step further this week. But do not make a quick and emotional decision, although tempting, on any proposal right now.
---
Want a birthday to birthday practical guide to help you recognize opportunities and to learn from them.
Astrological Solar Return Report
---
Libra: There are dramatic changes in your health regime occurring over the next six months and the health regime needs a change of course right now! There is much you can do to enhance your health and prevent problems from developing. The first and most important thing is to maintain a high energy level. Don't allow yourself to get over-tired and don't waste energy on trivial, non-essential things. Keep your mind on the real priorities in your life and let lesser things go. This sounds easy but it's difficult in practice; often tough choices have to be made. Make a commitment to yourself this week that you will do whatever is necessary to maintain a routine beneficial to you (and your health) in every way.
---
Want to know the actual dates when the energies will influence your life in money, career, relationships, and communicaton?
Astro Forecast Report (3 months)
---
Scorpio: Difficult concerns connected to disputes and exchanges of accusations may arise between you and a person from your professional or business environment. There may be an unpleasant moment in your work related to an accident, incident or stopping something such as an unpleasant claim, complaint or dismissal of a colleague. Avoid jealousy or confrontation because you have no basis for this or for unsettling things and you will be sorry for getting involved.
---
Want a one year forecast to understand the scope of influence for your personal Cards of Destiny?
Cards of Destiny Report
---
Sagittarius: The child inside you will expect a miracle, a special experience that will return you the faith and hope that you once had in abundance. Women will play an important role in this, especially those who are from your group of friends. There will be surprises by a woman or women who may even have an impact on successful events in your personal or professional life. Financial participation through the action of a man who is a family member or close friend is probable leading to high hopes or expectations for you this week.
---
Contemplating a move? This report tells how you will react to the energies of the specific locations for relationships, finances, and security.
Relocation Information Report
---
Capricorn: This week you may experience stress and tension about a relative which will prove beneficial, regardless of the nature of the problem itself. Meetings will be needed with relatives in financial matters regarding various payments, purchases, sales and more. Joyful news, however, will come from a person you have lost hope of calling you or from someone else toward whom you haven't had such an expectation. This will involve an important purchase or acquisition. Get ready to rejoice!
---
Discover your character traits, relationship and career potentials – based on Edgar Casey Readings.
Cayce Past Life Report
---
Aquarius: An unexpected dispute in the family can grow into an exchange of accusations and a return to past events. Do not allow a loss of control in this situation. You will not experience pleasant reminders of past transgressions. On the other side, you will be delighted by a gesture of attention, a gift or an invitation from an old or new friend This is a favorable week for new acquaintances and romantic adventures.
---
Discover your past life connections that can carry over into your current life, accounting for interests, habits, even phobias.
Karmic Past Life Report
---
Pisces: Don't get involved if conflicts suddenly arise between your family members. This is not the best time to take on the role of arbitrator; the situation will work itself out and much faster than you would expect. Spreading warmth and love, you will unite those who are dear to you, and you will help them to overcome every adversity, but with Mars entering your sign on the 25th, it is better not to lend large sums to relatives or friends. This could be really risky, not because of any impure intentions, but because of circumstances which could be extremely unpredictable.
---
Discover your soul's intention for this lifetime, the lessons to be learned, qualities to develop, problems to be resolved, services to be rendered.
Karmic Insight Report
---
For more information about your Horoscope and what the stars
have in store for you, order one of our detailed
Astrology Reports for Couples!
---
Want to know the theme of your relationship? This report compares your temperaments and personalities, whether you are married or living together.
Compatibility Report
Reveal as much information about you and your partner intention of opening doors of understanding and awareness.
Love Cards Report