#Horoscope #Aries #Taurus #Gemini #Cancer #Leo #Virgo #Libra #Scorpio #Sagittarius #Capricorn #Aquarius #Pisces #Horoscope – overview of this week
The Center for the New Age is pleased to present
your Free Weekly Horoscope for July 23 – July 29, 2017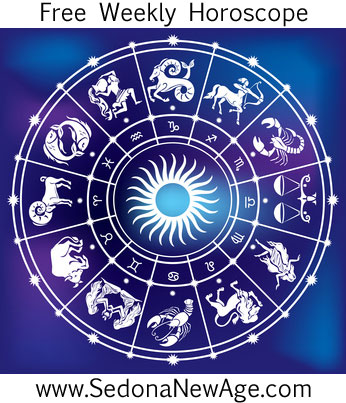 Receive our Free Weekly Horoscope in your Inbox
---
Aries Taurus Gemini Cancer Leo Virgo Libra Scorpio Sagittarius Capricorn Aquarius Pisces
The New Moon in Leo on Sunday is a time of personal discovery. Leo is the optimist, and the New Leo Moon brings positive new perspectives to personal goals, as well as inspiring a new outlook on the personal image. This is a good time to implement and establish healthier eating routines and apply some organization.
Venus in Gemini is opposite Saturn in Sagittarius (July 24 – February 2). Love, beauty and magnetism is opposed to restrictive discipline. While the need is very strong to attain a sense of beauty, to stop and smell the roses, there is a constantly compelling and obsessive awareness to press on with work and vital responsibilities. Love matters and concerns are subjected to unavoidable trials and restrictions. We must be careful how our passions are stirred or handled. To stir up such passion at this time, one is likely to be all too quickly confronted by his or her own personal demons. Be careful not to bite off more than you can chew, especially concerning irresistible attractions.
On July 25, Mercury enters Virgo until August 31. This is a most advantageous place for Mercury, a place of its ruler-ship. This aspect will focus our minds more clearly on pending events. It brings out the skeptical and analytical side of every argument and topic of discussion, keeping us on our toes.
Aries Taurus Gemini Cancer Leo Virgo Libra Scorpio Sagittarius Capricorn Aquarius Pisces
For more information about your Horoscope and what the stars have in store for you, order one of our detailed
Astrology Reports!
Want to know the theme of your relationship? This report compares your temperaments and personalities, whether you are married or living together.
Compatibility Report
Reveal as much information about you and your partner intention of opening doors of understanding and awareness.
Love Cards Report
Free Weekly Horoscope for your Sign
Aries: The New Moon on July 23 bodes well for a light and fun period, especially if things have been difficult or intense recently. This is the point at which you're likely to feel an urgent need to rebel against doing things you don't want to do and to pursue your interests instead. Because you're likely to feel a strong need to express yourself, this would be a good time to engage in creative or artistic activities. Conversely, you might feel that this New Moon marks a turning point relating to your authentic self and doing what you love.
---
Discover a personal profile and 1-year forecast based on advanced calculations of your name and birth date.
Numerology Report
---
Taurus: The New Moon on Sunday falls in your domestic zone, making this an ideal time for new beginnings in your domestic and family life. You will need to apply some effort, though, as Mars aligned with the Moon suggests that initially it might not be very easy. Perhaps you're moving, decorating, renovating or making personal changes, or maybe there are developments with family members that need your attention. Whatever the case may be, this New Moon marks a turning point – an opportunity to start over. The more effort you apply to the situation, the more likely it is that your seeds will bear fruit in times to come so knuckle down. Deal with the challenges and align with new beginnings.
---
Need a guide for your growth and personal evolution based on astrological influences upon your personality?
New Age Natal Report
---
Gemini: There has been much to sort out in the past few weeks, which at times might not have felt like a whole lot of fun. Fortunately, things begin to change around July 23 when a New Moon in a lighter part of your chart changes the dynamic. It seems that the winds of change will blow away the cob webs resulting in a more optimistic state of mind. You might not be able to totally relax since this is a busy New Moon, and there will be places to go and people to see, but it should still feel upbeat and enjoyable. Perhaps all you need to do now is set your intention. This New Moon relates to your mental power and how you can shape your world by the quality of your thoughts.
---
This interpretation of your birth chart is written in simple language could be beneficial in self undestanding.
Merlin Report
---
Cancer: At last, the intensity begins to fade as the planets shuffle from Cancer into Leo, creating a lovely New Moon on July 23. The New Moon provides you with a great opportunity to create a new start, financially speaking. You'll have the energy and the optimism to go for what you want. If there is room for improvement, don't be afraid to make a change. Stagnancy and boredom are often linked to poor finances, and sometimes all we need to do to get the energies flowing again is to create a fresh perspective. So changing your job role or running with an exciting new idea , or even just choosing a new screen saver or rearranging your office or purchasing something that will make your work easier or more interesting, see what you can do to create some sparkle in your material world. Then watch your enthusiasm follow suit.
---
Indra reveals your life's contradictory urges & drives as well as your basic motivation, perceptions, inclinations and character.
Indra Report
---
Leo: On July 23, you are granted a glorious New Moon in your sign aligned with Mars. This is great new because it speaks of new beginnings; your motivation and energy return. The quiet time of the previous weeks is replaced with a riot of color and sound as you are ready and able to plunge into life again. This is an ideal time to take stock of your situation and make one or two decisions that will procure positive changes. With these planets in your sign and Saturn in your zone of authenticity, you're being reminded that you are the artist of your life, and this is a great time to pull out a blank canvas and get creating.
---
Want a detailed report for parents to help with the child's growth to strengthen the assets and avert possible problems that the child could face in their life?
Child Astrology Report
---
Virgo: The New Moon on July 23 brings to an end a theme that has been running for quite some time. This is a great opportunity to release the past and move on. Work to bring closure to any ongoing problem in your life. The more you can close a door on the past or on something that isn't doing you any favors, the sooner you will be able to begin a new chapter of life. The New Moon also signals that it's time to rest. it could help to observe how nature has quiet times when it conserves its strength and energy for future busier more-productive times. Although we're only talking a few weeks, the more you can rest and replenish now, the more able you will be to emerge in glorious Technicolor when the Sun returns to your sign at the end of August.
---
Want a birthday to birthday practical guide to help you recognize opportunities and to learn from them.
Astrological Solar Return Report
---
Libra: A glorious New Moon in your hopes and wishes area on July 23 is good news for you, as this represents a turning point in your life, provided that you're prepared to see the glass as half full rather than half empty. Saturn has been revealing an uncharacteristically gloomy side over the past couple years, perhaps bringing to the fore a little cynicism, doubt, or depression that wasn't there before. Saturn is also currently opposing your ruling planet Venus, as if to remind you that you can't have everything and that it's more realistic to look at the world through a gray lens. Saturn says not to expect too much because you might be disappointed. That could be true but this week's New Moon urges you to keep believing in a brighter future and to not give up on your dream. In doing so, you'll rekindle your enjoyment of this thing called life.
---
Want to know the actual dates when the energies will influence your life in money, career, relationships, and communicaton?
Astro Forecast Report (3 months)
---
Scorpio: Under the glorious New Moon at the top of your chart on July 23, you are poised for success. This is the time to consider a new vocation. Begin a new chapter or take a step toward your true purpose. Perhaps you'll receive a career opportunity that, even though it might require some effort on your part, will be well worth your time. Maybe you'll start something new. Perhaps you'll make headway with a goal or ambition. Whatever the situation, this New Moon indicates success and new beginnings in your life, so don't be shy in pushing forward.
---
Want a one year forecast to understand the scope of influence for your personal Cards of Destiny?
Cards of Destiny Report
---
Sagittarius: You can heave a sigh of relief when the Sun, Moon and Mars all join together into the sign of Leo on July 23. You will notice the difference as your mood lightens and you develop a more optimistic state of mind. You feel that anything is possible. This is when you'll feel your spirits lift and your horizons broaden. Indeed, this is a great week to take a trip or to go on an adventure. What you experience by trying something new or venturing somewhere different will be invaluable in terms of wiping the cobwebs from your soul and putting the spring back in your step.
---
Contemplating a move? This report tells how you will react to the energies of the specific locations for relationships, finances, and security.
Relocation Information Report
---
Capricorn: With the New Moon on Sunday, the difficulties that you encountered over the past few weeks will largely disappear. Relationship dramas should be settling down now, and you can turn your attention to other matters. The New Moon is your cue to have some sort of cleanse. Perhaps it's emotional (letting go of hurts), physical (changing your diet to eliminate toxins), or environmental (clearing out your home or other spaces that affect you). Basically, this New Moon is an opportunity to renew yourself. It's a great time to transform some part of yourself or your life to emerge stronger than you were before. It's time to rise like the phoenix from the ashes!
---
Discover your character traits, relationship and career potentials – based on Edgar Casey Readings.
Cayce Past Life Report
---
Aquarius: The New Moon on July 23 is a glorious opportunity to focus on your relationships and amend an important union. At first, things will seem less than rosy due to the presence of Mars, but this simply brings the opportunity to clear the air and work through issues to become more conscious of the dynamics between you and another. If you're prepared to discuss your grievances, there is ample opportunity for a new beginning. Romantic relationships will benefit from the increased passion. With no less than four planets in your relationship zone, it seems that you shouldn't bury your head in the sand where your personal life is concerned.
---
Discover your past life connections that can carry over into your current life, accounting for interests, habits, even phobias.
Karmic Past Life Report
---
Pisces: A powerful New Moon on July 23 shifts the emphasis from pleasurable pursuits to work, health and service. Now you should feel ready to channel your energies into helping others and being of service. You might feel a rush or renewed enthusiasm for your work or you might be eager to begin a new role or make some other change that will generate greater enthusiasm. Your health will also benefit. Perhaps you need to rest more or do whatever that will afford you more relaxation. Either way, this New Moon inspires you to make positive changes to your day to day life.
---
Discover your soul's intention for this lifetime, the lessons to be learned, qualities to develop, problems to be resolved, services to be rendered.
Karmic Insight Report
---
For more information about your Horoscope and what the stars
have in store for you, order one of our detailed
Astrology Reports for Couples!
---
Want to know the theme of your relationship? This report compares your temperaments and personalities, whether you are married or living together.
Compatibility Report
Reveal as much information about you and your partner intention of opening doors of understanding and awareness.
Love Cards Report