#Horoscope #Aries #Taurus #Gemini #Cancer #Leo #Virgo #Libra #Scorpio #Sagittarius #Capricorn #Aquarius #Pisces #Horoscope – overview of this week
The Center for the New Age is pleased to present
your Free Weekly Horoscope for September 10 – September 16, 2017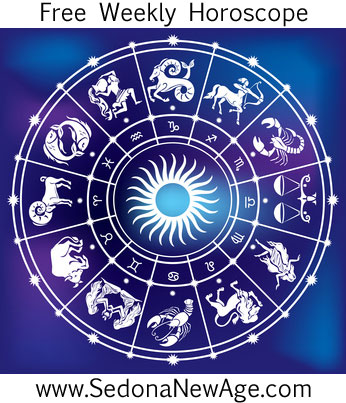 Receive our Free Weekly Horoscope in your Inbox
---
Aries Taurus Gemini Cancer Leo Virgo Libra Scorpio Sagittarius Capricorn Aquarius Pisces
Venus trine Saturn (September 12 – September 22) brings the timely gift of love. Paradoxically, it also allows for some peace in the closure of a love relationship. Venus trine Saturn brings the gift of responsiveness and enduring love. This is the aspect to enhance a love vow or oath with the timely application of loving energy, and is also a good aspect to better understand the importance of devotion and responsive caring. Remember when extending love, it is best not to have expectations concerning the need to receive it in return. This will come in due time while one is practicing the application of love's expression.
Mercury enters Virgo on Sunday (September 10 – September 30). Mercury in Virgo focuses our minds more clearly on the pending events of Autumn and brings out the skeptical and analytical side of every argument and topic of discussion, keeping us on our toes during ensuing dialogues.
Last Quarter Moon in Gemini on September 13 brings out talkative moods and informative interaction. People will have a lot on their minds and intellectual pursuits are emphasized. Waning Gemini Moon is always the time to release those unwanted and frustrating mixed emotions. This is the time to ease the mind by not using it so much to stir those emotions.
Venus in Leo sextile Jupiter in Libra (September 15 – September 22) leads matters concerning love and attraction to a favorable opportunity to allowing for advancement to more prosperous realms. This serves as an excellent time to shower loved ones with gifts and compliments. This is the time to allow expansion to occur in love matters, and to take the next step towards enlivening and enhancing a love relationship. A greater opportunity for advancement at work, or towards increasing your skills or enhancing your livelihood is available, especially if you focus on doing what you love.
Mercury and Mars conjunct in Virgo (September 16 – September 25) brings words (Mercury) and deeds (Mars) together –communication is empowered by action. This is not a very good time for bluffing. With these two planets conjunct in Libra, action follows words quickly. The power of suggestion also works aggressively while Mercury and Mars are conjunct. This is an excellent time to get others motivated through speech, but beware of the possibility for angering your audience.
Aries Taurus Gemini Cancer Leo Virgo Libra Scorpio Sagittarius Capricorn Aquarius Pisces
For more information about your Horoscope and what the stars have in store for you, order one of our detailed
Astrology Reports!
Want to know the theme of your relationship? This report compares your temperaments and personalities, whether you are married or living together.
Compatibility Report
Reveal as much information about you and your partner intention of opening doors of understanding and awareness.
Love Cards Report
Free Weekly Horoscope for your Sign
Aries: As the planets begin to align in your zone of health and work, the focus is very much on your day-to-day life, from the way you spend your time to the service you give to others. This is a great time to negotiate a better deal at work and to channel your energies into getting things done. You might also decide that it's time to be more organized, or you could find yourself considering whether you're enjoying your work and how you can improve things. As far as your health is concerned, you need to be careful that you don't overdo it, for this could be a time of weakness if you take on too much. You might think you can handle anything, but make sure you examine your reasons for taking extra things on, and if your heart isn't in it, then it might be better to say no. Your health will thank you for it.
---
Discover a personal profile and 1-year forecast based on advanced calculations of your name and birth date.
Numerology Report
---
Taurus: With a cluster of planets in your zone of recreation, it's time to consider the needs of your creative self. We all need time away from work and other responsibilities – time when we can just be ourselves and engage in activities that express who we are. For some people, it's playing tennis or football, and for others, it's watercolor painting, writing stories, making sculptures, or photographing nature. Some people enjoy walking by the sea, and others enjoy getting on a horse or a motorbike to embrace the feeling of freedom. Whatever recharges your batteries and plugs you back into source, now is the time to do it. In so doing, you will return to your true self. If you need inspiration or guidance, The Artist's Way by Julia Cameron is a wonderful guide for tapping your creative power.
---
Need a guide for your growth and personal evolution based on astrological influences upon your personality?
New Age Natal Report
---
Gemini: Your domestic life is likely to be lively, to say the least. There'll either be a lot of activity or a lot of feisty interactions, and you might need to tread carefully if you want to avoid conflict. Sometimes, though, conflict can be useful, as it shows us where problems are and also enables us to let off a bit of steam. If you've been restraining your anger, it's likely to emerge now. Try to air your grievances before you reach an exploding point. If you can discuss things in a calm but assertive way, you're likely to end up with a better result than if you lose it. It's important that you communicate openly and honestly with those around you so that your home environment (and your psyche) can be cleared of any toxic energy.
---
This interpretation of your birth chart is written in simple language could be beneficial in self undestanding.
Merlin Report
---
Cancer: It is said that success is 10percent talent and 90 percent determination. It's certainly true that a positive attitude yields far more successful outcomes than a negative attitude. With the Sun, Mars and Mercury in your zone of attitude, it's more likely that you'll be gripped by a positive can-do spirit that will enable you to get an awful lot done. This certainly looks to be a very busy week, probably encompassing short trips and dashing about here and there. Just be careful that you don't go at such a fast pace trying to cram everything in that you trip yourself up. Your mind is likely to be working at a pace faster than normal, which could result in an impatient or frazzled state of mind, so try to make time in the day – even if it's just five minutes – to close your eyes and be still. Making space for quiet time will soften the edges of your mind and enable you to accomplish much without driving yourself and others crazy in the process.
---
Indra reveals your life's contradictory urges & drives as well as your basic motivation, perceptions, inclinations and character.
Indra Report
---
Leo: With a cluster of planets in your material zone, your attention is likely to be fixed on how to attain more of what you need. The good news is that you're in a good place to negotiate a better deal and to get what you want – just take care that you don't become too impatient, or you could chase away the very thing you wanted. Fortunately, Venus is in your sign, blessing you with an extra dose of charm. In fact, if you align yourself with the principles of Venus – softness, patience, charm and diplomacy – you're likely to find that the world and everyone in it is putty in your hands. Venus would also like to remind you of the importance of slowing down and smelling the roses. In today's frantic world, it's more important than ever that we make time for pleasure and just being, so focus on your desires, but remember that it's only when we live in harmony with our values that we're truly happy.
---
Want a detailed report for parents to help with the child's growth to strengthen the assets and avert possible problems that the child could face in their life?
Child Astrology Report
---
Virgo: Mercury joins Mars and the Sun in your sign, increasing your power and mental ingenuity, so if you have an idea, act on it. You might find that your ideas now are worth their weight in gold, and the benefit of having Mars and the Sun alongside you is that you'll have the confidence and the energy to do something with them. You might need to guard against impatience, though, as the combination of Mars and Mercury is not a relaxed one. Your mind could succumb to a frenzy of thoughts and mental chatter, or you might feel that things or people aren't moving fast enough. In both cases, meditation and mindfulness will help, but if you really feel you don't have time (this is likely to be a very busy week), try taking the Bach Flower remedy, Impatiens. It will help your mind to naturally relax and soften without losing any of your get-up-and-go.
---
Want a birthday to birthday practical guide to help you recognize opportunities and to learn from them.
Astrological Solar Return Report
---
Libra: As the planets begin to pile up in your zone of spiritual reflection, rest and withdrawal, it would seem that you're in need of some quiet time. Perhaps recent months have been busy or stressful. Perhaps you feel as if you're coming to the end of a phase in your life and need time to contemplate what's next. Either way, this isn't the time to charge full throttle into the world. It's a time to enjoy quiet activities or spiritually minded pursuits. Going on some kind of retreat is a good idea, as is getting more rest if you're tired. You have the opportunity to connect with your soul now and tune in to higher guidance, so pay attention to what your dreams are telling you. Watch for signs from the universe, and if you're still not sure, let your body reveal the truth. When you contemplate something – an activity, a person, or a place – watch your energetic response. Does your energy drop, or does it rise? That's your answer.
---
Want to know the actual dates when the energies will influence your life in money, career, relationships, and communicaton?
Astro Forecast Report (3 months)
---
Scorpio: This is an auspicious time for you as the Sun aligns with Mars and Mercury in the hopes and wishes area of your chart. What do you wish for in the future? How can you make a difference to society? Are you happy with the groups and organizations that you belong to? What gifts do you have that you can share with the world? These are a few questions to consider now. Friends are also likely to be featured this week, and it is an opportune time to make new friends and contacts or to enjoy the company of your existing friends and like-minded people. Indeed, this might be the point at which you become more conscious of whether those around you are like-minded, and if not, consider what to do to ensure you are mixing with the right people.
---
Want a one year forecast to understand the scope of influence for your personal Cards of Destiny?
Cards of Destiny Report
---
Sagittarius: Do you know what your mission in life is all about? Are you feeling what its demand might be like? Most of us have known what it's like to be on a mission – that all-consuming passion to achieve something and the sense of satisfaction it brings, not just in the accomplishment of it but also in the process of being fully engaged in something. With the Sun, Mars and Mercury at the top of your chart, it is likely that you will soon be (if you haven't already) discovering your purpose, and it is just possible that it will give you a new lease on life.
---
Contemplating a move? This report tells how you will react to the energies of the specific locations for relationships, finances, and security.
Relocation Information Report
---
Capricorn: As the emphasis on adventure grows, you are being encouraged to be more experimental, to try something different, and to have the courage to lose sight of the shore. Maybe this means visiting a new place or trying a new kind of food. Pushing the boundaries doesn't have to mean anything dramatic; sometimes the small things are all that's required to bring about a lift in spirits. This might not be without certain challenges, as Saturn's square to the Sun suggests a certain amount of resistance, which could take the form of a challenge or a block. Perseverance is the key. Sometime s we have to demonstrate that we're worthy before the universe will acquiesce, so keep on keeping on, and you will be successful.
---
Discover your character traits, relationship and career potentials – based on Edgar Casey Readings.
Cayce Past Life Report
---
Aquarius: As Mars, Mercury and the Sun journey deep into you r zone of transformation and change, it would seem that you're being called on to examine yourself very closely and to embark on some kind of rebirth. Therefore, don't be surprised if this isn't the jolliest time of your life. You might be confronted with uncomfortable issues – from obsessions, jealousy, and anger to fears, phobias, and insecurity. It's never comfortable having to face our inner demons, but this is a short-lived phase that will reward you for your psychological courage so don't be afraid to venture into your psychological basement to meet your monsters. You might discover that they're not so scary after all. They are simply frightened parts of yourself in need of a hug.
---
Discover your past life connections that can carry over into your current life, accounting for interests, habits, even phobias.
Karmic Past Life Report
---
Pisces: Whether your relationships are a wellspring of joy or a destructive battleground, you can be sure that they will at least be passionate. Mars in your partnership zone suggests that your temperature will be rising because someone is getting your pulse racing in a romantic fashion or someone is pushing your buttons and causing you to react with anger. The key to dealing with this Mars transit is to count to ten before flying off the handle with other people and airing any grievances as they arise, especially if you've been feeling resentful. You might also need to compromise and be tolerant whenever possible. Watch out for projection; an aggressive person could be triggering your need to stand up for yourself more. A selfish person could be highlighting your capacity to be self-centered or showing you that you need to put yourself first occasionally and pay more attention to your needs. Viewed from this psychological perspective, everyone we have disputes with can be seen as a teacher and a mirror to our inner selves instead of an irritating boil to be lanced as soon as possible.
---
Discover your soul's intention for this lifetime, the lessons to be learned, qualities to develop, problems to be resolved, services to be rendered.
Karmic Insight Report
---
For more information about your Horoscope and what the stars
have in store for you, order one of our detailed
Astrology Reports for Couples!
---
Want to know the theme of your relationship? This report compares your temperaments and personalities, whether you are married or living together.
Compatibility Report
Reveal as much information about you and your partner intention of opening doors of understanding and awareness.
Love Cards Report