#Horoscope #Aries #Taurus #Gemini #Cancer #Leo #Virgo #Libra #Scorpio #Sagittarius #Capricorn #Aquarius #Pisces #Horoscope – overview of this week
The Center for the New Age is pleased to present
your Free Weekly Horoscope for September 24 – September 30, 2017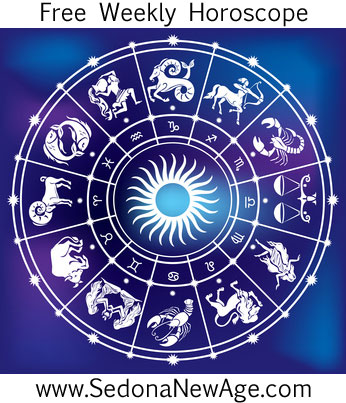 Receive our Free Weekly Horoscope in your Inbox
---
Aries Taurus Gemini Cancer Leo Virgo Libra Scorpio Sagittarius Capricorn Aquarius Pisces
Mars in Virgo is opposite Neptune in Pisces (September 24 – October 9). Mars activates and stirs up action, while Neptune calms and dissolves all concerns. When in opposition, these two planets create an acute awareness of our expressions of spiritual belief. For some people, this aspect helps create a spiritual breakthrough, while for others the rising spiritual awareness will present a challenge to established personal beliefs.
Mercury in Virgo square Saturn in Sagittarius (September 25 – September 30) affects communications and information in a way that is timely, and often difficult to take or to get around. Mercury governs communications, and the square aspect presents an obstacle, making it difficult for information to penetrate very easily. Instead, information is likely to be stifled by obstacles getting in the way of deadlines, particularly given that Mercury is squaring to Saturn, which represents time and the discipline that it takes to reach a goal or to summon a response necessary to accomplish a desired effect. This may be a challenging time to try to get through to people with instructions or advertisements and is a difficult time for teachers to teach effectively.
First Quarter Moon in Capricorn on September 28 brings a strong emphasis on the need for serious labor. Some staunch determination is required. There is a steadily mounting concern to achieve a notable level of accomplishment or completion of projects.
Venus in Virgo opposite Neptune in Pisces (September 29 –October 8) brings on an acute awareness of the opposing struggle between classic feminine archetypes in today's changing modern culture, and the universal and natural or spiritual expression of femininity, which is often at odds with a new model of beauty. Those who are being directly affected by this aspect must acknowledge that their own personal prejudices and their confusion with regard to the divine aspect of the feminine are being forced to transform due to the accelerating pace of change in today's global attitudes.
Mercury enters Libra on Saturday (September 30 –October 17) bringing the general course of communications, talk, conversation and discussion into focus on the importance of mindful balance, diplomacy, tact and the need to connect with friends and loved ones. Libra is the autumn sign that emphasizes balance and adjustment. Mercury in Libra brings us a mental focus on the acts of harmonizing and adjusting to the changing season. This is a good time for people to converse by gathering and collecting important information as our decision making process kicks into high gear.
Aries Taurus Gemini Cancer Leo Virgo Libra Scorpio Sagittarius Capricorn Aquarius Pisces
For more information about your Horoscope and what the stars have in store for you, order one of our detailed
Astrology Reports!
Want to know the theme of your relationship? This report compares your temperaments and personalities, whether you are married or living together.
Compatibility Report
Reveal as much information about you and your partner intention of opening doors of understanding and awareness.
Love Cards Report
Free Weekly Horoscope for your Sign
Aries: There's still a big emphasis on your health and work, but now that the Sun has broken ranks and moved on to your relationship zone, there is a lessening of things that you have to do and an increase in things you want to do. From spending more time with your partner in an enjoyable setting to partaking in social occasions and meeting new people, the last week in September marks the beginning of an easier, more relaxed time. Partnerships of all kinds can be improved or simply enjoyed, providing a source of strength and comfort, so spread your warmth and love around, and bask in the glow that is reflected back to you.
---
Discover a personal profile and 1-year forecast based on advanced calculations of your name and birth date.
Numerology Report
---
Taurus: Although there is still a strong emphasis on fun and enjoyment giving you the perfect excuse to carry on doing whatever you enjoy, the Sun moving into your zone of work and health adds a slightly more responsible flavor to proceedings. After any party comes the clean-up operation, and it might be that events this week bring about a realization that things can't carry on as they have been. Perhaps you need to be more organized at home or with work. Maybe you need to be more conscientious about what goes into your physical body and how you treat it. Maybe you've had an easy time of it lately and now you feel ready to be of greater service or play a bigger role in some way. After what could have been a few weeks of relative pleasure or egocentricity, you might find yourself feeling the need to give more of yourself.
---
Need a guide for your growth and personal evolution based on astrological influences upon your personality?
New Age Natal Report
---
Gemini: As the Sun moves into Libra, the emphasis begins to shift from your private life and domestic situation to having fun and pursuing your interests. There might still be a lot to do domestically speaking, but life should soon begin to feel lighter with opportunities to give yourself pleasure. In fact, given that Jupiter is now in his final two weeks of his yearlong journey through your house of fun, you should take every opportunity to enjoy yourself. If this means taking a little time off from work to make the most of a fun day in the Sun, then go for it. Consider what is important to you, especially in terms of enriching your heart and soul, and make those things your priority this week.
---
This interpretation of your birth chart is written in simple language could be beneficial in self undestanding.
Merlin Report
---
Cancer: As the Sun moves into Libra, the focus is on your domestic life. Regardless of whether things need doing around the home, it's an ideal time to while away the hours with your family and enjoy more time spent at home. Focusing on your goals and ambitions may be counterproductive , so don't expect your career to be the high point right now. It's more a time to get to know yourself, reconnect with your needs and reflect on what has been. Ruminating on the past, enjoying nostalgic trips down memory lane, and reevaluating patterns of behavior formed in childhood can be very useful activities at this time. The more conscious you can be of how your past is affecting your present, the closer you will be to liberating yourself from it.
---
Indra reveals your life's contradictory urges & drives as well as your basic motivation, perceptions, inclinations and character.
Indra Report
---
Leo: Over the past few weeks, there has been a strong emphasis on the material side of your life: money, work possessions, and the things you value. Many of us place a high value on material things because society has taught us to do so, but you might have a different truth. Will you express that truth? You might still feel driven to achieve or attain something of value to you – a better job, more money, or something else that you need. But underneath all that might be a deeper desire for something that your soul longs for. If you can identity this soul need, you will be on track to creating a more fulfilling life, and your task now is to be honest with yourself and others in your quest to live more authentically.
---
Want a detailed report for parents to help with the child's growth to strengthen the assets and avert possible problems that the child could face in their life?
Child Astrology Report
---
Virgo: Although the Sun's move into Libra puts the focus on money and material matters, you still have Mercury, Mars and Venus in your sign, effectively keeping your energy, charm and mental agility levels high. However, with Mercury and Mars now opposite Neptune, this might not be the best week for pushing forward with a strict plan of action. Neptune favors a more flexible, fluid approach, so if you find that you're not getting anywhere despite your best efforts, it might help to go with the flow and drop your assertions as to how things should be. Besides, with Venus in your sign, you have a wonderful opportunity to relax, enjoy, and make "pleasure" your keyword, perhaps for the early part of this week, at least. There's no need to rush, push, or strive, but to instead take time to enjoy the pleasures of life – a sensual massage, a candlelit soak in the bath, or a long, lazy lunch with friends.
---
Want a birthday to birthday practical guide to help you recognize opportunities and to learn from them.
Astrological Solar Return Report
---
Libra: The good news is that the Sun moves into your sign on September 23, bringing a welcome return of motivation, enthusiasm, confidence and energy. Although there might still be residues of the themes of the past few weeks, you should at least begin to feel lighter and more optimistic. Previously, you might have felt quite withdrawn or found yourself having little choice but to take a back seat for a while. Now you'll be feeling more inclined to get out into the world and join in the fun. And "fun" could indeed be the keyword this week, as there should be plenty of opportunities to enjoy yourself in social occasions or other pleasurable events. If you can nourish your soul and recharge your batteries through activities that make you feel glad to be alive, then you're on the right track.
---
Want to know the actual dates when the energies will influence your life in money, career, relationships, and communicaton?
Astro Forecast Report (3 months)
---
Scorpio: As the Sun moves into your quiet zone, it might be advisable for you to follow suit and take some time out to rest and reflect. There is still a strong sociable theme, so you will still most likely be in demand or be busy with social occasions. Just make sure you get time to rest in between. It's also important that you have some time to withdraw from the fray a little because Jupiter is on the verge of a once-in-twelve-years visit to your sign, which will bring big changes. You will want to make sure you're ideally placed for these changes by releasing all that is no longer of value to you and making time to connect with your soul so that you can make better choices in the year to come. For now, don't be in any sort of rush, and pay attention to the areas in your life that need growth.
---
Want a one year forecast to understand the scope of influence for your personal Cards of Destiny?
Cards of Destiny Report
---
Sagittarius: The Sun's move into Libra brings a welcome change of events, especially if recent weeks have been busy with work and responsibilities. Even if you enjoyed the process and made good progress or achieved a goal it's still nice to have some fun and spend time with friends, which is exactly what this week is all about. Your social life is likely to benefit from having both the Sun and Jupiter in its sphere, so if you've neglected your friends or haven't had time to pursue enjoyable interests, now is the time to get back to your art club, that French class, the writing group, or the gym or sports club. There is still a strong emphasis on your purpose and work, so you may still be working toward achievement in some respect. At least this week is not as intense, and you should find plenty of opportunities to get out there and enjoy yourself.
---
Contemplating a move? This report tells how you will react to the energies of the specific locations for relationships, finances, and security.
Relocation Information Report
---
Capricorn: As the Sun shifts into your zone of success, adding a work orientated feel to proceedings, you are in a good position to push out of your comfort zone in a way that benefits you professionally. This may mean tooting your own horn or persuading others to believe in what you're doing. Certainly, with the Sun and Jupiter – the two benefics – at the top of your chart, this could be a time of success and opportunity for you. Don't play it safe; instead look for ways to grow and expand in your work and your philosophy on life. The more able you are to believe that anything is possible, the more likely you are to come closer to your big plan.
---
Discover your character traits, relationship and career potentials – based on Edgar Casey Readings.
Cayce Past Life Report
---
Aquarius: As the Sun joins Jupiter in your zone of adventure, your spirits begin to lift after a heavy few weeks. Now is the time to explore and expand. Seek the potential in the world around you, and push out of your comfort zone. The focus on transformation and psychological exploration hasn't finished yet, but it is at least now being balanced with lighter energies that will enable you to go out into the world and enjoy life. So whatever you're doing this week, remind yourself that "Life is either a wonderful adventure, or nothing."
---
Discover your past life connections that can carry over into your current life, accounting for interests, habits, even phobias.
Karmic Past Life Report
---
Pisces: You might not get very far if you try to force an agenda or try to push people into doing what you want. Mars in opposition to your ruler Neptune suggests that you will be swimming against the tide if you adopt any approach other than fluid, gentle and compassionate. Being charitable and helping as much as you can is the best use for the current position of Mars, and accepting that a certain amount of confusion or uncertainty might be par for the course right now. Allowing people and situations to be as they are will ensure that the week ahead will be much easier than if you try to make things happen.
---
Discover your soul's intention for this lifetime, the lessons to be learned, qualities to develop, problems to be resolved, services to be rendered.
Karmic Insight Report
---
For more information about your Horoscope and what the stars
have in store for you, order one of our detailed
Astrology Reports for Couples!
---
Want to know the theme of your relationship? This report compares your temperaments and personalities, whether you are married or living together.
Compatibility Report
Reveal as much information about you and your partner intention of opening doors of understanding and awareness.
Love Cards Report