#Horoscope #Aries #Taurus #Gemini #Cancer #Leo #Virgo #Libra #Scorpio #Sagittarius #Capricorn #Aquarius #Pisces #Horoscope – overview of this week
The Center for the New Age is pleased to present
your Free Weekly Horoscope for December 3 – December 9, 2017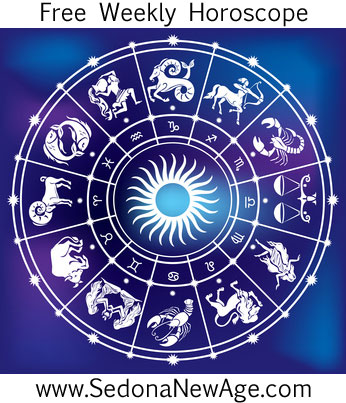 Receive our Free Weekly Horoscope in your Inbox
---
Aries Taurus Gemini Cancer Leo Virgo Libra Scorpio Sagittarius Capricorn Aquarius Pisces
Full Moon in Gemini on December 3 emphasizes conversations, talks, sales, discussions, secretarial chores and wiring. This is a time of built-up emotional energy, usually brought on by mental stress, while there is a strong need to converse and be heard. The full lunar expression of Gemini accents the reflective awareness that all of us have our own unique ways of seeing things.
Mercury goes retrograde (December 3 – December 23) in the sign of Sagittarius, one of the three fire signs of the zodiac. Communications regarding all vital creative processes and projects will be affected. This fans the internal fires of the mind and may cause anxiety, impatience and heated turmoil when it comes to communication attempts. It is best to mind the temper when attempting to communicate and expect to see some heat and active or brazen enthusiasm while delivering or receiving messages.
Mercury and Saturn conjunct in Sagittarius (December 6 – December 11) brings talk about putting an end to the unwanted components of our lives. This aspect also sets a tone of discipline and limitation on our speech and attempts at communication. There is a discerning quality of strategy at work, and there is a strong drive to sustain and act on new forms of thought, making this aspect a very good one for speakers and writers to inspire, initiate and capture vital thoughts.
Mercury in Sagittarius sextile Mars in Libra (December 6 – December 130 allows for favorable communications with regard to the actions that are taking place around us. This aspect brings out opportunities that will be received, recognized, communicated and acted upon. News or information may lead to taking immediate action, and people are likely to back up their statements with action during this period.
Mars in Libra sextile Saturn in Sagittarius (December 6 – December 15) is a great time to make physical changes in the home. During this aspect, the actions that occur create opportunities, provided there is an application of discipline and timing. Offensive and defensive forces tend to work harmoniously with this aspect but to benefit from this opportunity, one must be persistent in taking action on important matters. Movement and the application of energy (Mars) plus responsibility and awareness of limitation (Saturn) allow the perfect timely quality of completion (as well as new beginnings) to occur with this aspect.
Mars enters Scorpio (December 9 – February 2) bringing a very passionate and daring edge to our activities. In Scorpio, the execution of activity (Mars) is done with precision and intense clarity. Mars in Scorpio often brings out aggressive acts in people, but not necessarily ones that are cruel or destructive. When tension builds, it is often best to channel aggressive impulses into sports or outdoor activities.
Aries Taurus Gemini Cancer Leo Virgo Libra Scorpio Sagittarius Capricorn Aquarius Pisces
For more information about your Horoscope and what the stars have in store for you, order one of our detailed
Astrology Reports!
Want to know the theme of your relationship? This report compares your temperaments and personalities, whether you are married or living together.
Compatibility Report
Reveal as much information about you and your partner intention of opening doors of understanding and awareness.
Love Cards Report
Free Weekly Horoscope for your Sign
Aries: December is likely to be a very busy month as no fewer than five planets gather in your zone of travel and adventure. It's unlikely that you will sit still for very long, and you may find that journeys are a feature. This adventurous spirit is wonderful, but remember that adventure isn't always about travel. It can also be about an adventurous state of mind. That might mean seizing opportunities this week that generate a little trepidation or deciding to see the glass as half full rather than half empty.
---
Discover a personal profile and 1-year forecast based on advanced calculations of your name and birth date.
Numerology Report
---
Taurus: While there will be plenty of opportunities for festivity and enjoyment, this week asks you to consider where you are going from here. How can you resolve any ongoing financial matters or emotional issues that might be calling for your attention? A cluster of planets in the heavy region of your chart is likely to bring your responsibilities to yourself or others to the fore for contemplation and/or approval.
---
Need a guide for your growth and personal evolution based on astrological influences upon your personality?
New Age Natal Report
---
Gemini: The past two years may have been challenging, especially as far as relationships were concerned. You might have felt tested or pushed to your limits as people and situations drained your energy. Don't be disheartened if this week seems to bring all this back to the fore; any conflict, tension or drama is simply the grand finale to a long situation that has almost run its course. Hang in there and think positive thoughts.
---
This interpretation of your birth chart is written in simple language could be beneficial in self undestanding.
Merlin Report
---
Cancer: Your work or your health should be in your thoughts this week. There might be challenges in either, but these may reflect challenges that have been ongoing for the past couple of years. And speaking of past years, you are busy reconnecting the old school ties. Love and bonhomie are in the air but conflict with mounting work pressure. This is an indulgent week. There are many expenses but you are rejuvenated and transformed and are knocking at the gates of posterity.
---
Indra reveals your life's contradictory urges & drives as well as your basic motivation, perceptions, inclinations and character.
Indra Report
---
Leo: You are the great fun lover of the zodiac. If surveys were taken on any given night in the nightclubs, theaters or casinos, one would find a disproportionate percentage of Leos there. This week is different though. Your financial planet spends the month in your 5th house which is basically a happy and prosperous position. However, Mercury is retrograde from the 3rd to the 23rd of December so you should tone down the speculations and if you can't help yourself, wager with half of what you would normally do.
---
Want a detailed report for parents to help with the child's growth to strengthen the assets and avert possible problems that the child could face in their life?
Child Astrology Report
---
Virgo: With the Full Moon in Gemini, you are reaching out to friends and lovers and are networking furiously. You want to belong to someone, something; you do not want to be left out or isolated. This can be a week for real growth as new vistas open and new associations blossom. You are in the throes of creative energy and can come up with a master class to enjoy your world that is pleasantly rumbling along. Your week is beautiful and you have no complaints.
---
Want a birthday to birthday practical guide to help you recognize opportunities and to learn from them.
Astrological Solar Return Report
---
Libra: The Full Moon is in Gemini and you are networking furiously this week. Your mind is all over the place, filled with big ideas and dreams and you want to share it with the world. Saturn in your 4th house shows a sense of duty – a sense of family responsibility. You show your love by taking on even more responsibility. Family life can be a burden these days, but you can't avoid it. Pick up the burden and handle it. This will bring much personal growth and unexpected help.
---
Want to know the actual dates when the energies will influence your life in money, career, relationships, and communicaton?
Astro Forecast Report (3 months)
---
Scorpio: December concludes the theme of the past two years and as a result, things may feel a bit tight this week where work and money are concerned. Perhaps you'll have to work more than you would like to, or more responsibility will come your way. Regardless, one thing you do have at your disposal is energy with Mars moving into your sign on the 9th. If you are a woman, this will bring younger men into the picture. For a man, it increases physical energy and "macho" flair.
---
Want a one year forecast to understand the scope of influence for your personal Cards of Destiny?
Cards of Destiny Report
---
Sagittarius: Your ruler Jupiter is currently languishing in your zone of repose and spiritual contemplation. This means that the physical material world is less likely to satisfy you than it previously did, and turning within could be the solace you seek. Whether you can do that is another matter, because with so many planets in your sign, the spotlight is likely to be on you, and it might be difficult to duck the limelight. If you try to strike a balance all will be well.
---
Contemplating a move? This report tells how you will react to the energies of the specific locations for relationships, finances, and security.
Relocation Information Report
---
Capricorn: You are feeling different from the way you usually view life. You might feel at odds with all the social merriment and the temporary insanity of humans rushing to buy presents for people they don't even like. Take time out if you need to because this week marks the end of a chapter of your life and new beginnings are just around the corner. Planetary power supports you so make the moves and changes needed to create your personal happiness.
---
Discover your character traits, relationship and career potentials – based on Edgar Casey Readings.
Cayce Past Life Report
---
Aquarius: The Full Moon is in Gemini and this week you are connecting with people from all over enjoying their camaraderie and the positive aspects of sharing time with friends. You have been through a lot but if you engage in "me" time, and mindfully recall the events of the year, you will realize that you have been very blessed. The cosmos has conspired to elevate your life and it is necessary to be grateful for all the goodies showered on you with such generosity. If you have walked down maudlin corridors and camped there for prolonged periods, you now realize that it has been mere indulgence and escapism. You have actually been given much more than you had bargained for – including the positivity of this week!
---
Discover your past life connections that can carry over into your current life, accounting for interests, habits, even phobias.
Karmic Past Life Report
---
Pisces: The Full Moon is in Gemini and you are in awesome form – a yearly career peak. Early in the week Jupiter is making nice aspects to Neptune, the ruler of your horoscope. This brings money and career success. It indicates harmony with bosses and authority figures. You are filled with enthusiasm and creativity but there are indulgences and escapism. It seems that money rushes through your fingers without permission so plug the leaks and play the field and enjoy, but with a measure of responsibility.
---
Discover your soul's intention for this lifetime, the lessons to be learned, qualities to develop, problems to be resolved, services to be rendered.
Karmic Insight Report
---
For more information about your Horoscope and what the stars
have in store for you, order one of our detailed
Astrology Reports for Couples!
---
Want to know the theme of your relationship? This report compares your temperaments and personalities, whether you are married or living together.
Compatibility Report
Reveal as much information about you and your partner intention of opening doors of understanding and awareness.
Love Cards Report