#Horoscope #Aries #Taurus #Gemini #Cancer #Leo #Virgo #Libra #Scorpio #Sagittarius #Capricorn #Aquarius #Pisces #Horoscope – overview of this week
The Center for the New Age is pleased to present
your Free Weekly Horoscope for December 24 – December 30, 2017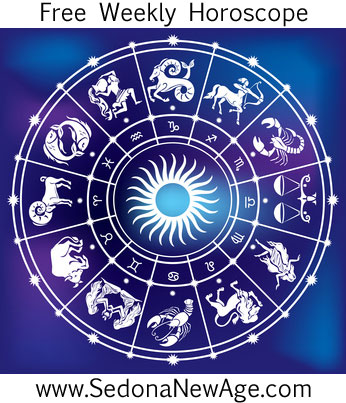 Receive our Free Weekly Horoscope in your Inbox
---
Aries Taurus Gemini Cancer Leo Virgo Libra Scorpio Sagittarius Capricorn Aquarius Pisces
Venus enters Capricorn (December 25 – January 19, 2018) bringing out an attraction for the staunch and ardent duty of accomplishing goals and creates stable ground for the development of relationships. Venus in Capricorn creates a love of work, and people will feel motivated to work hard towards the achievement of goals. It allows us to appreciate our goals and accomplishments as we evaluate the possibilities of the unfolding New Year.
Venus and Saturn conjunct in Capricorn (December 25 – January 5, 2018) creates a favorable time to use discipline in art and love-related matters. It represents diligence in caring for the people and things we love. It may also emphasize a timely quality about relationship issues; issues that are undergoing a restriction or possibly even a closure of some kind. This aspect can go either way on the positive-negative scale, since the loving attraction of Venus can be encouraged or thwarted by the responsible, serious and limiting discipline of Saturn's energy.
First Quarter Moon in Aries on December 26 inspires our moods in an active, upbeat manner. This is the time to get in tune with personal levels of energy, strength and vitality. There is a self -starter energy in the air and the active ones among us are on the prowl. Aries Moon brings on an expression of courageous vigor, as well as a sense of bold adventure. As a general rule, moods are marked by confidence and sometimes cantankerous forcefulness. First Quarter Moon in Aries brings on a certain kind of drive to make a lasting impression.
Mars in Scorpio trine Neptune in Pisces (December 29 – January 13, 2018) may help empower personal beliefs. Energy is high for receiving spiritual gifts and helpful guidelines from the spirit world. Mars guarantees that significant activities will occur. With Neptune in the trine position, these activities will be favorably stirred up with spiritual and psychic awareness, all gifts from Neptune. This serves as a good time to initiate creative and imaginative spiritual practices and ceremonies, and empower your personal outlook and spiritual well-being.
Aries Taurus Gemini Cancer Leo Virgo Libra Scorpio Sagittarius Capricorn Aquarius Pisces
For more information about your Horoscope and what the stars have in store for you, order one of our detailed
Astrology Reports!
Want to know the theme of your relationship? This report compares your temperaments and personalities, whether you are married or living together.
Compatibility Report
Reveal as much information about you and your partner intention of opening doors of understanding and awareness.
Love Cards Report
Free Weekly Horoscope for your Sign
Aries: The big question to ask yourself in the run up to Christmas and the end of the year is how to push out of your comfort zone. What do you need to do to broaden and enlarge your life? From doing little things, such as saying yes to something you'd normally decline, to making bigger changes, your key to success starting this week and for 2018 lies in your willingness to be brave, to overcome your fears and to move toward the new.
---
Discover a personal profile and 1-year forecast based on advanced calculations of your name and birth date.
Numerology Report
---
Taurus: Things lighten considerably just in time for Christmas as the shadows give way to light and pessimism gives way to optimism. Ergo, you will be able to start the New Year in an optimistic and hopeful state of mind. Now is the time to start thinking about this. The New Year will hold much happiness for you as long as you can do two things: make your relationships a priority and challenge any limiting beliefs. Therefore, the prescription for a happy year ahead is to have more fun with your partner and to quit telling yourself that something isn't possible.
---
Need a guide for your growth and personal evolution based on astrological influences upon your personality?
New Age Natal Report
---
Gemini: The past two years may have been challenging, especially as far as relationships were concerned. You might have felt tested or pushed to your limits as people and situations drained your energy. Don't be disheartened because any conflict or tension is simply the grand finale to a long situation that has almost run its course. The good news is that with Saturn (who has been the main source of the trouble) now out of your relationships zone, you will have a Merry Christmas and more joyful times ahead. In fact, as you start the New Year, you should feel lighter and more optimistic. Your work and general well being are on the rise and rest assured that Christmas will reflect a celebratory mood.
---
This interpretation of your birth chart is written in simple language could be beneficial in self undestanding.
Merlin Report
---
Cancer: Jupiter's arrival in your zone of fun puts you in a prime position for a very enjoyable Christmas and enables you to start 2018 in a positive mood. However, it's not just about fun and enjoyment. Jupiter's position also asks what changes you should make to live a more creative life. If your existence could use more color, then this is the time to think about making it happen. This could range from taking up a creative hobby to pruning the heavy stuff from your life. This might include any relationship that weighs you down. You will probably realize in hindsight that this is the key to your physical well-being.
---
Indra reveals your life's contradictory urges & drives as well as your basic motivation, perceptions, inclinations and character.
Indra Report
---
Leo: Of all the signs, yours is one of the most blessed in terms of an enjoyable festive season. With a cluster of planets in your house of fun and jolly Jupiter in your domestic sphere, you are on track for the most heartwarming of Christmases. . However, this planetary emphasis will begin to shift after December 25, leaving the last few days of the month on a slightly more serious note. If there are questions around your work or your health, the end of the year will bring them into focus. Perhaps you will take on a more responsible role at work, or maybe you will need to devote more attention to your physical well -being. Perhaps there will be questions about how you spend your days or how you might improve your work. Health and healing might be key features so start a new health regime this week or renew a passion for your work.
---
Want a detailed report for parents to help with the child's growth to strengthen the assets and avert possible problems that the child could face in their life?
Child Astrology Report
---
Virgo: By December 25 the emphasis of responsibility and duty fades and is replaced by a lovely feeling of fun and enjoyment. This puts you in the position for a really wonderful Christmas. As the week comes to an end, domestic difficulties diminish further, freeing up your energies in other directions – most notably, creativity, pleasure and children. The key thing to remember as you end the year and enter the new one is that the more effort you channel into doing what you love, the happier you'll be and the bigger your rewards.
---
Want a birthday to birthday practical guide to help you recognize opportunities and to learn from them.
Astrological Solar Return Report
---
Libra: For many people, the holiday season is a party period. You will have some of this but for you celebrating with the family seems the ticket. You might even spend New Year's Eve at home in a quiet kind of way – with the family. It's not that you can't go out; you just seem to want to be there. This week you also need to begin paying more attention to your health. It's not just the short-term planets (the Sun and Venus) that stress you out. Saturn will be making stressful aspects to you and this is a long-term trend. Tough choices will have to be made. You can't do everything to please everyone. You must focus on what's really important and that is you!
---
Want to know the actual dates when the energies will influence your life in money, career, relationships, and communicaton?
Astro Forecast Report (3 months)
---
Scorpio: This week concludes the theme of the past two years, and as a result, things may feel a bit tight where work and money are concerned. Perhaps you'll have to work more than you would like to, or more responsibility will come your way. Mars in your sign is great news, as it will bring you all the energy, motivation and determination to do whatever needs to be done and Jupiter in your sign spells a new cycle of growth and opportunity. This combined with Saturn in Capricorn signals the end of any material problems, so you can begin to leave your money worries behind and start fulfilling your dreams. As the year ends and gives way to the new one, you can expect some key developments that will change your life for the better.
---
Want a one year forecast to understand the scope of influence for your personal Cards of Destiny?
Cards of Destiny Report
---
Sagittarius: "Wherever you go, go with all your heart" said Confucius. This is how you will spend this week and the last days of the year. You are propelled by the power of the Aries Moon and will carry the energy of this period into the New Year. Family outings, close bonding with loved ones and several moments in the Sun will fill your time imbuing you with gratitude for all that has landed on your plate and blessed your soul. The planetary power is now below the horizon of your chart. You have achieved your short-term career goals (and people see you as successful now) and it's time to focus more on the home, family and your emotional well-being.
---
Contemplating a move? This report tells how you will react to the energies of the specific locations for relationships, finances, and security.
Relocation Information Report
---
Capricorn: New beginnings are just around the corner. Christmas, while still rich with the potential for enjoyment and socializing, might not feel like a raucous affair. You might prefer more of a quiet interlude this week to gather your thoughts and contemplate your next steps because Saturn in your sign suggests that life is about to get a little more serious. Perhaps you'll take on greater responsibility in some way. With that responsibility comes the potential for rich rewards in business or at home. That's good to remember as 2017 gives way to the New Year because for you, 2018 is all about rising to a position of power and using that power to shape your world into something more satisfying.
---
Discover your character traits, relationship and career potentials – based on Edgar Casey Readings.
Cayce Past Life Report
---
Aquarius: The cosmos is blessing you this Christmas as a cluster of planets gathers in the most favorable and auspicious area of your chart. This bodes well for your social life which is, of course, a key theme for the season , and your future. This week brings a pleasant mix of progress with work and enjoyable social events. However, there may be a serious undertone to some aspects of your interactions with others. You might feel an urgent need to make progress with something before the New Year or you might feel a need to pull back a little from the busyness of life. There is little need to worry about it because Jupiter will be on hand throughout 2018 to ensure a year of success, achievement and possibly even a brand new direction in life.
---
Discover your past life connections that can carry over into your current life, accounting for interests, habits, even phobias.
Karmic Past Life Report
---
Pisces: You'll have to make time for Christmas given everything you have to do this week. Whether it is work and responsibilities, or social activities and happy adventures that demand your time, this looks to be a very busy time for you. Most of this should be enjoyable, enhanced by a very busy social life. It's all perfect timing because the days around December 25 are the best for enjoying time with friends and getting out and about socially. It seems that you will be blessed with a plethora of opportunities. The goodies will continue through this week and into the New Year. In 2018, the weights that have been on your shoulders will begin to fall away leaving you feeling lighter and freer than you have in quite a while. It's time to push beyond your comfort zone and begin to fulfill a long-held dream.
---
Discover your soul's intention for this lifetime, the lessons to be learned, qualities to develop, problems to be resolved, services to be rendered.
Karmic Insight Report
---
For more information about your Horoscope and what the stars
have in store for you, order one of our detailed
Astrology Reports for Couples!
---
Want to know the theme of your relationship? This report compares your temperaments and personalities, whether you are married or living together.
Compatibility Report
Reveal as much information about you and your partner intention of opening doors of understanding and awareness.
Love Cards Report