#Horoscope #Aries #Taurus #Gemini #Cancer #Leo #Virgo #Libra #Scorpio #Sagittarius #Capricorn #Aquarius #Pisces #Horoscope – overview of this week
The Center for the New Age is pleased to present
your Free Weekly Horoscope for January 28 – February 3, 2018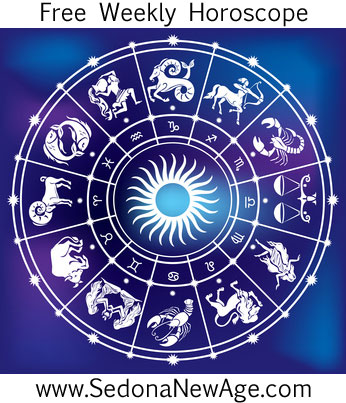 Receive our Free Weekly Horoscope in your Inbox
---
Aries Taurus Gemini Cancer Leo Virgo Libra Scorpio Sagittarius Capricorn Aquarius Pisces
The Full Moon in Leo on January 31 brings out the playful, imaginative and creative side of our moods. Most of us are easily drawn towards the need to find warmth and affection, or just plain attention. There may be an opportunity here to enhance and harmonize friendships and family situations in a fulfilling and enriching manner. In addition to the Full Moon, there will be a total lunar eclipse. What makes this one so special is that it's happening during the second Full Moon of the month. These two events haven't coincided since 1866, making this one the first in over 150 years. The next one won't be until 2028.
Mercury enters Aquarius, the fixed air sign of the zodiac which represents humanity's knowledge (January 31 – February 18). As the force of communication (Mercury) travels through the constellation of fixed thought and meditation (Aquarius), there are great opportunities for us to share and to empower each other through our knowledge. Mercury in Aquarius is also a special time to speak out on humanitarian issues and the rights of freedom.
Mercury in Aquarius sextile Mars in Sagittarius (February 3 – February 8) presents opportunities which can be received, recognized, communicated and acted upon. News or information with emotional impact often stirs up carefully premeditated actions. It's an advantageous time to apply one's word with a full backing of action for a very favorable outcome.
Aries Taurus Gemini Cancer Leo Virgo Libra Scorpio Sagittarius Capricorn Aquarius Pisces
For more information about your Horoscope and what the stars have in store for you, order one of our detailed
Astrology Reports!
Want to know the theme of your relationship? This report compares your temperaments and personalities, whether you are married or living together.
Compatibility Report
Reveal as much information about you and your partner intention of opening doors of understanding and awareness.
Love Cards Report
Free Weekly Horoscope for your Sign
Aries: With a lunar eclipse on January 31, your creativity and need for fun and recreation is brought into the mix, making this the ideal time to consider your needs and to sign up for an art class, join a sports club, or start attending a group whose ethos resonates with your heart. It's also a great time to connect with friends to have some fun. The planets seem to be asking you to find a way to march to your own drumbeat and do what you love while making a difference to the world. To do that, though, you might have to be bold and take a risk. Be assured that any brave move that feels right in your heart will not just work out well but could also give you a new lease on life.
---
Discover a personal profile and 1-year forecast based on advanced calculations of your name and birth date.
Numerology Report
---
Taurus: Although the spotlight is on your vocation and direction in life with much enjoyment to be found here, we mustn't forget your domestic situation that looks in need of attention. The lunar eclipse on January 31 will bring to a head any matter that has been brewing and enable you to resolve it. Expect confusion and uncertainty to clear in your home and family life, but be willing to make the necessary changes that will facilitate greater contentment there.
---
Need a guide for your growth and personal evolution based on astrological influences upon your personality?
New Age Natal Report
---
Gemini: This is a great week to experience an adventure, push your boundaries, try something new (no matter how small), or simply go somewhere that lifts your spirits. Positivity is the name of the game. The lunar eclipse on January 31 seems to affect you strongly. It occurs in your 3rd house of communication, bringing dramas in the lives of siblings, sibling figures or neighbors. The Full Moon and the eclipse will help you see where your attitude sometimes lets you down so that you can begin to change it and, consequently, improve your life with others.
---
This interpretation of your birth chart is written in simple language could be beneficial in self undestanding.
Merlin Report
---
Cancer: As the planets shift into your zone of transformation and the lunar eclipse falls in your money zone, there is the need to get serious about a personal matter, your financial situation, or a combination of the two. The eclipse suggests that you will experience an end to a confusing situation regarding your finances along with the realization that you need to make changes. Perhaps what once worked no longer does; or maybe it never worked, but you muscled through. A new financial direction is where you need to be heading. Be truthful about what you no longer need, and allow it to go. In so doing, you'll free up space for new energies and developments to take place.
---
Indra reveals your life's contradictory urges & drives as well as your basic motivation, perceptions, inclinations and character.
Indra Report
---
Leo: You might feel inclined to take stock of your life, because a lunar eclipse occurs in your sign on Wednesday. Expect a few waves of discontent or ripples of discomfort, as lunar eclipses often bring up uncomfortable truths. This is simply a sign that things need to change, and you will at least have the clarity about exactly what they are. Your day-to-day life looks to be the key area where change or challenges may be evident so if you're not feeling fulfilled or you find that you have too many burdens or responsibilities, try to find ways to reduce your load. Meanwhile, there is much joy to be found in your personal life, from home and family to your relationships, so no matter what is going on in your working life and on your ever growing to-do list, take solace in the people who matter and whose company you enjoy. You will then find that you have extra hope and energy to deal with the challenges and to make changes where you can.
---
Want a detailed report for parents to help with the child's growth to strengthen the assets and avert possible problems that the child could face in their life?
Child Astrology Report
---
Virgo: Prepare to let go. The lunar eclipse on January 31 falls in your zone of endings, making this the time to clear the decks and release anything from the past that no longer serves you. This shouldn't feel too difficult because we usually know when something has run its course. We can never let go of memories, but we can let go of negative emotions attached to them or the visual representations of a time gone by that no longer feels appropriate. Forgiveness is a great antidote to painful memories, and accepting that things are the way they are is also helpful in letting go of attachment to pain. Meanwhile, the Sun, Venus and Mercury highlight the work and health area of your chart, making this a great week to focus on your well-being and to bring joy to the service you provide for others.
---
Want a birthday to birthday practical guide to help you recognize opportunities and to learn from them.
Astrological Solar Return Report
---
Libra: The lunar eclipse on January 31 illuminates your future. Like the Full Moon lighting the path ahead, you're likely to find this week bringing light to a confusing situation. The key to making progress under this eclipse is to allow your heart to speak to you, so watch what comes up for you around this eclipse. Notice your feelings, observe what makes you feel happy and good about yourself, and see how you can bring more of this into your days. Your mission now is to follow the path of joy and express that to the world at large.
---
Want to know the actual dates when the energies will influence your life in money, career, relationships, and communicaton?
Astro Forecast Report (3 months)
---
Scorpio: Gatherings with family and soul mates could be a source of happiness, especially when the lunar eclipse calls your life direction into question this week. Fortunately, this eclipse will begin to dispel any confusion you've had regarding your vocation, and you should be able to see a clearer path ahead. It may be that for this area of your life to move forward, you first need to let go of something. This could feel like a brave or risky move, since you might feel as though your safety net is what you need to let go of. You will recognize whatever you need to move on from because it feels heavy and as though it's keeping you caught in a Groundhog Day existence. Do yourself a favor and let it go!
---
Want a one year forecast to understand the scope of influence for your personal Cards of Destiny?
Cards of Destiny Report
---
Sagittarius: The lunar eclipse in your adventurous zone (intellectual pursuits and foreign travel) seems to affect you strongly. Sagittarians are big travelers, but avoid the eclipse period if possible. The eclipsed planet, the Moon, rules your 8th house of regeneration so there can be near-death kinds of experiences – psychological confrontations with death rather than literal death. You may have dreams of death having read about some grisly crime or terrorist attack. The cosmos forces you to go deeper into this issue but pin up the following guidance by Andre Gide and recite it daily for it will be of help to you: "In order to discover new oceans, man must have the courage to lose sight of the shore."
---
Contemplating a move? This report tells how you will react to the energies of the specific locations for relationships, finances, and security.
Relocation Information Report
---
Capricorn: There is a transformative aspect to this week as a lunar eclipse occurs in your zone of rebirth on January 31. Perhaps this would be an opportune time to let go of something that does you no favors – baggage from the past, unnecessary clutter, or psychological wounds, fears or insecurities. This could be a time of profound healing if you're able to let go of your pain. Sharing and intimacy could also be themes, so be prepared to drop your defenses and be vulnerable. Although this may feel unsettling, the result is likely to be a developing closeness with others who empathize with your vulnerability. Finally, there could be a financial aspect to this eclipse, and again, letting go of the old ways may be beneficial. The more courage you can display in meeting the challenge, the more likely you are to move forward with increasing confidence in your power to shape your material world.
---
Discover your character traits, relationship and career potentials – based on Edgar Casey Readings.
Cayce Past Life Report
---
Aquarius: There will be revolutionary changes in both your outlook and environment, investing everything you do with the aura of success with the Full Moon on January 31. You'll be full of feelings of self-worth, confidence in yourself and in the future. There will also be noticeable gains in both personal acquisitions, belongings, as well as money in the bank or in your wallet. All in all, you acquire a bright new image – both externally and within yourself. However, the lunar eclipse in your opposite sign will stress the importance of thinking of others and striving for balance in what you need and what others want. Much progress can be made in your relationships especially if you're prepared to confront any problems. Complacency is far from ideal, so maybe it's time to look at a relationship with fresh eyes.
---
Discover your past life connections that can carry over into your current life, accounting for interests, habits, even phobias.
Karmic Past Life Report
---
Pisces: If you push on with things when your body is calling for rest, you may find yourself laid up, especially when the lunar eclipse on January 31 falls in your health zone. This is the time to bring your focus back to your well-being, which, if successfully managed, will enable you to focus on the higher manifestation of the eclipse – namely, your ability to serve with love and to create a better working situation that enables you to make full use of your talents. Ultimately, this week challenges you to create a daily life that is the right mix of work, rest and play.
---
Discover your soul's intention for this lifetime, the lessons to be learned, qualities to develop, problems to be resolved, services to be rendered.
Karmic Insight Report
---
For more information about your Horoscope and what the stars
have in store for you, order one of our detailed
Astrology Reports for Couples!
---
Want to know the theme of your relationship? This report compares your temperaments and personalities, whether you are married or living together.
Compatibility Report
Reveal as much information about you and your partner intention of opening doors of understanding and awareness.
Love Cards Report