#Horoscope #Aries #Taurus #Gemini #Cancer #Leo #Virgo #Libra #Scorpio #Sagittarius #Capricorn #Aquarius #Pisces #Horoscope – overview of this week
The Center for the New Age is pleased to present
your Free Weekly Horoscope for February 18 – February 24, 2018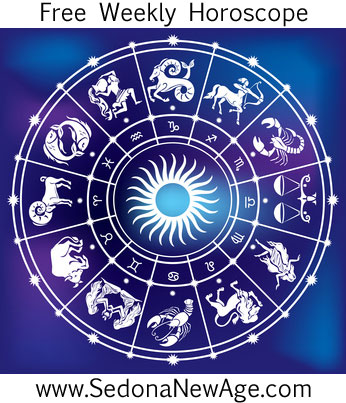 Receive our Free Weekly Horoscope in your Inbox
---
Aries Taurus Gemini Cancer Leo Virgo Libra Scorpio Sagittarius Capricorn Aquarius Pisces
Mercury enters Pisces (February 18 – March 6) bringing out the mystic in all of us and adds quite a bit of color and flare to the imagination in relayed messages. It's a good time to immerse one's self in creative writing and music or to open up the channels to the spirit world, allowing for messages from the other side to penetrate our psyches. Listen and learn from the priests, holy teachers, loved ones and spirit guides of your choosing. Sometimes the voice of sense and reason needs to give over to the simplicity of just listening in silence.
Venus and Neptune are conjunct in Pisces (February 21 – March 3). These two very feminine planets are aligned as a higher and lower octave of each other, creating a very fluid and open expression of femininity. Venus represents love, magnetism and attraction while Neptune represents spiritual love and the melding of spiritual energies. Venus conjunct Neptune can be utilized to reach a higher vibration of feminine, spiritual love. This is an ideal time to connect with one's own guardian angel and spirit guide.
Mercury in Pisces sextile Saturn in Capricorn (February 21 – February 25) provides an opportunity to learn vital lessons concerning boundaries, limitations and responsibilities. This tends to be a time when struggles and difficulties are frequently discussed, and people collectively draw conclusions concerning how to best handle their problems or responsibilities.
First Quarter Moon in Gemini on February 23 puts us in touch with how we feel about our thoughts. If you don't like how you feel about your thoughts, endeavor to change or alter your way of thinking. Omit thoughts which attempt to defeat your sense of purpose and encourage thoughts that uplift and inspire your spirit. Be careful not to overdo the caffeine. Learn to relax and stay focused and all will be well.
Aries Taurus Gemini Cancer Leo Virgo Libra Scorpio Sagittarius Capricorn Aquarius Pisces
For more information about your Horoscope and what the stars have in store for you, order one of our detailed
Astrology Reports!
Want to know the theme of your relationship? This report compares your temperaments and personalities, whether you are married or living together.
Compatibility Report
Reveal as much information about you and your partner intention of opening doors of understanding and awareness.
Love Cards Report
Free Weekly Horoscope for your Sign
Aries: The social theme begins to shift as the planets move into a quieter section of your chart. Expect the pace of life to slow and for a more introspective mood to take over. This is all as it should be, because if times have been busy or you have a lot of information to assimilate, you'll need some space to do that and take the rest you need.
---
Discover a personal profile and 1-year forecast based on advanced calculations of your name and birth date.
Numerology Report
---
Taurus: This week, your hopes for the future take center stage as a cluster of planets illuminate the idealistic part of your chart. Your mind is becalmed and contented enough to turn to higher things like faith, religion, tantra and mantra, prayer, yoga – any or all of these commitments. You will experience a change in your inner values, a moving on from typical Taurean materialism to more spiritual, more humanitarian, even more New Age values, if they attract you.
---
Need a guide for your growth and personal evolution based on astrological influences upon your personality?
New Age Natal Report
---
Gemini: On the 18th, both the Sun and Mercury – two very beneficent planets – cross your Mid-heaven and enter your 10th career house. You begin a yearly career peak and you seem very successful: you're in charge, on top, taking on responsibilities. There is more personal recognition for who you are and for your professional abilities. Your health is basically good but it might need some attention. If there are any vulnerabilities (genetic or otherwise), there is a greater likelihood that they will flare up so make sure you get enough rest and make sure to follow the protocols relative to your condition.
---
This interpretation of your birth chart is written in simple language could be beneficial in self undestanding.
Merlin Report
---
Cancer: After what could have been a challenging few weeks, the good news is that the planets move on to a much more favorable part of your chart. That isn't to say that the past few weeks haven't been of great value (they likely have been), but whenever we've been through something that has taken a lot out of us emotionally, physically or psychologically, we always welcome a break and a change of scene. And this is what you can look forward to now. You will notice an increase in optimism, a lightening of your mood, and a growing sense of adventure.
---
Indra reveals your life's contradictory urges & drives as well as your basic motivation, perceptions, inclinations and character.
Indra Report
---
Leo: Change needn't be painful. Usually it's only difficult because we resist it, but when we accept that things happen because they need to, it becomes much easier to let go. This week, as a cluster of planets gathers in your zone of rebirth, don't be afraid to release that which needs to go. If you can do that with love, forgiveness, and appreciation for the role it played in your life, you will find it easier to move forward without looking back.
---
Want a detailed report for parents to help with the child's growth to strengthen the assets and avert possible problems that the child could face in their life?
Child Astrology Report
---
Virgo: As the planets make their journey from your zone of health, work and daily life into your relationship zone, the emphasis shifts from your duties and responsibilities to your personal life and perhaps to one relationship in particular. This is a great opportunity to bring healing and forgiveness to any partnership in need of repair or inspiration. Time can take its toll on any relationship, and what might be needed now is to consider what inspires you as a couple. What do you share that you both love? Bring more of that into your relationship. By opening the doors of communication and saying what needs to be said in a compassionate and tolerant way, much healing can take place.
---
Want a birthday to birthday practical guide to help you recognize opportunities and to learn from them.
Astrological Solar Return Report
---
Libra: If you were able to respond to the planetary energies calling you to do more of what you enjoy, then you should find your spirit is replenishing and you're more able to return to your daily life with greater enthusiasm. Hopefully, something has shifted over the past few weeks to enable you to see your situation differently or to make some changes that feel more aligned with who you really are. Inspiration, color, beauty and harmony are the words that come to mind, and regardless of whether this describes your situation or you are working toward making these qualities manifest in your work, this is a great time to perfect your craft, refine your work into something more beautiful or soulful, and find great joy in what you do.
---
Want to know the actual dates when the energies will influence your life in money, career, relationships, and communicaton?
Astro Forecast Report (3 months)
---
Scorpio: Now is the time to recreate after what could have been a rather introspective or insular few weeks, and you have full permission from the cosmos to indulge in whatever your pleasure happens to be. The higher level of the planetary transits through your house of recreation right now is for you to unleash your creative spirit and to have fun doing whatever you love to do. Going to the cinema and visiting inspiring places count as much as painting a picture or throwing a party. Be mindful, though, that the doors of creative inspiration are opening, so if you are at all creative (and most of us are in some way), now is the time to allow divine inspiration to flow through you and create something magical.
---
Want a one year forecast to understand the scope of influence for your personal Cards of Destiny?
Cards of Destiny Report
---
Sagittarius: While the dynamic flavor continues, there is a shift in emphasis toward your home and family life, and much enjoyment can be found here as long as you can take time out from setting the world alight or putting extra hours in at the office or the gym. Getting the balance right between pursuing your interests and ambitions with the needs of your home and family will be a challenge that will be richly rewarded. It may be that you have no choice but to direct your attention inward to your base and that which is closest to you, and if so, you should go with it rather than resent what you have to do.
---
Contemplating a move? This report tells how you will react to the energies of the specific locations for relationships, finances, and security.
Relocation Information Report
---
Capricorn: Most of us spend our lives being surprised at what happens to us. We are taken aback when someone is rude to us, we're disgruntled when a colleague gets the promotion we wanted, we're heartbroken when our spouses run off with others, and we're hopping mad when we receive a speeding ticket. When life goes our way, we thank our lucky stars. When it goes against us, we think fate has dealt us a cruel blow, other people are to blame, or we were simply unlucky. Initiates of the laws of the universe know that this isn't true and that we shape our reality with our thoughts, feelings, attitudes and hidden desires. If life isn't going quite how you want it to, consider whether you have been undermining yourself in some way or repressing something that is now emerging.
---
Discover your character traits, relationship and career potentials – based on Edgar Casey Readings.
Cayce Past Life Report
---
Aquarius: A cluster of planets has been journeying through your sign, shining the spotlight on you and encouraging you to let go of something so that something new can develop. It could all have felt rather intense at times, so the good news this week is that the planets leave your sign and turn their attention to financial and material matters instead. Now is the time to make hay while the Sun shines and to allow that which inspires you to be the source of your income or your security. At the very least, it's likely that you will be on the receiving end of a divinely inspired idea that you could develop into something creative or lucrative.
---
Discover your past life connections that can carry over into your current life, accounting for interests, habits, even phobias.
Karmic Past Life Report
---
Pisces: As the Sun joins forces with Neptune, Mercury and Venus all in your sign, this is the week you can get back on track after a period of feeling less dynamic. In addition, with Jupiter helpfully positioned in your zone of adventure and optimism while Mars is perfectly placed at the top of your chart, there is very little to hold you back. However, it may be beneficial to take some time throughout the week to consider what you need to help you make progress. The answer is likely to be in alignment with your heart, since the Sun and Venus in your sign are urging you to consider that which is right for you no matter what anyone else might think.
---
Discover your soul's intention for this lifetime, the lessons to be learned, qualities to develop, problems to be resolved, services to be rendered.
Karmic Insight Report
---
For more information about your Horoscope and what the stars
have in store for you, order one of our detailed
Astrology Reports for Couples!
---
Want to know the theme of your relationship? This report compares your temperaments and personalities, whether you are married or living together.
Compatibility Report
Reveal as much information about you and your partner intention of opening doors of understanding and awareness.
Love Cards Report