#Horoscope #Aries #Taurus #Gemini #Cancer #Leo #Virgo #Libra #Scorpio #Sagittarius #Capricorn #Aquarius #Pisces #Horoscope – overview of this week
The Center for the New Age is pleased to present
your Free Weekly Horoscope for March 25 – March 31, 2018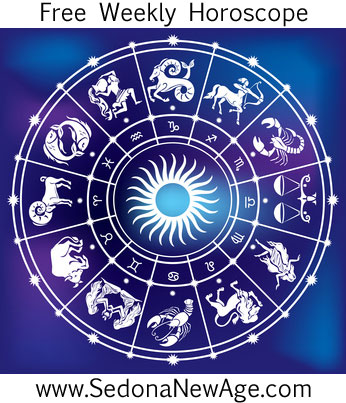 Receive our Free Weekly Horoscope in your Inbox
---
Aries Taurus Gemini Cancer Leo Virgo Libra Scorpio Sagittarius Capricorn Aquarius Pisces
Venus enters Taurus (March 31 – April 24) culminating in an extraordinary attraction to beauty. Here in the sign of Taurus, Venus is at home nurturing our sense of sensual pleasure and enhancing our appreciation of nature and earthy beauty, as well as the quality of specialty craftsmanship. Venus in Taurus brings out aesthetic awareness, as well as an appreciation of the quality in exceptional work. It places a greater emphasis on the love of having valuable items, wealth and abundance.
Full Moon in Libra on March 31 reflects the fact that relationships are a balancing act. Friends will share their strengths as well as their weaknesses. Troubled times can strengthen even the weakest links in friendship. Refuse to contribute to the weakness of a friend; nurture friendship with patience, understanding and encouragement. Use this Full Libra Moon energy to empower your relationships. Diplomacy, peace and goodwill can be achieved among loved ones, but a definite effort is required.
Aries Taurus Gemini Cancer Leo Virgo Libra Scorpio Sagittarius Capricorn Aquarius Pisces
For more information about your Horoscope and what the stars have in store for you, order one of our detailed
Astrology Reports!
Want to know the theme of your relationship? This report compares your temperaments and personalities, whether you are married or living together.
Compatibility Report
Reveal as much information about you and your partner intention of opening doors of understanding and awareness.
Love Cards Report
Free Weekly Horoscope for your Sign
Aries: While you might have been busy pursuing your own interests (which is as it should be because we all need time for ourselves), the Full Moon on March 31 reminds you of the importance of others and brings your attention back to the balance of relationships. There could also be tensions with your professional life, and these last days of March could be tricky to balance the needs of others with your role in the outside world and your personal needs. Don't be surprised if there are one or two clashes around this time, particularly when someone feels neglected because of your other obligations. Perhaps the best approach is to let your partner shine while you are working hard to fulfill your responsibilities in the outside world.
---
Discover a personal profile and 1-year forecast based on advanced calculations of your name and birth date.
Numerology Report
---
Taurus: Whether time is actually speeding up or not, it certainly seems that the pace of life is quickening to a level that is sometimes difficult to keep up with. As a gentle steady Taurus, you might find this hectic pace somewhat unsettling. You might be experiencing issues with an overload of information and the constant updating of technological gadgets, the volume of traffic on the roads or the number of commitments on your calendar. This is one week when it could all seem too much. If a simpler life is calling but you can't take the time to get away now, try to see what small but significant changes you can make to your everyday life. Perhaps try switching your phone off for certain periods of the day, walking to work instead of driving, or refusing to work all hours. Try to identify those areas that could be simplified, leading to better health, a happier state of mind, and a more content being.
---
Need a guide for your growth and personal evolution based on astrological influences upon your personality?
New Age Natal Report
---
Gemini: The second Full Moon of the month falls in your house of fun, casting a very different glow than at the start of March when you might have felt pulled in too many directions. This is a week to enjoy, especially at the end of the week when the Full Moon invites you to kick off your shoes and have some fun. From social opportunities to spontaneous delights with children, friends or lovers, this is a week to forget about the more serious aspects of your life and replenish yourself through playful activities. Therefore, anything artistic or creative is favorable, as is anything sporty or involving games of self-expression – dancing, singing and playing music. A trip to the cinema or theater or spending a day at the beach are all good examples of forgetting your worries and remembering that life is, first and foremost, a gift to be enjoyed.
---
This interpretation of your birth chart is written in simple language could be beneficial in self undestanding.
Merlin Report
---
Cancer: With Mars and Saturn in your relationship zone making a hard aspect to the Sun and Mercury in your career zone, tensions could run high this week. You will need to make an effort not to allow feelings of anger and frustration to get the better of you. Something or someone seems to be causing problems that feel like a burden you could do without. However, if you can see the difficulty as an obstacle to be overcome, you will earn one or two karmic brownie points for meeting the challenge head-on and dealing with it in a wise and an effective way. The best advice is to channel your energies into making progress in the outside world, and negotiate for what you feel is right while accepting the limitations posed by others. Sometimes we can't have everything the way we would like it, but by holding steady, standing firm and being patient and committed, you will find that the difficulties begin to ease.
---
Indra reveals your life's contradictory urges & drives as well as your basic motivation, perceptions, inclinations and character.
Indra Report
---
Leo: While this is a good time to focus on getting things done and becoming organized to make your life more efficient, there also is the need to create greater meaning or a deeper sense of purpose in your life. To strike a balance between being organized and manifesting your purpose, it might help to decide what has meaning for you, and then discard the rest. For example, if your well-being needs to be a priority, you might need to stop eating fast food, give up the rich foods or change irregular eating patterns. You might need to consider changing the punishing regime at the gym. Maybe your work feels too demanding or you have too many commitments. Maybe you have a pile of paperwork you can no longer ignore. If life feels a bit much, it's time to adopt a simpler approach. Take a step back, consider what really matters to you, and then discard the rest. In doing so, you may well find a new sense of meaning and purpose emerges.
---
Want a detailed report for parents to help with the child's growth to strengthen the assets and avert possible problems that the child could face in their life?
Child Astrology Report
---
Virgo: The second Full Moon of the month falls in your zone of money and resources while simultaneously forming a difficult angle with your career and creativity zones. There will likely be a link in these areas that, while initially tricky, will provide clarity and positive developments by the end of March or early April. If you're feeling the tension in any of these areas, it might help to consider what you value, what your strengths and talents are, whether you are able to make a commitment to a creative project or how to negotiate for a better deal in your work. Maybe it's time to show off what you've done or to finalize financial matters. However, do not give up on something important to your heart. Overall, this will be a week of needing to walk a tightrope of tensions, but you will make it to the other side by putting self-worth at the center of all your decisions.
---
Want a birthday to birthday practical guide to help you recognize opportunities and to learn from them.
Astrological Solar Return Report
---
Libra: Most people's homes aren't perfect. For that matter, neither are their family relations. It might help to be reminded of this as the Full Moon in your sign at the very end of the month raises some tension in your domestic sphere and your direction in life. Otherwise, it is likely that one or two dramas will play out, which might not feel entirely comfortable. Instead of getting caught up in the negatives, realize that you have the power to make constructive and lasting changes to your domestic situation, whether it's clearing your clutter at home or focusing on the good qualities of your family. Appreciation might be the virtue that changes everything.
---
Want to know the actual dates when the energies will influence your life in money, career, relationships, and communicaton?
Astro Forecast Report (3 months)
---
Scorpio: Our attitude is the key to happiness. When we embrace life positively, we're much more likely to come up smelling like roses. Even if you're normally a positive thinker, with Mars, Saturn and Pluto in your mental zone, your attention is drawn to the things that are "wrong" in your life. The challenge you face now is to not open your door to imposters – fear, resentment, anxiety, cynicism, and doubt. Instead, allow creativity, fun, optimism and generosity of spirit. Your work and health are likely to be key areas, but by taking time for quiet contemplation and making an effort to approach the world in a positive manner, much can be overcome, and opportunities will be more likely to appear.
---
Want a one year forecast to understand the scope of influence for your personal Cards of Destiny?
Cards of Destiny Report
---
Sagittarius: The Full Moon activates the social and fun areas of your chart on March 31, which would normally be pretty good. However, there is likely to be a fly in the ointment that could manifest as money issues, work problems, or tension regarding possessions or something else relating to your material life. All this could be quite frustrating, but there is a solution that involves constructive action and a willingness to see things differently. By focusing on the warm glow of friendship and relaxing in your surroundings with nourishing food and shared stories, it suddenly becomes obvious that what really matters is friendship not money, fun, enjoyment, or material advancement. To quote Alek Wek, a South Sudanese-British model and designer, "The most beautiful things are not associated with money; they are memories and moments. If you don't celebrate those, they can pass you by."
---
Contemplating a move? This report tells how you will react to the energies of the specific locations for relationships, finances, and security.
Relocation Information Report
---
Capricorn: It's likely to be all systems go as Mars, Saturn and Pluto occupy your sign, pushing you to create constructive change in your life. Any situation that requires commitment, endurance and focus are ideal now and the results from your efforts will be permanent. There is still a domestic emphasis, but there might be tensions here under a Full Moon in your direction and purpose area. This week could be about deciding what's important to you and your family and then making a commitment to work toward it. Ultimately, this is the time to take a step toward greater authenticity and do more of what ignites you.
---
Discover your character traits, relationship and career potentials – based on Edgar Casey Readings.
Cayce Past Life Report
---
Aquarius: Communication is the theme for the final week of the month, and when the Full Moon occurs on March 31, honesty and openness are key. With Mars and Saturn in your unconscious zone, you could become aware of something that was previously hidden. This could be something from the past, or it could be an aspect that you are suddenly able to make progress with. Talking about this could be very productive, and this is a good time to find a supportive ear to bend. Sometimes all that's required for healing is to be heard. This week, try to make sure that you're heard and that you are able to hear what others say to you.
---
Discover your past life connections that can carry over into your current life, accounting for interests, habits, even phobias.
Karmic Past Life Report
---
Pisces: The second Full Moon of the month falls in your zone of transformation on March 31, suggesting that a rebirth is in the cards. It might only be a small rebirth, but sometimes that is all we need to flourish. Maybe you will be on the receiving end of an important insight that helps you feel differently about your situation. You might feel more inclined to clear out stuff you don't need, which will then create space for new things to come into your life. Since this Full Moon also affects your financial zone, there are likely to be developments in your material world. Try to avoid dependency wherever possible. Seek to take charge, and focus on empowering action. When things don't go our way, it's easy to slip into a defeatist or victim mentality, but the planets' positions suggest that you have what it takes to turn the situation around all by yourself.
---
Discover your soul's intention for this lifetime, the lessons to be learned, qualities to develop, problems to be resolved, services to be rendered.
Karmic Insight Report
---
For more information about your Horoscope and what the stars
have in store for you, order one of our detailed
Astrology Reports for Couples!
---
Want to know the theme of your relationship? This report compares your temperaments and personalities, whether you are married or living together.
Compatibility Report
Reveal as much information about you and your partner intention of opening doors of understanding and awareness.
Love Cards Report