#Horoscope #Aries #Taurus #Gemini #Cancer #Leo #Virgo #Libra #Scorpio #Sagittarius #Capricorn #Aquarius #Pisces #Horoscope – overview of this week
The Center for the New Age is pleased to present
your Free Weekly Horoscope for May 13 – May 19, 2018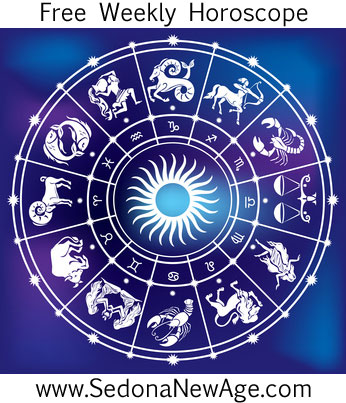 Receive our Free Weekly Horoscope in your Inbox
---
Aries Taurus Gemini Cancer Leo Virgo Libra Scorpio Sagittarius Capricorn Aquarius Pisces
Mercury enters Taurus (May 13 – May 29) and communications will focus on manifesting sales and generating economic growth. While Mercury moves forward through Taurus, it is a good time to clean up concerns about valuables and deal with issues concerning documents, contracts, speeches and business procedures.
Mars enters Aquarius (May 15 – August 14) and for the next three months, as Mars, the red warrior planet, moves through Aquarius, a surge of energy and vitality that is best channeled into humanitarian projects takes over. Technologies using solar energy or Earth's natural resources in harmony with nature could return to the forefront.
Mercury in Taurus trine Saturn in Capricorn (May 18 – Mary 20) brings favorable communication which tells us how, and where, to draw the lines for ourselves. This is a good time to make an impression, to teach and to communicate to others those important matters that must be clarified.
Venus enters the nurturing sign of Cancer (May 19 – June 14), an appropriate place for the expression of love and affection. It invites those with rocky love relationships to patch things up, and to do so with more heart and less uncertainty. Venus in Cancer encourages our affections and affinities to be carefully placed and nurtured. When attractions occur, they will have a lasting impression and will seem very strong and emotionally strong.
New Moon in Taurus on May 15 emphasizes the acquisition of new possessions, or it could mean there is a need to restore, replenish and maintain the old ones. Personal contentment counts with new possessions. Search for the value of what you need and want. Taurus is an exalted place for the Moon and the New Moon asks us to bring practical and needed new things into our life and enjoy the beauty that surrounds us.
Aries Taurus Gemini Cancer Leo Virgo Libra Scorpio Sagittarius Capricorn Aquarius Pisces
For more information about your Horoscope and what the stars have in store for you, order one of our detailed
Astrology Reports!
Want to know the theme of your relationship? This report compares your temperaments and personalities, whether you are married or living together.
Compatibility Report
Reveal as much information about you and your partner intention of opening doors of understanding and awareness.
Love Cards Report
Free Weekly Horoscope for your Sign
Aries: This is the week you get to say goodbye to Uranus after seven years. It's doubtless that he brought one or two changes to your existence, and life could have felt exciting and refreshing at times and uncertain and upsetting at others. If you're ready for greater stability and a more peaceful state of affairs, then Uranus's move into Taurus is welcome news. You can now relax a bit and create a more stable life. You will need to consider the material side of life though, because Uranus's move into Taurus along with a New Moon suggests the need for making (or anticipating) changes where finances and earning a living are concerned. It will be difficult to plan too much or create financial security because Uranus is such an unknown quantity, but if you follow your inspiration and act on your innovative ideas, you should receive everything you need.
---
Discover a personal profile and 1-year forecast based on advanced calculations of your name and birth date.
Numerology Report
---
Taurus: This week is one to mark on your calendar because on May 15, you not only get a New Moon in your sign, but Uranus as well. This is a dramatic occurrence, bearing in mind that Uranus only travels through your sign every eighty-four years, and he's going to be with you for the next seven. Basically, this week is the end of a chapter and the beginning of a new one. It may not necessarily be marked by a particular event; it could just be a different feel. You're likely to feel the possibilities of change and that life can't go on in the same old ways. It may also be that you're already in the process of change and, over the past few months, have had a sense of that. Either way, May 15 is the date to say goodbye to the old you and welcome in the new. It would be good to let go of something on this day that represents what you want to be free from, and then write your intentions for the new life you would like to live.
---
Need a guide for your growth and personal evolution based on astrological influences upon your personality?
New Age Natal Report
---
Gemini: It may be that no matter how hard you try, forging ahead with plans and ambitions just isn't working. If so, perhaps it's because you're swimming against the tide. Modern life insists on constant busyness, striving and external success, yet our souls long for something differnt. And it could be that your soul is trying to get your attention for a softer, gentler way to live. Maybe you just need a bit more rest. Or maybe you could gain valuable insight into life's issues from the wisdom of your dreams. Or maybe your soul would love to engage in creative or fun pastimes. If all is not well, consider this to be a sign that slowing down is in order. The New Moon alongside Uranus's shift into your zone of soul and spirit on May 15 is important because you are being directed to tune in and list to your inner whispers. Much beautiful change and development will occur if you manage to set your dial to "Soul FM."
---
This interpretation of your birth chart is written in simple language could be beneficial in self undestanding.
Merlin Report
---
Cancer: There is a double dose of good news for you this week. Not only is there a New Moon in the most auspicious region of your chart on May 15, but Uranus moves into the same region on the same day. Unlike the Moon, Uranus will stay there for seven years, which gives him plenty of opportunity to shake things up – in a good way. This is the point where you get to rewrite your script to create a better life. It is time to focus on new beginnings for your hopes and dreams, and you could start by writing down your vision for your future. If friends, groups and organizations are somewhere on your list, then you are on the right track, but ultimately this planetary shift is about taking a more optimistic view of your future and realizing that you can and must make a difference in the world.
---
Indra reveals your life's contradictory urges & drives as well as your basic motivation, perceptions, inclinations and character.
Indra Report
---
Leo: New beginnings in your career and professional life are written in the sky, as Uranus moving into Taurus and a New Moon combine their energies on May 15 to shake things up and potentially open a new direction. At the very least, this week bodes well for changes in your work and your direction in life. It might be time to say goodbye to the past and set off on a new path. This is an extreme example of course. More moderate options include positive opportunities in work or ambitions, a reshuffle, or possibly something a little controversial or unsettling. However, even difficult events are welcome because you need to be pushed into something that is better for you. Take whatever developments occur this week as an indication of the need for change, and inspiration will soon be knocking on your door.
---
Want a detailed report for parents to help with the child's growth to strengthen the assets and avert possible problems that the child could face in their life?
Child Astrology Report
---
Virgo: The adventurous theme continues as you are blessed with not just a New Moon but also Uranus in your zone of travel and expansion. This marks the beginning of a very optimistic period when your plans and ideas can be nurtured and given form. It's also great for broadening your horizons and discovering new things, making this an ideal time to study or to embark on some sort of adventure. Of course, adventure is not just traveling to new places; any time you move into the unknown can be classed as such, so wherever life seems to call you is exactly where you're meant to go. Just remember that it's not so much the destination that matters as your experience along the way.
---
Want a birthday to birthday practical guide to help you recognize opportunities and to learn from them.
Astrological Solar Return Report
---
Libra: Your theme for this week is renewal as a New Moon and Uranus take up residence in your transformation zone. Here is your chance to start afresh. Areas of relevance may include joint finances, debts, loans, inheritances and sudden financial events; intimate relationships; psychological change; psychic development; and endings and losses. There is nothing to fear as the presence of Uranus alongside the New Moon suggests that whatever is happening does so to liberate you in some way. You're also in the enviable position of being an open channel to inspirational ideas that could revolutionize the way you relate to the aforementioned areas. Take whichever matters are pressing, and write down how you envision things being better. Use the energies of the Uranian New Moon to kick start a new way of being.
---
Want to know the actual dates when the energies will influence your life in money, career, relationships, and communicaton?
Astro Forecast Report (3 months)
---
Scorpio: The New Moon alongside Uranus's entry into your partnership zone on May 15 is good news for your relationships particularly if you're looking for change or new beginnings. The chances are high that you could meet someone new who has an electrifying effect on you, or a partner could bring change to your life. The Uranian New Moon energies are also favorable for making a new start or changing the way you relate to people. The trick is to welcome the new and roll with any developments. Teaming up with others in an innovative or unusual fashion could be very stimulating, as could metaphysical conversations with like-minded people.
---
Want a one year forecast to understand the scope of influence for your personal Cards of Destiny?
Cards of Destiny Report
---
Sagittarius: Uranus enters Taurus on May 15 alongside a New Moon signaling new beginnings for your work, health and daily routines. If life has felt stagnant for a while, perhaps you need to identify what inspires you and follow that path. If that seems like too big a task, start small by making little changes to your health or looking for new opportunities changing your routines. You might find that this happens naturally without your doing anything. If so, remaining in tip-top condition will be an important focus because when life around you seems to be going a bit crazy, maintaining your yoga practice or exercise regimen will keep you strong and centered.
---
Contemplating a move? This report tells how you will react to the energies of the specific locations for relationships, finances, and security.
Relocation Information Report
---
Capricorn: Get set for life to become a little bit more exciting since Uranus moving into Taurus alongside a New Moon is bound to add a little sparkle to your days. This combination bodes well for anything connected with children, animals, creative projects, love affairs and speculation. In other words, it's time to have more fun and perhaps not take life so seriously. Do you remember the days when you used to be carefree? Uranus is on hand to help you regain that sense of innocence. If you'd benefit from a bit more romance, art, creative expression or humor and silliness, the universe is giving you all the permission you need to let your hair down a bit. Uranus in your zone of creativity will also enable you to march to your own drumbeat and care less about what other people think. That is a good thing if it means you get to experience greater authenticity.
---
Discover your character traits, relationship and career potentials – based on Edgar Casey Readings.
Cayce Past Life Report
---
Aquarius: Life is currently requesting a great deal of honesty and some soul searching, and this is likely to kick up a gear as Uranus enters your zone of home and foundations. The New Moon here too bodes very well for making changes on a domestic level and on an inner level. In short, a new chapter of your life begins here, but you must be very clear about what your soul wants. If you can confront your inner demons, let go of the past, and release all your unwanted baggage that may require courage to venture deep down and deal with your uncomfortable emotions, then this could actually be a turning point in your life.
---
Discover your past life connections that can carry over into your current life, accounting for interests, habits, even phobias.
Karmic Past Life Report
---
Pisces: Prepare to be inspired! The arrival of Uranus in your mental zone along with a New Moon and Mercury suggests that this is a turning point in how you think and perceive life. We all know our thoughts are instrumental in creating our reality. You can look forward to greater inspiration, more ideas and more innovation. This is all great if you are in any way creative or you work on the mental plane (such as a writer, speaker, teacher etc). You might suddenly be gripped by an urge to get your message across, making this a great time to start writing that book or connecting with your guides to impart information to others or studying an alternative subject such as astrology, metaphysics, and so on. Whichever way it manifests, this is a perfect time to change your attitude toward life and become a more conscious creator of your reality.
---
Discover your soul's intention for this lifetime, the lessons to be learned, qualities to develop, problems to be resolved, services to be rendered.
Karmic Insight Report
---
For more information about your Horoscope and what the stars
have in store for you, order one of our detailed
Astrology Reports for Couples!
---
Want to know the theme of your relationship? This report compares your temperaments and personalities, whether you are married or living together.
Compatibility Report
Reveal as much information about you and your partner intention of opening doors of understanding and awareness.
Love Cards Report