#Horoscope #Aries #Taurus #Gemini #Cancer #Leo #Virgo #Libra #Scorpio #Sagittarius #Capricorn #Aquarius #Pisces #Horoscope – overview of this week
The Center for the New Age is pleased to present
your Free Weekly Horoscope for June 17 – June 23, 2018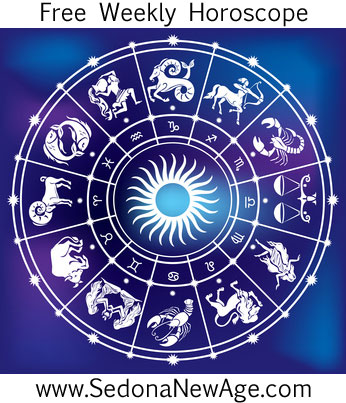 Receive our Free Weekly Horoscope in your Inbox
---
Aries Taurus Gemini Cancer Leo Virgo Libra Scorpio Sagittarius Capricorn Aquarius Pisces
Mercury in Cancer is trine Jupiter in Scorpio (June 19 – June 25). Mercury gets the message out there and the trine aspect brings gifts and positive breakthroughs, while Jupiter brings prosperity. This most favorable aspect brings good news of expansion and prosperity to those who are open to broadening their awareness.
Mercury in Cancer trine Neptune in Pisces (June 20 – June 25) brings thoughtful an engaging discussions and intuitive knowledge and perception. Communicate about spiritual needs with helpful counsel and receive gifts of renewed faith in your own beliefs.
First Quarter Moon in Virgo on June 20 instills a strong investigative curiosity encouraging us to assess matters properly, and to be pragmatic and specific when delegating certain tasks or jobs. First Quarter Virgo Moon is also an excellent time to launch a health program and to cleanse the body of excess toxins.
Venus in Leo opposite Mars in Aquarius (June 21- June 28) tends to draw our attention to the forces of love in a way that opens our awareness. This is a time when men and women, or masculine and feminine forces, are being made acutely aware of each other. Men and women who meet under these circumstances are often obsessed and crazed by the need to understand or accept the phenomenon of their differences. It is important to go easy on your loved ones during this Venus opposite Mars period.
Mercury in Cancer opposes Pluto in Capricorn (June 23 – June 28). Emotional perspectives of the intense and grotesque aspects of the news may be emphasized, causing horror, fascination, realization and for some people, a kind of triumph as well. Mind boggling awareness abounds as the need to comprehend awakening powerful issues comes through in our thoughts and discussions.
Aries Taurus Gemini Cancer Leo Virgo Libra Scorpio Sagittarius Capricorn Aquarius Pisces
For more information about your Horoscope and what the stars have in store for you, order one of our detailed
Astrology Reports!
Want to know the theme of your relationship? This report compares your temperaments and personalities, whether you are married or living together.
Compatibility Report
Reveal as much information about you and your partner intention of opening doors of understanding and awareness.
Love Cards Report
Free Weekly Horoscope for your Sign
Aries: As the Sun drops to the lowest point in your chart and Mars slows to a crawl, the time has come for you to return to home base and tend to your inner needs for a while, particularly from June 21. It might be that you've one or two things that need addressing, and if you're not able to move forward with speed or motivation, maybe it's because something else is more important. Home can be the most healing place to be, and while you might normally prefer to be a mover and a shaker in the outside world, there might be a certain sense of relief in being able to relish your creature comforts, allowing your spirit to be nourished.
---
Discover a personal profile and 1-year forecast based on advanced calculations of your name and birth date.
Numerology Report
---
Taurus: While you need to concentrate on getting your life as you want it, Venus's arrival in your zone of home and family invites you to remember the simple pleasures and to take time out from what might be an increasingly busy schedule to replenish your soul and remember what really matters. You sometimes need to be reminded that you function best when your senses are exposed to nature and beauty, and a soft and gentle schedule works better than an overly busy one. Give yourself time to enjoy your home and family along with life's simple pleasures, and let the other areas of your life fall into place when the time is right.
---
Need a guide for your growth and personal evolution based on astrological influences upon your personality?
New Age Natal Report
---
Gemini: This week brings golden opportunities to your work and material world, so you might witness a positive development or growth in the areas of money, career or service to others. If you blink, you could miss it though, because the energies feel so effortless that you might be inclined to sit back and let things happen. Therefore, it is advisable to be fully present and to grasp an opportunity when it presents itself. June 19 highlights the answer to any domestic problem you are experiencing, even if it is simply realizing the benefits of enjoying home comforts or organizing your household. It seems that the key to success in other areas of your life could lie in your domestic world or in allowing your inner compass to point the way.
---
This interpretation of your birth chart is written in simple language could be beneficial in self undestanding.
Merlin Report
---
Cancer: The Sun's move into Cancer on June 21 is good news for you, as it signifies the potential for a fresh start and the chance to recharge your batteries. This is the week when your energy should return, along with your motivation and enthusiasm. New ideas should be followed through because it is likely that whatever you come up with this week will turn out to be a positive move for you. The further good news is that there is a lucky alignment occurring in a favorable area of the sky, so progress should be fairly effortless. In fact, you could be rather fortunate this week, so make sure that you're ready to capitalize on whatever comes your way. The trick is to neither push nor pull, but you should also avoid sitting back and expecting everything to magically happen around you. By getting into the flow through positive thinking and progressive action, you will find that you get exactly what you need in the best possible way.
---
Indra reveals your life's contradictory urges & drives as well as your basic motivation, perceptions, inclinations and character.
Indra Report
---
Leo: The Sun's move into Cancer is your cue to adopt a slower pace of life. When we operate in a rushed state, we are not tuned in to anything, whereas when we are operating at a slower, more mindful pace, we feel more centered and in control of things. June 21, therefore, is a good time to be more mindful and to focus on the future and what you can do rather than what you can't. It might be time for a change, whether that's a change of a situation or perspective. Either way, this week is likely to have a fresh feel about it and the days around June 21 are likely to brush away any limitations, paving the way to positive new developments.
---
Want a detailed report for parents to help with the child's growth to strengthen the assets and avert possible problems that the child could face in their life?
Child Astrology Report
---
Virgo: The Sun's move into Cancer on June 21 is favorable for you, setting the scene for a social flavor and a variety of pleasant events. However, what might get in the way is your health and well-being. Mars in our house of health often leads to a mini burnout because we run around trying to do too much, and then we crash. This can be avoided by taking regular time to nourish the body, mind and soul. Given that this Mars transit will be going on for some time, it appears that your health and work – and how much energy you have to direct to your work and day-to-day living – is going to be a key feature. Sometimes we have to accept that we are fallible and that we can't do everything. Therefore, this is a good time to prioritize. Decide what is most important to you and discard the rest. The energy that arises from the spaces you create might be surprising.
---
Want a birthday to birthday practical guide to help you recognize opportunities and to learn from them.
Astrological Solar Return Report
---
Libra: The Sun's move into the success region of your chart puts the emphasis on where you're going in life – your ambitions, goals and direction. While an auspicious celestial formation highlights the material and practical areas of your life, the key to success lies in your willingness to surrender to a higher power. Therefore, if you want to see gains and benefits or receive inspiration relating to work, money or your health, you might need to ask for spiritual guidance and follow your intuition. Your dreams might also be particularly helpful, especially on June18 and June 19. The symbols and archetypes that pop up could well be parts of you seeking a greater expression or providing clues as to how you can channel inspiration to a better effect. Either way, there will be signs this week if you're ready to notice them.
---
Want to know the actual dates when the energies will influence your life in money, career, relationships, and communicaton?
Astro Forecast Report (3 months)
---
Scorpio: Sometimes we respond without thinking, leaving us worse off than we already were. It is better to focus on your goals for the future, and let everything else fall away. Rise above others' petty behaviors and behave graciously. If there's a situation that isn't working out, try to walk away rather than becoming embroiled. Keep your attention on the bigger picture, and let your creative ideas, inspiration, and optimism push you into a vision of a future that you want to manifest.
---
Want a one year forecast to understand the scope of influence for your personal Cards of Destiny?
Cards of Destiny Report
---
Sagittarius: It might help to remember that every adversity has the seed of an equivalent or greater benefit, particularly later in the week when life does not feel easy or joyous. Ask yourself what the situation is asking of you. Do you need to change, let go, be more mature, forgive, access your innate wisdom or be more assertive? The kite formation that occurs on June 19 suggests that it's time to move forward with your life purpose, but you might need to connect with higher guidance to help you on your way.
---
Contemplating a move? This report tells how you will react to the energies of the specific locations for relationships, finances, and security.
Relocation Information Report
---
Capricorn: The serious tone to recent times dissolves, and when the Sun moves into your relationship zone on June 21, you can look forward to pleasant times with others and the chance to reconnect with those who might have become satellites orbiting around you. Now is a great time to communicate openly with others and to enjoy spending time with loved ones and people whose company you enjoy. In doing so, you might notice the dark clouds begin to lift. So from June 21 onward, make love your priority, for it is love that heals all things.
---
Discover your character traits, relationship and career potentials – based on Edgar Casey Readings.
Cayce Past Life Report
---
Aquarius: Imagine you're flying in a spaceship through the solar system, and you come across a black hole. You would, of course, pass it in as wide a berth as possible and hope that you had enough power in your ship to not be sucked in. While you are not actually in any danger, there might be a situation in your life that seems to be overpowering you and that might even feel potentially destructive. If you feel you're losing power or that you're being sucked into something you can't escape and you are fearful about a particular outcome, remember that black holes don't adhere to the normal laws of physics. If you surrender to the process, you might be pleasantly surprised where you end up.
---
Discover your past life connections that can carry over into your current life, accounting for interests, habits, even phobias.
Karmic Past Life Report
---
Pisces: The planets are beginning to shift into favorable positions, potentially bringing you opportunities, greater inspiration and more joy. When the Sun moves into your house of fun on June 21, you can really let your hair down. It's a good time to allow inspiration to move you toward a big idea or a grand plan. All that really matters, though, is that you take a step closer to that which gives you meaning. As the Sun arrives in your zone of authenticity, it is advisable to consider all the aspects of your life – work, relationships, social activities, commitments, possessions – to decide whether they feel meaningful. Anything that you don't feel a strong or joyful connection to might be bringing your energy down. Perhaps it's time to go in search of what feels more meaningful.
---
Discover your soul's intention for this lifetime, the lessons to be learned, qualities to develop, problems to be resolved, services to be rendered.
Karmic Insight Report
---
For more information about your Horoscope and what the stars
have in store for you, order one of our detailed
Astrology Reports for Couples!
---
Want to know the theme of your relationship? This report compares your temperaments and personalities, whether you are married or living together.
Compatibility Report
Reveal as much information about you and your partner intention of opening doors of understanding and awareness.
Love Cards Report