#Horoscope #Aries #Taurus #Gemini #Cancer #Leo #Virgo #Libra #Scorpio #Sagittarius #Capricorn #Aquarius #Pisces #Horoscope – overview of this week
The Center for the New Age is pleased to present
your Free Weekly Horoscope for August 26 – September 1, 2018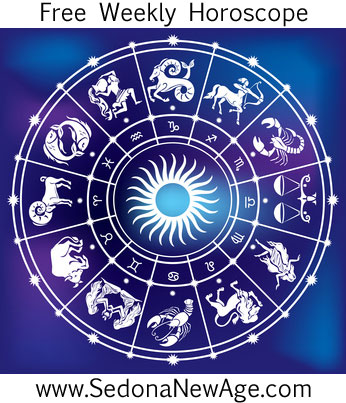 Receive our Free Weekly Horoscope in your Inbox
---
Aries Taurus Gemini Cancer Leo Virgo Libra Scorpio Sagittarius Capricorn Aquarius Pisces
Full Moon in Pisces (August 26) brings out the psychic in everyone. People can be very sensitive and as a result some people express themselves in a very artistic or perhaps even nonsensical manner. Many people become especially spacey, and parts of them may seem to drift off into alternative states of consciousness. Don't overdo anything as far as trying to accomplish the perfect atmosphere. A very little bit can go a very long way with the Full Moon in Pisces. Extensive drug and alcohol use and the need for escapism are often strong with this Moon.
Venus in Libra square Pluto in Capricorn (August 26 – September 4) may seem hard on the heartstrings since this is a difficult aspect for many people. Venus square Pluto usually involves difficulties such as loss or death of a loved one, and the obstacles of rejection, slavery and general oppression concerning those aspects of life to which we are undeniably attached and we hold dear. If something of this nature is occurring for you at this time, it is best to recognize that love will triumph in every dimension despite the pain of separation, or the disease and strife of the beloved.
Mercury in Leo square Jupiter in Scorpio (August 28 – September 5) creates a difficult block between the media, or communications industry, and the sponsors and producers of consumer goods. This block of energy flow occurs between Mercury, represented as the salesman, informant and negotiator and Jupiter, represented as the source that allows wealth to flow: manufacturer, banker, fund raiser etc. This is a time to be particularly cautious when looking for a job or changing jobs, asking for a raise, or signing any binding contracts concerning long-term investment and payment schedules. Dig harder to clarify the details of investigating a long term investment.
Aries Taurus Gemini Cancer Leo Virgo Libra Scorpio Sagittarius Capricorn Aquarius Pisces
For more information about your Horoscope and what the stars have in store for you, order one of our detailed
Astrology Reports!
Want to know the theme of your relationship? This report compares your temperaments and personalities, whether you are married or living together.
Compatibility Report
Reveal as much information about you and your partner intention of opening doors of understanding and awareness.
Love Cards Report
Free Weekly Horoscope for your Sign
Aries: Privacy, solitude, quiet time, meditation, dreams and contemplation – these are the themes of the Full Moon on August 26. You might feel inclined to withdraw a little from the world. The practical side of life might be demanding – finances, work, ambitions or your role in the outside world. You will benefit from stepping back and tuning in to your inner self, as this will give you greater insight into how to resolve any problems. It will also remind you that there's more to life than material success. Stability in your material world might be hard to achieve despite your best efforts, and the answer lies not in trying to control things but to simply accept that life is a process of flux: money comes and goes, work is sometimes good and not so good, and you're only as great as your last success. Take solace in the fact that you already know everything you could ever need to know; all you have to do is go within to access the answers.
---
Discover a personal profile and 1-year forecast based on advanced calculations of your name and birth date.
Numerology Report
---
Taurus: Recurring problems in our lives are usually signs that something needs to change so your task this week is to identify whether the issue that raises its head is a one-off or symptomatic of something deeper. Either way, a change of some sort is required – an aspect of your diet or lifestyle, the way you work or organize your affairs, or the way you approach a problem. With the Sun in your house of fun, it should be easier than usual to not take things so seriously, and this in itself could be the answer to your problems.
---
Need a guide for your growth and personal evolution based on astrological influences upon your personality?
New Age Natal Report
---
Gemini: The Full Moon on August 26 is likely to bring matters to a head with your career and direction in life. From your daily job to public duty or from your purpose in life to a career ambition, something this week is likely to shift and resolve. In fact, it could feel as though everything is starting to come together, and there should be a forward push toward bigger and better things, whether that's your career or a coveted goal in life. This is a great week for moving forward; just be careful not to try to do it all yourself. There is help behind the scenes and from unexpected sources (not necessarily another person but your spirit guide, angels, or your inner guidance system), and if you embrace that help, then your situation will be much easier and potentially more successful.
---
This interpretation of your birth chart is written in simple language could be beneficial in self undestanding.
Merlin Report
---
Cancer: The Full Moon on August 26 brings a refreshing antidote to the recent emphasis on practical affairs of life by bringing opportunities for adventure and experimentation. In fact, whatever is going on in your world, the answer could lie in pushing out of your comfort zone, taking a risk, being adventurous and expanding your sense of what is possible. From going away for a day or two and experiencing a change of scenery to reading a book that alters your perception on life, this week is all about seeing the world in a new way and setting sail for new horizons.
---
Indra reveals your life's contradictory urges & drives as well as your basic motivation, perceptions, inclinations and character.
Indra Report
---
Leo: This is a great week to make constructive changes or progress in a key area of your life, because not only is Mercury moving forward in your sign, but also your ruler, the Sun, forms a most helpful link with Saturn and Uranus. Positive developments are likely to be fairly effortless, blocks will magically disappear, problems will vanish into the ether, and life will chug forward once again. Of course, these planetary alignments aren't going to wave a magic wand over your entire life, but they indicate that at least one problem will be resolved, and if you are willing to make constructive changes while trying something different, progress will be even swifter. The Full Moon on August 26 brings developments to your financial situation, and this is a great opportunity to embrace transformation, not just in your material life, but also your life in general.
---
Want a detailed report for parents to help with the child's growth to strengthen the assets and avert possible problems that the child could face in their life?
Child Astrology Report
---
Virgo: The key to unlocking the puzzle of your progress lies with other people. While you are ably supported by Saturn and Uranus – making constructive change a strong factor this week – the Full Moon in your opposite sign on August 26 suggests that you need to cooperate in some way and be prepared to give a little. By allowing others to have their share of the limelight or helping people to achieve their aims, you might experience unexpected beneficial side effects. This is a good week to be creative, expand your beliefs about what is possible, and forge an inspiring partnership. If you get it right, this could be a week that things start to come together.
---
Want a birthday to birthday practical guide to help you recognize opportunities and to learn from them.
Astrological Solar Return Report
---
Libra: Like the fall of dusk, the pace and noise of life quiets down as the Sun moves into your "twilight" zone. Venus continues her journey through your sign, and the Full Moon on August 26 puts the focus on your daily life and your health. You will likely put your well–being at the top of your agenda now, and any tiredness or signs of a frazzled spirit can quickly be alleviated by taking time to nourish your soul. Art, meditation, sleep, rest, yoga, journaling and any other creative or soulful pastimes will soon restore your spirit. This helps you realize that when all is said and done, the best way to health and happiness is to steer clear of anything that feels discordant to your soul and instead to embrace what inspires you.
---
Want to know the actual dates when the energies will influence your life in money, career, relationships, and communicaton?
Astro Forecast Report (3 months)
---
Scorpio: The Full Moon in your house of fun on August 26 invites you to remember the carefree feeling of your youth, when there was nothing in particular that you had to do other than enjoy yourself. Most people's lives are crammed full of things to do – responsibilities, work, duties, activities and social engagements – but this is a great week to rip up your to-do list and notice how good it feels to release the need to do everything or to be perfect. There is a very social feel to this week, and you could benefit from spending more time with friends and getting out and about meeting new people.
---
Want a one year forecast to understand the scope of influence for your personal Cards of Destiny?
Cards of Destiny Report
---
Sagittarius: Sometimes we feel we have been assigned numerous and increasingly difficult tasks that become impossible to fulfill. However, almost by magic, the work gets down. The moral of this is that if we take a break from our troubles, we will work out a solution. The quest for new ideas, long-term changes and commitments, creative interests, quality time and interaction with children, social activity, entertainment and amusements, the company of friends and loved one are all there for you with this Full Moon in Pisces on August 26. There is no need to overstretch yourself, because help is at hand. All you have to do is step back and accept the assistance – whatever form it takes.
---
Contemplating a move? This report tells how you will react to the energies of the specific locations for relationships, finances, and security.
Relocation Information Report
---
Capricorn: This should feel like a much more positive and constructive week when it becomes easier for things to move forward and solutions emerge. There's a sense of effortlessness about life this week as your ruling planet forms a series of wonderful links with the Sun, the Moon and Uranus. The key to your success (aside from not trying too hard) is your attitude. We can sometimes be quick to judge something as bad and complain about it, whether it's the president of the United States or the way the neighbor parks her car. By accepting that things are what they are and that we're not always able to see the bigger picture, it becomes easier to accept life in all its complicated glory. That in itself will result in a much happier, healthier you.
---
Discover your character traits, relationship and career potentials – based on Edgar Casey Readings.
Cayce Past Life Report
---
Aquarius: Few of us ever stop to consider the importance of values, yet they are often the key to a successful and happy life. If your life is at odds with your most precious values, then it stands to reason that you're going to be living with some conflict. So what are your core values? Are they beauty, freedom, creativity, spirituality, health and nature? Perhaps you consider love is paramount, as is family. Some people put security, courage, kindness and service at the top of the list. As the Full Moon occurs in your zone of values on August 26, this is a good time to assess what you need in order to thrive and feel inspired, and then start implementing those things.
---
Discover your past life connections that can carry over into your current life, accounting for interests, habits, even phobias.
Karmic Past Life Report
---
Pisces: The annual Full Moon in your sign on August 26 is a cue to take stock of your life to see where you might benefit from applying some inspiring change. Maybe you will have a realization that encourages you to do things differently. Indeed, doing things differently could be the key to your success now, especially if you can combine the best of the old with a progressive response. There is no need to be radical or controversial, just gently ease into new territory, bringing the best of what you already have. Other people might play a key role this week, so be prepared to accept offers of help, particularly from those who have greater knowledge or experience than you.
---
Discover your soul's intention for this lifetime, the lessons to be learned, qualities to develop, problems to be resolved, services to be rendered.
Karmic Insight Report
---
For more information about your Horoscope and what the stars
have in store for you, order one of our detailed
Astrology Reports for Couples!
---
Want to know the theme of your relationship? This report compares your temperaments and personalities, whether you are married or living together.
Compatibility Report
Reveal as much information about you and your partner intention of opening doors of understanding and awareness.
Love Cards Report