#Horoscope #Aries #Taurus #Gemini #Cancer #Leo #Virgo #Libra #Scorpio #Sagittarius #Capricorn #Aquarius #Pisces #Horoscope – overview of this week
The Center for the New Age is pleased to present
your Free Weekly Horoscope for October 14 – October 20, 2018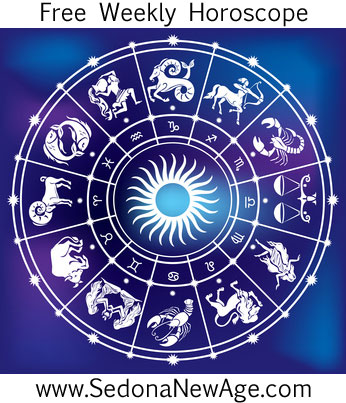 Receive our Free Weekly Horoscope in your Inbox
---
Aries Taurus Gemini Cancer Leo Virgo Libra Scorpio Sagittarius Capricorn Aquarius Pisces
Mercury and Venus conjunct in Scorpio (October 15 – October 19) suggests the need to communicate love. It would be best to communicate love without getting too hung up on emotional issues. Hold no expectations in the expression of love, and take no offense if your own attempts to express your love are poorly interpreted.
First Quarter Moon in Capricorn on October 16 strongly emphasizes the need for serious labor. Some staunch determination is required. There is a steadily mounting concern to achieve a notable level of accomplishment or completion in projects.
Mercury in Scorpio trine Neptune in Pisces (October 19 – October 25) brings diplomacy in speech, and it also brings intuitive and uplifting knowledge. Communicate about spiritual needs with helpful counsel and receive gifts of renewed faith in your own beliefs.
Mercury in Scorpio is square Mars in Aquarius (October 19 – October 23). Headstrong thinking creates complications, and indecisiveness or confusion occurs around some activities. Under the influence of this aspect, it is not a good time to lose one's temper. Be especially careful to watch what you say, preferably thinking before you speak; words can be easily taken the wrong way. Mercury square Mars makes it difficult for some to justify their actions or explain why they take a certain stand in life. Refrain from making risky comments and be careful not to misinterpret information as being hostile or personal.
Aries Taurus Gemini Cancer Leo Virgo Libra Scorpio Sagittarius Capricorn Aquarius Pisces
For more information about your Horoscope and what the stars have in store for you, order one of our detailed
Astrology Reports!
Want to know the theme of your relationship? This report compares your temperaments and personalities, whether you are married or living together.
Compatibility Report
Reveal as much information about you and your partner intention of opening doors of understanding and awareness.
Love Cards Report
Free Weekly Horoscope for your Sign
AriesAries: There comes a time when every relationship becomes stale and complacency sneaks in. If you are taking people for granted or others are taking you for granted, events this week are likely to bring these disgruntlements to the fore. The cure to such problems lies in appreciation and spending quality time together. You might also need to go with changes that appear to be happening outside your conscious control. They will serve to push you out of dormancy. Sometimes we need to be kicked out of our comfort zones to move forward.
---
Discover a personal profile and 1-year forecast based on advanced calculations of your name and birth date.
Numerology Report
---
TaurusTaurus: Your day-to-day life may not feel the most stable right now. In fact, things could feel out of sorts. At best, something could happen to bring a positive change into your life. At worst, life might feel like a seesaw. The challenge is to determine how you want your life to be, and then plan it that way. Of course, we can't always rely on our plans to come to fruition, as sometimes the universe has other ideas, but you can have a loose vision with some key qualities you desire in your life. Perhaps you want time to relax or to be creative. Maybe you want to be more organized and efficient. Your vision might feature happy, thriving relationships or a really satisfying and challenging career. Whatever your vision, put it out there and then see what happens.
---
Need a guide for your growth and personal evolution based on astrological influences upon your personality?
New Age Natal Report
---
GeminiGemini: Few great works of art were ever created by playing it safe, and this is perhaps what you need to be reminded of this week. You might not be in the process of creating a masterpiece, but you could be involved in a situation that would benefit from thinking outside the box so whether you're dealing with business or a creative project, try to stay true to your heat and do what feels right for you, even if it's a bit risky. Just be mindful of conflict, because it might be easy to react with anger or irritability when someone disagrees with you. If you feel you're in a snappy mood, it might be because you've been compromising on an issue, and now is the time when enough is enough. Articulate your feelings, but try to avoid unnecessary confrontation.
---
This interpretation of your birth chart is written in simple language could be beneficial in self undestanding.
Merlin Report
---
CancerCancer: This week is likely to bring you to a crossroads, where you have to choose between the past and the future. An opportunity might arise that requires you to let go of something. Attachments to home, family, or the way things have been may be at odds with a desire to move forward and embrace change, but you will benefit from not clinging to whatever is safe. Whether you're in the throes of redecorating or deliberating over a major life change, the advice is the same: dare to be different, and you will benefit from the refreshing energies that the opportunity brings.
---
Indra reveals your life's contradictory urges & drives as well as your basic motivation, perceptions, inclinations and character.
Indra Report
---
LeoLeo: This week, it will pay to do things differently. Welcome change and accept opportunities and invitations that run counter to your usual ways of doing things. You might be more willing to entertain new ideas or to try a new approach. This is a great time to change limited ways of thinking and to explore new concepts that could, in the long run, alter the course of your life.
---
Want a detailed report for parents to help with the child's growth to strengthen the assets and avert possible problems that the child could face in their life?
Child Astrology Report
---
VirgoVirgo: If you want your financial position to change, you might have to think outside the box. It could also help to keep your mental processes on an even keel. Mercury's square to Mars suggests that things will try your patience this week, and you might have to deal with a short temper, impatience or general irritation. It could help to examine the real source of irritation, as the external trigger could be masking something bigger. Generally you're in a good place with a more optimistic state of mind than in previous years, so whatever is going on this week is likely to be a blip and can easily be remedied by putting things into perspective. Realize how much you have that is actually going your way. Try to slow down this week and take time to do whatever soothes and grounds you. A little quiet time will enable you to go back into the mix with a calm, positive and grounded state of mind.
---
Want a birthday to birthday practical guide to help you recognize opportunities and to learn from them.
Astrological Solar Return Report
---
LibraLibra: With Venus, Jupiter and Mercury in your zone of prosperity and abundance, this could be a golden time for you moneywise, and when the Sun joins them next week, you're going to have even more prosperity potency. Thus, you could get lucky or see a big shift financially, making this a time when you feel confident about your ability to earn money and manifest it when necessary. The deeper significance of all these positive planets in your money zone, though, is to use your talents and do what you enjoy. Heed this message from Shakti Gawain: "The universe will pay you to be yourself and do what you really love."
---
Want to know the actual dates when the energies will influence your life in money, career, relationships, and communicaton?
Astro Forecast Report (3 months)
---
ScorpioScorpio: We constantly broadcast signals to others. Ideally, these signals are aligned with our conscious intent, but if not, there can be trouble as people can pick up on something emanating from us that might not be congruent with what we're saying. This week is all about how you communicate. If a family member (or anyone else, for that matter) is driving you made with an annoying behavior, it might be best to stop smiling sweetly and tell that person exactly what you prefer. You're in a prime position to express yourself and state your needs, so when you feel the inner rumblings of discontent, take that as your cue to start talking.
---
Want a one year forecast to understand the scope of influence for your personal Cards of Destiny?
Cards of Destiny Report
---
SagittariusSagittarius: The people we associate with are often a reflection of ourselves, so it might be helpful to see what messages these people have. Perhaps it is time for you to change, and a friend, acquaintance or colleague is mirroring this. Maybe matters in a group dynamic or within an organization are provoking changes. The overriding message is to be flexible and don't try to keep things as they are. Remember that whoever shows up is exactly the right person.
---
Contemplating a move? This report tells how you will react to the energies of the specific locations for relationships, finances, and security.
Relocation Information Report
---
CapricornCapricorn: Uranus's journey into your zone of fun has been encouraging you to be more carefree for the past few months and now with Mercury square to Mars, you can be forgiven for being a bit uptight when things don't quite go according to plans. In a world where so many pressures and restrictions are placed on us, this isn't so bad. Whatever is going on in your life, it will pay to not take it too seriously. If something doesn't work out or doesn't go the way you planned, shrug your shoulders and see where the alternative might take you. Sometimes the experimental way is the best.
---
Discover your character traits, relationship and career potentials – based on Edgar Casey Readings.
Cayce Past Life Report
---
AquariusAquarius: With Uranus retrograding through your domestic zone, this could be an interesting time for you, particularly in your personal life. It's certainly advisable to do something you might have thought differently about before. Some Aquarius folks who have resisted settling down are now doing so and others who have been too settled are breaking free. What's interesting about this week, though, is that the direction of your life comes into play, putting the focus on your career or your overall purpose. By being true to yourself and making key changes on an inner level, your path in life will magically fall into place. All you need to remember is to not cling to what is safe. The more you can take the less trodden path, the more on track you will be.
---
Discover your past life connections that can carry over into your current life, accounting for interests, habits, even phobias.
Karmic Past Life Report
---
PiscesPisces: There is still a transformational theme going on in your life, but this week, you will hasten the process by doing things differently. Perhaps it is more accurate to say that you'll benefit by thinking differently, which will then lead to different choices and behaviors. Maybe the way you were doing something wasn't working out, and now you'll benefit from changing your approach. Change can be rather easy this week so long as you don't cling to what's safe or remain stuck in your usual groove. You could receive an enlightening thought or idea. If so, don't try to stuff the genie back in the bottle. Instead, work with whatever comes to mind, because chances are that it's going to lead you to a state of greater empowerment.
---
Discover your soul's intention for this lifetime, the lessons to be learned, qualities to develop, problems to be resolved, services to be rendered.
Karmic Insight Report
---
For more information about your Horoscope and what the stars
have in store for you, order one of our detailed
Astrology Reports for Couples!
---
Want to know the theme of your relationship? This report compares your temperaments and personalities, whether you are married or living together.
Compatibility Report
Reveal as much information about you and your partner intention of opening doors of understanding and awareness.
Love Cards Report