#Horoscope #Aries #Taurus #Gemini #Cancer #Leo #Virgo #Libra #Scorpio #Sagittarius #Capricorn #Aquarius #Pisces #Horoscope – overview of this week
The Center for the New Age is pleased to present
your Free Weekly Horoscope for October 28 – November 3, 2018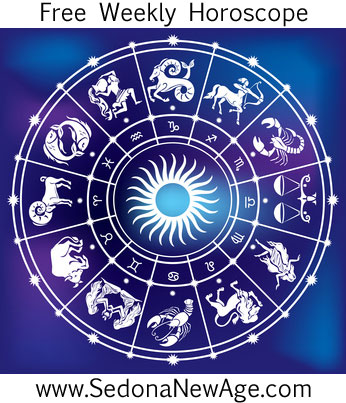 Receive our Free Weekly Horoscope in your Inbox
---
Aries Taurus Gemini Cancer Leo Virgo Libra Scorpio Sagittarius Capricorn Aquarius Pisces
Mercury and Jupiter are conjunct in Scorpio (October 29 – October 31) creating expansive talk which spreads quickly with news about the economic state of matters. Thoughts and information regarding some form of visionary breakthrough highlight this aspect. On more mundane levels, this is a prosperous aspect for communicating the need for a job or a financial loan.
The Last Quarter Moon in Leo on Halloween night emphasizes the need to be entertained and to enjoy life. When the Moon is waning in Leo, it urges us to take special care of ourselves as well as the children in our lives especially on Halloween. If you must work with others, allow frivolity to flow. The work will get done, but the child in everyone has to play now and then.
Mercury enters Sagittarius (October 31 – December 1) exuding an emphasis on expansion, exploration and vision. People are most curious in their communicative efforts to ascertain what is happening in the world so this is a good time to share visions with others.
Venus enters Libra (October 31 – December 1) and the course of magnetism, affection and feminine perception begins to focus on harmonizing and balancing relationships, marriages and friendships. Through dealing, compromising, and attempting more sensitivity to others, living with and showing affection to those with whom we have chosen to be, becomes the focus of this time.
Aries Taurus Gemini Cancer Leo Virgo Libra Scorpio Sagittarius Capricorn Aquarius Pisces
For more information about your Horoscope and what the stars have in store for you, order one of our detailed
Astrology Reports!
Want to know the theme of your relationship? This report compares your temperaments and personalities, whether you are married or living together.
Compatibility Report
Reveal as much information about you and your partner intention of opening doors of understanding and awareness.
Love Cards Report
Free Weekly Horoscope for your Sign
Aries: After the mental stimulation and activity you have experienced, it's relax or burst time. And relax you do with a vengeance, letting your hair down. Romance, partying, dancing – whatever gives you the most fun – is the right activity for the end of the month (October) activity. And with November dawning, you're in a very successful period and it will get even more successful as the month continues. Doing right is more important than feeling right; you will feel in harmony when you've achieved your outer goals.
---
Discover a personal profile and 1-year forecast based on advanced calculations of your name and birth date.
Numerology Report
---
Taurus: Mercury will travel with Jupiter from the 29th to the 31st indicating a nice payday. It shows good financial cooperation with the spouse, partner or current love. Debts are easily paid and this is a positive period to contact outside investors if you have good ideas for projects. There will be far less stress and strain in your life. Not just rest and relaxation, but lots of recreation make up the three Rs for you all week long. You still have the time and inclination to deal with the funds, loans, finances and investments that have been on your mind, but much better health – mentally and physically – will actually be a part of this week.
---
Need a guide for your growth and personal evolution based on astrological influences upon your personality?
New Age Natal Report
---
Gemini: You will realize that discretion and care are essential if you want to put financial troubles behind you and be totally self-sufficient and independent in money matters. You may even want to set up an independent, home-based business/office for this. Also, equally important for you will be your personal journeys of faith, mantra, prayer and worship. This is not pilgrimages or visits to holy places so much as meditation and spiritualism as you try to get closer to realization of God.
---
This interpretation of your birth chart is written in simple language could be beneficial in self undestanding.
Merlin Report
---
Cancer: November is a very eventful kind of month and you will have the energy, willpower and strength to cope. And that's just what you begin to experience now. Love and money angles will be particularly energized this week. Health will be better and you'll also take better care of yourself physically as you want to be fit in appearance and turnout too.
---
Indra reveals your life's contradictory urges & drives as well as your basic motivation, perceptions, inclinations and character.
Indra Report
---
Leo: This week you will be alert, ready, poised for the kill, the lord of the jungle of modern civilization, living up to your namesake, the lion. Mercury is in your 4th house showing family support and connections. Perhaps the most important function of the 4th house is to restore emotional harmony – to digest and come to terms with the past. Those of you involved in formal types of therapy will make good progress. Your positive outlook will be tailor-made for action, productive work, good family bonding. Underlying this will be much better health and reserves of energy that help you get things done.
---
Want a detailed report for parents to help with the child's growth to strengthen the assets and avert possible problems that the child could face in their life?
Child Astrology Report
---
Virgo: Your short term financial goals are basically achieved and you can shift your attention to intellectual interests and communication. This is a good period for scoping out a new car or communication equipment, but only do the research; don't buy. Wait a while. Journeys and relationships are important for you. With travel comes a certain distancing yourself from this world you live in, a touch of world-weariness, ennui, disillusionment. It's only the reaching out to places and people that will help you overcome this, as well as the sense of aloneness that could overwhelm you, but have faith: the universe will provide you with solace. It always does.
---
Want a birthday to birthday practical guide to help you recognize opportunities and to learn from them.
Astrological Solar Return Report
---
Libra: You will experience a total shift this week. It's not that you are weak-minded, vacillating between different ideas, but it's just that your sheer mental energy has to let off steam. In addition to this, there's your thirst for knowledge and wisdom. It's excitement of a totally different kind now – relaxation, fun and games, recreation, partying and dancing the night away. There will be greater closeness and intimacy with the special person(s) in your life, and in your serious look at the lighter side of life.
---
Want to know the actual dates when the energies will influence your life in money, career, relationships, and communicaton?
Astro Forecast Report (3 months)
---
Scorpio: Prosperity is strong right now, but will get even stronger as November proceeds. Family ties, romance, love and your own health register a major upswing this week – especially love whether you're married or single. It's as if nothing can go wrong and joy can have no end. Family finances and funds will have to be attended to and domestic matters as well. The bonding and closeness you experience makes all this very easy to handle, even pleasurable.
---
Want a one year forecast to understand the scope of influence for your personal Cards of Destiny?
Cards of Destiny Report
---
Sagittarius: Introspection, evaluation of your aims and goals, even contemplation and meditation – a different kind of progress – is achieved this week. It could all have been triggered off by a challenge on the work front. You'll also realize that the demands of your job/profession are a hindrance in your forming close bonds with others, much as you'd like to do so. These doubts are better handled with less stubbornness on your part. You'll learn to deal with these contrary pulls, and in fact, resolve them for the greater good of all.
---
Contemplating a move? This report tells how you will react to the energies of the specific locations for relationships, finances, and security.
Relocation Information Report
---
Capricorn: The expectation and fun of Halloween will pass in one sense, or perhaps you'll start finding work itself to be a kind of holiday, as there'll be so much fun and excitement in it. This will be in the form of capital formation, fund-raising, funds, investments – the mega-buck scene for you to be a part of. In addition, social and personal interactions, and family bonds that go back – and ahead a whole lifetime – will contribute to your positive feelings right now. You're careful of the feelings of others as well, not wanting to hurt or antagonize anyone, treading softly in tense situations, all of which conspire to provide a heartfelt week for you.
---
Discover your character traits, relationship and career potentials – based on Edgar Casey Readings.
Cayce Past Life Report
---
Aquarius: You have the financial favor of bosses, elders, friends and the current love. Pay raises (official or unofficial) may be likely. Although this is not a yearly financial peak, this week it is close. There is greater power, strength of purpose, energy, vitality, zest – you name it – for you. Professional or business success along with credit, popularity, power and authority are in your consciousness. And you handle it well. Peace and harmony in the home are vitally important for you and you will strive to maintain them at all costs, abandoning pride and ego. It's no wonder your aura is so positive this week!
---
Discover your past life connections that can carry over into your current life, accounting for interests, habits, even phobias.
Karmic Past Life Report
---
Pisces: This week you will fix your sights firmly on the distant horizon of the future and make your way there firmly and determinedly. You're ready to mould the world, the future, the millennium, to your own special design. You will have the inspiration, the flair to make the right moves and choices to modify your perspective, your behavior, your priorities to get where you want to be. Meanwhile, in the immediate present, there will be, in addition, involvement and performance of rituals and ceremonies, maybe even rites of religion and society.
---
Discover your soul's intention for this lifetime, the lessons to be learned, qualities to develop, problems to be resolved, services to be rendered.
Karmic Insight Report
---
For more information about your Horoscope and what the stars
have in store for you, order one of our detailed
Astrology Reports for Couples!
---
Want to know the theme of your relationship? This report compares your temperaments and personalities, whether you are married or living together.
Compatibility Report
Reveal as much information about you and your partner intention of opening doors of understanding and awareness.
Love Cards Report