#Horoscope #Aries #Taurus #Gemini #Cancer #Leo #Virgo #Libra #Scorpio #Sagittarius #Capricorn #Aquarius #Pisces #Horoscope – overview of this week
The Center for the New Age is pleased to present
your Free Weekly Horoscope for November 11 – November 17, 2018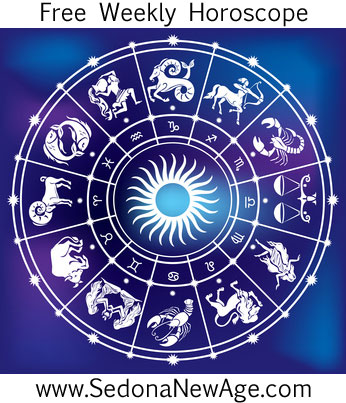 Receive our Free Weekly Horoscope in your Inbox
---
Aries Taurus Gemini Cancer Leo Virgo Libra Scorpio Sagittarius Capricorn Aquarius Pisces
First Quarter Moon in Aquarius on November 15 puts the spotlight on eccentric and unusual breakthroughs of humankind. We are all aware of great shifts of energy and the Aquarius Moon will assist our moods to meet and formally address humanity's newest challenges.
Mercury in Sagittarius square Neptune in Pisces (November 17 – November 20) often brings difficulty in communications with the spirit world, and with understanding human spirituality and beliefs. As a result, talk and discussion concerning what we believe in and strive for may be greatly misunderstood. Anticipate religious or belief related arguments and disputes.
Aries Taurus Gemini Cancer Leo Virgo Libra Scorpio Sagittarius Capricorn Aquarius Pisces
For more information about your Horoscope and what the stars have in store for you, order one of our detailed
Astrology Reports!
Want to know the theme of your relationship? This report compares your temperaments and personalities, whether you are married or living together.
Compatibility Report
Reveal as much information about you and your partner intention of opening doors of understanding and awareness.
Love Cards Report
Free Weekly Horoscope for your Sign
Aries: In Feng Shui, the general principle is to surround yourself with objects you love or find useful. If we go around our homes removing all that doesn't inspire us, what we are left with is what gives us a sense of meaning: the memories contained in certain photographs, objects from our travels, trophies or certificates of our achievements, and items that inspire love and beauty. As Jupiter moves into your house of adventure and beliefs , the good news is that life is not only about to get a whole lot more exciting but it's also going to help you determine what is meaningful for you. Whether you decide to go on holiday or sign up for a course of study, you can be sure that the choices you're about to make will be the right ones.
---
Discover a personal profile and 1-year forecast based on advanced calculations of your name and birth date.
Numerology Report
---
Taurus: You can benefit from embracing new beginnings, whether that's an attitude toward others or a change in circumstances. New relationships look favorable and existing ones can become closer. As Jupiter moves into your zone of joint finances and intimacy, there are two paths open to you. First, you will find it easier to share what you have, whether that's money or feelings; thus, you will open avenues of greater intimacy and deepening bonds. Second, you will begin to feel more empowered, and as a result, you might enter a more prosperous stage of life in which you command more respect and more money. Whatever the case, closer bonds with others and an increase in your bank balance are likely and this is something you have to look forward to not just this week but for the next twelve months!
---
Need a guide for your growth and personal evolution based on astrological influences upon your personality?
New Age Natal Report
---
Gemini: While the Sun and Moon continue to inspire you to get your life in order (perhaps becoming more organized and efficient or by putting into place healthy practices that will benefit your well-being), Jupiter's moving into your relationship zone sparks a new chapter in your personal life. Much thought is likely to be given to your relationships and with the dynamics of other people in general, but it should mainly be positive as Jupiter brings good fortune, benevolence and growth. The key to understanding where you're at is to ask yourself whether a relationship is growth inducing and feels meaningful. Any relationship that ticks these boxes is likely to progress and be a source of happiness, but it probably wouldn't do you any harm to distance yourself from those with whom you no longer connect.
---
This interpretation of your birth chart is written in simple language could be beneficial in self undestanding.
Merlin Report
---
Cancer: The fun and creativity theme continues this week, but there will likely be a subtle but important shift as Jupiter has moved into your zone of health and work. Expect positive developments in one or both of these areas, especially if they are in need of improvement or if either holds importance in your life. If work is important to you, then you will most probably benefit from this Jupiter transit in ways that make you considerably happier. You might find that you enjoy your work more or that you have an opportunity to make your work more meaningful. Your health is likely to improve without much effort on your part. If you're involved in health or healing, Jupiter's change of signs last week bodes very well for you. Ultimately, this week is about remembering the healing power of laughter and enjoying the serviced that you provide others.
---
Indra reveals your life's contradictory urges & drives as well as your basic motivation, perceptions, inclinations and character.
Indra Report
---
Leo: You're one of the signs that gets the golden goose as Jupiter moves into the area of your chart corresponding with fun and enjoyment. Here is your ticket to lighter, more enjoyable times, which is probably just what you need if recent months have not been easy. You should find over the weeks and months that life invites you to play again and that the heaviness you've been going through will, at the very least, be offset by Jupiter's colorful energies. If you are even slightly creative, then now is the time to relish your abilities or to express your ideas or emotions. Many Leos are natural actors, artists and entertainers, so get yourself in front of an audience, get out the paintbrushes, scribble down your ideas, write something, sing or dance – whatever ignites your soul. This is the message of Jupiter and it will help you to remember what's important.
---
Want a detailed report for parents to help with the child's growth to strengthen the assets and avert possible problems that the child could face in their life?
Child Astrology Report
---
Virgo: Support in your domestic life might have been a theme for some time now, from your home to your family ties. This past year you've likely experienced fewer difficulties, but the real turning point comes this week, when a much happier phase begins. Why is this important? Because the happier and more secure you feel in your foundations, the more able you will be to go out into the world and shine your light. This is the beginning of a time when it will be much easier to make progress in the world.
---
Want a birthday to birthday practical guide to help you recognize opportunities and to learn from them.
Astrological Solar Return Report
---
Libra: We only have to watch a hypnotist at work to see how amazingly powerful the human mind is. It seems to boil down to one simple equation: you can do what you think you can. Jupiter in your mind zone, heralds a more confident and optimistic chapter of your life. You will start to believe that you can accomplish things that previously you might have doubted. If over the past few years you have become too cozy in your comfort zone, Jupiter is going to help you joyously and enthusiastically embrace new possibilities which should lead you to a much more successful state of being.
---
Want to know the actual dates when the energies will influence your life in money, career, relationships, and communicaton?
Astro Forecast Report (3 months)
---
Scorpio\: With Jupiter in your zone of money, values and possessions, you have the opportunity to acquire what you want if you're in need of more cash. New ventures, partnerships and projects are all revamped and streamlined by you. Now, family, relatives, parents and in-laws, children and more importantly your loved one/spouse/mate draw into a magic circle of love and sharing. You probably have never before been cherished and loved more than what you experience this week. This is the time to create a fresh approach to your life and decide what you want to do. Bear in mind that using your gifts and talents will lead to greater prosperity, sooner, rather than later.
---
Want a one year forecast to understand the scope of influence for your personal Cards of Destiny?
Cards of Destiny Report
---
Sagittarius: Jupiter's return to your sign is worthy of celebration, because even though you don't see the changes yet, subtle developments are happening behind the scenes. In the weeks and months ahead, a new life will begin to take shape. This is particularly good news for your personal life, including home, family and relationships, as well as your personal hopes and desires. Ultimately, this transit is about remembering who you are and allowing the choices that you make to reflect your identity.
---
Contemplating a move? This report tells how you will react to the energies of the specific locations for relationships, finances, and security.
Relocation Information Report
---
Capricorn: This week, the emphasis is still on your connections with others, so this could be quite a sociable time, as appointments with friends, groups and meetings fill your schedule. Any difficulties in this area should now be passing, and you can concentrate fully on making positive developments to your social life and your future plans. Jupiter in your soulful zone suggests that in some ways, a quieter phase of life is the way forward, so for now, try to simplify your life. Time spent with friends, enjoying like-minded company, pausing to find stillness, and journeying into the mystical realms – through your dreams, prayers, or meditations – will begin to feel deeply satisfying as well as provide you with a source of wisdom whenever you need to draw on it.
---
Discover your character traits, relationship and career potentials – based on Edgar Casey Readings.
Cayce Past Life Report
---
Aquarius: You are a natural team player and with Jupiter in your zone of friends and groups, you're about to become much more in demand. Expect your social life to blossom. Your desire to help make the world a better place is likely to find a greater or more suitable outlet. While we generally create our opportunities in life, this is one time other people are likely to bring opportunities to you. At the very least, you will benefit from the generosity and help of friends, acquaintances and even strangers. Ultimately, Jupiter's gift to you is one of increasing friendship and a greater sense of meaning and belonging in the world.
---
Discover your past life connections that can carry over into your current life, accounting for interests, habits, even phobias.
Karmic Past Life Report
---
Pisces: Jupiter brings you the gift of success, but first you have to become clear about what success means to you. It might not fit the standard definition of achievement in career, recognition and ideally, a good paycheck to go with it, but it's important to know because you're likely to find opportunities come thick and fast over the next twelve months. Be sure to choose wisely. Imagine yourself blooming and picture what kind of environment you are in; see the kind of work you're performing. Maybe you will see it more as play. Who knows. You now have a rare opportunity to really make something of your life and to head off in a new direction that brings you a greater sense of meaning and purpose.
---
Discover your soul's intention for this lifetime, the lessons to be learned, qualities to develop, problems to be resolved, services to be rendered.
Karmic Insight Report
---
For more information about your Horoscope and what the stars
have in store for you, order one of our detailed
Astrology Reports for Couples!
---
Want to know the theme of your relationship? This report compares your temperaments and personalities, whether you are married or living together.
Compatibility Report
Reveal as much information about you and your partner intention of opening doors of understanding and awareness.
Love Cards Report