#Horoscope #Aries #Taurus #Gemini #Cancer #Leo #Virgo #Libra #Scorpio #Sagittarius #Capricorn #Aquarius #Pisces #Horoscope – overview of this week
The Center for the New Age is pleased to present
your Free Weekly Horoscope for December 30, 2018 – January 5, 2019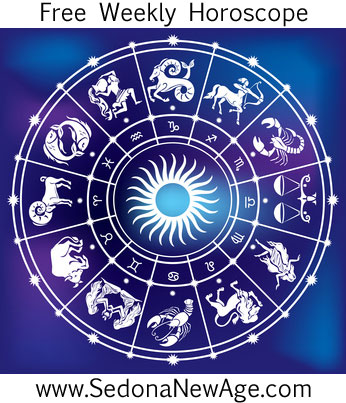 Receive our Free Weekly Horoscope in your Inbox
---
Aries Taurus Gemini Cancer Leo Virgo Libra Scorpio Sagittarius Capricorn Aquarius Pisces
Mars enters Aries (January 1 – February 14) initiating activities in the most forward and direct manner possible. Mars is the god of war in mythology. Often Mars related experience is generated through our impulses, our anger and rage, our fear and compulsion, our need to confront and bring forth the primal force of energy and zeal that is our ability to take action, our spark of life. Mars' influence generates activity and heat which can often appear explosive under pressure. Most of us are easily drawn towards the need to find warmth and affection or just plain attention at this time, but the relentless spirit of Mars must be carefully tempered in our busy lives. A lot goes on with Mar in Aries, so when the strain becomes too absorbing, remember to rest now and then.
The New Moon in Capricorn on January 5 encourages us to put out a strong and determined attitude towards progress. This is a good time to initiate long term goals and to incorporate a new daily habit that will have satisfying and long lasting results.
This New Moon is accompanied by a partial solar eclipse occurring between Saturn and Neptune. The eclipse conjunct Saturn gives a serious and conservative influence, but a helpful aspect to Neptune lightens the mood. This is an excellent eclipse for starting or growing a business. It is ideal for creative, musical and artistic projects and encourages acts of kindness and charity. With integrity and good intention, it is possible to build your little project into a big business.
Aries Taurus Gemini Cancer Leo Virgo Libra Scorpio Sagittarius Capricorn Aquarius Pisces
For more information about your Horoscope and what the stars have in store for you, order one of our detailed
Astrology Reports!
Want to know the theme of your relationship? This report compares your temperaments and personalities, whether you are married or living together.
Compatibility Report
Reveal as much information about you and your partner intention of opening doors of understanding and awareness.
Love Cards Report
Free Weekly Horoscope for your Sign
Aries: Mars will arrive in your sign during the dying hours of New Year's Eve to catapult you into 2019 with passion, motivation, and a much clearer sense of what you want. It is time to reach out to people and places by all means of publicity, transport and journey. It is also a good time to burnish your image and that of the company you represent. On the strictly personal level, marriage, house moves, ceremonies are predicted. Set some goals and then get moving as the new year begins.
---
Discover a personal profile and 1-year forecast based on advanced calculations of your name and birth date.
Numerology Report
---
Taurus: As the month and the year draw to a close, it would be helpful to consider your big idea and how you are going to achieve it. Structure, planning, focus and discipline are the keys to your success now and throughout 2019. The new year could result in publicity ventures, journeys, the birth of children or of fresh new ideas, and flashes of intuition. There may also be changes on the home front and certainly plenty of movement. It may even spell out the end of a relationship followed by the launch of another. This is an interesting, even exciting week!
---
Need a guide for your growth and personal evolution based on astrological influences upon your personality?
New Age Natal Report
---
Gemini: The year ends on an optimistic note, as inspirational ideas for how you can connect more with others – on a business or personal level – carry you forward with enthusiasm into 2019. This week reflects a highly emotional, creative and sensitive frame of mind: children, hobbies even poetry to cookery, the range is enormous. Partnerships, collaborations and material alliances are all there as the main thing is reaching out to people and places.
---
This interpretation of your birth chart is written in simple language could be beneficial in self undestanding.
Merlin Report
---
Cancer: As the year draws to a close, you will seek to address disputes, contentions regarding family/joint property; perhaps there could be family funds or even a divorce to be negotiated. What you realize now is that that's where you're needed the most. In spite of this, you are not willing to compromise one iota with your career/professional goals and demands. A "call to arms" is the opening note of the year, but your sense of duty is directed firmly to the home and family angle. There is a personal touch to all that you feel and do, strongly driven by your intuition, imagination and emotions, which govern all your participation in all activities/events at home or at work.
---
Indra reveals your life's contradictory urges & drives as well as your basic motivation, perceptions, inclinations and character.
Indra Report
---
Leo: As the year draws to a close, consider how you can create more of what you want in life. Following your bliss is the way forward, so get clear about what brings you joy, and aim to make it the cornerstone of your life. You will start the year spending heavily on the domestic front of home and family. A trip or move may be debated. There may also be a considerable degree of introspection and psychic impulses that are more than genuine. Collaborations and outside links are highlighted.
---
Want a detailed report for parents to help with the child's growth to strengthen the assets and avert possible problems that the child could face in their life?
Child Astrology Report
---
Virgo: As the year ends, you're full of inspirational ideas for how to increase the happiness in your home or a family situation. Thus, a growing desire to take a creative idea seriously will carry you into 2019 with the determination to follow your heart's desire. Get-togethers, unions and reunions, any form of group activity, are favored by you this week. You can do justice to any position of responsibility/trust offered to you now. You may, however, have to assert yourself strongly for your rights and for your love.
---
Want a birthday to birthday practical guide to help you recognize opportunities and to learn from them.
Astrological Solar Return Report
---
Libra: Your optimistic state of mind is carried through the end of the year, and it will continue through 2019. Know that with just a little practical application, anything is possible. In the new year, you will be pushed into the limelight, the public eye. Matters related to house and home and travel will concern you and so also situations requiring your skills at organization and public relations. Love too will find a place in your heart. And in any case, you can bank on the cooperation of friends this week and in the future.
---
Want to know the actual dates when the energies will influence your life in money, career, relationships, and communicaton?
Astro Forecast Report (3 months)
---
Scorpio: As the year ends and a new one begins, you might feel less caught up in the madness of modern life as you step back with the clear intention to remember what's important and to make these things the cornerstone of your life from now on. Starting the year with a bang, you Scorpios will see plenty of movement, a quickening of pace in terms of publicity ventures, journeys, changes in the domestic scene, religious rites and ceremonies, the birth of children or even brainchildren – that is, ideas and inventions. On the personal level, this week you might find yourself seeing the end of one relationship, followed by the birth of another or a bonding that may be either temporary or permanent.
---
Want a one year forecast to understand the scope of influence for your personal Cards of Destiny?
Cards of Destiny Report
---
Sagittarius: With the year drawing to a close, any associations formed this week will be long-term ones. As the new year dawns, you will learn to reconcile what your vocation is with your true nature. You will work out personal issues revolving around your career, identity and home, and it is at home that your heart is, right now. Your identification with both house and home will be very close also with your parents, ancestors, going back to your roots in a fine show of genuine bonding. The week will bring about risks, but you will hit your target. With the advent of Jupiter in your angle of money, this is a foregone conclusion and you will certainly engage in tremendous financial activity – buying/selling, shopping and investing: hobbies and home too, and great creativity.
---
Contemplating a move? This report tells how you will react to the energies of the specific locations for relationships, finances, and security.
Relocation Information Report
---
Capricorn: Making time to be alone is crucial now, as 2019 is going to experience a huge amount of Capricorn energy, which means you need to be in top form. You're going to be one of the key players as life on Earth unfolds. In other words, you're moving into an important phase of life, and if you can become quiet enough to hear the whispers of your soul, you will find yourself effortlessly guided to exactly where you need to be and doing exactly what you need to be doing. You start the year with a bang and have more energy than you know what to do with. You will score heavily and work with a will. Good things, therefore, are bound to happen to you.
---
Discover your character traits, relationship and career potentials – based on Edgar Casey Readings.
Cayce Past Life Report
---
Aquarius: You start the year by spending heavily on home and family. You may need to make a decision about a trip or a shift to another city or just moving house. At the same time, there are genuine psychic impulses coupled with a mood of introspection. This is a good time to take that long-deferred holiday, visit adventure parks, take up a sport, invent a new game, or practice your strokes in whatever. If not, follow the amusements that draw you, even if it's going to the casino in Las Vegas or Monte Carlo. The luck of the draw and the fall of the dice favor you, even if it's just making an investment in the stock market. Soon you will learn to compromise on major differences with partners, be they at business or in life!
---
Discover your past life connections that can carry over into your current life, accounting for interests, habits, even phobias.
Karmic Past Life Report
---
Pisces: As the year draws to a close, your ideas and inspiration for a better future will grow stronger. From this point on, all you need to do is decide whether the responsibilities that have been shackling you are really worth it, especially when something much more positive and meaningful appears to be calling you. This week you are highly creative, emotional and sensitive to your environment and loved ones. Children, art, writing, film making, research even domestic chores and interior decoration – you excel at whatever you turn to. You are in the driver's seat from the word "go."
---
Discover your soul's intention for this lifetime, the lessons to be learned, qualities to develop, problems to be resolved, services to be rendered.
Karmic Insight Report
---
For more information about your Horoscope and what the stars
have in store for you, order one of our detailed
Astrology Reports for Couples!
---
Want to know the theme of your relationship? This report compares your temperaments and personalities, whether you are married or living together.
Compatibility Report
Reveal as much information about you and your partner intention of opening doors of understanding and awareness.
Love Cards Report