#Horoscope #Aries #Taurus #Gemini #Cancer #Leo #Virgo #Libra #Scorpio #Sagittarius #Capricorn #Aquarius #Pisces #Horoscope – overview of this week
The Center for the New Age is pleased to present
your Free Weekly Horoscope for January 13 – 19, 2019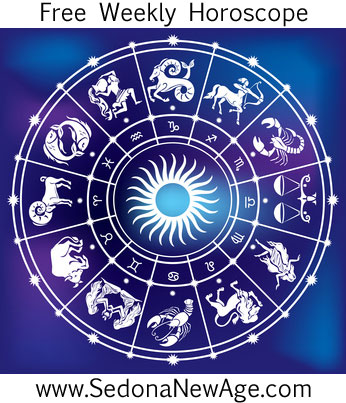 Receive our Free Weekly Horoscope in your Inbox
---
Aries Taurus Gemini Cancer Leo Virgo Libra Scorpio Sagittarius Capricorn Aquarius Pisces
Mercury and Saturn conjunct in Capricorn (January 13 – January 18) will bring talk about putting an end to the useless or unwanted component of our lives. There is a discerning quality at work with Mercury conjunct Saturn, making this aspect a very good one for speakers and writers to inspire, initiate and capture vital thoughts. News concerning the end of a cycle is likely to occur.
Jupiter in Sagittarius is square Neptune in Pisces (January 13 – March 1). Jupiter represents our sense of prosperity, and the expansion into new realms of opportunity, attainment and fulfillment. Neptune represents our beliefs, our belief systems and the way that Spirit moves us in the course of our lives. Neptune emphasizes spirituality and Neptune's force in Pisces represents the establishment of humankind's spiritual and religious beliefs. When Jupiter is in the square position to Neptune, it challenges us to handle conflicts that arise between our livelihood and our belief systems, and our belief in ourselves.
First Quarter Moon in Aries (January 14) energizes our moods and inspires an upbeat, outgoing and forward manner. It is a good time to apply diligence and inspired ability to your work. As a general rule, moods are marked by confidence and sometimes by cantankerous forcefulness and the drive to make a lasting impression.
Mercury in Capricorn sextile Neptune in Pisces (January 14 – January 18) is a good time to communicate with those who are an aid in spiritual matters. This is an opportunistic time to apply the work of prayers and spells. Take this opportunity to internalize thoughts and beliefs and mould them into a workable understanding.
Venus in Sagittarius trine Mars in Aries (January 18 – January 30) is a terrific aspect for promoting harmony in the relations of feminine and masculine counterparts. There will be lots of excitement as well as clever, imaginative and thoughtful love at play. This is a good time to get to know your mate better and to work towards obtaining gifts of understanding with regard to how the opposite sex (or alternative lifestyle) can share so much in common, even though this often seems to defy understanding.
Mercury and Pluto conjunct in Capricorn (January 18 – January 26) brings out power issues in our life. The greater powers and struggles in our lives are spoken about and communicated in a wide variety of ways. The areas of our lives requiring transformation and sacrifice, struggle and challenge, now bring us to the point in our sojourn where we can talk about those hardships that have forged our own characters and inner strengths. Getting in touch with the power that has created us is what all this talk is about.
Aries Taurus Gemini Cancer Leo Virgo Libra Scorpio Sagittarius Capricorn Aquarius Pisces
For more information about your Horoscope and what the stars have in store for you, order one of our detailed
Astrology Reports!
Want to know the theme of your relationship? This report compares your temperaments and personalities, whether you are married or living together.
Compatibility Report
Reveal as much information about you and your partner intention of opening doors of understanding and awareness.
Love Cards Report
Free Weekly Horoscope for your Sign
Aries: Aries always need something to sink their energy into, so while the planets are so auspicious and dynamic, make sure you use it for something that gives you a sense of purpose. Choose a mission or a quest, and get on with it. Mars opposes your Sun sign and that could lead to a clash of will and competition. Take all the help from all the sources that you have and make a dash. Also, it is important for you to take periodic rest, if you want to maintain good health.
---
Discover a personal profile and 1-year forecast based on advanced calculations of your name and birth date.
Numerology Report
---
Taurus: You're beginning to better grasp the rules of the game of life, and your challenge this week is to play it more skillfully. To accomplish this, you need to be more contemplative and introspective. A human relationship and an overseas angle will claim you. Journeys, collaboration, future plans and ambitions are in the forefront, and liaisons and meetings, even a romantic rendezvous, are probable. Expenses will shoot up rapidly but this is only a passing phase so hang out and hang on.
---
Need a guide for your growth and personal evolution based on astrological influences upon your personality?
New Age Natal Report
---
Gemini: If you've felt flat or empty or sensed any sort of deadness, then this is cause for celebration because before long, you're going to be feeling very much alive. However, it's going to require a certain amount of honesty and courage which will likely emerge this week. To this end, liaisons and a rendezvous are highly probably and the link is escalating expenses. You may reach out to help those sick in spirit, mind or body and you try to do it to the best of your ability and succeed in several instances.
---
This interpretation of your birth chart is written in simple language could be beneficial in self undestanding.
Merlin Report
---
Cancer: Whether it's someone close or someone you don't know very well, it seems that people are testing you. The best way to meet that test is to create a level playing field and to be more forgiving. This doesn't mean allowing others to dominate you or for you to control them. It means you should not carry a grudge; instead, press on, because you now have tremendous potential to alter the course of your life and take big strides forward.
---
Indra reveals your life's contradictory urges & drives as well as your basic motivation, perceptions, inclinations and character.
Indra Report
---
Leo: People and places are important, whether for work or for emotional relationships. And in this regard, service is a theme right now and this could be an area ripe for change or development. Are you happy in the assistance you provide to others? How could it be better? How can you get more enjoyment out of the service you offer? The help one extends should never be dull or boring. We can still be inspired and passionate about the work we do for others, and perhaps this is your challenge this week.
---
Want a detailed report for parents to help with the child's growth to strengthen the assets and avert possible problems that the child could face in their life?
Child Astrology Report
---
Virgo: Sometimes it's not always easy knowing why we do the things we do. For example, what motivates people to have affairs, take jobs not in alignment with their hearts, or continue friendships with those who don't have the same values? If you're currently in a situation that doesn't feel quite right – maybe you are compromising your integrity or your beliefs – be courageous enough to walk away. Something, it seems, needs to e changed, transformed, or released so that you can feel happier in our own skin.
---
Want a birthday to birthday practical guide to help you recognize opportunities and to learn from them.
Astrological Solar Return Report
---
Libra: You have a significant amount of power that, if directed constructively, could bring about a necessary transformation in your domestic life. You will not only work with a will but also see good things happening. Family-wise, it is a good time to draw close, heal wounds, bridge gaps and mend fences. Neighbors, brothers and sisters will all rally around you. Be willing to let go of what has been, take responsibility for your situation and put the effort in. You will be rewarded.
---
Want to know the actual dates when the energies will influence your life in money, career, relationships, and communicaton?
Astro Forecast Report (3 months)
---
Scorpio: We all have a tendency to skew things depending on our emotional filters. We can read things into situations that aren't there, and this is something you need to be mindful of right now. Are you sure that you're interpreting something accurately? This is actually a good time for you to share your thoughts and ideas to get your message out there. It's a great time to teach, study or write and these could perhaps be the healthiest expressions of the built up planetary energies in your communication zone. Find an outlet for this mental energy; otherwise, your thoughts could spiral into counterproductive areas.
---
Want a one year forecast to understand the scope of influence for your personal Cards of Destiny?
Cards of Destiny Report
---
Sagittarius: We don't always see ourselves clearly, which is why we need other people to gently point out where we might be going wrong. You'll have an advantage this week if you realize that you might not have all the answers, even if you think you do! It is likely that your vision is foggy, so defer any decisions until after the middle of the week when Neptune's spell begins to break, allowing you to create a more productive state of affairs. From this point on, you can start to move forward with greater clarity and confidence.
---
Contemplating a move? This report tells how you will react to the energies of the specific locations for relationships, finances, and security.
Relocation Information Report
---
Capricorn: Patience and perseverance may be the key to success now. It might seem frustrating that things aren't going the way you want, but there is a lot you can do. With four planets in your sign you are being granted the power to make certain things happen. They might not come in the way you envisage or with the speed that you'd like, but if you channel your energy constructively or focus exclusively on one particular goal or ambition, you will make headway. Either way, this is a good time to consider what you want to do next, and then start taking steps to make it happen.
---
Discover your character traits, relationship and career potentials – based on Edgar Casey Readings.
Cayce Past Life Report
---
Aquarius: We are all constantly broadcasting unconscious signals to the world, and this is a good time to try to see whether your actions are running counter to your intentions. For example, if you give people the impression of being one thing but underneath you're doing the opposite, it could be confusing or disorientating to you and others. Although this might seem like a difficult time, you are actually being blessed with the opportunity to become more aware of your deeper motivations and to attempt to create some sort of wholeness and unity within. The key to doing this lies in recognizing unhealthy childhood patters that are no longer working for you. This is a good week to let go of these old reactive patterns so that you can function more healthily.
---
Discover your past life connections that can carry over into your current life, accounting for interests, habits, even phobias.
Karmic Past Life Report
---
Pisces: You might have a clearer idea of your future and the people you want around you this week. Finding your tribe is vital now, so people who are not aligned with you could have a detrimental effect. Some of your commitments and responsibilities will be unavoidable, or you might find it difficult to break from someone or something that feels like a burden. However, rest assured that whatever is right for you will not be taken away, and likewise, that which is counterproductive to your soul's growth will, in all likelihood, be removed.
---
Discover your soul's intention for this lifetime, the lessons to be learned, qualities to develop, problems to be resolved, services to be rendered.
Karmic Insight Report
---
For more information about your Horoscope and what the stars
have in store for you, order one of our detailed
Astrology Reports for Couples!
---
Want to know the theme of your relationship? This report compares your temperaments and personalities, whether you are married or living together.
Compatibility Report
Reveal as much information about you and your partner intention of opening doors of understanding and awareness.
Love Cards Report