#Horoscope #Aries #Taurus #Gemini #Cancer #Leo #Virgo #Libra #Scorpio #Sagittarius #Capricorn #Aquarius #Pisces #Horoscope – overview of this week
The Center for the New Age is pleased to present
your Free Weekly Horoscope for May 19 – May 25, 2019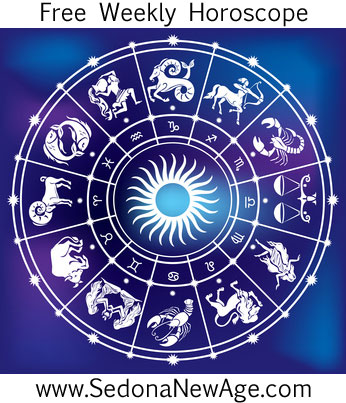 Receive our Free Weekly Horoscope in your Inbox
---
Aries Taurus Gemini Cancer Leo Virgo Libra Scorpio Sagittarius Capricorn Aquarius Pisces
Mercury enters Gemini (May 21 – June 4) increasing our attention to detail while covering a wide range of topics and subjects of interest. Mercury in Gemini directs and orchestrates information in an interesting and captivating fashion. The thing to remember is that information is not always well researched or even a correct and accurate representation of the truth.
Aries Taurus Gemini Cancer Leo Virgo Libra Scorpio Sagittarius Capricorn Aquarius Pisces
For more information about your Horoscope and what the stars have in store for you, order one of our detailed
Astrology Reports!
Want to know the theme of your relationship? This report compares your temperaments and personalities, whether you are married or living together.
Compatibility Report
Reveal as much information about you and your partner intention of opening doors of understanding and awareness.
Love Cards Report
Free Weekly Horoscope for your Sign
Aries: While this might be a good time to take out a loan or acquire some other form of financial assistance, you should question whether you really need it, since the planets are suggesting that you have much more power to change things than you realize. And "change" is the keyword, because with Uranus in your money sector, you really need to be looking at different approaches when it comes to your money. What worked before may not be working now and vice versa. The presence of Venus suggests that it shouldn't be too complicated. In fact, it should be quite simple, really – and enjoyable – so whatever financial choices you make, just be sure that they feel good. If not, then leave well enough alone.
---
Discover a personal profile and 1-year forecast based on advanced calculations of your name and birth date.
Numerology Report
---
Taurus: Uranus in your sign demands that you have a right to be you and that the time for compromising yourself is over so start expressing your ideas, even if they seem a bit offbeat. What will reward you is having the courage of your convictions and following your path no matter what anyone else might think. However, you should be aware there is a difference between being true to yourself and being deliberately difficult or controversial. Impulsive, emotionally based reactions can cause more problems than they solve but if you can find a way to express yourself in a healthy way and have time to tend to your needs while still managing to support those who need it, you'll succeed in all that is asked of you.
---
Need a guide for your growth and personal evolution based on astrological influences upon your personality?
New Age Natal Report
---
Gemini: Your health can benefit if you're prepared to rest more, listen to your inner guidance and tune in to your body's messages. Try not to ignore or override any physical or mental symptoms. Instead, pay attention to the subtle signals that your body sends you. Perhaps it's requesting a massage, a long soak in the bath, more time in nature, or less time rushing or worrying. Maybe it's requesting a certain kind of food. There is much going on at an inner level now, so try to give that priority rather than the events in your outside world.
---
This interpretation of your birth chart is written in simple language could be beneficial in self undestanding.
Merlin Report
---
Cancer: Use this week to think about your desires, and make a plan to bring them to fruition. Consider what motivates you, what gets (or would get) you out of bed and puts a spring in your step in the morning. Try to make that a regular part of your life. The planetary power has now shifted – it began last month – from the social Western sector to the independent Eastern sector of the chart. It is not yet at its maximum point – that will happen in the next few months – but it's a factor now. Thus you have more power and willingness to change conditions to the way you want them. You have more power to create your own happiness. You're not so dependent on the grace of other people You can go solo if you choose. The best idea is to go within and take direction from your soul or higher self and then act on it.
---
Indra reveals your life's contradictory urges & drives as well as your basic motivation, perceptions, inclinations and character.
Indra Report
---
Leo: This is the week when you're likely to make some sort of decision. Whether it's just a bad day at the office or something that runs deeper, chances are that you'll just want to curl up at home and take solace in your cozy nest – and rightly so. After a little nourishment, you will be better able to deal with the challenges. Remember, though, that your first priority needs to be your health. Without that, you have no power, so do whatever needs to be done to make things easier for yourself. From reducing your working hours and making more time for relaxation to changing your role or taking your health more seriously, this is the week to realize that you deserve better than you're currently getting. And that begins with how you treat yourself.
---
Want a detailed report for parents to help with the child's growth to strengthen the assets and avert possible problems that the child could face in their life?
Child Astrology Report
---
Virgo: Your adventure zone becomes even busier now as Venus joins the fray, bringing an element of pleasure, beauty and enjoyment to your expansion so any changes should be relatively pleasant and effortless. This is when someone invites you on a trip – perhaps a luxurious trip or a creative/artistic/cultural trip. But if someone doesn't invite you, invite yourself! Why not? There is much to enjoy in your world right now if you are prepared to say yes to opportunities. By all means, take your creative endeavors seriously, but don't forget the higher purpose to it all, because that in a nutshell is what it's all about for you now.
---
Want a birthday to birthday practical guide to help you recognize opportunities and to learn from them.
Astrological Solar Return Report
---
Libra: While it might seem that you don't have a whole lot of power and authority, you will find yourself in a winning position if you embrace the new or the different. We all get stuck in our ways, but this is a time when you need to try a new approach – from your finances right through to the mystery of life and how you live it. Strangely, acknowledging that you don't have much control over life and what happens puts you in a stronger position, because you'll stop fighting against the tide and allow yourself to be carried to precisely where you're meant to be so stop struggling, and see where life wants to take you.
---
Want to know the actual dates when the energies will influence your life in money, career, relationships, and communicaton?
Astro Forecast Report (3 months)
---
Scorpio: Other people in your life might be behaving a little contrary or uncertain and this is a good time to consider whether their ambivalence is doing you any favors. If there are people in your life who repeatedly let you down, or who mess with you, it might be appropriate to set some boundaries and keep a safe distance. No matter how glamorous and exciting they may be, it's probably not worth your sanity. Your love planet travels with Uranus this week signaling sudden romantic meetings or sudden social invitations. At the same time, your spouse, partner or current love is more temperamental this week. He or she has an interesting career opportunity that is causing stress in their life. Tread lightly and be more patient.
---
Want a one year forecast to understand the scope of influence for your personal Cards of Destiny?
Cards of Destiny Report
---
Sagittarius: It will be difficult for you to take it easy this week as the Sun and Mercury are increasing the tempo while Uranus is creating anything but a relaxed state of being. But forewarned is forearmed and if you deliberately schedule some healing time, whether it's a massage or other form of therapy, maybe an afternoon of chilling out, you will be able to circumnavigate the potential pitfalls of yet another week that feels overly busy. On the 21st, the Sun and your love planet, Mercury, enter the 7th house and you begin a yearly love and social peak. There will be many romantic opportunities for singles, and even those in relationships will have a more active social life – there will be more parties and gatherings. The only issue is the opposition these planets make to Jupiter the ruler of your Horoscope. This signals that you and the beloved are at opposite sides of the heavens. You see things in opposite ways and have opposite interpretations of things. The challenge will be to bridge your differences. If you can do this, your current or new relationship will end up stronger than ever.
---
Contemplating a move? This report tells how you will react to the energies of the specific locations for relationships, finances, and security.
Relocation Information Report
---
Capricorn: Whatever your problem, it seems that ingenuity, innovation and creativity will be the key to your success. First though, you may need to let something go, something that isn't working or something or someone that no longer has a part to play in your life. Saturn and Pluto, both tightly conjoined in your sign, are effectively acting like the grim reaper, cutting away all the deadwood in your life. This might not be easy so allow yourself time to mourn but at the same time, know that a space is being opened up for wonderful new things to come into being. This is very much a time of death and birth. Focus on that which is new and exciting, and allow the rest to go.
---
Discover your character traits, relationship and career potentials – based on Edgar Casey Readings.
Cayce Past Life Report
---
Aquarius: On Tuesday the Sun moves on into your 5th house of fun and you begin one of your yearly personal pleasure peaks. Venus joins the assembly of planets in your domestic sphere, bringing a calmer and happier feel to proceedings and daily situations. It is a good time to bask in some sort of professional spotlight, perhaps stepping forward into a bigger role, giving your resume a face-lift, or redesigning your website. You may also find that career matters are brought to a head making this a week to make progress with your image in the outside world and to resolve outstanding matters.
---
Discover your past life connections that can carry over into your current life, accounting for interests, habits, even phobias.
Karmic Past Life Report
---
Pisces: Whether you have inspiration to write, paint, dance, sing, act or make music or your ideas are more business related, it matters little. Your only challenge is to believe in your capacity to bring whatever should be to fruition, believe that you're good enough, and believe that what you are producing has merit. You need to have faith that you wouldn't be experiencing feelings and ideas if there wasn't a point to it. Trust that whatever is coming to you does so because it wants to be expressed by the universe, and with a bit of effort and perseverance, whatever you put out into the world could be very favorably received.
---
Discover your soul's intention for this lifetime, the lessons to be learned, qualities to develop, problems to be resolved, services to be rendered.
Karmic Insight Report
---
For more information about your Horoscope and what the stars
have in store for you, order one of our detailed
Astrology Reports for Couples!
---
Want to know the theme of your relationship? This report compares your temperaments and personalities, whether you are married or living together.
Compatibility Report
Reveal as much information about you and your partner intention of opening doors of understanding and awareness.
Love Cards Report