#Horoscope #Aries #Taurus #Gemini #Cancer #Leo #Virgo #Libra #Scorpio #Sagittarius #Capricorn #Aquarius #Pisces #Horoscope – overview of this week
The Center for the New Age is pleased to present
your Free Weekly Horoscope for June 9 – June 15, 2019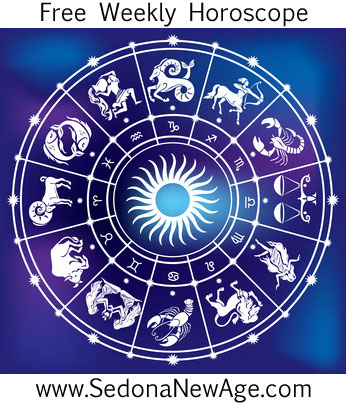 Receive our Free Weekly Horoscope in your Inbox
---
Aries Taurus Gemini Cancer Leo Virgo Libra Scorpio Sagittarius Capricorn Aquarius Pisces
Venus, the influence of love, magnetism and attraction enters Gemini (June 9 – July 3), the personification of duality. There is an attraction towards the need for variety and more than one avenue of expression with regard to affections. Subtle and playful love comes with words. Love matters are submerged in thoughts and mindful observations. Gossip and talk concerning love matters may be especially prevalent at this time.
First Quarter Moon in Virgo on June 10 emphasizes the need to maintain fluidity both on a logical and practical level of application, particularly with regard to circulation of information. This is often a busy time of spring when the quickening of summer is upon us, and the preparation for the long days of the sun turn energies once more towards the fruition of the warmer days ahead.
Mars in Cancer trine Neptune in Pisces (June 14 – June 23) creates an active trend to empower our beliefs. Actions taken to create balance will be well received especially with regards to the necessity of upholding our faith in humanity. This will be an active time of obtaining spiritual gifts and helpful guidelines from the spirit world. Mars guarantees activities will occur and with Neptune in the trine position, these activities will be favorably stirred up with spiritual and psychic awareness. This serves as a good time to initiate creative and imaginative spiritual practices and ceremonies; to empower the personal outlook and spiritual well being.
Mars in Cancer opposite Saturn in Capricorn (June 14 – July 1) always makes us acutely aware of the timelines of our actions and the importance of acting in a timely manner, or doing something about a problem before it is too late. The popular old adage of "look before you leap" is a good meditation to apply during this crucial time of Mars opposite Saturn.
Aries Taurus Gemini Cancer Leo Virgo Libra Scorpio Sagittarius Capricorn Aquarius Pisces
For more information about your Horoscope and what the stars have in store for you, order one of our detailed
Astrology Reports!
Want to know the theme of your relationship? This report compares your temperaments and personalities, whether you are married or living together.
Compatibility Report
Reveal as much information about you and your partner intention of opening doors of understanding and awareness.
Love Cards Report
Free Weekly Horoscope for your Sign
Aries: Loving communication could be the key to any difficulties this week. A kind word, thoughtful deed, or supportive presence may be all that's needed to mend discord, smooth out wrinkles, or simply create a feel-good atmosphere around you. Try not to let frustration and impatience get the better of you as this might not be the easiest week you've ever had, and you might need to decide whether it's more important to be right or happy. Let go of what in the great scheme of things doesn't really matter. Progress may be slow, but you always have the choice to create happiness around you.
---
Discover a personal profile and 1-year forecast based on advanced calculations of your name and birth date.
Numerology Report
---
Taurus: The answer to financial challenges most likely lies in your self-esteem. Therefore, if your life is not as abundant as you would like it to be, you might need to question whether you're blocking abundance by not thinking highly enough of yourself or of your gifts. If you don't feel deserving of good things, then by the law of resonance, they won't be able to reach you. This is the perfect week to start believing that you deserve better and to be more assertive in your quest. You might find it easier to ask for what you want or to articulate what you believe. Just be careful not to alienate others with harsh words.
---
Need a guide for your growth and personal evolution based on astrological influences upon your personality?
New Age Natal Report
---
Gemini: You might be caught up in the crossfire of other people's dramas, but if you consider that other people are your mirrors, then you must be co-creating the drama or it wouldn't be there. Perhaps there is a lesson contained in whatever challenge is presenting itself. Maybe that lesson is patience or the acceptance that you can't always have what you want – usually because it isn't in your highest good. Therefore, if it seems the universe is blocking you, take it as a sign that you're either heading down the wrong path or you need to wait it out. Accept whichever resonates most strongly, and take appropriate action. It would be a shame, though, to keep your focus solely on difficulties when there is much joy to be experienced. The Sun and Venus in your sign are reminders to do what you enjoy; have fun and recharge your batteries. Try not to sweat the small stuff.
---
This interpretation of your birth chart is written in simple language could be beneficial in self undestanding.
Merlin Report
---
Cancer: Sometimes you have to admit there are situations too powerful to fight. Sometimes it is better to admit defeat than plug away at a pointless situation. With Mars in your sign, you might feel invincible, but there is, it seems, a bigger power opposing you and it's unlikely you will be able to gain the upper hand. What you can do is take charge of your world and your feelings, and take actions that empower you in smaller ways. It is important this week that you tune in to your inner guidance to know the right course of action. Ultimately, it will be action that makes you feel better about yourself and moves you forward as opposed to banging your head against a wall.
---
Indra reveals your life's contradictory urges & drives as well as your basic motivation, perceptions, inclinations and character.
Indra Report
---
Leo: If work is heavy and demanding or your health is suffering because of the amount of work, duties, and obligations you have to deal with, take a break and seek solace in your social life. The Sun and Venus in your social zone offer a healing balm for whatever current troubles you may have. They urge you to connect with friends, get out and about, and remember that life is for enjoying. Clubs, groups and organizations could be sources of joy; if these connect with hobbies or interests, then so much the better. Your well-being doesn't lie in more work; it doesn't lie in ticking off more on your to-do list. The only remedy for exhaustion – spiritual or physical – is to enjoy yourself.
---
Want a detailed report for parents to help with the child's growth to strengthen the assets and avert possible problems that the child could face in their life?
Child Astrology Report
---
Virgo: This is likely to be a busy week as your ruler aligns with Mars in your social zone and the Sun puts you in the spotlight and expands your role in the outside world. No doubt, you will have places to go, people to see, groups and friends to engage with, and people wanting your expertise. Just be careful that you don't overdo it, because this is not an energy of moderation or relaxation; you could end up feeling like a spinning top if you don't make time for rest between your busy activities. A good use of the current energies is to focus on what success means to you and to get rid of superfluous nonsense.
---
Want a birthday to birthday practical guide to help you recognize opportunities and to learn from them.
Astrological Solar Return Report
---
Libra: Much pleasure and enjoyment can be gained from experiencing new places and different situations, making this a positive week to break out of your rut and broaden your horizons. When life is the same every day, small things can get you down. As soon as you head off somewhere new, all the dust and cobwebs blow away, leaving you enlivened and invigorated. If you have the opportunity to go somewhere different – a day out, a week away, or even just an invitation to eat at a restaurant that serves food you wouldn't normally eat – it is advisable to say yes. As a Libra, you're dealing with a lot of internal heaviness. A change of scene or a new experience can help put things in perspective and give you a new lease on life.
---
Want to know the actual dates when the energies will influence your life in money, career, relationships, and communicaton?
Astro Forecast Report (3 months)
---
Scorpio: This might not be the easiest week you've ever had; prepare for blocks and hindrances to your progress. Something, it seems, isn't going your way, but ramming yourself against the obstacle is unlikely to work and will probably just wear you out. You might be bursting with ideas, but frustration arises when you can't apply them in the real world. Patience is crucial here and perhaps also the need to look within to see whether you're shooting yourself in the foot. This is a good time to get to the root of your belief system and root out any negative beliefs that might be manifesting as frustrations in your life. Since the world is a mirror, it might pay to look at your reflection to see where you might be sabotaging yourself.
---
Want a one year forecast to understand the scope of influence for your personal Cards of Destiny?
Cards of Destiny Report
---
Sagittarius: Try not to let material concerns undermine harmony with others. The practical side of life, from money to work and everything in between, looks demanding or potentially problematic, but it's important to remember that much of what you believe about life – that you must have a certain amount of money and security or that you must please the boss – is actually a mindset cultivated by an increasingly greedy and materialistic society. If you're caught on the hamster wheel of ceaseless productivity or confused about what you should be doing or which direction to take, remembering what is meaningful to you will enable you to gain clarity and at least help you slow down or disengage from the pressure.
---
Contemplating a move? This report tells how you will react to the energies of the specific locations for relationships, finances, and security.
Relocation Information Report
---
Capricorn: The productivity of last week gives way to frustrating blocks and impediments. Someone or something is causing trouble and blocking your path to progress. Relationships may increase in tempo, and heated exchanges could be the order of the day if you're not mindful to step back and give love where it's needed. It would be nice to have the unsolicited support of others, but there are times when you have to supply your own strength. Ultimately, this is a week to focus on organization and efficiency. As you work to put things in order, everything will naturally slide into place.
---
Discover your character traits, relationship and career potentials – based on Edgar Casey Readings.
Cayce Past Life Report
---
Aquarius: The fun, creative theme continues. Although this is obviously good news, there is a deeper aspect to the journey of the Sun and Venus through your house of play and self-expression and that is to follow your heart more than you're currently doing. This is a time when compromising your integrity will feel more uncomfortable. That discomfort will act as a warning to move away from what doesn't truly resonate with you. This might require a certain amount of courage and honesty as you go against the grain, but you will be rewarded by know you're living your life in the way you want to live it.
---
Discover your past life connections that can carry over into your current life, accounting for interests, habits, even phobias.
Karmic Past Life Report
---
Pisces: The home and domestic theme continues, and your inner life should provide a source of comfort and well-being. It won't hurt to make one or two enhancements to improve things even further. In fact, if things are uncertain regarding your career or direction in life, switch your focus for a few days to enjoy what your home or inner world has to offer. This would be an opportune time to make your space more harmonious and beautiful. Perhaps when everything is lovely within, outside issues will fall into place.
---
Discover your soul's intention for this lifetime, the lessons to be learned, qualities to develop, problems to be resolved, services to be rendered.
Karmic Insight Report
---
For more information about your Horoscope and what the stars
have in store for you, order one of our detailed
Astrology Reports for Couples!
---
Want to know the theme of your relationship? This report compares your temperaments and personalities, whether you are married or living together.
Compatibility Report
Reveal as much information about you and your partner intention of opening doors of understanding and awareness.
Love Cards Report