#Horoscope #Aries #Taurus #Gemini #Cancer #Leo #Virgo #Libra #Scorpio #Sagittarius #Capricorn #Aquarius #Pisces #Horoscope – overview of this week
The Center for the New Age is pleased to present
your Free Weekly Horoscope for August 4 – August 10, 2019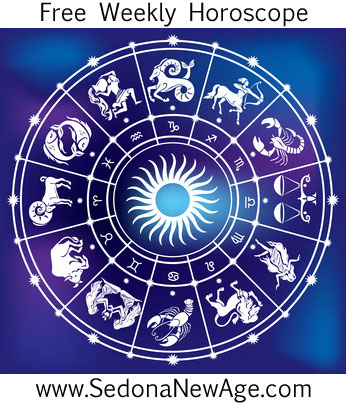 Receive our Free Weekly Horoscope in your Inbox
Aries Taurus Gemini Cancer Leo Virgo Libra Scorpio Sagittarius Capricorn Aquarius Pisces
Venus in Leo trine Jupiter in Sagittarius (August 8 – August 18) is a favored and prized aspect that allows for greater potential to receive and expand gifts of love. Love (Venus) is harmoniously placed with prosperity and opportunity (Jupiter). This is a great time to use love to expand your outlook on life.
First Quarter Moon in Scorpio on August 7 arouses our moods in deep and impassioned ways. Intense exchanges between people leave strong impressions. This waxing Quarter Moon of Scorpio continues to bring our moods to a strange and intense level of existence and the best advice is: don't go looking for trouble or you'll surely find it!
Aries Taurus Gemini Cancer Leo Virgo Libra Scorpio Sagittarius Capricorn Aquarius Pisces
Free Weekly Horoscope for your Sign
Aries: Socializing, group activities, being a perfect host and a good guest will win you plaudits this week. Money is important and will be there for you, so rejoice. This period of the Scorpio Moon is the time for you to evolve, to develop, to grow to promote a period of tremendous expansion, research, growth, maturity and capability – with more potential power, journey, immigration and pilgrimage than you will experience in your entire life. Hard work, tough competition, final success and commensurate rewards all start now. Knowing how exciting and powerful this period is, you should get ready to take your best shot by letting your arrows of desire fly from your bow of burnished gold!
---
---
Taurus: This is a time to lay foundations for new projects, not least of which is cementing and strengthening the bonds of family and relationships. A change of environment may manifest itself in renovation of the house or office and some alterations which enhance or change your lifestyle. At the same time, some pending matters that have been causing you stress may well be concluded this week. The night side (the lower half) of your Horoscope is dominant this month, so career issues can be downplayed. It is good, when the night side of your chart is strong, to pursue career goals by the methods of night – by dreaming, visualization and meditation – but most of your focus should still be on your family (and especially on children and children figures) right now.
---
---
Gemini: Consider what Willie Nelson said: "Once you replace negative thoughts with positive ones, you'll start having positive results." This is an ideal week to be forward and outgoing. The focus will be the social whirligig, contacts, communication and creative pursuits. This is an ideal time to accomplish many incomplete or abandoned things. The cosmic energies are favorable for getting your message across, so if there's something you need to say, say it. As long as you remember to lace your words with a little syrup, others will probably support you in your endeavors and you will have major success.
---
---
Cancer: You are in the midst of a yearly financial peak. Your money house is easily the strongest in your chart so the focus is on finance. Mars has been in your money house since the first of July and will be there until the end of next week. This shows the financial favor of the authority figures in your life – they seem directly and actively involved in your finances. Although this is all very positive, it is important not to let material matters take over your life. Your challenge is to allow your happiness to come from other avenues. It's not necessarily about being a hedonist, but perhaps you would benefit from taking time to enjoy the simple pleasures of life. It's a good time to rejoice in your good fortune and be generous to others as well as to yourself.
---
---
Leo: Mars in your sign suggests that now is the time to adopt the energy of the Warrior; to believe that you can do whatever you choose and to take action to become the creator of your life rather than a puppet. You might feel bound by certain circumstances, but this simply could be because you haven't challenged your beliefs sufficiently. Try posing a few what-if scenarios to see where the answers take you. Curiously, this Quarter Moon period bestows both money and good times on you and along with money and fun will be love and romance, quite possibly a marriage or an engagement, and much praise and appreciation.
---
---
Virgo: Deep down, we know what is best for us – the right course of action, the answer to a problem – but we drown out the quiet, intuitive voice that speaks to us through feelings, dreams and impressions because we're taught that the rational mind is all-powerful. Over time, we lose connection with our inner voices which in a way, is like losing a superpower. The good news for you this week, though, is that your intuitive power will likely return, especially if you open the door to it. Pay attention to your dreams, observe your body's subtle messages of discontent or harmony, and notice any rises or drops in energy as you go about your day. This is your time to get quiet and to become more receptive. As you do, you will know what to do next.
---
---
Libra: Here are two questions that we have to ask ourselves. The first is "Where am I going? And the second is, "Who will go with me?" It's time to gather your tribe as it becomes evident this week who is fighting for your corner and who isn't. It should also become a little clearer where you want to go in life. It is time to take responsibility for your own happiness. The waxing Scorpio Moon will be of help to you. It makes you more expressive and vocal to the point of being vociferous. If conditions are irksome, you don't need to question your friends about what to do; make the changes that need to be made. Your way is best for you right now. Love and partnerships will be strongly favored. It will be a terrific trio of money, romance and children, along with attachments at several levels that keep you involved and give you a degree of satisfaction and knowledge.
---
---
Scorpio: Expect a new chapter of some sort to begin or a door that opens and grants you new opportunities. Either way, this is a week of forward movement in which your ambitions can take shape. There is a powerful dose of energy at your disposal both in health and job on the upwardly mobile trend. With Mars, your health planet, at the top of your chart, you're paying attention here. Without good health, career success is meaningless so, rest and relax more. Don't waste energy on trivial distractions and focus on what's really important. People will come into your life, force you into the limelight, get work done for and with you. You will be full of charm and sociability and experience a wonderful degree of happiness along with a sense of achievement – in an area ranging from marriage to collaborations, commuting to immigration. Way to go!
---
Astrological Solar Return Report
---
Sagittarius: You need to have faith that the universe has your back and that all will be well this week. Consider what you really want to do, and then write it on a post-it note and stick it where you will see it each day. This is an ideal time not only to go out but forward as well. It is a wonderful time for religious and philosophical breakthroughs. Sagittarius is very interested in these things in general, but this week more than usual. A good, juicy theological discussion is more alluring than a night out on the town. You will please both yourself and also others. Once again, artistic pursuits and creativity are favored and also any form of business, trade or entrepreneurship dealing with the arts. Communications and contacts will flourish also.
---
Astro Forecast Report (3 months)
---
Capricorn: You will be openly expressive and vocal under the First Quarter Moon in Scorpio and will certainly pull no punches in debates and arguments. The good thing is the softening impact of love. Children, romance and good money add to it. Your career is becoming even more important so your home and family issues can be downplayed now. Focus on the career and serve your family be being successful in the outer world. Your career planet, Venus, is in your 8th house of regeneration so this is a good time to detox the career and outer goals. Get rid of any extraneous issues and focus on the essence. In addition, your health is much improved, but if you want to enhance it further, be more careful in dietary matters this week and maybe have a massage to top things off and feel terrific on all levels.
---
---
Aquarius: Consider how you can relate better not just in your main relationship, but all relationships in general. This could be a time of cooperation and enjoyment, but if conflict should arise, see it as an opportunity to clear the air and improve the situation. You are in the midst of a yearly love and social peak and your social life is hyperactive right now. This week socializing, group activities, hospitality will all win you great appreciation. Money will flow in freely, generally making life much easier. A wedding or engagement may occur too. With all of these positive occurrences, make sure to pay attention to your health. Be sure to get enough rest which is your number one priority health-wise. In addition, the waxing Scorpio Moon is the best period for adding things to the body – vitamins, minerals, supplements to enhance your well-being. Luck is on your side in several ways now with the Moon in Scorpio.
---
---
Pisces: "The secret of your future is hidden in your daily routine." Organization is the key to a successful life; it's often the little details, those routines and habits implemented consistently over time, that begin to bear fruit so whether it's time to make some changes in your health or to your lifestyle, this is the time to gain a greater sense of control over your circumstances. Mars and Venus and the Moon in Scorpio connect beautifully to endow you with money and force and the comforts of home. It's an ideal week to be outgoing and extroverted, pleasing others as well as yourself. Those connected with art, or earning by it will proper. Work satisfaction will be coupled with good money. It sounds like a good deal, doesn't it?
---
---