#Horoscope #Aries #Taurus #Gemini #Cancer #Leo #Virgo #Libra #Scorpio #Sagittarius #Capricorn #Aquarius #Pisces #Horoscope – overview of this week
The Center for the New Age is pleased to present your Free Weekly Horoscope for June 28 – July 4, 2020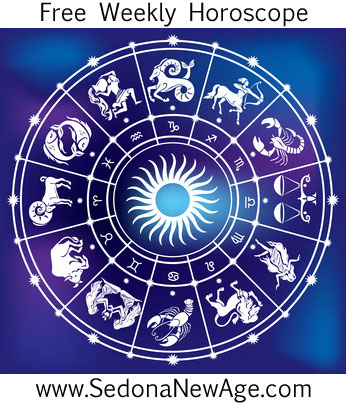 Receive our Free Weekly Horoscope in your Inbox
Aries Taurus Gemini Cancer Leo Virgo Libra Scorpio Sagittarius Capricorn Aquarius Pisces
First Quarter Moon in Libra on June 28 encourages us to harmonize with our partners and friends. This is the Moon that brings out a wide range of focuses on the need to create balance in various kinds of relationships, particularly those relationships of a close nature. It's all about making adjustments.
Mars enters Aries (June 28 – January 6, 2021). Mars, the planet of action and masculine drive and force, is at home in Aries, the sign it rules, where it initiates activities in the most forward and direct manner possible. Mars is the god of war in mythology; often Mars related experience is generated through our impulses,, our anger and rage, or fear and compulsion, our need to confront and bring forth the primal force of energy and zeal that is our ability to take action – it's our spark of life.
Mars sextile Saturn (June 28 – July 7) is a great time to make physical changes in the home. During this aspect, the actions that occur create opportunities provided there is an application of discipline and timing. Offensive and defensive forces tend to work harmoniously with this aspect. To benefit from this opportunity, one must be persistent in taking action on important matters. Movement and the application of energy (Mars) plus responsibility and awareness of limitation (Saturn) allow the perfect timely quality of completion as well as new beginnings to occur with this aspect.
Jupiter is conjunct Pluto (June 30 – August 18). Jupiter represents expansion, prosperity, social advancement and opportunities towards growth while Pluto represents transformation, power, fate. This conjunction of these two highly influential planets will affect absolutely everyone, and it is likely to bring an economic shift that for some may seem especially alarming, as the course of great economic change will be inevitable. We should closely examine our lives and remove all activities we have outgrown and people who no longer enrich our journeys. Increased confidence helps us let go of our pasts in order to welcome bright new futures.
Saturn enters Capricorn its own house for the first time in 30 years (July 1 – December 17). On December 17 Saturn will reenter Aquarius for good until March 8, 2023. These next few months complete a two year cycle that required us to be clear about the structures in our lives, reexamine our relationship to authority, and center ourselves with personal responsibility and inner maturity.
Aries Taurus Gemini Cancer Leo Virgo Libra Scorpio Sagittarius Capricorn Aquarius Pisces
Free Weekly Horoscope for your Sign
Aries: Your general direction in life might be called into question this week, and you could make big improvements here if you're ready to step into your power. Perhaps it's a case of sorting out your foundations, and then you'll find it easier to take big steps forward in the outside world. Do not take risks in matters related to work and finances. The calmer you are this month, the better than anybody to put a spanner in the works.

---
---
Taurus: Assessing what really matters to you has likely been a theme, and now you can put those answers into practice. At the same time, guard the door of your mind like a sentry, as the thoughts that burrow into your consciousness might not be the most productive. Try not to reveal your ambitions plans to those around you – rely only on yourself. You do not want anyone to put a spanner in the works.

---
---
Gemini: It might be time to realize there's more to life than work and money and that you would benefit from slowing down and enjoying the beauty life has to offer. Try not to make mistakes as they might turn out to be costly ones. The old adage, "step by step one goes far" will be very true for you right now.

---
---
Cancer: Life might not return to normal until July, but there is still much you can learn and enjoy now. Perhaps the key is to give yourself time and attention to discover what you need to be happy and to be resolute in making sure your batteries are recharged. Perhaps this is a time to adopt a lower pace and do more of what brings you joy.

---
---
Leo: Endings might be a theme, and it is perhaps best now to let a door close so that a new dawn can arise. This is an important week in which it would serve you to look back at the previous year to see how well you are managing the art of living. July may be a difficult month for you so rely on nobody but yourself and pay great attention to the details!

---
---
Virgo: This could be quite an important time for you as you might have reached a significant juncture in your life and need to decide where you are going and who is going with you. Friends might be key right now and this could be a time when you need to evaluate who your friends are. During July you will devote much to sorting out difficult situations around you. There are many players and your main priority is to compartmentalize.

---
---
Libra: Try not to cut corners. You need to make steady progress towards your goals at the moment. This is true for both work and for love. In the professional sphere, you are facing a busy and yet very important period. Many Librans will have to solve a number of really complicated problems. There will be many organisational issues related to land, real estate or other large property and the solution this week involves facing down the vehement hostility of your opponents, competitors and spiteful others.

---
---
Scorpio: You are likely to face serious changes at work, in your relationships and even in your ways of thought and behavior this week. It is likely that you will need to remind yourself of the Chinese saying, "Oh Spirit, save us from living in such times of change" more than a few times right now. Although you may be full of get up and go, the stars highly recommend avoiding hasty and rash decisions.

---
---
Sagittarius: Material things and values are of primary importance for you right now. You may have to part with a large amount of money or property. This may be related either to major purchases or to some unexpected losses. In any case you should be careful and cautious and not make any hasty decisions – being too hasty at this time is surely a big mistake!

---
---
Capricorn: Professionally active Capricorns, along with their business partners, will have to sort out a situation that is quite complicated and rooted in the past. This will possibly be related to real estate, land, or other large property. You might experience pressure from all sides, but you will hold the line. Without doubt, the decisions on many matters are in your hands.

---
---
Aquarius: This is a great time to consider how you can be the best person you can be and take the steps to make that happen. Those whose focus is their personal life will suffer some difficult times. There might be some serious problems with your relatives – an argument or other issues with your closest relatives. Some of your close relatives might fall ill and you will have to take an active part in their treatment. There may be a large amount of work involved that brings neither joy nor pleasure, but you will carry on.
---
---
Pisces: Perhaps now, as Mars comes to the end of your house of self-expression, you will find it easier to assert yourself without losing any of your compassion for others. You might also find that you become more ruthless in implementing whatever vision you have for yourself. You will try to sort out a complicated situation but there are so many players and difficulties involved that you will want to give up, but before you do, you should ask for help from friends or friendly patrons. This will significantly reduce the risk of losses and will help to find an agreement with those bent on opposition.
---
---